July 2022, the metal community has already seen the first festivals this year, small as RMDz at Oschersleben, Germany, mid-sized as Mystic Festival in Poland or really big as Download in UK or Graspop in Belgium and so much more with Rock Harz Festival in sight.They all have their unique charm AND they finally happened after two years of suffering from cancellations.
The Return of Rock Harz Festival
Conquering the Campsite
However, there is only one festival embedded in such a wonderful, picturesque landscape as the Rock Harz Festival from 6th to 9th July, one day longer than usual as a bit of a compensation. With its up to 22,000 visitors it is a middle sized festival nearby the town of Ballenstedt. Let's see how everything worked out this year because it is a constantly growing festival so logistical changes and upgrades are more than required year by year. For early birds the gates opens on Tuesday around noon, which is much earlier than before and our members of "AG Metal" are not the only ones taking this opportunity. This however, does not come for free but a small administrational fee of 10.- € per person.
Getting to the Campsite
One of the first and to me also major improvement to 2019 is the traffic flow. No roads under construction. No traffic collapse already before you are halfway nearby the area around Ballenstedt. Sure, we have to line up and wait with our column of cars before we finally reach the holy camp ground but that is nothing in comparison to the former years. It barely gives enough time for a first beer altogether "for the road" and make new friends who on the spot are adopted by our group and would share campsite with us. Stewards at the entrance are willing and nice and understand our wishes for a big, flat ground because beside our oversized historical tents we have a large camper plus some latecomers by Wednesday evening so we are escorted to a perfectly flat site, barely five walking minutes away from the infield.
We Already Brought our Neighbours
Placing camper and setting up the big tents is easy on this ground. We decide for as much shadow as possible because we expect high temperatures. It makes it a bit tricky now, camper canopy against pavilion roof against tent canopy and we can't move neither camper nor tent anymore but finally make it. No need to find out about our neighbours, we already brought them along so it is another pavilion against pavilion. The campsite already is huge! Now the smaller tents, they encircle the second pavilion but give no additional shadow, anyway, good enough for sleeping though.
Supplies and Directions
First Things First
Before speaking of the official program and due to the challenges of the journey, we need to focus on the most important topic first: food and drinks! Soon the first party keg of beer is opened… and empty faster than we can drink. The barbeque heats up, meat, sausages, veggies fill the grate. After diner we decide for a visit to the infamous Mutantenstadl next to the infield to check the on-site quality of the beer .
Mutantenstadl
Besides, the name Mutantenstadl is a German pun of words combining the word Mutant ("mutant") and "Musikantenstadl" (an event with lots of German 'Volksmusik'). Rest assured though, there will be no Volksmusik here, or at least not on the stages. If there is no accordion or tuba music and no strange songs being sung, why else would I want to go there you might ask? Well, this place is something very unique about the Rock Harz Festival. It's kind of of 'Biergarten'. However, the organizer puts a lot of dedication into the design and build of it every year. There is usually a large house with a balcony on the first floor, a lot of seating space with parasols protecting from the sun as well as from occasional rain, and some artfully decorated figurines. The local brewery offers some specialties usually not supplied by average supermarkets. By the way, did you notice, it ws renamed during the festival? Do you remember the new name? If not, check our pics and find out.
Food, Beverages and Merch
There a lot of stalls with food and beverages as wine, cocktails, etc. all around. In general, the range of quality food, besides the usual fast food is good, no matter if it is vegan, veggie, fish or meat. Hot food, cold food but no bad food. You can also find a range of desserts and sweets. Honestly spoken we expected a dramatic price increase in 2022 but surprisingly you could find something for everyone for a fair price. Same counts for the merch. Since this year the festival's own merch stall is placed next to the entrance of the infield, with counters to both sides, infield and campsite. It also sells the official band merch. The money from selling merch nowadays is a big or the biggest part of the income of most bands since physical music is not selling well enough anymore. It is always better to buy there than from an obscure black market if you want to support your adored artists. And of course there are the other, independent licenced stalls opposite of the stages in their own area.
Perfect View
The stage is actually a double stage so you can watch one band from the side while you are waiting for the next in front of their stage. There are no overlaps, so you won't miss a band if you don't want to! Keep in mind that sometimes, it is also interesting to watch the next band doing their sound check, in case it's not done by their crew. No big screens are blocking the view from any position. You might not see the white in the eyes of the drummer from behind but you are still close enough to identify the bands and watch the show as a whole. As in the previous years, left of the stages you could find the Meet'n'Greet zone for signing sessions. You can still watch the gigs from there although not in the perfect angle. You wouldn't miss your favourites for an autograph of a minor band anyway. Interestingly, some bands jump in on the spot as others simply drop, the schedule, however, gets updated frequently.
Cherry Picking From The Line Up
Now that our stamina for extensive banging and moshing is guaranteed, we can shift to the program. Fortunately, the running order of the bands for 2022 was published right in time which makes it easy to decide the perfect timing between breakfast, lunch or dinner and paying a shorter or longer visit to the infield. So here it is, the running order of Rockharz Festival 2022, it is quite filled with bands of more or less all metal genres, some bands would become real gems and surprises, some would deliver what the audience expects and some… Ah yes, I don't mention it because it is a question of personal taste and preferences. Nevertheless, we decided to concentrate on fewer bands and their full set instead of having a quick but superficial look at everyone. So please forgive us if we leave out exactly your favourite band, it doesn't make them worse than the others but simply not being in the center of our focus.
Wednesday – Rockclimbing Day
The Tradition of the "Teufelsmauer"
We decide to pay the traditional visit to the Teufelsmauer, a rock formation, translated to devil's wall, on Wednesday morning. Due to circumstances and a very late night the day before, we won't climb it before somewhat late noon. It is the spot each Rock Harz Festival visitor has to go to. Some climb up there at night to find a bit of silence, at least even some of our group did so on Friday night. Others take a couple of beers to enjoy sunrise or sunset. And even musicians are known to visit the Devil's Wall to have their true Rockharz experience. The way up is steep, very steep and may be exhausting, even though it should only be a few 100 meters up. The party the night before certainly takes its toll here… If you've not been to the top of the Devil's Wall yet, did you really ever truly participate the Rock Harz Festival? 
For the very same reason we miss out the first bands but certainly not Agnostic Front. They are on our "must-see-under-all-circumstances " list anyway. Coming from the punkish side of metal in their earlier years and still keeping some of it, nowadays they are more on the core side of metal. We see and hear a bit of Gravedigger and Beast in Black while having a drink or two at the Mutantenstadl.
Amidst our barbeque diner we realize, Tarja already  entered the stage. Damn, a failure of our planning. Rushing a bit, we barely arrive in the middle of her set. She classifies herself as "lyrical soprano" whatever it means. It still is strange to hear an opera vocalist singing metal tunes for sure. Strange but welcome because what comes next is more on the VERY harsh side.
Sepultura rule the stage as if they have never been absent from it, as if the wasted last two years were just a bad dream and we woke up right in time. Certainly one highlight of the day.
In Extremo close the day or better night. Their unique Medieval Metal style rocks the audience. Their show is filled with fireworks, flames and pyro even Rammstein or Kiss would be proud of. Sadly, the voice of vocalist Das Letzte Einhorn seems to be not in best shape. Nevertheless, he is tough enough to sing live without lip sync or backing tracks as so many others nowadays.
Thursday – Thunderday
A bit of the victim of sh*tty weather conditions. Temperatures drop and the nightly heavy rain continues. I wake up in a wet tent. Isn't that a perfect start of the day? I am barely dry and warm enough to watch the opener today, another "Need-to-See" for "Poor Little Myself".
Germany Rules
Enemy Inside are all dressed in more or less tight white costumes – yes, white! It's indeed is an option for metal and there is more to come… Black is the Mother Of All Colours, yet not the only one, believe me metal heads. Believe me! Anyway, Enemy Inside set a sign and mark their territory, excellent performance of a very stage hungry and professional, well apprenticed band from Germany.
They are followed by Gernotshagen, Melodic Pagan Metal band with a keyboarder on stage which makes them VERY melodic indeed. Obviously their band concept is based on the Song of the Nibelungs, yes they are from Germany too. The band name combines character names from the most Teutonic and northern saga possible. Their stage costumes turn them into Vikings, and Germanic or Hun warriors. Sadly, short before their set a cloudburst wets not only the stage but all the audience, nowhere to hide. Nowhere to run to.  Nowhere to find a dry shelter. United we stand, united we are wet to the bone.
Being soaked wet after their set I need to dry myself and keep me warm as good as possible – it will finally take one and a half day. I just recovered from a cold right in time for Rockharz Festival and wouldn't want to become ill again soon after. I sadly have to give most of the bands today a miss for the very same reason, health first…
Nevertheless, I am happy to catch up for last part of Thundermother's set. Having seen them twice already this year I know what to expect from these Swedish Steel Maidens, they would deliver under all circumstances. Their set is celebrated by the audience for good reasons!
Unforeseen Difficulties
Sadly, Unzucht have to cut down their lineup due to an unforeseen reason called Covid-19. So what we get is not their full show but an acoustic set of Der Schulz & Band as they name themselves at this gig now. It is full of well-known songs in a different and unusual garment. I tell you two things: First, better than cancelling the show entirely and , second, it was a great variation from the known worth being watched and listened to for sure.
I'm still in good, maybe perfect mood for the next band, Dark Tranquility. Again one of those bands of my "Must-See list", they are always a safe haven in case of quality Melodic Death Metal and they offer a fantastic joy to play.
A bit too far away
After a break for some hot food, I return to watch a part of Powerwolf from the distance. Firework and pyrotechnics rule the well-known set, songs and gimmicks. They are a pleasure for someone who watches them for the first time or every few years. The repertoire is very steady and on the safe side for a festival where most of the audience just knows the hits or newest songs but not much more. Give them their own headliner show and Powerwolf is name. Sorry, no pics because now I really was far to far away standing next to the food stalls.
Quite a crowd would remain in front of stage for Knasterbart on their final tour before they disband, I already was too tired and f*cked up by the weather.
Now this was a very demanding thundering Thursday due to the weather conditions, hot, windy, wet and wetter, drenched, cold. Take off your jacket, put on your hoody, a t-shirt still is too hot, all seasons in a row. Nothing for the faint hearted. Most of the audience remained rock-hard though. I must confess to be a soft egg instead.
Friday – Alive and Live
Stupid Party Games
As you might know and experience yourself, watching the bands is not everything. Sometimes it is just good fun to stay on the campground, interact with neighbours – remember, we have our own with us – play silly games, etc. Time for the typical festival games as Flunky Ball and Beer Pong, or the baptism of a "Kutte", all three with the same result and better without  evidence pics: Half your companions are drunken afterwards and need a rest. We simply oversleep the first bands. Burden of Grief start far too early for us anyway, a quarter past 11:00 CET is not a metal-head's favourite time. Again I pledge myself guilty, we miss all bands by the slot of Swedish Lucifer…
Scandinavia rules
Lucifer enter the stage for the usual 45 minutes at 14:35, lunch is done, let's go and bang your head to some traditional 70ies Heavy Metal Tunes. Perfect sound, perfect outfit and songs which sound "different". It is not the usual stuff you're used to hear, complex harmonies and wonderful vocals of a band in a pretty good mood. The arrangements sound as if you heard them somewhere else before at the same time as they sound completely different to everything else. These Swedish guys and German lady exactly know how to entertain an audience.
Moonsorrow from Finland take over. Their theatrical blood strained faces let your worst nightmares come true – forget Alice Cooper in this case. Their brutal double-bass-drum-driven, keyboard-carpeted Pagan-sound doesn't help much either. It is just fantastic and everything a real metal-head needs! Certainly a highlight of the festival! Honestly I hoped and expected nothing else from Moonsorrow!
Wow,in a row, completely different musical style and approach but of outstanding quality and performance. Time for a little break. I have to give Deserted Fear a miss because soon it is time for another one of my personal highlights.
Blue – Yellow – Overwhelming!
The two-coloured backdrop is lifted. Upper half of the band logo middle light blue, lower half yellow. These are the colours of Ukraine! Jinjer enter the stage! My emotions are overwhelming! It is great to see them alive. And it is the best to see them where they belong: on stage! Jinjer now have a special permission to tour Europe during the festival summer after they had to cancel their US dates earlier the year. Instead the members of the band supported the victims of war and still continue collecting whatever is required. They are ambassadors of their country. Ukrainian artists on their mission to make the world aware, to wake up the silent! Tatiana, their vocalist is not holding back her thoughts, no way, never!!! All they want is, what all Ukrainians want: their home back. A lot of blue and yellow flags are raised in the audience. We identify with them. We stand with them, stand with Ukraine. And we better don't look away anymore! Again, all the emotions coming up are too overwhelming, people in the audience cry, so do I, nearly. . Under the grim faces the four musicians can't hold back their emotions either, a smile from Eugene is priceless! On a technical side note, one of the best sounds today.
Finland takes over again
Have a close look at the mic stand left of the stage… Isn't that cute? So cute that is almost hurts?? YES it is!!! Time for Finntroll, nomen est omen! Do you know about Orcs and Trolls? Finntroll top it with their amazing elfish outfits, ears and eye lenses. Well, not the heavenly and noble elves from Midgard but the Alfar! And they play a faszinating Trollish Hoedown Metal, a mix of Black Metal, Folk Metal and Hummpa. Not very soft but nevertheless very catchy and melodic. Good band, good fun, what do you want more? Yes, the rabbit, don't forget the rabbit lookalike soft toy! All I know about it is that it is not Muumi but that would have been too obvious for a Finnish band. If you have an idea, let us know.
Barbeque instead of Bands
Time for another break, pay a visit to the Mutantenstadl and have another sip of their specialties, which are good. Too good. So I forget the time, decided to leave out the next bands anyway, barbeque in our campsite is ready! Our food and drinks are a nice selection of vegetables and meat, some fruits, crisps and snacks, Cold Gin or beer, Met, whatever you want, we have it on site, even a range of Single Malts for the more demanding tongues.
Around a quarter past nine I'm back to infield, Steel Panther are still on stage, less music, more talking, entertaining for those who like this Hair Metal Parody. I prefer a drink and talk with my buddies about the next band. We indeed are very curious and our expectations are very high!
Time for some real headliners
We are awaiting none less than ASP and their unique Gothic Novel Rock. ASP are well known for their concept cycles Der Schwarze Schmetterling, Verfallen or Fremder and the Krabat-interpretation. All they want to do is play, play, play music, no fussing around, not much talking, one song after the other. What a difference to the previous band which seemed to have the opposite concept. Well, good music speaks for itself and needs no talk. Talk is cheap, real live music is precious. ASP deliver exactly what we expected. Sadly after one hour their set is finished. What comes next is my personal highlight, the in between song during the five minutes break: KISS' 1975 masterpiece Rock and Roll all Nite in a to me so far unknow live version – and I thought I knew them all, it was a great transition to the headliner today.
Some Pirate Metal
We welcome German Pirate Metal veterans Running Wild around Rock 'n' Rolf. Extensive use of pyrotechnics underline their position as headliner. Less could be more in this case because some of the flames look very scary, even for pirates. Anyway, Running Wild are out to rule the waves of the Seven Seas, in the middle of the German Harz mountains, the waving audience must be enough though. With a short interruption of a few years Running Wild have existed since 1976. It is obvious they know how to rock the stage with all their clarified routine as a live band.
With The 69 Eyes another Finnish band closes the day, night, morning, whatever. Sadly, without me, the day was exhausting enough I pay the toll to weather conditions and age just to learn that I missed an excellent show as soon as our younger and tougher generation returns to our accommodations.
Saturday – Colour Day
I know the night after diner will be tough, I want to watch the last five bands in row. It makes an easy decision to stay in bed a bit longer, 11:20 CET when Storm Seeker open the day is far too early anyway. My aim is to watch April Art as the first band today so I give Thomsen and Obscurity a miss too.
"Rock Harz, ihr geilen Schweine!" (Lisa, April Art)
Lisa and the guys from April Art, all dressed in red  blew me away with their energy already when I saw them back in early April. How will they perform in front of some 15.000 people? What can I say? April Art take the audience by storm as if they never did something else from the first chords on! "We are April Art and we play Sport Metal, now you gotta jump, jump, jump!" The whole band jumps together with the whole audience. A perfect start for my festival Saturday although they are allowed to play only 40 minutes. I will have to wait for autumn to enjoy a full set of their energetic Crossover/Alternative sound during their first headliner tour presenting their 2022 release Pokerface. At least the best quote of the festival comes from Lisa: "Rock Harz, ihr geilen Schweine!"
Swiss guests
There is no rest for the wicked, Ad Infinitum from Switzerland take over control only five minutes after the last chords. Their set is slightly more settled. Ad Infinitum are well known for some fine harmonies and vocal technics, overlayers of growling and clear vocals at once – with only one singer. Melissa is doing fine, no question but concentrates on the clean parts. The harsh and growled vocals come as backing tracks. I am not sure if I like it or not. I prefer real live music where what you see is what you get. Even if it sounds different to the studio version which is a compromise not every band accepts. Ad Infinitum's sound however is brilliant. I wished they had a second vocalist in the live line up.
What I know for sure instead is that I will leave out a bunch of bands, namely Ektomorf, Tankard, Unleashed, Insomnium, Betontod and Exodus. I have either seen them often enough, they don't quite match my musical taste, or I am going to see them at the next festival anyway.
I also miss most of Testament. Sometimes it is better not to have a "short" nap after diner… I barely watch half of the set from a distance but finally I am prepared for the one and only Knorkator who would enter the stage at 20:45 CET.
Deutschland's Meiste Band
Knorkator is a mix between satiric comedy and metal, they call themselves "Deutschland's Meiste Band". Their vocalist Stumpen has a classical opera education and worked for example for the Staatsoper Berlin. He sings in German which might limit their international reach. Their lyrics usually come with a message in a fine undertone you indeed need to understand. I let the photos speak for themselves. Golden glitter-costume, not lasting long and Stumpen is nearly naked. Keyboardist and second vocalist Alf Ator in the role of an ancient high priest describes the two main characters best! Stumpen is the only frontman who uses both stages from left edge to right edge.
As usual he invites the photographers to visit the band on stage just to kick them out immediately. It is an unwelcome interruption of the stage crew's hard change-over work: packing the equipment of the previous band  and setting the stage for the next band at the same time with now some 20 extra people running wild. No safety guaranteed. When they say "No, you can't" then you can't. Full stop. The crew is the boss, so don't fuss around with them.
Back to the Knorkator's great show. The highlight certainly is Stumpen's daughter singing with her father. Man, she has grown up, not the little girl anymore we knew from earlier years. And she has become a good, fantastic singer and entertainer. We can be sure to see more of her in the future! Of course too early the slot is over, squeezed with jokes and songs to the very last second.
Perfect entertainers
We're in the right mood for Eisbrecher. I must confess, not quite my kind of music but and this is a 'but' in capital letters, BUT these guys do exactly know how to entertain! They are greedy for the stage time and the audience. They are a band which understands to place their drummer high enough so everybody can see him, not only the people from row 10 on, a 15 meters away so they again barely recognize him. The stage is build up as a kind of submarine and the tower is the platform of the drum kit. Well thought although I never heard about any submarine ice breaker. But who cares? Eisbrecher's style is often misclassified as Neue Deutsche Härte. Maybe it is the closest describtion for mainstream media but it doesn't judge them right. There is more behind their music than just this. Vocalist Alexx Wesselsky himself prefers "German sung rock music with electronic elements". And I must confess again, this time they convince me with their pure energy and the joy of playing live again.
An Honest Thank you!
Now it is time for organizers of the Rock Harz Festival to enter the stage. Some 100 people squeeze in and some other 200-300 are still busy with work for the event. Amazing, how many people are required for all the jobs to do, from stagehands, to merch sales folks, Grabenschlampen, security in various positions, cleaning crew, etc. These people are working hard for our entertainment which can't be appreciated enough. It's rather their hobby than a paid occupation. Mostly, they are just metal-heads like you and me. Making it a festival the way they would wanted if they were crowd is all they long for. Their spokesman is more than happy with the event. Rock Harz Festival 2022 was sold out. There were only a few tickets returned in 2020 and 2021 just to be resold immediately which is a wonderful sign of trust.
The last Dinosaurs
Last headliner for this year's Rockharz are the metal dinosaurs Accept. They already were a big name when most of the audience wasn't even born. Someone next to me asks "Is that Dee Snyder on vocals?" No it isn't. He is Mark Tornillo who replaced Udo Dirkschneider when Accept reformed in 2009. Again pyrotechnics rule the stage beside three (!) guitars, bass, drums and vocals. Their slot exceeds any today and once more we hear an a selection of their greatest hits partially in extended versions such as their best known song "Balls to the Wall" from 1983. All together it is a remarkable performance at least for the oldest amongst us who heard this song as kids or younger adults.
A perfect Sound
The final closer of the festival "after-headlinder slot" falls to none less than Swiss Eluveitie, a band we have often seen on Rockharz but never that late. It is almost one o'clock so yes, there is a 'Livin' After Midnight'! Even at that early time Eluveitie deliver one of the best shows I've ever seen of them. Perfect Lightshow. Perfect sound! They have often enough struggled with the sound simple due to their many not typically metal instruments, for example flute, harp, violin, hurdy-gurdy, banjo, etc. It is indeed a challenge to level them to guitar, bass and drums. Tonight marks the last concert with Michalina Malisz on hurdy-gurdy, she is a real loss as so many losses of members in the past.
Chrigel's and Fabienne's voices rule the stage and suddenly it is over. At 2:30 early in the morning the last chord falls silent. Have a last beer at the last open stalls or party a bit on the campsite. Mentally prepare for Sunday. Tomorrow we'll dismantle the campsite and return home. Another year of waiting lies ahead.
What remains?
About Crowd Surfing
Rock Harz Festival 2022 allowed crowd surfing when hardly any other festival did. It remains subject to an endless discussion. Of course it is overdone after two years without festivals. Although most of the surfers are fit enough for this ride on the waves of the crowd some are not. Those crash down and might get hurt or hurt others. Let's hope, they learn their lesson! I've asked two of the Grabenschlampen if they are stressed due to these surfers. Their statement is clear: "There is no more stress than usual, it is part of the fun. I can only recommend the right body tension. It is important. We don't need saggy bodies who hurt themselves and we don't need the stiff bodies we can't get a hold on either. Be relaxed and let yourself flow over the heads of your fellows and all is fine."
The hardest working people
The best comes at last, I don't want to forget all the people working for the Rock Harz Festival. In the background, backstage, administration, logistics, etc. Thank you for making the festival possible with all your patience and persistence. Thank you to the stewards helping to find the perfect campsite, thank you for being relaxing and calm under all circumstances. Thank You to all the safety guides at the entrance to the infield, on the infield and simply everywhere. Thank you to the First Aid staff for doing a great job. Thank you to the Grabenschlampen who were simply fantastic and the nicest guys of the world. Thank you to all of you for being relaxing and calm under all circumstances. We love you.
Meeting Musicians
There was the official signing meeting point left to the stages. Beside that it was easy to meet the one or other musician on campsite or infield. We ran into Alea der Bescheidene, vocalist of Saltatio Mortis, or did he run into us? Anyway, his large beer mug was freshly filled, while ours where empty and dry. Alea could not accept this situation and invites us to share his fresh and cold beer with us for nor reason but comradery between metal-heads. Funny enough, there were whispers Saltatio Mortis would play a secret gig the same evening. They were not apart from Alea's short guest appearance later the day – sadly I missed it and can't name the band. Even Fabienne Erni  of Eluveitie took quite some time to talk with me and my buddy because we missed their signing sessions. She told us about the homemade vegan cheese sauce she got from a friend. I still got to figure out the recipe!!! April Art already announced during their show to be on the infield for the rest of the day. Given you know to behave yourself, it is most so easy to talk with the musicians you adore. Treat them as you want to be treated, they are the same crazy and lunatic metal heads as we are!
A New Generation
When I look back to all the bands I have watched, the bands others of our AG Metal have watched instead and the general reactions of the spectators I've heard, what remains as a summary? First and on the bitter side, it seems the age of dinosaurs is over. Routine, choreographed show and massive use of pyros is not everything. On the better side there is the young generation of bands. The willpower, emotions, enthusiasm and hunger for stage and audience of these bands will blow all burdens away. They are like the small mammals who survived the asteroid impact some 60.000.000 years ago. They don't need the pyros or oversteered and to loud amps. These bands convince with pure talent and raw energy.  Metal is not dead when bands of the golden 70ies and 80ies will disband and retire forever. It is alive and blooming into a new, modern Metal Way Of Life. Together we are and together we are one, united under the banner of the only nation, Metal Nation, no borders, no wars, no racism and no suppression of genders. We're gonna Rock And Roll All Night And Party Every Day forever.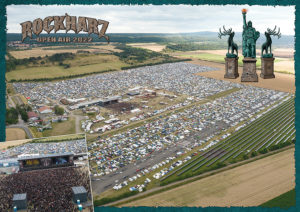 Post-Rock-Harz-Blues
Every festival ends and so did the Rock Harz Festival 2022. Sad, but true. So apart from putting your tents together, loading your car and driving back home, there is no agenda. But was there really none? There was, and it actually helps to prevent the Post-Rock-Harz-Blues as it ensures you to confront yourself properly with the end by sort of preparing for next year. "Putting your bin together and cleaning up your site to leave it as clean as you found it, no matter how much rubbish you had everywhere". We have never seen cleaner campsites than the Rockharz after the last car left, even cleaner than the so-called "Green Campings" of so many other festivals. It is a good tradition to collect your trash and bring it to the big containers. There, as a little 'thank you', you receive a high-quality printed DINA1 aerial poster of this year's campsite taken the day before, which makes for excellent memorabilia!
Curious for 2023 now?
2023 marks the 30. Anniversary of the Rock Harz Festival. Be quick and get your ticket soon. The first bands are confirmed: Paradise Lost, Hämatom, Destruction, Lacuna Coil, Lord Of The Lost, Die Apokalyptischen Reiter, Equilibrium, Skald, Letzte Instanz and Firkin. More bands will follow and the number of eight(!) headliners! We can expect the best line-up ever. At least that is what we organizers promise for 2023!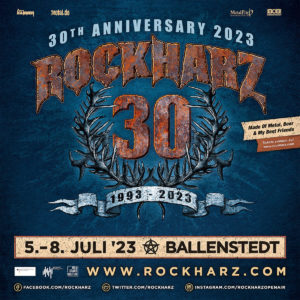 ---
!
Online:  
Please buy merch and physical music or downloads from the bands official sources and don't stream it for free because it steals your artists' income
---
Original photos taken by Cat Maverick and Friend.X
Proof reading Mummi-Katja