A dream come true
We turn back time, back to 2020. Lord Of The Lost were chosen as one of the special guests during Iron Maiden's European tour. Since then the tour was moved and moved and moved and happens now. Speaking with their bass player Class Grenayde during an interview before the release of "Judas" and just a few months ago with their Merch-Queen Nadja during Lord Of The Lost's Ensemble Tour. It is a dream come true for the band, the crew, everybody involved and so much more than just the "next step".
Killer Filler
Nevertheless, between the dates of the Iron Maiden Tour playing in front of 50.000 metal heads, Lord of The Lord find the time for some Killer Filler shows. Venues smaller than the stage only of the named tour but their own headliner shows. They play a few well-chosen smaller festivals as the Castle Rock at Mühlheim. Today they are hosted by legendary Colos-Saal at Aschaffenburg/Lower Franconia. The capacity is 500 and the show is sold out.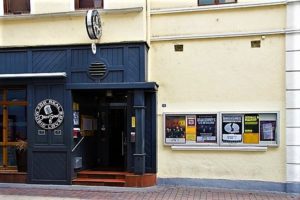 Support and Personal Support
Support tonight is – couldn't we already say "as usual"? – Scarlet Dorn, we all know, there is a magic band between her and Lord Of The Lost. My personal support tonight is my friend Karo from Grenoble. She has already seen them at Castle Rock two days earlier. We are going to enjoy Lord Of The Lost together today. It is some kind of her self-given birthday gift to see them twice. Let's raise the glasses on her!
Impressive Development
But now let's come back to Scarlet Dorn. I am very curious. I've seen them some years ago during the Thornstar Tour of Lord Of The Lost. I sadly wasn't too convinced. What a difference today! They open their set Proud and Strong and they are not Falling, nor Scorched by a Flame So Dark. Scarlet herself has improved her vocal skills and range quite a lot over the last years. I bet she has a very good vocal coach!
Double Roles
By the way, the one or other of her musicians will pop up in a same or slightly different role during the Lord Of The Lost set again… So One Day when you will Hold On To Me they will be on their own headliner tour, we will see, time will proof it! I Don't Know, I Don't Care for this Heavy Beauty but let's continue with some Rain. It is too hot and dry outside anyway. Soon we are coming to the end of the set list as Cinderella to an Unstill Life. It is time to visit one of the venue's bars left to the stage.
I really liked the show of Scarlet Dorn, they are on the right path to continue their rise to the next level! And together with Nachtblut they will be the support of Lord Of The Lost's Home Coming Tour in autumn 2022.
Queen of Merch
Before the main act's show kicks of, I take my opportunity for a little chat with our most beloved Queen of Merch, Nadja. As her realm is set up in a side room, she can follow the show only via a large flat screen monitor. Nadja reports: "The tour with Iron Maiden indeed is another step, it is amazing. Everybody around is fully professional and we play in front of up to 50.000 people. In total we will have 18 shows together with Iron Maiden. And you know what, Steve Harris [bass player and founder of Iron Maiden] watches each of our shows and frequently visits us in our wardrobe. Yesterday he brought us a collection of the Iron Maiden Beer."
About Accidents
Further on: "We have a lot of fun even though some things went bad as being stuck in Romania with a broken coach for some days and before the Castle Rock we had engine problems again though only for a few hours this time. Accidents happen due to double functions." Dominic, the tour manager this time managed to drive a screw through his foot during unloading the gear. "He is fine; he has to have a rest now but he is fine. There is a reason why it is forbidden for the musicians to unload, build up and load the gear… Anyway, these are the stories we can tell years later!" I remember watching Chris playing the Ensemble Tour 2017 with a plastered arm some years ago – lesson learned.
Her Metal Way Of Life
Time flies by, I could talk with Nadja for hours, so many tales to be told from the both of us. She is the kind of people who are the spirit to keep music, life shows and The Metal Way Of Live Alive. Feel free to read the interview with her I did during the Ensemble tour in April! But now I got to rush back. Lord Of The Lost are about to enter the stage in a few seconds.
Here We Go
Opener of today is the first song of the current album, Priest. It is a perfect song to build up a nearly unbearable tension. And It Was Night, indeed it was night, a hot night, now not only outside but inside Colos-Saal, sweat and make-up is runs down the face. Time to meet Morgana! Only three songs and the heat is on! Now we enjoy the first cover song, we all know, Chris Harms adores Lady Gaga quite a lot, it is just consequent to cover her smash hit Judas, even if it would only be to irritate some of the audience who mix it up with the Gospel of, it will follow later. The show is wild, fast and rough, much rougher and harder sound then know from regular albums.
It Is Getting Hot Now
And when you are not Born With a Broken Heart, you got to wait Under the Sun for the next cover-song tonight. Seems Iron Maiden left their mark. To bring over a little bit of their sound and to honour their fantastic show, it is time for Children of the Damned in a very own Lord Of The Lost version. It sounds so familiar and it sounds so different, they understand to make it their own song indeed. It clearly shows how proud Lord Of The Lost and their whole crew are to play a tour as support of these Metal Giants.
We Melt Away
But they can top it, what follows is my personal favourite song of Lord Of The Lost, attentive readers of our reports might already guess it. Of course it is the The Gospel of Judas. They Kill It With Fire. And what a fire it is, the air is steaming. You barely can breathe anymore! Will we Die Tomorrow, boiled in the melting pot of the Colos Saal? No we can't because first we have to glorify an ancient blond lady sitting high above the most Teutonic river Rhine. Yes, we are talking about Loreley, you might know the tale about the sailors, listening to her lovely voice, losing control over their ship and drowning in the cold, deep waters. We celebrate this song with all our Fists Up in the Air until it is time for the third cover-version of the set.
Five or 50.000 – Size doesn't Matter
Lord Of The Lord are really not shy to cover other artists songs during their shows. This time it is Wig in a Box of Stephen Trask. It for sure is the slowest song tonight, Chris only accompanied by Gared on piano until Pi, Class and Niklas fall in with guitar, bass and drums. What a lovely alternation! Afterwards they not only Drag Me to Hell, all the crowd follows, it is hotter than hell now. Hotter and sweatier than ever expected! Chris explains how the whole band feels being on tour with Iron Maiden, playing in front of the masses in impressively big arenas but still loves, will always and forever love to play in small clubs. That's where their hearts belong. No matter if five, 500 or 50.000 thousands, Paris, Castle Rock, Cologne, Aschaffenburg, every night can become magic if you have the right five people in front of you.
L.O.T.L. rules La Bomba
Chris adds, as usual they would play the encore immediately after the last "regular" song. "We all know you will shout for us, you all know, we just wait behind the stage to return so we shorten it and waste no time", so here we are, Six Feet Underground. I also waste no time, no words. I need to find something to drink soon. The show is exhausting for all of us equally, artists, crew and audience. So what about some Blood for Blood instead of a nice, cold glass of white wine or beer in the case of Karo and me? No, we got to wait until smashing La Bomba is over, a fantastic song to close a show with all its energy. It once was described as a pretty much most unusual summer hit. Latin-feeling meets hard Dark-Metal in a catchy anthem. Perfect! But failed, the show is still not over, the Doomsday Disco finishes the set of Lord Of The Lost instead. We end up singing their very own version of Village People's breakthrough' hit Y.M.C.A. It has lost nothing of its unique charm and more than ever speaks for itself and diversity. Of course the letters have been exchanged. L.O.T.L. is doing the job as well!
WE ARE DONE!
We are wet. We sweat like pigs. We are dried out. We are happy We are the luckiest people on earth and we want more. It was a great show for everyone, it was one of the magic nights Chris was talking about. One of those magic nights might happen during Lord Of The Lost's Home Coming Tour in autumn, pay attention, tickets might sell fast. I have the feeling, a lot of Iron Maiden fans might want to enjoy them during their headliner show too. Lord Of The Lost awakened the appetite for more Dark and Gothic Metal, go and feed your hunger! But now it is time to look around, one final drink, one farewell visit to Nadja's merch stall, one last look at the stage and then my eyes catch HER next to the light desk… Check out TV Of The Lost – Episode 493 at 2:50 to find out who I mean!
The Goddess of Light
I was already quite impressed by the light show during the Ensemble tour in April almost drawing pictures into the air. I have to confess, my expectations for the Filler Killer light show were somewhat raised very high. I am not disappointed! It is amazing what an arrangement a skilled and dedicated light technician as Nasa can achieve. To me, the lightshow is from another world, another universe. Outstanding great. Nasa is a real light wizard, the Goddess of Light. It was a pleasure to talk with her after show for so long, the venue was already closed when Karo and me left through the side door. Nasa is another one of those unique and lovely personalities wh0 keep life music alive with their dreams come true in real life.
These people I shared this unique concert with are the people which make Metal crowds real families, friends, a united society. Thesee are the people which count. Thesee are the people who change lives. We are one and we are all!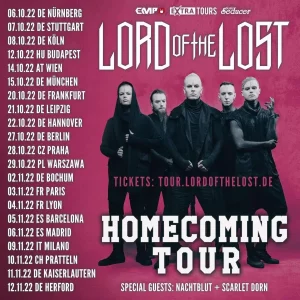 ---
!
Online:
Lord Of The Lost: https://www.lordofthelost.de/
Scarlet Dorn: https://www.facebook.com/scarletdornofficial
Colos Saal: https://colos-saal.de/startseite.html
Please buy merch and physical music or downloads  from the bands official sources and don't stream music for free because it steals your artists' income
---
Photos taken and edited by Friend X aka Mr. Deep except pic of Colos Saal, pic taken from Backstagepro.de
Proof reading by Muumi-Katja