Absolutely recommended
The right music to raise your mood. The right music for long car rides. And for every occassion.
9.4
Finest Alternative Crossover from Germany
Today we will review the second full-length album of one of Germany's most promising future metal top-acts. They released "P.O.K.E.R.F.A.C.E." on June 17th, and we are talking about Lisa & the guys: April Art from Giessen. April Art had their break through with the release of their singe "Breakout" of the EP "Fighter" from July 2021. Let us see what is coming next!

They are:
Lisa-Marie Watz – Vocals
Chris Bunnell – Guitar
Julian Schuetze – Bass
Ben Juelg – Drums
Pokerface
First let's make sure, the album title has nothing to do with Lady Gaga's break through, same titled song. You can read the full story in the forthcoming interview with Lisa.
Second, let's talk about the cover art. The painting shows the band's logo in the right lower corner. Half of a face with a meaningful expression. The area around the eye is painted brownish-red. Look into the eye's pupil, again the April Art logo pops up. It is a cleverly arranged real pokerface. A Perfect Ten for the cover art!
Third, and that's the main cause of an album review, let's have an ear for the songs. Nine full-length songs and three shorter interludes make it a dozen pieces of music.
P.O.K.E.R.F.A.C.E.
Title track and first song of the album. Lisa opens the song with her rough voice "To all the lunatics out there!…". A short keyboard intro, bass, drums and guitar fall in. "Take off your pokerface". Powerful opener with a very catchy chorus, very bass dominated, nice drum pattern and guitar solo.  Promising!!!!
Change
"Okay, now listen, you make your decision…" Again lyrics opens the song, for a change it is more guitar- and keyboard-driven than the previous track. A clever and complex arrangement of the middle part. The song slows down at the end before the drums speed up again to fade out with an opera-style falsetto.
Manifest
First of the interludes. "Have to follow", far from metal. Maybe a short track as an under layer for a doubtful moment in a film, nevertheless. Organ and vocals until "Stop". Let's check where it leads us to.
Rising High
Second single of the album. Typical for April Art, Lisa opens this song as well. Inviting melody, heavy staccato guitar. Powerful lyrics, and additionally a clear message. "I will turn my head up high. I am rising high." It is all a question of your mindset and you will be rising high. It directly is connected with the next song.
Sky Is The Limit
This is the first and pre-released single of the album. It showed some limits which are no limits simply if you don't allow to limit yourself because "Your limits are just in your head". The bass is very prominently placed and its groovy tunes add massively to the rising tension in the song plot. This groove, it feeds your appetite only to makes you even hungrier, greedy actually for more. Check the video, the song indeed tells a funny story.
Warrior
Deviating from their tradition, acoustic guitars opens the song. We do enjoy April Art on their slower, emotional side. The vocals are less rough, more in a style of early Stevie Nicks. "Yeah I am warrior And I know it's time to shine" Aren't we all warriors inside? Let us shine together, as the real metal warriors. Forget about the so called "True Metal", this is the deal!
My Way
No cover version of Frank Sinatra's biggest success. Original song with a short drum intro, otherwise in April Art's typical and remarkable style. "I'll come back stronger from the hardest nights" I don't know from which nights but the message is clear. Don't let others rule your life, there is only one way, "My Way".
Leave It Behind
Second of the interludes, sounds like an acoustic excerpt of a jam session and my description of the song would be longer than its 29 seconds.
See The Light
Horns up and you see the light. The guitar crashes in, dramatic drums. Soft and nearly tender but powerful vocals. "Oh yeah we are so fed up with the inner struggles" Again, we are where we are, don't let the outside decide about yourself, your mind, your soul, your decision.
Start Over
Do we hear sirens? Lisa's siren's voice will spellbind any man alive. Does she sing or cry or lure into a trap? Listen to your heart beating fast like the electronic under layer. A song from the abyss because "We reached down to the bottom Everything disappears". The sirens and pulse lead through the whole song. When we have passed the turning point it is time start over. Will any man escape the siren's call?
Letters
Third and last of the three interludes. "Catch your dreams before they've gone". Short but meaningful. It could have been a song by Kate Bush with all its magic in barely one minute.
Superhero
Even if it already is the closer of the album it would make a good opener for the forthcoming shows. It has a good vibe, some funny sound effects and of course beside the mix of demanding guitar, also pushing drums and pumping bass. "I've decided not to give anything anymore power over me" That's a perfect message for a rebellion, a metal rebellion.
Studio and Live
I had already enjoyed some these new songs during their show at Scheuer/Idstein. I am positively surprised how much of their live energy still is present on these studio tracks. Undeniable are influences of Djent, Metalcore and even Rap which make it a perfect Crossover and Alternative album. That's how good music should be. No borders. – Remember: only the sky is the limit! – Straight, not overdone. In an universe of exchangeable songs composed by digital logarhythms, this hand-crafted piece of art outshines the computer-animated 'stars'. Hand crafted music at its best. Well done April Art. Well done Ben who not only produced  but also recorded, mixed and mastered the album.
April Art on stage
In May, April Art had already toured through Spain and France as special guest of Ensiferum and Dark Tranquility together with At The Gates. They will play some festivals in summer as Rock Harz or Alcatraz and will headline a five cities tour in fall. Check out their website for details and save the dates.
To us "Break Out" was  life changing. It's a hymn, Ben got it tattooed on his arm. It was a time for us, yes there was Corona, to say "F*ck you Corona, we will do what is possible, everything we can reach". And we made it! We were exempt from everything! Focused on the good things. What we have, what we can do, everything on our own. (Lisa Watz)
And check out our website for the forthcoming interview with Lisa & the guys. After the show at Scheuer we were talking about success, breakout and –through, the tours and their life attitude. It mirrors in April Art's lyrics so you might already guess what their attitude is.
---
!
April Art: https://www.aprilart.de/
Please buy physical music or download it from the bands official sources and don't stream it for free because it steals your artists' income.
---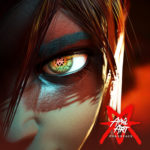 Proof reading  by Mummi-Katja