We are in the middle of spring 2022. Less and less tours are cancelled. More and more tours catch up the more than two years delay. One of them is Thundermother's Heat Wave Tour 2022. It already started in March with some UK-dates. With an interruption in between it restarts again at Bensheim on Tuesday 17th of May. Thundermother will continue by September 2022.
A Freight Depot
So here we are, Bensheim, Rex-Musiktheater. It is located in the listed former freight depot of Bensheim. Parking for free in front is no problem. Moreover, finding food is an equally minor problem because a large supermarket with a snack bar is nearby. It is perfect venue for an audience of up to 600.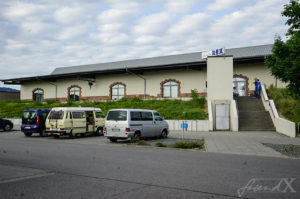 Strutter
Opening doors is set a 19:30, support act would climb the stage at 20:00. Plenty of time to walk around, have a look at the pics on the wall, glory days with glory artists. Time to check the merch stalls of Thundermother and today's support Dymytry. Or you want to have a drink at one of the two bars? The trust in a well behaved audience is large enough to offer all drinks in real glasses and no plastic mugs. Even some basic hot food is offered. Waiters are walking around and ask for your orders.
Dymytry – Explosive Dynamite
Then hall lights go out, fog wobbles over the stages, auspicious sounds catch your ear, stage lights flash. Dymytry from Czech Republic join the stage. The five musicians are all costumed in some medieval or apocalypse themed fantasy clothings and wear face masks. Their sound is fresh, heavy and catchy. They call it "Psy-Core".
Songs 'n' Drums
Amongst their set list we find songs like Never Gonna Die, Chernobyl, Somebody's Watching Me, Behind the Mask just to name a few, and a high speed drum solo which turns the fast lane into the slow lane. Dymytry is quite a big number in their homeland, now they are ready to make their path through the rest of Europe.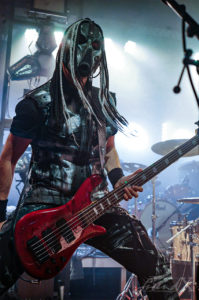 Who they are
For this reason, they have a specialty: Two vocalists for different shows. The international singer is Alen "A.L." Ljubic, he sings in English. The local singer for Czech concerts remains Jan "Protheus" Macků. His university engagement limits his international possibilities for tours. He sings in Czech. The other members are: Miloš "Mildor" Meier on drums, Artur "R2R" Mikhaylov on bass, Jiří "Dymo" Urban and Jan "Gorgy" Görgel on guitars.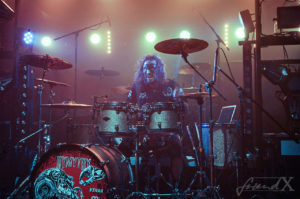 Dymytry play a nearly 45 minutes set which is a very satisfying length. I personally would have liked to listen to more of their songs and watch their impressive show.
Ignorance…
Sadly, a part of the audience doesn't share this opinion. Maybe its average age already was too high for such a modern interpretation of Heavy Metal. Maybe true Old School Heavy Metal fans are too stubborn to listen to other bands than their usual heroes. Or maybe they were just waiting for too long to watch Thundermother after some postponed tours during the Covid19 years which seem to be forgotten now. The number of people paying attention or even wearing masks is quite countable with two hands. Anyway, I am sure, Dymytry will make their way to the top.
… And a Kind of Excuse
The latter one might be an excuse, it still is not the Metal Way Of Life I prefer, nor what being a metal head stands for. Declining the support band before it even played its first chords is a sign of ignorance and we have no space for such a behavior!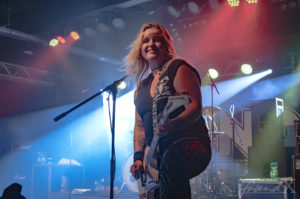 First I drink, then I smoke
Enough said though! Because Dymytry used their own stage technic, sound, light, drum kit we have a break for half an hour before the stage is ready for the main attraction tonight. Time for a chat with your neighbour, having a drink, smoking a cigarette outside or just breathe fresh air. It is quite hot in- and outside anyway.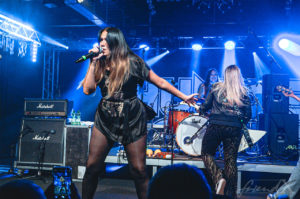 The Heat is On
The venue refills again and soon history of the evening repeats itself, fog, flashing lights, ready for…? Ready foooor? Ready for some Swedish music! No, we are not talking about Abba, we are talking about Thundermother!!! It is a band which suffered a lot from changing musicians in 2017 when four members left, the only constant member is guitar wizard Filippa Nässil. Thundermother are completed by Guernica Mancini on vocals who fully recovered from cancer, Mona "Demona"  Lindgren on bass guitar and the mighty Emlee Johansson on single bass drums. With this line-up Thundermother are more steady and heavier than ever before.
Right Between The Eyes
Their sound is pure Heavy Metal Rock 'n' Roll all night long. Straight into the head, right between the eyes, no compromise, no hesitation. Whatever opens the set because  The Road Is Ours. If there is a Dog From Hell, It's Just a Tease. The skills of the four musicians are amazing and entertaining. It is very clear that Filippa pulls all the strings but on stage they are all equal and the same. And all four are good entertainers who exactly know what and why they are doing! They kick you Into the Mud and return Thunderous once they are Back in '76.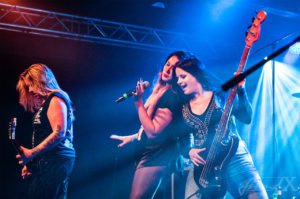 More Drums
You need a Hellevator to Watch Out. The audience is Loud and Alive and so is the band. A Heat Wave leads you to Mexico where you can Deal With the Devil. The brilliance and accuracy of live song performance  is far over the top. And even if I Don't Know You, the set of Thundermother contains Emlee's Drum Solo, something which became very seldom nowadays. Seems it is a thing of those Old School Metal Bands, and Dymytry as you could read above to give justice to the musicians in the shady back of the stage and pay tribute to their enormous skills and efforts. So this drum solo was like a Revival of the good old days of Metal.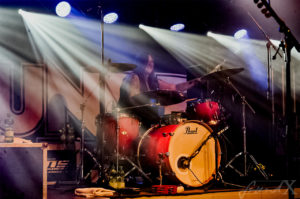 Fight For Your Right(s)
Time for some cover song, it is the second and intermixed part of the following medley We Fight for Rock 'n' Roll / (You Gotta) Fight for Your Right (To Party!). We Shoot To Kill and finally you've got to Give Me Some Lights to close the set tonight. Shouts for an encore are not unheard so the final song is Driving in Style and everybody drives not only in style but insane. The heat is on.
The Downfall of Mankind
I still have to close a bit on the negative side. For someone this heat was a bit too much. At the end of the show he started to push and bump into other spectators of the show. What started funny fast became serious. Alcohol and too much of it or maybe even other substances paid their dues. He started to face punch out of fun and control.
And the Fatal Solution
The otherwise very peaceful and relaxed security had to react and remove him from the audience. Sadly, it was not possible without some wrestling, fist fight and broken glasses. Once again, this is not the Metal Way Of Life. This is just stupid behaviour and abuse. We don't want to see this. We don't tolerate this. It is always fine to drink a beer or two or have a little shot but drink responsible. Responsible for your own and for the person next to you. There is no sense in hurting someone "out of fun". We are on a Rock and Roll party and not on a rumble.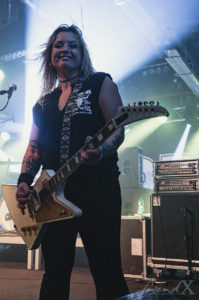 Pure Energy For the Next Months
Apart from this accident, the show was a perfect restart of the tour after the break in April. It contained new, unheard songs of the forthcoming album and one song was never before played live. Forgive me, I can't remember which one, I was too overwhelmed by the pure energy of the whole show. The interaction between band and fans was great. The set had a entertaining length of two hours and 20 songs which just flew by. The tour goes on for a while. Thundermother will play some festivals too so pay attention and take the chance to watch them live if you can.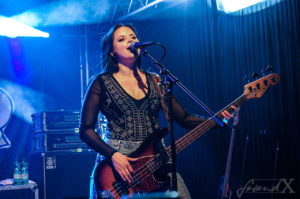 ---
!
Online:
Thundermother: https://www.thundermother.com/
Dymytry: https://www.dymytry.cz/?lang=en
Musiktheater Rex: https://www.musiktheater-rex.de/
Please buy physical music or download it from the bands official sources and don't stream it for free because it steals your artists' income
---
Photos taken by Friend X aka Mr. Deep, edited by Mummi-Katja.
Proof reading by Saber.X