Germany's New Force of Metal
Saturday evening and I am ready to leave home to see April Art at Scheuer, Idstein-Woersdorf tonight. I check my cellphone one last time to see if there is any important news before I will be off for quite a while. Surprise, surprise, I have one message from Alicia on Instagram. If you have already read my report about the Nervosa /Burning Witches show at Nachtleben / Frankfurt two days earlier, you will remember her. She is the generation of metal heads who will save the future of metal music over the next decades with their mindset. She lets me know I convinced her to see April Art too as her personal encore before she leaves for Thailand. Mission accomplished! It brightens my already good mood even more and I jump into the car to meet her at the location.
The Venue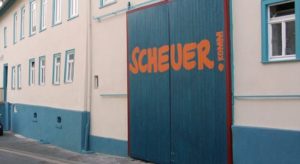 The Scheuer is a well-known local venue which regularly hosts a lot of cover and tribute bands beside their original bands. They also organize the Ziegelei, Das Scheuer Open-Air each summer with original bands. Next to the venue you can visit a good restaurant for some proper German food, on the opposite side a pizzeria and an excellent ice cream parlour. I must confess, for unknown reasons it is my first time being here.
Continue talking
Alicia and me meet and continue our conversation where we stopped last Thursday. Funny enough, she again is "my neighbour to the left". Of course the theme is metal. Metal bands, favourites and dislikes. We realise that since 2016 we've been visiting a lot of shows beside each other without knowing each other. That is almost unbelievable. We share a lot of experiences on the very same concerts, amazing. Soon the opener of the evening joins the quite high stage for such a venue and we stop talking.
Bavarian Visitors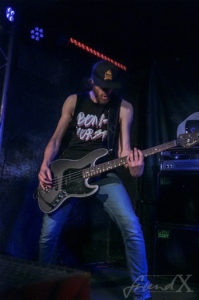 We welcome Stepfather Fred from Bavaria, Allgaeu. they play a perfect mix of Alternative Rock, Groove Metal and traditional Heavy Metal, even with some Hard Rock and Blues elements. Stepfather Fred are Basti on vocals, Matze on bass, Julius on drums and band van and Simon on several guitars. Sadly, I didn't listen to most of their songs before. I just had a quick check earlier in the day so I cannot singalong a lot. It doesn't matter, I can still clap my hands instead. Their sound is fresh and straight from the heart. These are musicians who know exactly what they are doing for their fun and the fun of the audience.
Connected and Corrected
The interaction between them and the mostly middle aged audience is noticeably harmonic. Basti mentions "I already sweat", a shout from below "Fun is hard work".  Basti: "And badly paid", reply "but good mood". Agreed together: "Yeah true, most important!" It is a pity they have no setlist laying out somewhere on the stage and I didn't find an actual one in the net. At one point Basti greets the audience as "Idstein!" and is quickly corrected "Woersdorf!!!" – which is a district of Idstein, but "yeah, we are Woersdorf". He likes the local beer offered at the Scheuer, well it is Schmucker from Darmstadt, not the worst Hessian beer anyway.
About Skills and Dedication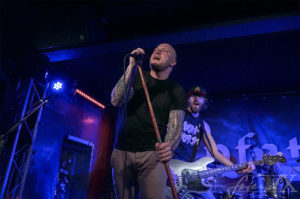 Allow me to talk about the single musicians. It is amazing how much a good drummer can do with a small kit or the other way round, a large drum kit doesn't substitute skills, brilliant job Julius! This statement does not diminish the skills of the three others. Matze is a beast on the bass though he looks a bit like a slim metal version of Mark Forster (sorry Matze, I am really sorry). Simon shreds through the set like no other, precise and full of feeling. Basti gives his best to catch up with the vocals, second best wouldn't be enough but he full fills this heavy duty and burden with an amazing ease, from brutal metal vocals to nearly silent whispers, he gives us the full range! After some guitar changes for a different tuning or a string more and back, smashing guitar riffs, thunderous drums the set of Stepfather Fred is over. Basti tells us where to follow them, the usual social medias as Instagram, Facebook, Spotify, Tinder (a joke) and sadly has to say goodbye just to meet us again at their merch stand soon.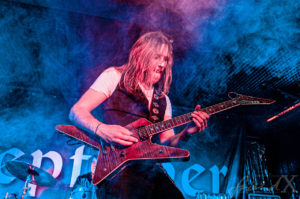 Late delivery
Later on, when the article was already written and in proof reading process I would receive the setlist via a supporter chat, so here it is for those of you who want to know:
Deep In My Mind
If She Falls
Have A Good Time
Queen Of Mine
I HaveTo End
No Truth For You
Unconditional Love
Wenga
One Second Alive
Numb
I Am The Sea
Die Hard Live Fast
Relief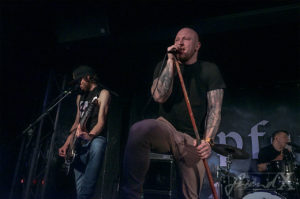 We both were surprised about Stepfather Fred. They were much more than just a support band, their set was nearly as long as April Art's would be anyway, so there is not much of a difference. Both bands know each other well for a long time for good reasons. On the stage it is time for a complete change of the set. New mics, other guitar rack, new drum kit, which is again not a very big one, the carpet needs to be straightened again and after a short while and another talk with Alicia it is time for some…
Hessian April Metal
The stage turns into a yellowish-reddish light, the first musician, Ben enters the stage and mounts his drum kit. Two fellows follow, Chris and another Julian, take guitar and bass. They let their fingers swirl and the first chords of the opener "Painkiller" peal. It already is a blast, even before vocalist Lisa joins her bandmates a few seconds later waving the April Art flag. The four April Artists are all dressed in screaming orange-red, very sportive clothings, one would expect them to play some Hip Hop but what comes out of the amps is pure f*cking metal! April Art press the pedal to the metal, there is only one speed, top speed. The second song already is a highlight, "Break out", which was their break thru', April Art's first song to air on the radio. It is a statement of their metal way of life and makes them role models for other metal heads.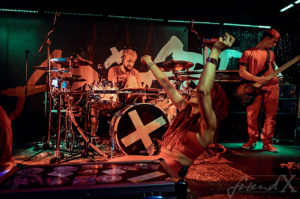 Metal Talks
Once you break out, "You Want It All", the world belongs to you. Even if you are a little metal band from the Hessian countryside. The vocalist takes the chance to talk with the audience, or maybe a better term would be "family"? Lisa-Marie (most people just say Lisa) seems to know most of their fans in person and by name! She indeed has the guts to "Break The Silence". Soon everybody is jumping and dancing along with the songs. The mood is perfect. Lisa can't stop making jokes between the songs for the good of it.
About Spaceships and Limits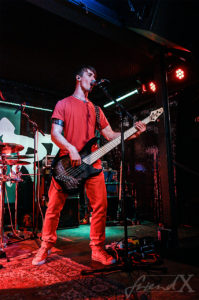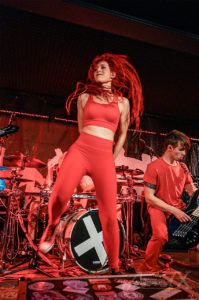 Maybe some of you remember the year 2015? It was the International Year of Light and the year when the NASA-Spacecraft New Horizons passed by Pluto and left our solar system. It is, even more importantly, the year when April Art released their first single "You Remind Me", a crossover song which defined where their musical style would lead. Talking about singles, the next song is the recently released first single of the forthcoming album "Pokerface", which will see the light of day on 17th June. "Sky is the Limit" is next, but when you listen to the clever lyrics it becomes very clear that even the sky is no limit to make your dreams come true because all limits only happen in your head. Pay attention to the dynamic of the bass pattern as well, that's the groove to conquer the sky.
From Domestic Cat to Tiger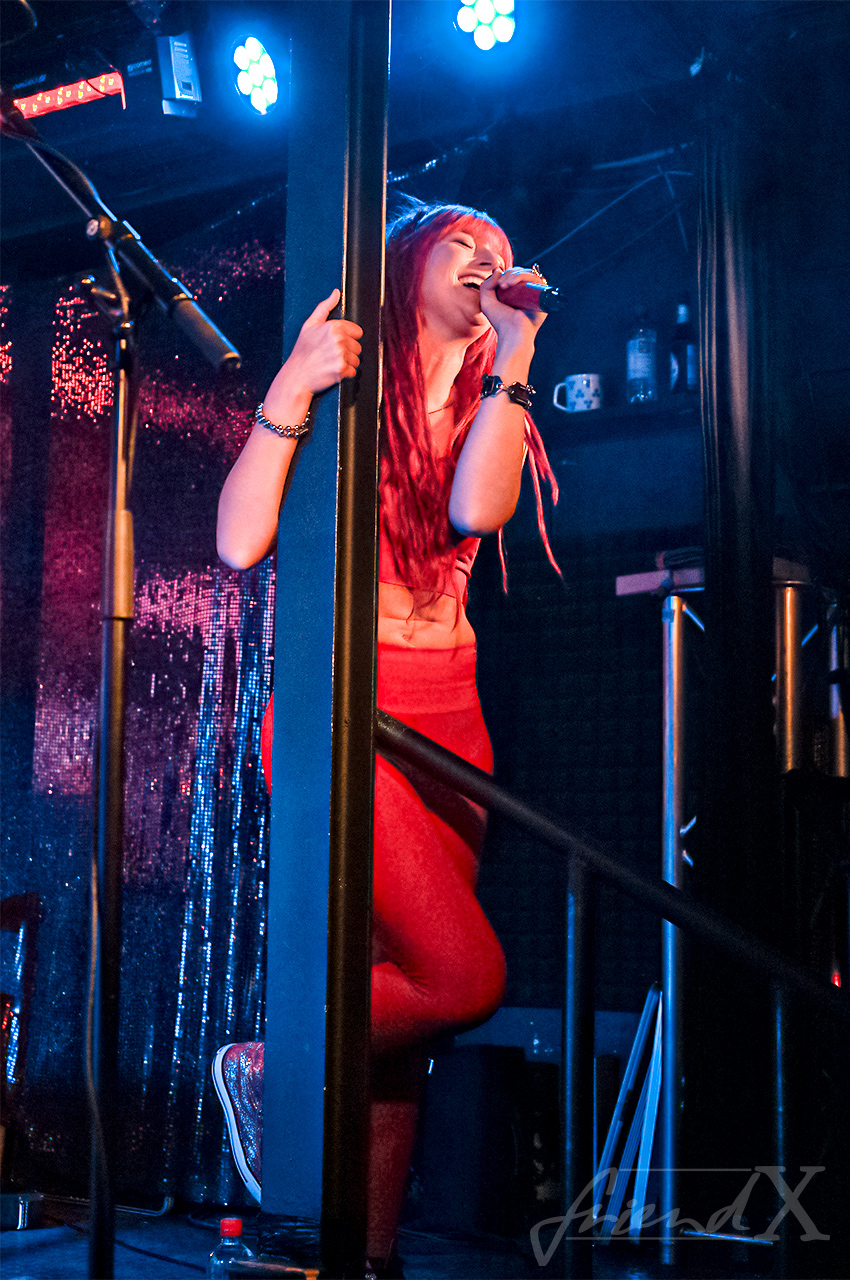 We learn that "Rising High" is no problem with the right mind set, by the way another so far unreleased song. "Rising High" is also the mood of both, band and audience, the party family of tonight. I'm pretty sure a report about this specific concert in Idstein would make a good "Headline" for the local Sunday newspapers. If I am right it is the third new song in one succession. If not, the band or die-hard supporters will certainly correct me. It is funny to hear their oldest songs and April Art's newest little masterpieces back-to-back. The new songs sound rougher and less crossover than the studio songs on CD but of course live songs are a completely different animal, a domestic cat can easily become a wild tiger. So the older songs catch up when played live to the same fresh and powerful level once they are let loose. At least they are all "Fighters"!
Goodbye for a Year
Already about half way through the set Alicia, my neighbour to the left tells me she's got to leave soon to catch her public transport to be back home right in time. The show is her encore, and she already had 180% of what she hoped for before flying over to Thailand, so it is not such a downer. But she indeed liked the bands and would try to get her hands on the CDs of Stepfather Fred and April Art before leaving.
'Babbelmädche from the Dorf'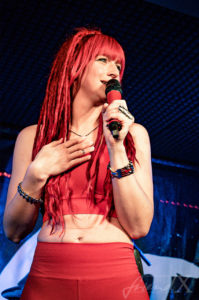 We need to enjoy the last songs together, jump in the air, "Scream" and shout "From The Inside", both from the 2019 album "Rise & Fall", both once again very powerful. I again like Julian's adrift bassline of the latter one especially, don't ask me why, it simply is what it is. There is no song to dislike anyway. Each one stands for delivering a constantly good mood. It reflects in the faces of Chris on guitar and hard working Ben on drums as well as Julian's smile. Lisa, the "Hessisch Babbelmädche from the Dorf" still tops them with her endless stories and jokes.
Leaving the Stage, but When?
In this case Lisa tells the story of when she once mixed-up songs and left the stage for one song to early, leaving a confused Julian desperately shouting, for it was one of his first gig with the band. What a debut in a band when all should be perfect. The song was "Jealousy" and is the next one of the set before she indeeds to leaves the stage. What follows is an incredible "Jam Session" of the three instrumentalists. Chris and Julian pull, rip, tear all 11 strings they have together. Ben beats the felts of his drum kit as if there is no tomorrow. Again no big kit but an excellent, self-confident drummer behind them is half the battle for a great gig.
LITFL
What the f*ck does that mean? How can you say it? The long term supporters already know it, none other than "Life in the Fast Lane". It is the closer of the regular set and once again stands for the April Art way of life. Live for today, party hard, and enjoy your life, tomorrow is another day but yesterday is dead and gone.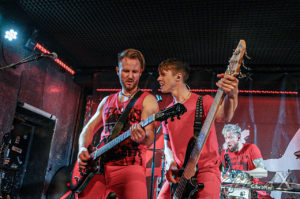 The Encores
It takes seconds from the first shout for encores and April Art come back. And what a comeback it is after we missed them for such a long time, far too long a time! "Superhero" is followed by "Invader". Both are well known songs and a lot of metal heads and even locals seem to know the lyrics well. We sing and shout and clap our hands better than heavenly choirs. The Sky is NO limit, not today, not for April Art and not for us! But wait, two songs as encore to be on the safe side? Really April Art, are you kidding? After you already played about half the "Pokerface'" songs? No, they return for a second time and indeed they finish this amazing set with the new song "Change", the venue is boiling and partying hard for no change. Name me a band self-confident enough to play a set which is filled with new, unreleased material. Most bands remain on the safe side and play only a few new songs, even if the album is already released.
Surroundings and Lights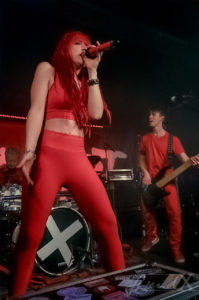 I have the honour of interviewing the band later that night / early in the morning, so there is enough time to strut around a bit. The venue is really cool. The stage is maybe the highest stage in the smallest venue. There are bars on both sides which offer a wide range of beverages and the restaurant Nassauer Hof is just a door away on the very same grounds. And I meet the guy behind the light show of the evening. He did a fantastic job for both, April Art and Stepfather Fred. It turns out that he is not the experienced middle aged man you would expect but a teenager who does this job frequently at the Scheuer. It is a pity I cannot remember his name though, but well done, very well done indeed.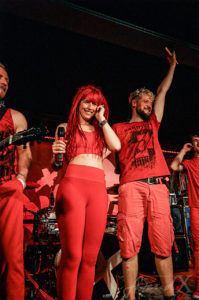 Stepfathers
I also have time to go shopping, Stepfather Fred are still there, good chance to buy their newest of five releases, "Like The Sea".  Although it is quite crowded we have time for a short chat. Really nice chaps from Bavaria. They still have to drive home so Julius tries to get some sleep because he is the driver of their van. They trust the drummer! Good attitude! By the way, thank you Matze for the patch, next time we meet I'll have it sewn on my Kutte. And we'll meet again for sure to raise the glasses together! 
Meeting at the Merch Stand
It is no less crowded at the April Art merch area. The band once again seems to know all their supporters by name and the name of the dog, cat or goldfish. Family meeting at the finest, the real metal way of life! I can do nothing but continue shopping, even if I forgot to take more cash with me. It is enough for what I needed to get, not what I wanted to get but there is always a next time! Always and especially with this incredible metal combo. Lisa will carry me off later for the midnight interview but meanwhile, I take the chance to talk to friends and supporters of April Art and get the set-list signed. It is interesting to stand aside and watch them acting together! But the interview is another story you can read here soon.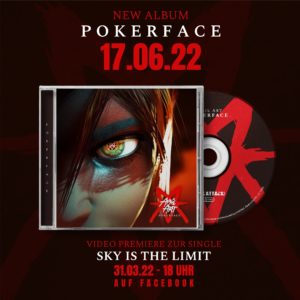 What remains for April Art?
They would use the next day for another rehearsal with a fully built up stage because they are staying here for two days. They have the perfect reason which has excited them for quite a while. They will go on tour for about three weeks together with Dark Tranquility, Ensiferum and Tag My Heart, which mainly leads them to France and Spain from 24th April on, and for one show to Stuttgart on 26th April. In summer they will play a festival season after the release of "Pokerface" on 17th June. October is the time for their first headliner tour. April Art is more than "just" a little metal combo from Giessen in the middle of Middle Hessia's countryside which will make its way through the oceans and skies of the world. May all go well and make their dreams come true, they deserve it like hell.
---
!
Online:
April Art: https://www.aprilart.de/
Stepfather Fred: https://stepfather-fred.de/
Scheuer: https://scheuer.rocks/
Please buy physical music or download it from the bands official sources and don't stream it for free because it steals your artists' income
---
All  photos taken by Friend X aka Mr. Deep at the show in Idstein-Woersdorf, April 9th 2022 and edited by Mummi-Katja