Today, we will listen to the fifth studio album of one of the funniest, most (un)serious and truest metal bands ever. It was released 10th of March 2023 by Napalm Records. The album is called "Dislike Of False Metal", and the band's name is NanowaR Of Steel from Italy. Take them serious as metal-heads or not, this is totally up to you but certainly take them serious as very skilled musicians. Now no more words wasted, let's listen to the first of ten brand new parody songs.

Sober
"Sober! Pirates of milkshake
Old buccaneers of masala chai"
We all know how beloved the so called golden age of pirates is amongst metal bands. Often their songs tell stories about cheap wine, women and rum. This one is different, we meet the first pirate crew high on mineral-water, chai and milk-shake instead. Beside that it is a very powerful and fast song using accordion and everything else a good pirate song needs apart from alcohol.
Winterstorm in the Night
"Unholy dandruff snowing in the air
Unholy dandruff dropping from my hair"
The second song features none less than Eleine singer Madeleine Liljestam for additional female vocals. This symphonic metal song starts with some kind of music box melody followed by a strong and massive guitar riff. A true anthem and singalong for the audience of any festival in the world.
Disco Metal
"What is morgue? Dance with the zombies, the zombies, 'til dawn
Rhythmic necromancer, it's a soul companion"
Distorted electronic voices lead us to a homage to another golden age, the age of disco music. "Disco Metal" rules, I've never heard a 'better bad song' since KISS' "I was made for lovin' you". It is a true gem for everybody who grew up in this wild time of Studio 54 in New York or Dorian Gray at Frankfurt Airport just to name two famous discotheques of the 80ies.
Muscle Memories
"You'd win at arm wrestling with your friends, if only you had still friends
You'd lift your girlfriend 10 feet high, if only you had a girlfriend"
Change of the topic, switch over to the cult of bodybuilding excesses! A surprisingly acoustic guitar opens this bitter sweet eulogy about body narcissism and turns into what most metal-heads would describe as a power ballad and I can nothing but agree.
Chupacabra Cadabra
"Chingado perrito! Goats and libertad!
With an AR-15! Buena voluntad!"
The next song reports about the free state of Chiapas. It seems to be located somewhere near Mexico or in Latin America. Funny (!!!, what a surprise) lyrics and melody serve all the clichés that are expected from these countries. We even get to listen to some "Spaghetti-Western" intermezzo. Whoever doesn't start laughing while listening to the song has the wrong sense of humour. I am pretty sure live audiences will celebrate this fine tune. Find out more about the real free state of Chiapas here.

Pasadena 1994
"Pasadena 1994, for the glory
For the second place"
Sabaton front man Joakim Brodén supports NanowaR Of Steel for this martial song. Even in times of political correctness eleven soldiers march into their final fight. Well, it is not a battle but a football match and the soldiers are just football players. Italy was defeated by Brazil though in the final of world cup 1994. The song comes in best heroic power metal tradition and is more or less  a persiflage about itself because sadly too many so called "fans" believe they go to a football-war and not a football-match.
Metal Boomer Battalion
"We stand! Through permabans, strikes and shitstorms
We tweet! Until our keyboard comes!"
Just like the previous track the song is ruled by power chords of their finest. While we are talking about war, as real and physical as it is now, there is a virtual war on social media platforms going on too. The battalions of warriors are countless, everybody is happy for a fight about True Metal, Untrue Metal, wrong genre or subgenre. These "soldiers" are the metal boomers fighting their ridiculous battles on their keyboards in the anonymity of the internet for the sake of no one. No glory, just stupidity and they don't even realize it.
Dimmu Boogie
"Dee Dee Diggers are back in town
Dimmu Boogie is gonna lay you down"
Boogie Woogie, drums, trumpets, speed, neck breaking speed and funny lyrics, what else do you need? That's right, nothing. We meet Elvis the Pelvis, Chuck Berry, Bill Haley, Jerry Lee Lewis and all the pioneers of Rock and roll! Every further explanation kills the magic of this gem, my absolute recommendation to give it a listen on the spot!
Protocols (of the elders of Zion) of love
"I don't care if you're flat, like our mother Earth
The only thing I want from you is that you tell me "I love Q""
The ninth song of the album is one of the slower kind again. We hear neither power chords nor battering drums not even a pounding bass but a proficient acoustic instrumentation to harmonic vocals. It doesn't make it softer or less ironic! Behind that lurks a beast of sarcasm about our modern streamlined and remote controlled generation.
The Power of Imodium
"Montezuma dibidaliduma
Montezuma dibidalidù"
The album closes with another anthem, glorious and powerful, guitar and double trouble pedal driven, suddenly interrupted by a 90ies trumpet fanfare, turning into crazy twists. We are listening to an ode to a diarrhea medication as if it was an opera aria. For some reasons it could have been titled Imonium Rhapsody as well. Listen and find out why!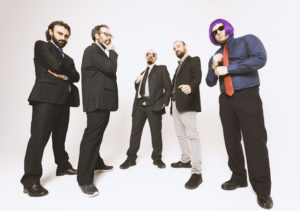 Is it fun music or is it metal?
Yes, it is. It is both. Yes, metal music CAN be funny even if True Metal fundamentalists would like to crucify me high beside the five musicians of NanowaR Of Steel. I'm pretty sure most listeners will either like or hate the album with not much in between. I myself like it. It made me laugh more in 45 minutes than I had done for a whole week. Pay attention to the lyrics. Funny is one side of them, looking behind the false front or fake disguise is the other. We all find ourselves and our behaviour in the lyrics more often than we might expect.
It's a reflection!
Dislike Of False Metal is the mirror we should look at every morning when we wake up and every night when we go to bed to reflect our attitude. If you want to take the album less serious and on the light side, just enjoy good and real metal music by five great artists and their guests and care less about. But give it a listen, it is more than worth it!
The cover
The drawing of the cover art is worth a closer look. It is about America's history, we detect the Statue Of Liberty, the Pilgrim fathers ship "Mayflower", Disco Metal, a Maya pyramid, Manhattan and many more small details. Once again a reason why CDs should have vinyl size or why it is better to buy physical music instead of simply streaming it.
Dislike To False Metal tracklist:
Sober

Winterstorm in the Night

Disco Metal

Muscle Memories

Chupacabra Cadabra

Pasadena 1994

Metal Boomer Battalion

Dimmu Boogie

Protocols (of the elders of Zion) of love

The Power of Imodium
NanowaR Of Steel are:
Gatto Panceri 666 – Bass
Potowotominimak – Vocals
Mr. Baffo – Vocals
Mohammed Abdul – Guitar
Uinona Raider – Drums
Save the date:
NanowaR Of Steel will be on European tour supported by Frozen Crown for the first half and Tragedy for the second half of the tour. Read our concert review soon! Be assured, the whole show is a blast, full of fun, joy and incorrect jokes. The most (un)serious concert ever!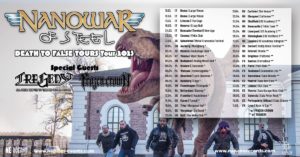 ---
!
Please buy merch and physical music or downloads  from the bands' official sources and don't stream music for free because it steals your artists' income.
Visit the bands online to find their merch & music to support them:
---
Proof reading by DermimBoad