I remember how some 48 years ago an iconic live-album was released. The big question was: Would the band achieve what it had not accomplished on their previous three studio albums? Will they transfer the puritiy and roughness and energy of their concert performances to a record? The band was KISS and the album was Alive!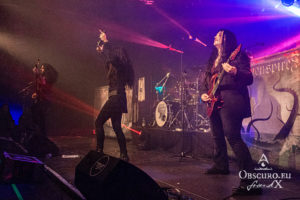 Seven Spires
Today, I hold another live album in my hand and the questions are visa-versa. Will the band be able to transfer the high technical quality and their skills of the studio albums to a live album without sounding too clean, but just live? This time the band is Seven Spires and the album is Live at ProgPower USA XXI, recorded on the festival's  second day in 2022.
Live At ProgPower USA XXI
To cut a long story short, I saw them live a few weeks before so I know they are perfect and outstanding live musicians. Feel free to read the concert review here. "What a blast they are! Seven Spires rule the stage from the beginning. It is a pure pleasure to experience them performing!" It makes me very optimistic as I put the CD into my player and start listening.
The Best Scream Ever
As usual nowadays there is an intro, called "Wanderer's Prayer" coming from the sound-board which directly leads into "Gods Of Debauchery". I am not disappointed at all, the sound is great, fresh and rough. The first single of the album, "Ghost Of Yesterday", and my forever personal highlight "The Cabaret Of Dreams" follow. It is this song, which made me aware of this Boston-based band some years ago, and it is a fascinating to listen to Adrienne Cowan's scream at the beginning of the song again and again. I wonder how her voice survives this ordeal.
Outstanding
We listen to more live versions of studio tracks in such a highly technical quality, it is unbelievable. That is what happens when four outstanding as well as dedicated musicians meet during their studies at Berklee College of Music in Boston, and form a band together.
Drums, Did I say Drums?
Nowadays, every live played song must sound polished and streamlined as on studio. We hardly get to listen to a remarkable drum solo any more. But here, there is one.  It is long enough to catch your attention and short enough not to bore the listener.
It comes naturally!
I have no idea which song I should highlight. All of them are little gems. Give Adrienne to perform any kind of singing style, she'll do it. Screaming, growling, clean vocals, it all comes naturally. Even more at live performances she is capable of switching from one to the other within seconds. And no over-dubbing or technical help from the sound board is necessary. She is probably the most outstanding and most complete metal vocalist alive.
Such gifted Artists
Beside her Jack Kosto on guitar, Peter de Reyna on bass and Chris Dovas on drums are equally skilled musicians as they proof on each song. The final song of the set and album features male vocals by none less than Roy Khan of Conception, previously of Kamelot. All songs have in common that they sound perfect live without losing the quality of the studio recordings. That is exactly what a modern live-album should sound like.
Very, very well done!
Congratulations Seven Spires, very well done. You indeed were able to transfer the high technical quality and your skills of the studio albums to a live album without sounding too clean, but just live. I hope your path to 'Metal Olympus' will be straight to the top where you belong! There is a throne waiting for you to ascend.
Live at Prog Power XXI:
Release date: 17. March 2023
Label: Frontier Music
Genre: Dark Melodic Metal 
Seven Spires:
Adrienne Cowan – Vocals
Jack Kosto – Guitar
Peter de Reyna – Bass
Chris Dovas – Drums
Tracklisting:

 1. Wanderer's Prayer
 2. Gods Of Debauchery
 3. Ghost Of Yesterday
 4. The Cabaret Of Dreams
 5. Succumb
 6. In Sickness, In Health
 7. Bury You
 8. Drum Solo
 9. Oceans Of Time
10. Shadow On An Endless Sea
11. Dare To Live
12. This God Is Dead (Feat. Roy Khan)
13. Through Lifetimes (End)
Seven Spires are currently on North American Tour together with Eluveitie and Omnium Gatherum, check out the remaining dates: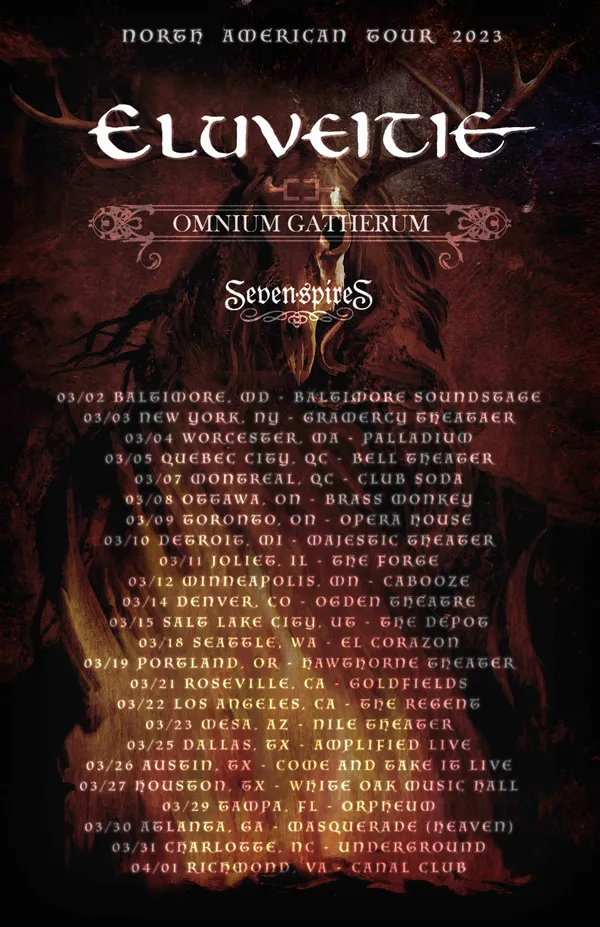 ---
!
Please buy merch and physical music or downloads  from the bands official sources and don't stream music for free because it steals your artists' income.
Visit the bands online to find their merch & music to support them, check out upcoming shows, etc.:
---
Proof reading by DermimBoad
Addition editing by MuumiKatja