Autumn Tour 2022
Heimspiel
I remember going to a concert, barely four weeks ago, only wearing t-shirt and Kutte because it was so warm outside. Now, on 19th of November, just a few hours before the show, I'm wondering if I can go there at all because I have been facing some heavy snowfall the whole day. If it continues it will make driving difficult if not impossible due to blocked and icy roads. In the end I decide to give it a go. The distance is just a short 13 km drive today. I am going the see The New Roses at Wiesbaden, Schlachthof. Being a local band from Rheingau it is their "Heimspiel".
Too Cold Too Warm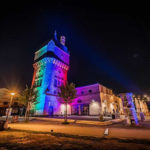 Arriving right in time I feel a bit like being in England, everybody is lining up in a queue. It is a quite long queue of several 100 meters. The doors  have just opened. Once in, it is much warmer inside and I immediately regret wearing t-shirt, hoody, jacket and Kutte. The existence of a wardrobe is solving the problem so I can get rid of all the unnecessary clothes to pick them up again after the show. We all get a small plastic bag handed out. It contains a little light stick, a balloon, a chewy candy and an instruction what to do with it… I strut around, have a look at the merch stall and chat with the guy of the security who is in charge of the entrance to pit and backstage area.
Losing Gravity
Fitting Like A Glove
Soon it is time to dim the hall light, tonight's support Losing Gravity enter the stage. They are "half local" from Frankfurt and Texas, at least their vocalist and guitarist Chase Wilborn. It is their second tour with The New Roses and their attitude and music fit like a glove. The other members are Florian Hain on lead-guitar, Lucas Urner on keyboards, Lars Palenzatis on bass and the newbie Max Friedrich on drums.
Feel Alive And Get Loose
Losing Gravity open their set with "All You Never Needed", certainly a song "ever" needed, good mood rules the venue right from the beginning! They continue with a memory "Just for the Summer" and make pretty clear that "Nothing's Gonna Change This". So as soon as the people of the audience really "Feel Alive" they can nothing but "Get Loose" and so do the five nice chaps on stage. Their tour so far might have been a "Long Road" and in regard of the actual temperatures outside "We All Froze" there is always "Something Better".  Even if we sometimes are "Living in Riddles" Losing Gravity leave no doubt about "This Feeling" until they are ready to finish they show as the "King of the Hill".
Just Real Live Music
These were about 45 well invested minutes of a good, fresh and not overhyped pure live band. Losing Gravity need no additional instruments or effects from the sound board, just two guitars, one bass, one drum kit and a keyboard, nothing else! That's what real music is all about. They released their debut album in spring 2022 and now I can't wait for their next album packed with traditional American Rock 'n' Roll from Frankfurt Rock City.
Being With The Family
The time flies by talking with the security guy again, we continue where we stopped before. It is always a pleasure to listen to them, hear their stories about good and bad experiences, how different the audience can be depending on the music played on stage. I look around, this time the audience looks more like a family happening than a concert with loud guitar music. The age ranges from young kids with their parents to grandparents with their adult kids and every age in between. Love, passion and desire for good live music unite all generations!
The New Roses
Balloons
Remember the little bag I mentioned above? It is time to make use of a part of it, inflate the balloon! Lights go out again, Timmy Rough on vocals and guitar, Dizzy Daniels on lead-guitar, Hardy Heart on badass Bass and drummer Urban Berz leave the backstage area, grab their guitars and drum sticks and The New Roses enter the stage to open as the "The Usual Suspects". The spectators follow the instructions and let the balloons fly. Punch them, kick them, several 100s of them, much much more than Nena once mentioned. Soon the floor is flooded with balloons of all colours, some will burst and not survive the concert. What a warm welcome to the band arranged by the local fan club in Wiesbaden.
Light Sticks
The New Roses awake "The Lion in You" for a "2nd 1st Time" until "Every Wild Heart" is "All I Ever Needed". All the audience ever needed is the second piece of the bag, the light stick. Mine is yellow but I see all different colours being waved around. Sadly a few people don't understand the sense of such a lovely gimmick and throw it in the direction of the stage or simply on the ground after the song but many others keep it and make use of it again during later songs. Again, I really appreciate the idea behind it! This is "My Kinda Crazy"!
Down To Earth
When you are visiting a show of a local band which has grown over the years and now is a quite well-known national if not international act it is always lovely when they still remain down to earth. So are The New Roses although they are "Nothing but Wild". I remember knowing their drummer from his very early years when he was member of Wiesbaden's Beat Kapelle No. 1 die Crackers and he hasn't changed since then, still the nice guy from around the corner who could be your neighbour.
My Earliest Memory
Anyway, there is always a "1st Time for Everything" even though "It's a Long Way" to be "Rockin' in the Free World", a cover of a "quite unknown song" of Neil Young. Although 33 years old the lyrics of this song are as actual as ever. The following "Whiskey Nightmare" is the song which first made me aware of The New Roses, I think in 2013, already nearly one decade old? Unbelievable, it still sounds fresh and yes, I had some personal whisky nightmares too meanwhile. But that's another story, let's instead get ready for some "Warpaint".
Local (Hi)Stories
Suddenly The New Roses leave the stage. What happened? An incident? The show is already over? Nothing of it, Timmy returns with his acoustic guitar and the one and only "True Love", maybe the most contemplative song tonight. For "Can't Stop Rock and Roll" Hardy, Urban and Dizzy rejoin Timmy on stage again to become a bit rougher again. They all know, "Life Ain't Easy (For a Boy With Long Hair)" at least that's what Timmy reports about his time at school in Eltville am Rhein. I love these little "hometown" stories. I know most of the local places the New Roses are talking and singing about from my own childhood and youth, the Irish Pub at Michelsberg Wiesbaden with its tiny stage and all the other venues they played in their earlier days. So let's hope that "Forever Never Comes", it will all go "Down by the River" anyway which also is the closer of the regular set.
Encores and Gifts
We all know the band will come back, the band knows we will shout for more, that's the usual and traditional ritual before the encore. So here they are, back on a "Glory Road". And they are back "Playing With Fire" until the flames get higher, don't worry, no pyros were used during the show. But flames are hot and the hotter it gets, the more "Thirsty" you become, I might need a beverage after show, so will many of the audience too. "Old Time Rock and Roll" in its extended sing-along version finally closes the set. The New Roses promise to share a pint with everybody who wants at the merch stall afterwards but first they have a ton of gifts in form of dozens of plectrums and drumsticks which they throw into the crowd. Some lucky guys even catch one of the set lists!
Metal Family
This concert was one of the most relaxed shows I've ever seen, I've ever visited. It was a very friendly atmosphere. As I have already written, a concert for the generations and a true "Heimspiel" for The New Roses. The Schlachthof was very well-filled but not overcrowded and mentally overheated. There was no aggression at all and the security crew must have had a very easy going if not boring evening. I wouldn't want to argue with these men and women anyway. They do a brilliant job, calm and attentive like a sleeping cat but can become a tiger on the go in milliseconds if necessary.

That's What Rock And Roll Is All About
A last round to have a beverage, pick up my jacket, look at the merch and then it is time to go home. No snow, no ice, a bit cold but the certainty that I've seen a great show of a great band together with a lovely audience at the "Heimspiel" of The New Roses. I must confess, although I had seen them more than half a dozen times before, it was the first time silly me saw them rocking the Schlachthof, but it won't be the last time. I've seen a pure and true Rock 'n' Roll band, real musicians who know exactly what to do live on stage. There was no overdubbing, no effects from the sound board, no double-trouble-triple pedals, just handmade music forged on the banks of the river Rhine in the middle of the Hessian Rheingau. Dudes, you rock!!!
---
!
The New Roses: https://www.thenewroses.com/
Losing Gravity: https://www.losing-gravity.de/
Schlachthof: https://www.schlachthof-wiesbaden.de/ 
Please buy merch and physical music or download it from the bands official sources and don't stream it for free because it steals your artists' income.