Winter Madness Festival Hirschaid
End of summer, festival season finally done for this year, makes me looking back to late September, early October… But I failed! How could I be so wrong? There is a lot more going on than only the outdoor festivals. Winter is coming and so is the indoor-festival season.
One of these is Winter Madness. It is not the first time it is going to take place and yet, somehow I managed to miss it all over the years. Gladly, I change it this year and am curious about the event. So here they are, my findings to rouse your appetite for the Winter Madness on 9th and 10th December at Jahnhalle Hirschaid nearby Bamberg, Franconia. A crowd of roughly 500 heads should get the venue decently packed which makes it a mid-sized venue rather than one of the big concert halls. The parking lot is in short walking distance and hosts even campers.
Grown from a youth club
Let's start with some information about the organizers and the history of the festival and follow me into madness!

The Winter Madness first took place eight years ago at JuZ Bamberg, and basically was a platform for Metalcore and Metal. At that time bands like Falling From Grace and Varus had already been befriended or were even members of the organizing association Bamberger Festivals e. V. Actually it has about 80 mainly active members. About fifteen of them are forming the organizing team while 60 others provide the helping hands during the several events all over the year. That makes less than 10 % passive members which is a quite good and low percentage.
The in-between periods are needed to focus on planning and preparing the forth-coming event: after the festival is before the festival, so to speak – repeating over every few weeks. Some of these are Wild Tunes Festival, Das Hiphop Familienfest, Ukulele Fest Bamberg or Revolution. It is a very wide range from Metal to Hip Hop, Punk and everything between.
Volunteer Enthusiasts 
This cycle is always the same, independent of the type of event: music festival, sports competitions, re-enactment, a small exhibition or whatever comes to your mind. Beside that administration takes its time, rental of rehearsal rooms, networking, looking for sponsors, etc. All that stuff that comes with a legal registered association.
It still is a 'mere' hobby, no employees at all, only volunteers from all over the neighborhood. From kindergarten teacher to professor, teacher, self-employed, craftsmen and women, luthier or engineers, everyone who identifies oneself with the club goal works with it. Of course service provider for security, first aid, or event technic still must be hired. Some of the partners are MAD Veranstaltungstechnik and ASD Oberfranken for security.
"I-know-someone-who-plays-in-a-band" mechanism
It might also be interesting to learn, some of the bands of the past festivals simply were private contacts of the members, the "I-know-someone-who-plays-in-a-band" mechanism. Over the years the names of the bands have become bigger and bigger. There still is a good active contact with most of them and thus numerous have rocked the stage not only once.
This year for example, the festival is headlined by Haggard on Friday and Varg on Saturday. 2015's Winter Madness had already seen All Is Not Lost and Spellbound! By the way, here is the running order for 2022: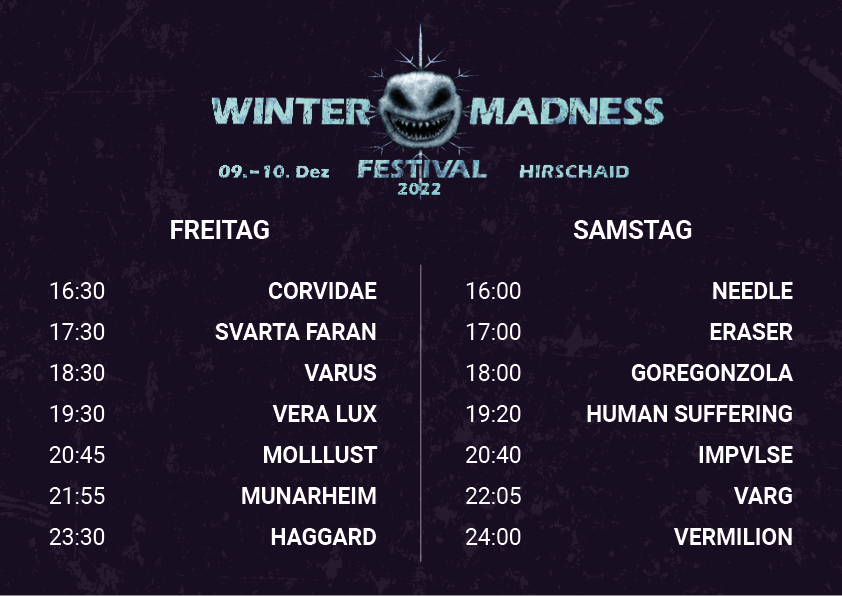 Genre focused
With your keen eye you might have noticed already, that each day has a focus on one genre-family. There is Folk Metal Friday and a 'brutal' Saturday focusing on Death, Grind and so on. It is up to you to decide for only one day depending on your likings or to go for the full two days experience. I can only recommend to invest into a two days ticket, the two days are more than worth it. Open your mind and think outside the box of your personally preferred style to explore something new. What is not divided is the catering. All the catering is in the hands of the organizers. Expect some excellent local food and beverages. Upper Franconia is well known for its culinary quality.
Worth a visit
Keep in mind the festival starts on Friday at 16:30 and even half an hour earlier on Saturday. This will give you plenty of opportunities to explore the neighbourhood. As you happen to be in Franconia's brewery lane, I recommend a visit to the old town of Bamberg with the Spezikeller and Schlenkerla breweries. Have a look at the cathedral and the Bamberger Reiter or the Alte Hofhaltung. Even Schloss Seehof is not too far away for a short trip. The latter two locations were settings of the Three Musketeers motion picture in 2011 by the way.
Festival information at a glance:
Winter Madness 2022,
9th and 10th December
Venue:
Jahnhalle, Georg-Kügel-Ring 1, 96114 Hirschaid, Germany
Get your tickets here
Previous Winter Madness highlights:
Line-up in alphabetical order:
Corvidae, Folk, Medieval, Pagan
Eraser, Deathmetal, Dubstep
Goregonzola, Deathmetal, Grindcore
Haggard, Orchestra Metal
Human Suffering, Metal
Impvlse, Metalcore
Molllust, Metal, Opera
Munarheim, Folk, Medieval, Pagan
Needle, Groove Metal
Svarta Faran, Folk, Medieval, Pagan
Varg, Melodic Deathmetal, Metalcore, Pagan, Viking Metal
Varus, Epic Metal, Symphonic Folk Metal
Vera Lux, Folk, Medieval, Pagan
Vermilion, Metalcore
---
!
Winter Madness: https://www.facebook.com/wintermadnessbamberg/
Bamberger Festivals e. V.: https://www.bambergerfestivals.de/
 Please buy merch and physical music or download it from the bands official sources and don't stream it for free because it steals your artists' income.
Proof-reading and additional editing by Muumi-Katja