More than just eye candy
It's a nice and far from cold autumn Saturday evening on this 22nd of October 2022. People stroll in the park or hang out in a café to enjoy a perfect Indian Summer. I myself have other plans. I will watch a quartet of the four maybe best looking metal bands ever. All of the musicians are pure eye candy. Nevertheless, skills, hard work and talent over looks, all of them are brilliant musicians, there is no doubt about it. I am talking about Ad Infinitum, Butcher Babies, Amaranthe and Beyond The Black.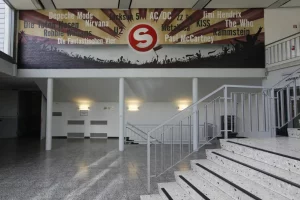 The venue is Stadthalle Offenbach, which over the decades has hosted almost every national and international top act. Its capacity is up to 4000 people, which seems to be the adequate size for these four metal jewels. The tour is double headlined by Amaranthe and Beyond The Black and was postponed several times due to you-know-what. Now there are no restrictions and the party can begin.
Ad Infinitum
No Swiss Cheese
Opening act tonight are Swiss Symphonic Metalists Ad Infinitum. They have little more than 30 minutes to convince the audience. And they do. Their vocalist Melissa Bonny has one of the finest voices of the genre, switching from clean mezzo-soprano to guttural effortless. Adrian Thessenvitz on guitar, Korbinian Benedict on bass and drummer Niklas Müller complete the band.
Unexpected Guest
It is pure ear candy to hear them playing their set of eight fantastic songs: They are "Unstoppable" when they drift "Into the Night". They celebrate their "Afterlife" together with Nils Molin of Amaranthe because being "Upside Down" is always "Somewhere Better". Melissa promises to "Live Before You Die" until the "Animals" close their set.
Too Sad, Too Short
I just wish Ad Infinitum had had a little bit more playing time. I saw them a few months ago on Rockharz Festival playing ten minutes longer and it was more than worth it despite their sound problems due to a constantly changing wind. Now I can't wait to see them with a full set on a headliner tour of their own.
Butcher Babies
L.A. dudes
Second band are none less than Butcher Babies from Los Angeles, USA. Their playing time is a bit longer but still far from their full set. Vocalists Heidi Shepherd and Carla Harvey, Henry Flury on guitar, bassist Ricky Bonazza and Chase Brickenden on drums complete the five people combo. Their musical style is as wild as their live performance, a mix between Nu, Groove and Thrash Metal.
Polarizing
Butcher Babies polarize a lot, you love them or you hate them, there is rarely anything in between. Of course they are a very visual and very good looking band. For the male fans we have Heidi and Carla and for the female fans Henry, Ricky and Chase, who are not less good looking but that's not all.
Again Too Short
Look at and listen to the small details while they are playing and singing songs like the opener "Korova" or "Igniter". Yes, they ignite for  a "Monsters Ball", remembering the brilliant film starring Oscar-winner Halle Berry. Later on "The Butcher" leads us to the "Gravemaker" on the "Bottom of a Bottle". The destination of this bottle might be "Yorktown" where one of them might be "Sleeping With the Enemy", sadly not the "Best Friend", a Saweetie cover on the "Magnolia Boulevard". Due to the short duration of their slot Butcher Babies have to leave out some of the gimmicks during their performances, next time I will prefer to watch them as headliner for full entertainment.
Amaranthe
Who Is  Next?
The two headliners change their slot depending on venue and country. Tonight Swedish Amaranthe will play as third band, remember it is a double headliner tour so we can expect a more or less complete set. Amarante consists of Olof Mörck on guitars, Elize Ryd as female clean vocalist, Morten Løwe Sørensen on drums, Johan Andreassen on bass and last but not least Nils Molin as male clean vocalist. We have already seen him performing a duet with Melissa earlier the evening. Guest growler  Richard Sjunnesson completes the band during this tour.
About Dragons and Guitars
Amaranthe "Fearless"ly join the stage before they go "Viral" in a "Digital World". One can physically feel the "Hunger" to "Find Life" and "Make It Better". Speaking of "better", white haired Olaf proves that Tagaryens can not only ride dragons but also an excellent and precise guitar. He is the multi-instrumentalist of the band anyway. Amaranthe are "Strong" enough to climb the "Helix" to "Maximize" the "Crystalline". All three vocalists are busy enough to catch up with their instrumentalists. The technical level of all six on stage is of outstanding quality. They are like "Dynamite" which lets "The Nexus" explode to turn into a shade of reddish-rose "Amaranthine" before everybody is asked to "Call Out My Name" which closes the set.
Satisfying Long
Three encores follow, "Archangel" and of course "That Song" with its iconic drum beat and a snippet of "We Will Rock You". As the very last song everything ends "Drop Dead Cynical". The slot of Amaranthe is the first tonight which is satisfyingly long enough. Guest growler Samy proved his qualities, so I hope to see and hear more of him together with Amaranthe in the future.
Pizza, Beer and Bratwurst
What follows now is not the next and last band immediately, you know who I am talking about? What follows is the longest break today, required to change the stage settings completely. It is time to visit the rest rooms, or the merch stalls. With half open doors it constantly smelled like Bratwurst and Pizza from the left side so here we go and queue up for some slightly overpriced but not too expensive food and beverages…
Beyond The Black
Black is Black
Rolling Stones' "Paint in Black" sounds. It is a very good sign. It is time for German Symphonic Metal sensation Beyond The Black. In the past they suffered from an exchange of members but it looks like the actual band is more consistent than ever. The four musicians are of course vocalist and last remaining founding member Jennifer Haben together with guest bass player Arne and guitarists Tobias Lodes and Chris Hermsdörfer on six strings as well as drummer Kai Tschierschky.
Changing Outfits
Today they ask "Is There Anybody Out There?" and yes, there is somebody out there so they are not "Lost in Forever". We got to listen to some "Songs of Love and Death" before we can celebrate the "Reincarnation" of a "Human" who is "Dancing in the Dark". Jennifer changes, shortens or extends her outfit between the songs, long skirt, short skirt, leather pants, helmet, horns, whatever. She delivers a good portion of pure eye candy beside her obvious vocal skills but never too much, well balanced by all means.
Offenbach, you rock
The "Heart of the Hurricane" announces "Winter Is Coming" and will turn the world into "Heaven in Hell". Now it is time to "Scream for Me" Offenbach because "When Angels Fall" there is no place for "Shine and Shade" "In the Shadows". But there is still place for the two encores, one is the tale about the "Wounded Healer" and the other one "Hallelujah" which invites us to for a long and last sing-along. After the last note played and the last photo taken, we will meet all bands at the merch.
Indeed Pure Ear Candy
Let me come to my conclusion. Were the bands just eye candy? Sure they were eye candy by all positive meanings of it. How often do you get to see about twenty musicians as beautiful as them in such a short time of about five hours? BUT, and that is more important, how often do you LISTEN to twenty musicians as skilled as them in such a short time of about five hours? Ad Infinitum, Butcher Babies, Amaranthe and Beyond The Black certainly passed this exam.
The Bands Deserved Better
On a negative side note. As mentioned above the Stadthalle Offenbach can host an audience of up to 4000 people. This time the grandstands were closed and covered with a black curtain. There was quite a crowd in front of the stage and to the left. Remember, that is close to the food and beverages stalls. But on the right side there were less spectators than trees in our ill forests! One could easily walk through all of them to the front row on the right side. A security guy at the entrance said something about 1200 sold tickets. I myself guessed a crowd of maybe 1800 metal heads. The truth might be something in between but certainly less than half the possible capacity.
Metalheads Where Are Thou?
How can that be? These were four excellent bands. Every single one of them would have deserved a sold out venue. What is wrong with all those couch potato rockers? Do they really prefer streamed internet concerts? Do they want live shows to die out? Do they want to live in a cyber-world of artificial music and musicians? Do they really?
The Future is Up To You
I don't. I hope you don't. I hope that, after reading this little article, you jump into your car and drive to the concert tonight you read about in the newspapers yesterday. You are the audience which keeps music, art and the Metal Way Of Life alive. We count on you! Our artists count on you! Don't waste your time at home watching daily soaps. Spend your money buying concert tickets, CDs and merch instead because this money is not wasted but an investment in the future of art!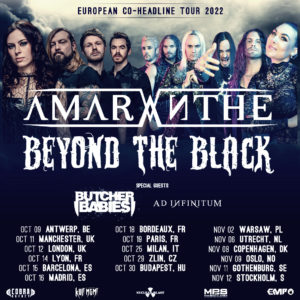 ---
!
The bands online:
Ad Infinitum  – https://adinfinitumofficial.com/
Butcher Babies – https://butcherbabies.com/
Amaranthe – https://www.amaranthe.se/
Beyond The Black – https://beyond-the-black.com/
Please buy merch and physical music or downloads  from the bands official sources and don't stream music for free because it steals your artists' income
---
All pics shot  by Friend.X aka Mr. Deep, Offenbach, Germany/22nd October 2022
Proof reading by DermimBoad