Today we are going to have a listen at Agony on Earth, the debut-EP of July15th. The date of release is November 17th but presale already started in September. First let me briefly introduce you to the band. July15th from Delizsch/Saxony brutally and elegantly interweaves melodic death metal with groove elements. Since November 2020 the band has already released several videos on YouTube. Harsh and clean vocals intermix with each other to lyrics about criticism of the values of our society, which will be given to the next generation. These musicians indeed think ahead about our and our kids' future!

July 15th are:
Vocals: Julia Cherry Sommerfeld
Lead guitar: Toni ToWer Werner
Rhythm guitar: Chris A-Chrisor
Bass guitar: Heiko Marx
Drums: Bennet Mielke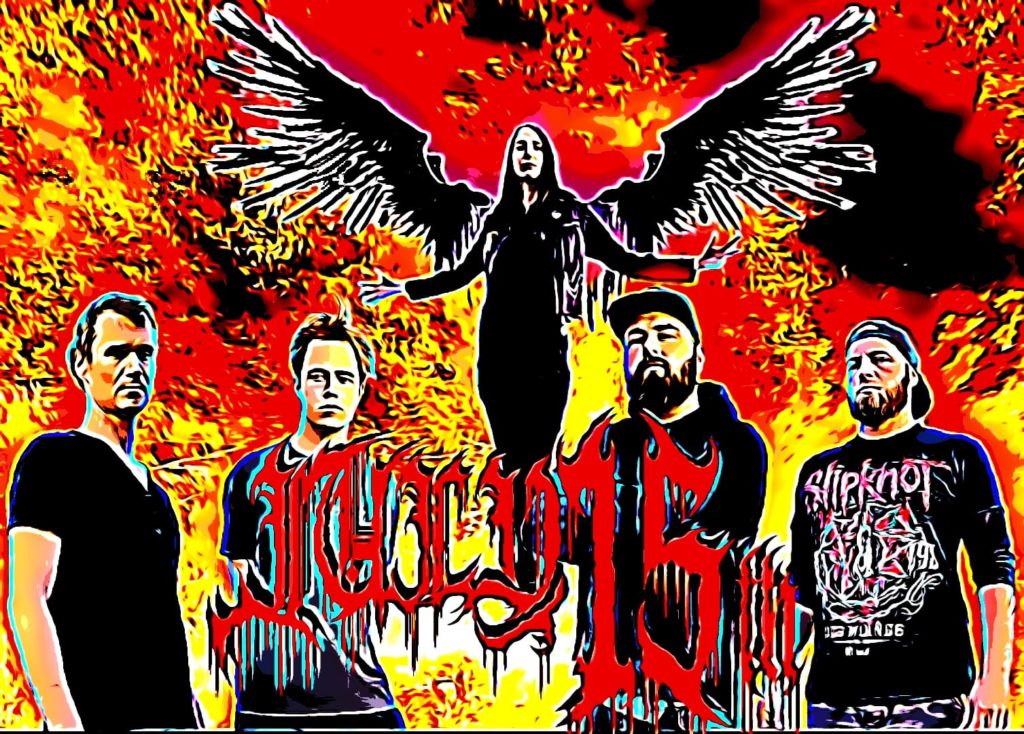 Agony On Earth
Now let us have a listen and we start with the intro, there is no better name for an intro than
Welcome
More or less some noises as from a ghost train or a haunted house. They directly lead into the first song.
Horror Hospital
"Horror Hospital" is also the EP's first single and video which you can watch here, already released some weeks ago. Harsh vocals during the verses, brutal guitar riffs. The chorus comes in clean vocals and sounds as if it would not come from this world. A bit of doom but in general a very catchy song – not for the mainstream audience though. It is a perfect teaser, an appetizer for the delight of the next course.
Nothing Changed
The next course begins with a brutal guitar riff. Not a catchy as the previous track, this however for the better of this song. Maybe "Nothing Changed" is a kind of evil sister of Horror Hospital. Harsh vocals of the verse again lead to a clean chorus  as well as the bitter sweet bridge. That's how insanity must sound like in a positive way. Excellent!
The Cuntess
For a change now some organ opens the song, well it fits to the title. Be sure, they are just a short interlude. ToWer's and Chris' riffs take over control very soon. Verses of course sung with harsh vocals and chorus remains clean. Drums and strings speed up for this chorus like changing to the left lane on the motorway. Don't stop me now because I am "The Cuntess". In the middle of the song Bennet's drums and Heiko's bass share the interesting intermezzo. The organs from the beginning close the track.
Jealousy
No Intro, no organ. But a burst of brutal guitars crashing into "Jealousy". Otherwise a very melodic song. I like Julia's singing here a lot, it is a perfect balance between screaming, harsh and clean vocals. I would not say it is a song for the masses or mainstream radio stations but you never now, if the right person happens to listen to the song accidently and out of the sudden it is aired…
Couldn't Care Less
This time Julia opens the song with a guttural scream, guitars fall in, and then drums speed up for the verses. If we were on the left lane during Cuntess we are in neck-breaking speed here just to press the brake pedal to the metal a moment later when the chorus takes over. We "Couldn't Care Less" and we speed up again! None injured? All fine! Perfect song for a mosh pit!
The Monster
Final and meanest track of the EP. One single chord, cymbals and metronome-like drums before a doom guitar riff takes over to speed up with the vocals falling in. I personally can't stop listening to this song. Interesting rhythm and tempo changes. Unbelievable that this song is over 6:30 minutes long. It is a real and "The Monster"!

Hand-forged In The Underground
Of course the complete production is not super perfect, there is no big label behind it, no famous music studio, producer or mixer. It is all handmade by July15th themselves. But isn't that what really counts? Isn't that what real metalheads want? We don't need no clean-polished AOR production. We don't need no bands to sound like the other. We long for characters. We want rough and tough music from the bottom of the underground. From the depths of the underground to the heart right between the eyes. And that is exactly what Agony on Earth of July1th does. Nothing else, because nothing else matters.
Bright Future
The sound of July15th is fresh. There is a bigger bit of extreme metal in it but we can also hear the groove and death metal influences. We can hear a real gem of a vocalist. I like the idea of harsh verses and clean chorus really a lot, I never before heard a band sounding like this, so it has already become July15th's trademark. July15th is a jewel in the rough. I am sure there is a bright future for this young and promising German metal band. All they need is the right opportunity in the right moment.
So please save the date for the next right moment:
19th Nov 2022    Cherryween – YOZ Delitzsch EP-release party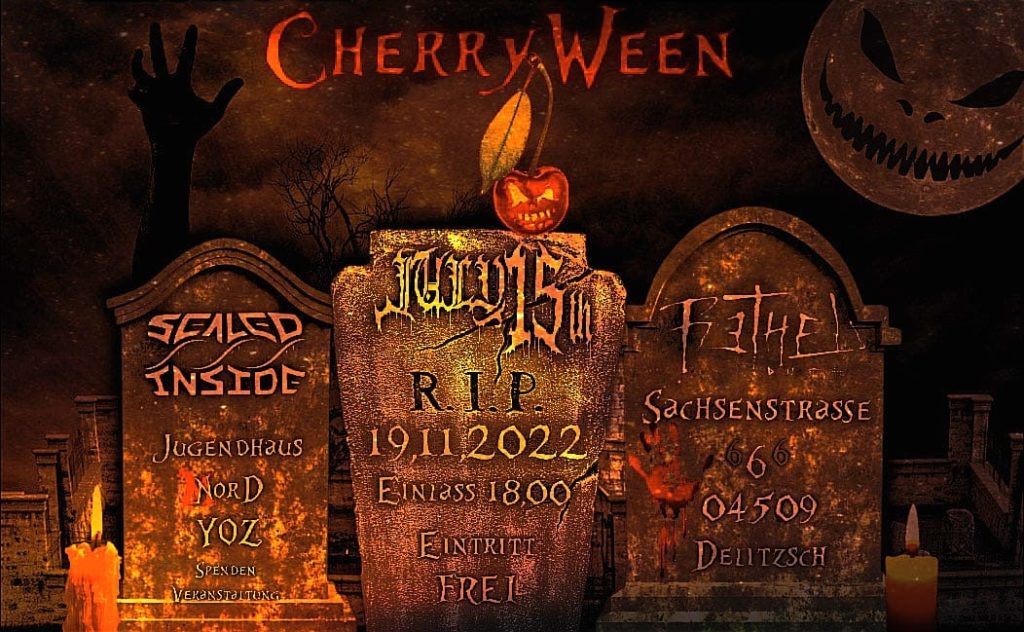 ---
!
July15th online:
Instagram: https://instagram.com/july15th_cts?utm_medium=copy_link
Facebook: https://www.facebook.com/july15thofficial/
 YouTube: https://youtube.com/channel/UCD0BoakqmOMJaU9jaB2fHLw
Please buy merch and physical music or downloads  from the bands official sources and don't stream music for free because it steals your artists' income
---
All pics property of  July15th
Proof reading by Mummi Katja