The Dark River Festival is a unique metal festival and as such deserves a report outstanding from the mass of exchangeable reviews. Those do too often describe only shallowly the off- and on-stage performance spiced with the repetitive tales of the partying crowd. Our metal festivals deserve better, my favourite all the more.
Dear Lauri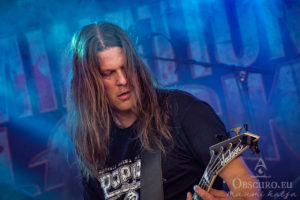 November already, summer ends with the Dark River Festival as I was told. Two months already, since we met. How good it was to see you again! To be honest, had we not met it was no true Dark River Festival for me. Your spontaneous hug and your smiling eyes, told me I was home again. My home festival, that's how it feels. And hey, what a festival it was! Your festival. Still. I can sense your doubts about it. But let's speak later of that.
DRF pulls a global crowd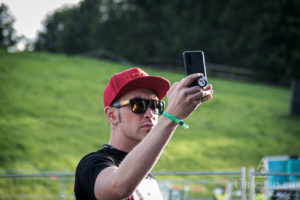 What was the best gig to you? Was it Kaunis Kuolematon? Was it them playing when you popped up in the crowd next to me? Or were it Marianas Rest? Both were intensive, and thrilling gigs! Being in the middle of the crowd felt a bit like the old 'DRF times'. You know, when everybody seemed to have known everybody for ages, like friends and family of the one on stage, their neighbours and colleagues from their day jobs. Of course, the Dark River Festival 2022 pulled people from all over – despite the Knotfest Finland shattering Turku and the traditional QStock being held in Oulu the very same weekend. Henri [Eerola, "the voice" of the festival] mentioned there were people flying in from Canada, even. Isn't that simply amazing?! I mean, hello! People fly all the way across the Atlantic to visit the Dark River Festival in Kotka! I also had sort of a déjà vu. I ran into another German. Just like me she had come to see Kaunis Kuolematon in the first place. And just like me she has become a regular ever since. The crowd has become more international.
Is this a surprise? I don't think so! Just take a look at the line up! Fleshgod Apocalypse, Hypocracy, Septicflesh and In Mourning shattered the stage. If this does not make an attractive metal festival even on international standards what is it? Not to forget, the Brits from Monuments and naturally the Estonian Folk metallers Metsatöll – what a fun their shows were. Speaking of Metsatöll, I am deeply impressed by Varulven playing all these weird instruments (some flute, backpipe and the kantele) and swapping to and fro as if it was nothing.
Two Minutes to Midnight on the bridge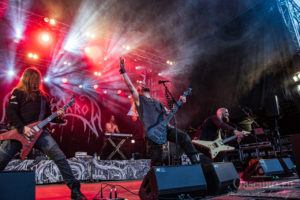 Do you remember when we met – by chance – on that bridge from where you can oversee the Inferno stage and its crowd back in 2019? Blaze Bailey and his guys let Eddie's spirit walk through the Honkalan Hiihtomaa. Seeing the crowd from above, listening to all those songs we have grown up with and watching you moved me deeply. All the emotions flickering in your eyes. Don't tell me it were reflections from the stage lights. You were relieved that everything had run smoothly, and you were proud – in that typically Finnish, very humble manner of pride – of what your baby had grown to be.
Too bad the Kaaos Stage has no spot like this. I had loved to meet you there when Fleshgod Apocalypse played and watch you again. I wish we had met there on the bridge with a coffee to discuss your festival in the bigger picture. Yes, your festival. I can sense your immediate objections. Perhaps the Dark River Festival is not the way it used to be. I am tempted to agree. But from a different angle: No.
The unique spirit is alive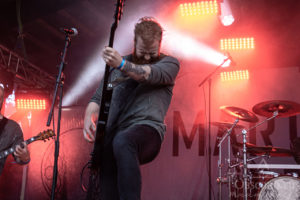 Because it still has the spirit of  y o u r  festival; the kymiest festival there is. Isn't it still your friends rocking the stage such as Ominium Gatherum? Or Marianas Rest? Speaking of Marianas Rest, I met Niko in the back office some hours after their gig, and I had to congratulate him. I had never before seen him open up and play as passionately as he did this time. Expressive. Thrilling. A mighty swirl pulling the crowd into his emotions. Chapeau. Probably he was slightly overwhelmed thanking for his performance – in my way. He blushed. Apparently not many women kneel before him? Or at least not in public?
What I actually wanted to point out is: The stage at the Kymijoki still offers an opportunity for the local bands to play on a festival. Surely, Omnium Gatherum and Marianas Rest have outgrown the "local" state by far. 
A milestone for local bands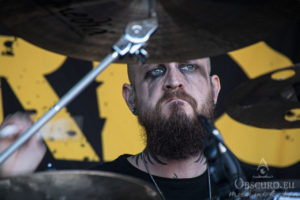 Nevertheless local bands are working hard to being allowed on the Dark River stage in one of the next years! They told me, actually when I tried to have a chat with a dear friend I met, Jaakko from Tampere. I ran into him accidentally between two gigs. He had a beer with his friend JP, whom I happen to know as well. Just as Jaakko said: "Hey Katja, good to see you!" a third acquaintance joined us, Mikko who immediately began to tell me about his band's new music. I wondered: "Hey man, when can I see you here on stage?" Mikko seemed to have waited for this and his smile grew over his ears. "Maybe not next year but the year after that!" Overexcited and perhaps slightly beer-spirited he told me his band is working on their first full-length album. Neither Jaakko nor JP had a chance to say as much as one syllable. Mikko left not them split of a second but explained they were improving, and how hard they were pushing forward to their great goal: playing on the Dark River Festival in 2024. He burst with motivation! Playing on the Dark River Festival is an essential milestone for him, and his bandmates, like 'young' bands of the area in general, I suppose.
The Kymiest News Hub
I can't help giving you the full story. When Mikko's energy had finally faded which – believe me – took its time, Jaakko asked me again: "Now, finally, how have you been?" My bad to waste perhaps two seconds on pondering whether this was the setting to get into a deeper conversation. As now, JP saw his one chance and took it. Relentlessly. He had news to spread, too. Filled with pride to the tips of his hair he told me about his new project coming. The details however, are a tale to be told on another day. I turned to Jaakko trying a third time to reply but the host's voice echoed from the Kaaos Stage. He announced the next band. So I had to run to the pit and leaving my friend behind with the question unanswered.
The banks of the Kymijoki have always provided fertile grounds for inspiring conversations. Technically I did interviews with Tuomas Saukkonen (interview link) and Asim Searah on the Dark River Festival. However, 'interview' feels inappropriate for the conversations I had with them. Festival grounds are busy and loud and as such often provide no adequate spot for an interview, especially with intimate or complex topics. Usually there is few time to break the ice and explore difficult topics between packing the gear and departing towards the next gig somewhere else. And yet we spoke of the impact of pandemic or the ongoing war on Tuomas' life and music; or explored the nature of travelling on rather philosophical side (interview here).
Pineapple, pizza and mead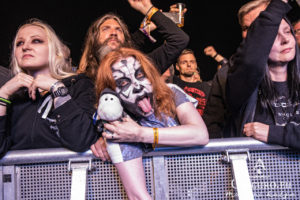 I must not forget to mention this funny late-night encounter. It was Saturday way past midnight. My company and me were on the way to say our goodbyes. The one left on our round was Asim, and we found him on the Kaaos stage which was being taken down already. So it was gloomy. He stood there with a couple of guys speaking, discussing such essential questions as pineapple on pizza. A definite "no way", they agreed. We joined their tale telling and meaningful discussion (not only on pizza). There was some mead to raise our glasses to the metal spirit. If only it were glasses. In fact it were thin, small paper mugs although this mead had deserved to be sipped from proper glasses. I wondered whom we were actually speaking with here? No way to recognise faces in the gloom. Some Southern European accent and the pizza question should have given us a hint. Then again, what really mattered was having a good time rather than with whom you have it. Only when checking my photos later, I understood the guys where Fleshgod Apocalyse.
Politeness of moderation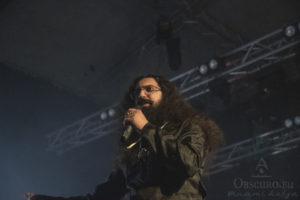 As we are speaking of Asim Searah: he performed greatly. Not only when he opened the main stage playing his acoustic set but perhaps even more as host of the Kaaos Stage. I think it a brilliant idea to have all artists announced and introduced properly. In general on festivals, this form of courtesy towards the performers has been running thin lately or rather been cut to save some expenses. Having a moderator on each stage seems appropriate too, not only because of the very tight schedule. This has left me hardly a break for a drink or stopping at the loo, to be honest. I'd rather prefer longer breaks. Five minutes at maximum is quite short to commute between the stages as some of the people told me, I spoke with. But I am deviating from the topic. What I wanted to actually point out is, the hosts moderating the gigs added to the class-reunion-like spirit of the Dark River Festival, the old DRF spirit.
Yet I frankly admit, I do miss the old ways, when all the crew was a small and intimate bunch of people who had grown up here, doing this festival all themselves. Mostly, I think it is because I miss to see their faces in what I think is their place or your place. Goodness, this may sound as if none of them was left when actually most of them are still members of the crew or at the very least watch from the crowd. With a company running the festival professionalization has taken place.
The Dark River Festival in the bigger picture
Which brings me to the, 'Yes, the DRF has grown and changed.' A company is managing and running most of the tasks nowadays. But then this very company is a local company founded and run by some of the old DRF crew. They were kids from Kotka who have lived with and for this festival for many years before. I felt their very heartbeat in their performance in 2018 when I came for the first time and no less since their company took over. Basically I suppose, these kids of the DRF have brought your idea to the next level. Considering all the no-one-ever-thought-this-could-happen things becoming dramatically real in the past years, I daresay, it might have saved the festival. Furthermore the stage for local bands has grown to supports its home Kotka on a larger scale.
Can you believe that this time was the first time I really did visit Kotka? I had never really been aware of Kotka's gems and issues. The town is beautifully situated, the parks and places make it place inviting to stay. Relaxing. Then again I also noticed the ridiculously low rates for real estates. It is insane that you can buy an apartment in Kotka for an amount that in Berlin will hardly pay taxes and paperwork for a flat that is equally equipped and sized; not even if the Berlin apartment were in farthest outskirt and the one in Kotka was in the most exclusive location.
Borderland challenges
Of course, Kotka (approx. 51,000 citizens) is not Berlin (3.9 mio citizens). Not at all and then again there are similarities. Not too long ago Berlin (West) was borderland, too. Fenced in by the iron curtain of the cold war, housing was cheap. Still Berlin (West) was one of the hottest spots in Europe. Kotka has central functions for some hinterlands. Yet I hear my friends in the DRF crew say: "what parents here wish for their children: a good education so they can then have a future somewhere else". Apparently they don't see a future for their children, and no development bringing more jobs (unemployment rate approx. 20%). Perhaps more tourists could partially balance the decline in the industries. I read about Finnish endeavours to establish a new battery technology cluster with several departments distributed over the whole country including one in Kotka. Perhaps this will turn the tide.
The local administration has done a great job shaping Kotka into a place with a good quality of life despite the economic challenges. Don't take that for granted. Kotka wins over Berlin in terms of cleanness, quality of housing, and supplying basic needs in walking distance; not to speak of clean air and less noise. Quality of life and pleasant surroundings seem to range high in the strategy to improve the future perspectives of Kotka.
Accommodation paradox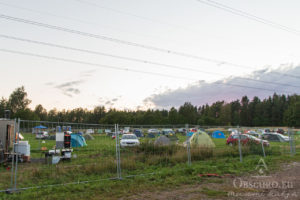 The Dark River Festival pulls a remarkable and growing crowd to Kotka. A crowd that requires accommodation, and catering among further services. It seems there is a suitably sized touristic infrastructure. And yet each time I made my travel arrangements for the DRF, I have found it difficult to find accommodation on reasonable price. There is the camping on festival site, of course. And this is great! There are some hotels in town, too but insanely expensive, especially this year. In a situation of growing economic uncertainties the availability of further budget accommodation might become a decisive factor in 2023. Travel expenses and accommodation easily exceed the ticket charges and costs of basic catering all the more with such a speeding inflation. Really, I don't want to walk in Sami's or Henri's shoes if it was for the financial planning for 2023 knowing numerous festivals went bankrupt this year already.
The Kymiest Camp
Obviously the camp really is heavy pro for the DRF. It has been growing a lot more than the festival in general. That tells a tale of its own. I found this year's crowd more colourful than ever although I really miss the families with the little kids in the crowd. The camp supplies basic needs but in addition also adds to the relaxed atmosphere. From tent to main stage in a less-than-three –minutes' walk is luxury – I see my friends are getting red with envy, hiking half an hour only to arrive at the gate on the Rock Harz or Summer Breeze. They will say they can have a beer on the walk and I shall reply that at the DRF they can have their beer in front of the stage even if they only depart from their camp 10 minutes before the gig they want to see! Size does matter so to speak although of course here of course being small is the sexy feature.
I heard metalheads arriving at the Kymijoki for the first time were being amazed by luxury space of camping slots and the relaxed atmosphere there. It has some Nummirock vibes only the lake is missing. The crowd is growing more colourful with every year.
Professionalization is acknowledging the efforts of the founders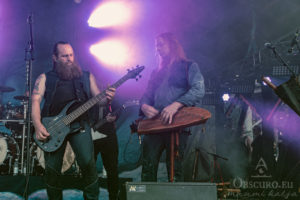 By the way, I met 'the crowd' again off the festival location. I saw them I stopped getting some groceries and again downtown, taking a coffee in the harbour before departing by bus or rail. Thus, your festival has unignorably become a source of income for your hometown.
This gets me back to the professionalization topic. The festival has become a brand over the time. But having it publicly recognized as a regular beneficial factor for the region, the brand requires a professional PR. This again demands constant effort. I don't see how this can be done after work. Don't get me wrong, I am stunned with awe thinking of what this bunch of friends established and ran over what, 15, 20 years? The determination and commitment of everybody who worked on it is beyond words. Carrying it on and making it fit to meet future challenges is also a way to acknowledge this dedication in my eyes.
See you in 2023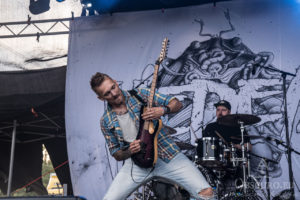 The Dark River Festival is still the kymiest festival, meaning a place to make and meet friends while enjoying great live music. As much as I loved to see BRHG and Wolfheart and Kaunis Kuolematon and many other bands on stage again, my personal highlight was meeting Samuli Peltola (Medeia). Since we had this extremely intimate conversation on mental conditions in spring (2022, link here), I was hoping to meet him live. Now we did and it was very intense. Seeing him shredding the stage was extra special due to some things he spoke of in our interview.
When all the world seems to fall apart, the Dark River Festival, your festival is place to forget about all this for a weekend and simply celebrate life and metal music. I can't help thinking that all the relaxed and class-reunion-like atmosphere makes the artists perform even better. Damn, do we really need to wait another ten months for the next Dark River Festival? I'd rather get packed now. Let's make sure to have a beer or coffee and moment for a proper conversation.
Hugs,
Muumi Katja
PS: Check my Flickr gallery for more photos.