The Midnight

Party

Interview
Quite a while ago, we took the opportunity to interview April Art from Giessen in Germany after their brilliant show at Scheuer/Idstein-Woersdorf. Some of the interview was done at the merch stall, while most of it with Lisa-Marie Watz, vocalist sitting on bare floor of the small backstage area. Everybody else was dropping in by time. It turned out to be a most fun interview and all the little interruptions make it a real jewel. Hopefully, I am  able to translate this fun into mere letters.
First, we all meet at April Art's small merch table . I see nothing but happy faces. The band appears to be very satisfied with their performance and their interaction with the audience. Looks like they know most people's names here anyway, so it is more of a family meeting at the merch than anything else.
"Lisa, seems you know most of the audience by name?"
She replies"Sure, the longtime supporters, come to nearly every show or we know them ever since. Some are also true relatives. It is lovely to know people by name and not just a face in the dark"
During the show I noticed a transparent tape around bassist Julius' right upper arm.
"Julius, I wonder, is it a real tattoo underneath or is it a fake one printed on the tape?"
"Ah, yes, it is a real one, I got it stitched yesterday. The tape is a better protection than the usual thin cling film. Ben [drummer] said it won't hurt. Well it does like hell, especially with all the sweat during the show but it is becoming better now."
Campfire Feeling
The merch stall has slowly emptied and it is almost midnight as Lisa and me decide to continue the interview backstage. The disco machine sound from the following event up here is a bit too loud for a proper conversation anyway. Their sound technician "Schmiddi" is already resting of the backstage couch feeling a bit sick. It doesn't stop him from adding some spices to the interview as we will see later. With no chairs left, we sit down on the bare floor. It gives a little bit of a campfire feeling even without the fire. Anyway we still feel the heat of the show and thus open a bottle of beer for refreshment. The first toast is on the successful evening. Lisa is still bursting with energy. I hope to reflect it during the interview. Such a pity you can only read it. Then again, talk with her once you meet the band and you will know what I mean.
"So…, finally! Very impressive show! We already were waiting quite a while since we heard about you but Covid19 didn't allow it earlier somehow! First of all, my colleague Muumi-Katja apologizes for mixing up your when she contacted you some while ago."
"Don't worry, that happens quite often, Walz is quite common, I even heard worse mispronunciations in the past, all is fine.
The Suitcase Incident
Basti and Simon of Stepfather Fred step in "Do we disturb?" Lisa: "Only a little bit. Do you wanna drive home now? Ohhhhhh!" We pause and make way so they can take their band's luggage. What a misery, their bassist Matze's suitcase still is open. If only that was all. But his stuff is spread all over. We all have to laugh but help to gather Matze's belongings. His band mates rant only half-serious: "Why the hell did he leave it open? All his fault!" "Did Matze want to proof us?" Someone opens the door shouting: "Maaaatze, your suitcase is open". No answer. We speed up to grab his stuff together, hopefully nothing is missing. With a 'Goodbye and have a safe trip home guys' we see them running. "You were fantastic!" I add. I'm pretty sure though, the suitcase incident will be a running gag for a while…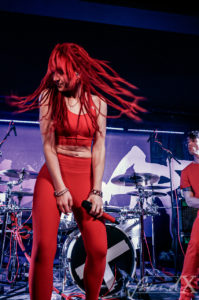 Now let's really keep it going
What a start for the interview! We're still giggling around, joking on Matze's behalf. How could this interview become any serious? Does it have to? Never mind. I stick to the happy moments by asking:  
"As I already told you at the merch, it is lovely to see your happy faces, you spread a good mood. It really is a skill and talent!"
"Oh thank you, I believe we are a band which really is in need of harmony. It is like a puzzle and Julian, our bass player who joined in September was the last missing piece. It fits perfectly together, song writing, band harmony, we enjoy a great time now.
"With all that harmony visible on stage one could cuddle you [the whole band] again and again, it is fascinating. The kind of people you long to share a beer with afterwards."
"Well! That is exactly what we are doing now, cheers!" We raise the bottles again.
"We are already at the theme! Songwriting, band dynamic, how does it work? What are the processes?"
"Everybody is involved; I write the complete lyrics but the band dynamic is very important. We just had a great session for the new album and there are so many different ways how things develop. Sometimes I have a hook idea or a text line and I perform it for the guys, then we add some instrumentals and a chorus. We build up the song around this chorus. The guys often sit in the cellar of the studio and work on the music. I pull me back, go upstairs, to look at the first words and consider what I actually want to say with the lyrics. It is like a mutual fertilization. They come up with some wild stuff, inspire me. As you already noticed our good mood and unity, we also keep it during the writing. It is so lovely when I present my lyrical results. Sometimes Chis has another idea. They all are multi-instrumentalists, I can only sing – no I can't!" She laughs as most of the time anyway.
"Ah, did you take vocal lessons by the way?" "Yes, I did, I had several teachers. Actually I just took some online lessons in 'America'! "By Melissa Cross?" "No, what was his name again? Pipe Perez! He teaches… I can't remember, he is very well known and famous. If Ben came in now, he could have told you on the spot! I'm considering Melissa Cross too; she is a legend. So I had these lessons via Skype, I frequently take lessons every now and then. These are those phases and this time I took them for tour preparation. But there are also times when I take no lessons."
At one point, we decided to make a cut because we were not really happy with none of those (Lisa) 
We talk a bit about Melissa Cross and the possible development of vocals with her help. "We were talking about band dynamics, if, and how has Covid19 changed that for you?"
"It changed everything. It is almost scaring how we could use the pandemic to our advantage. First, we were shocked but then we developed a kind of 'now-more-than-ever mentality'. What could we do? We sat down – we have been there since 2014 – and reflected what we have done so far, what we achieved, and where we are now and why! We had several producers in the past. We cooperated with a management. At one point, we decided to make a cut because we were not really happy with none of those. We felt like being victims, had a role to play. Thanks to Corona, we said, we are in a kinda victim situation, but we don't take and don't accept it. We give a sh*t about everything. We press the reset button and start over – away from accepting the opinion of everybody else but yourself. We cancelled all contracts. We do our thing and only what we want! At that time we wanted to write the greatest song, it has become "Break Out". And it was a true game changer!"
F*ck Corona – We made it
"This song will be a theme too!"
"This song changed everything. To us "Break Out" was life changing. It's a hymn. Ben even got it tattooed on his arm. It was a time for us, yes there was Corona, to say: 'F*ck you Corona, we will do what is possible, whatever we can reach'. And we made it! We were exempt from everything! Focused on the good things. What we have, what we can do, everything on our own. Ben is ultra-fit in this case, he produced the song and the new, forthcoming album. We are completely independent. It really was crazy. It was the first time we did it. And then we were in the radio!!! We were on "Hot Rotation". I shivered all over the whole body when I was told the song airs in the radio. I cried, I thought that would never be possible!
"You also once made an internship at Radio Bob, did it help?"
"Yes, Radio Bob, I still have some little contact but in this case no, it was no door opener or otherwise advantage."
Break Thru and Out
"Break Out" is a good song itself anyway, very radio affine, still no soft rock but full of positive and rough energy."
"It's a good mood and positive vibe, which was important for us when we wrote it. It embodies that we really don't care about all that Corona sh*te anymore. We simply break out. It expressed exactly what we hoped for and never thought to reach."
"The video for "Break Out" is a kind of provocation, you're bare breasts and the nipples are only covered with taped cross. Was it calculated?"
"It was again, 'we don't care about anything anymore!' It was a spontaneous idea during the video shoot. I had the idea myself. I said, I'm gonna do that. It won't shock anyone anymore anyway so I did it. We stopped overthinking like 'Can we do that? Is this allowed?' We wanted it, so we did it!"
"I still believe it was quite courageous of you! What kind of feeling was it to act half naked? There are plenty of stories about Hollywood actresses who didn't feel well because they were pushed into it."
"We had a very small team. More or less only it was the band, the mixer and the director of the video because we did everything on our own. Not a big crew really! We produce not only the songs on our own but also the videos. So I always have my say and the option to refuse at any time."
It has always been most important that we all are happy with what we're doing (Lisa)
"So you're the boss?"
"We have no boss; we are fully democratic. It has always been most important that we all are happy with what we're doing. We discuss until we have a result. Sometimes you must step back from your ego to find the perfect compromise. For example, when we had a writing session and I was not exactly very happy with a certain part, we worked on it until I was happy as well. That's the same with everybody of the band. However, I can also row back. Things don't always need to be 100 % as I wanted them. If it reaches 80 % which is fine. It is great how you can grow as a band, and as a human. You have that point of view; I have this point of you. We want the same, let's find together somewhere. There is no right or wrong, there is just the big aim and it works best when all are happy."