As it began
Everything started for me in May 2022 at Oschersleben. The band of my friend Mara Lisenko was confirmed to play a show there during the Rock & Metal Day'z. It was their nearest gig for me, so what could I do? I was curious about the other bands too and one caught my interest more than all others. This band was Fire Rose from Switzerland/Baselbiet with a fantastic live show, brilliant double lead guitars and an extraordinary skilled vocalist. Fire Rose is one of the few bands which really understand and live Rock 'n' Roll so one thing came to the other. I stayed in contact with singer Philipp Meier, who shares a high interest in history with me.
And continues now
One year later Fire Rose would play at Rock & Metal Day'z  again and announce their album release party on September 9th at Rockfact/Müchenstein near Basel. So now we are standing here, after quite a drive for a single show, in the middle of Rockfact, share a beer with them and talk with Simi, Flo, Janick, Simon and Phil about their expectations, The Highest Being and all problems of Mother Earth we wouldn't solve tonight. Even Swiss Metal Radio Drachenblut would report live from the gig.
Rock fact
Rockfact is well filled and we are quite happy about the perfect air condition because otherwise this cosy cellar club might be a bit warm during these late summer days. A good selection of international beers and other beverages at the bar  helps to cool down the throat at least. Then it is time for the support band tonight…
D'OR
We had heard a little bit of their songs during their sound check and were already impressed. What comes next is much more than we had expected though. Powerful show, strong attitude, pure Metal of it's finest is a pound of a package! Thirteen songs follow one after the other, no time to sit back and relax, just pure adrenaline of the four musicians. To say it with their own song and show opener: "Veni Vidi Ignis". So here are "some" pics of D'OR's show, I have already wasted too many words anyway.
Side notice
Of course the band around Andy Dormann sold their merch too. And "of course" they ran out of CD's. "I think I have a last and a very last one somewhere in my car", confirms Andy the success of D'OR's performance. We hope to watch them again somewhere soon. D'OR and Fire Rose fit together perfectly so let's hope for more joint appearances.
Faces
Between two band there is always time for a little smoke, some fresh air and another beer. It is also the time to stroll around and look at the audience. Well, there is not too much space to stroll around but a lot of happy faces. Seems this indeed is more of the announced release PARTY than a release show.
Fire Rose
In a different venue I would have written something like 'and then the lights go out, dry ice mist billows over the stage, some spherical sounds can be heard as a sprawling intro for the headliner', but not this time and not with Fire Rose. Simon/drums, Janick/bass, Flo/guitar and Simi/guitar enter the stage and start playing the first chords of the opener "Heroes". A perfect start of a live show can be so easy… Vocalist Phil joins the four with the first lines of the song "From day to day, always the same", but nothing is like 'always the same'. From the first second on Fire Rose reign the audience. Song follows after song, Philipp even excuses for his "Hochdeutsch this time so our German guests understand what I am saying". Good laughter, as if his speeches needed translation. Metal is international and our language is music and friendship.
Female guest vocals
Songs of the previous album "Devil On High Heels" alternate with the songs of "Blood On Your Hands" including both title tracks. The devil on high heels this time is blonde and none less than Andrea Böll, former vocalist of Infinitas. She shares the stage with Fire Rose for the song of the same title. As a duet it turns into a completely different song than the usual and honestly sounds so much better than on the record. That's the difference which live music makes.
Male guest vocals
It won't be the only duet tonight. For "Don't Need Somebody" Andy of D'OR joins Fire Rose for the good of the song. Well, you don't need somebody else when you have the best friends anyway. The pure energy of all six musicians on stage speaks for itself in case of this song.
Drums
In modern times of Metal it came a bit out of fashion to give the drummer some space. Together with the bassist, the drummer is the backbone of the rhythm, either pushing or pulling the band on stage. The drummer must function as a metronome, precise to the millisecond on one side but on the other side flexible enough to speed up or slow down to the demands of the performance. Fire Rose are different, they are more than happy to give drummer Simon his space so he can perform his very own and unique solo.
Becoming serious
When the other four members join the stage again, we realise, it seems to be time for one of Fire Rose' most serious songs. Philipp wears a German Stahlhelm M1916 of the Great War. It is his own property and an original from the battlefields of Verdun. There is a hole in the back of the helmet which indicates that the former owner who lost it in 1917 also lost his life. Remember, Philipp is a history nerd so he takes it very serious, there is no fun in these "Fields Of Honor". There is no glory in any war and there are no winners but losers only. Not in the past, not nowadays and not in the future.
The baptism
Another thing which came out of fashion since the age of CDs and later due to easy online streaming is the music cassette. Nowadays it is the object of collectors but most owners won't unwrap it and listen to the music on tape. For this very reason we witness the baptism of the album in form of one of the especially produced cassettes. Holy-Sierra Tequila does a decent job when the high priest sprays it over the tape. Mission fulfilled.
A future anthem?
After a baptism follows the holy communion. We enjoy it with another four songs including the ballad "Rain Falling Down", otherwise pure, powerful and fresh traditional metal. I hope, someone of the Helvetic Guards (The Swiss European Football League team] either was in the audience or soon will be made aware of "Touchdown". It would be the perfect anthem for the team to celebrate its future victories. "Wheels on fire" closes the set and on fire are not the wheels but the audience. Luckily there still is the bar opposite of the merch stall with enough extinguishing water (or so) …
Never ending Night
That is the perfect entertainment, a real Rock and Roll party with 17 songs including all of the new album . Usually, when a show is over and you got to go home, you leave after the last note or latest after buying your piece of merch or a CD. Not this time, Fire Rose join their audience immediately after the show. Of course they also sell their merch and the new album on CD and tape, but they also offer a free drink in form of a cask of apple wine to raise the glasses together for the sake of Rock and Roll music. It will take hours until the last guest leaves the venue.
Unique and how to proceed



Madelaine Fuhrer and her team of Jaunty Productions have done a perfect job making this unique experience possible. This show really was no concert; it was a party under friends with your metal family. I wished there were more bands like Fire Rose who exactly understand, know and live what metal music is about. I am more than happy, they are going to play at Rock & Metal Day'z 2024 the third time in a row but meanwhile take the chance to watch and enjoy them live on tour 2023 with rotating headliner support Jaded Heart and Nazareth. And check the new album itself of course, read our review here.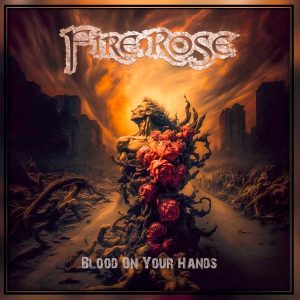 Save the dates:
| | |
| --- | --- |
| 2023 | |
| | |
| 23.09.2023 | Rocknacht Tennwil (AG) |
| 14.10.2023 | Joker, Sissach BL (mit Excentric) |
| 17.10.2023 | Spectrum, Augsburg D (Support Jaded Heart-Tour) |
| 18.10.2023 | Kubana, Siegburg D (Support Jaded Heart-Tour) |
| 19.10.2023 | Resonanzwerk, Oberhausen D (Support Jaded Heart-Tour) |
| 20.10.2023 | Eventhall Airport, Regensburg D (Support Jaded Heart-Tour) |
| 21.10.2023 | Live Music Hall, Mörlenbach-Weiher D (Support Jaded Heart-Tour) |
| 22.10.2023 | Ragnarok, Bree BEL (Support Jaded Heart-Tour) |
| 28.10.2023 | TOB-Rock, Langnau i. E. BE (mit XII Gallon Overdose) |
| 24.11.2023 | Statdhalle, Bopfingen D (Support Nazareth) |
| 25.11.2023 | Mühle Hunziken, Rubigen BE (Support Nazareth) |
| 26.11.2023 | Mühle Hunziken, Rubigen BE (Support Nazareth) |
| 28.11.2023 | L'Abeille, Riddes VS (Support Nazareth) |
| 30.11.2023 | Stattbahnhof, Schweinfurt D (Support Nazareth) |
| 01.12.2023 | Kubana, Siegburg D (Support Nazareth) |
| 09.12.2023 | Koller Event Hall, Grenchen SO |
| 16.12.2023 | Kik, Sissach BL |
| | |
| 2024 | |
| | |
| 12.01.2024 | VAZ, Burglengefeld D (Support Ronnie Romero) |
| 21.01.2024 | Heavy Sanctum, SOHO, Wangen a. A. (SO) |
| 27.-29.06.204 | Rock & Metal Day'z, Oschersleben D |
---
Online:
Please buy merch and physical music or downloads  from the bands official sources and don't stream music for free because it steals your artists' income
---
Photos taken during "Blood On Your Hands" release party at Rockfact by Friend.X aka Mr. Deep

proof reading by DerminBoad