Once again, we return to the dark fairytale setting of the Metalacker Open Air in Tennenbronn. If I had to sum up this year's festival motto in one word, it would probably be "ambition". Let me elaborate.
Walking in big, muddy shoes
Before the festival even really started, the Metalacker already dares to be ambitious enough to walk among the big ones. Wacken went down in thunder, storm, and rain. The MetalDays were flooded away. The responsible parties for the Metalacker weather surely must think that this is a trend to follow this year. Usually, Thursday is the early arrival date for many metalheads from near and far, yet this year, before it even really starts, the organisers issue a warning for anyone to stay home, if still possible, and to stay in their cars, if already on their way. While evacuations of festival crowds too often have been in vain, this warning turns out to be absolutely justified. Living about twenty minutes away from the campsite, we stayed at home as advised and had to witness a night sky constantly illuminated by lightning and rain sharply flying sideways, agitated by the storm, and accompanied by the rumbling sound of thunder. And just like this, the Metalacker ambitiously follows the big, muddy footsteps of many other events in the late summer of this year.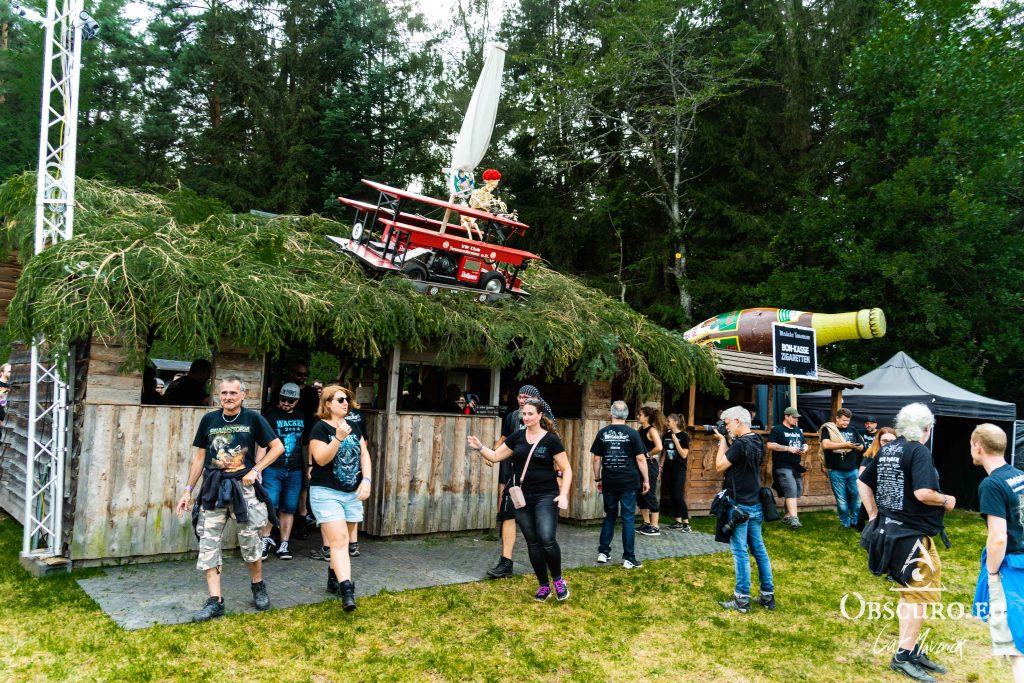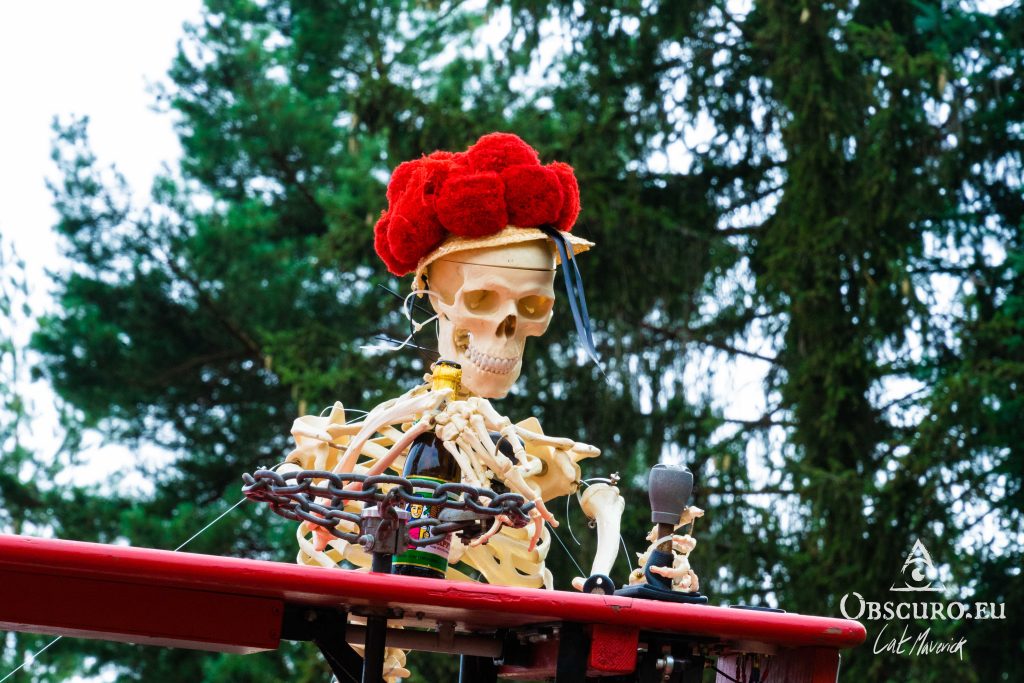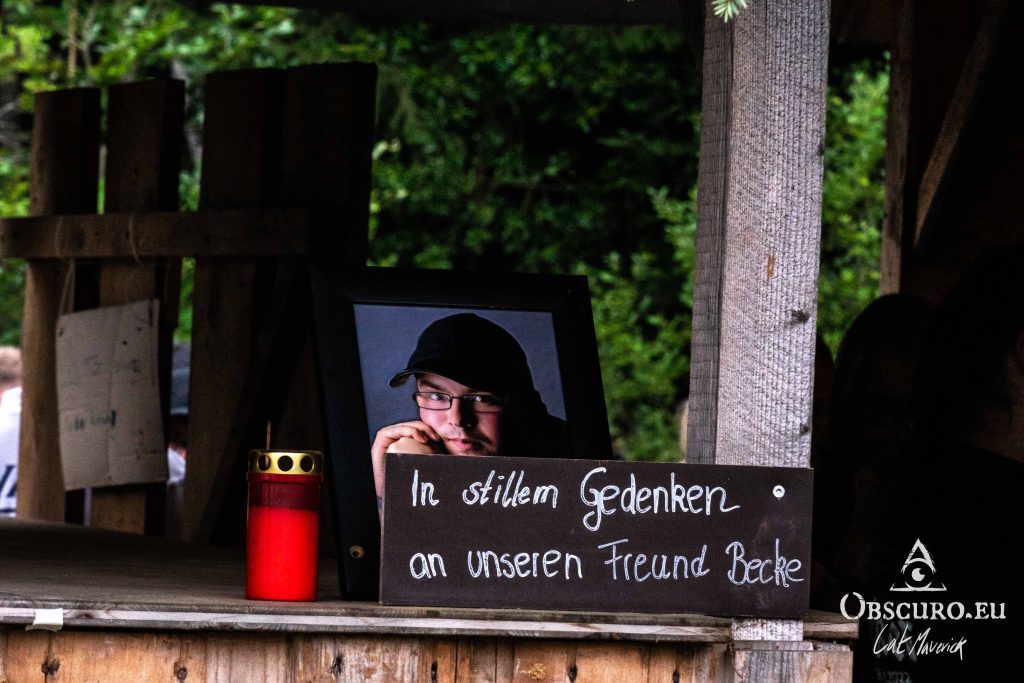 Surely, at our arrival the next day, we are greeted by a cooled down, wet and rather sludgy brown environment. BUT the weather from here on out seems to be in our favour. If only we could fathom yet, what lies still ahead of us. Nonetheless, the festival crowd seems to be enjoying themselves. Playing in the mud. Cheerfully chatting. A few speakers blare music loudly from far away over half the campsite. Where we expect mayhem and low spirits, we actually encounter excitement. In hindsight not something too surprising, considering the lineup ahead of us and the fact that festival visitors usually seem to find a sense of playfulness in almost any setting. Still, we are positively surprised and soon the mood turns out to be contagious.
Day 1 – Plough, sow, water
From a rather luxurious media area overlooking the entire festival, we get an early glimpse at the infield, and find out that it is still in great shape. Which in this case means that the hillside leading down to the stage is still lush and green. Another cause for worry is out of the way. From discouraged because of the weather and late arrival to gleeful and looking forward within about half an hour. That's what it's all about.
And we haven't even started talking about the most ambitious feat of this year's Metalacker, the billing. Within the rather short history of the festival, every year we've been presented with an even better lineup than the one before it. And following this tradition, the 10-year anniversary instance doesn't disappoint either. Even with a very short-term change of a headliner slot due to some tragic circumstances (which you will hear about in a minute), the bands were once again a fantastic mix of big and small, locally and globally acclaimed as well as all kinds of genres.
SYDRA
Opening up the day and the festival are local Thrash Metal band Sydra from Freiburg. With a rather grim-looking picture of the likes of vampires and poltergeists gracing the stage design, the mood is already visually set before the first note is played. Not too surprising, that Sydra unleash an equally harsh soundscape heavily fuelled by lyrics of death, sin, fear, and other similarly dark, complex topics.
STELLVRIS
Founded only four years ago, Czech Metalcore formation STELLVRIS already seem to have made a name for themselves. Although I haven't heard about them so far, some colleagues in the media area already tell me up front, to look forward to their performance. And boy oh boy, they don't disappoint at all. With a groovy twist on the instrumentals and versatile vocalist Nicol Hofmanová at the front of the stage, STELLVRIS play themselves into my heart. I can safely say that they are my favourite discovery on this year's Metalacker.
VISIONS OF ATLANTIS
Next, the Austrian pirate ship Visions of Atlantis steers into the Metalacker haven. Some might wonder how they did it, but considering the amount of water that ran down the festival hillside by this point of the weekend, it makes absolute sense that even a big party vessel could float through here. With a quite balanced mixture of different Symphonic Metal influences, they captivate a broad spectrum of fans. No wonder here, that they already amassed quite the reputation, especially in the last few years. Originally founded in 2000, the band mostly disbanded in 2013, and only released the next album with their new lineup around 2018. Coincidentally, this is also the time I saw them live for the first time. So my view of them might be distorted here, but it feels to me that this is also when their more recent rise to a well-renowned Symphonic Metal band began. Yet with Michele Guaitoli and Clémentine Delauney at the helm and a relatively huge repertoire of songs and themes in the hold, this ship surely accelerated to top speed compared to that first encounter five years ago.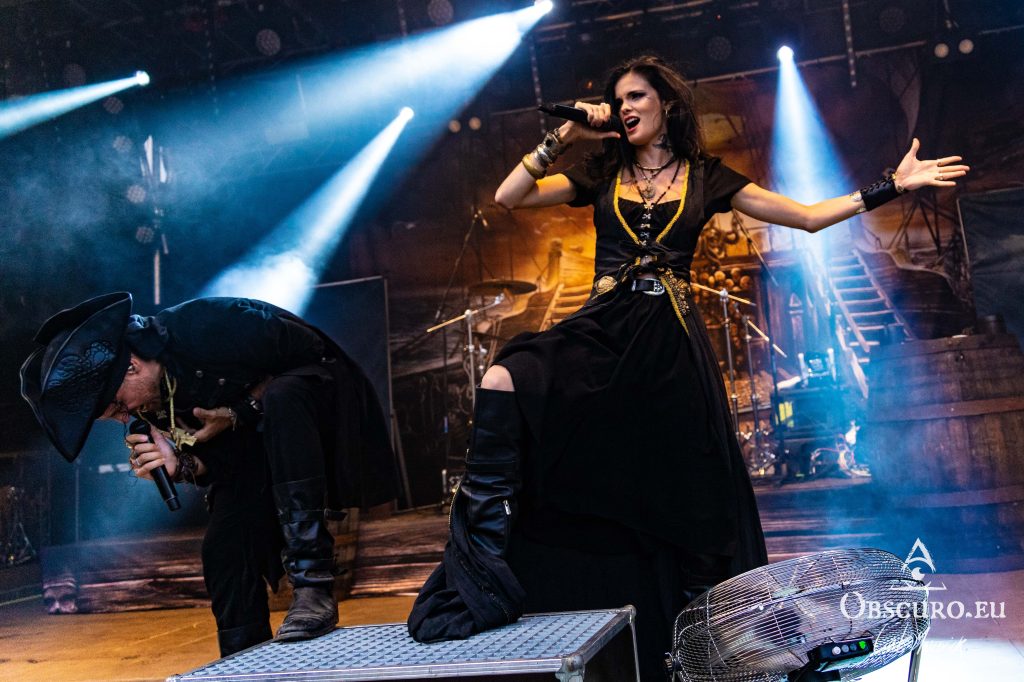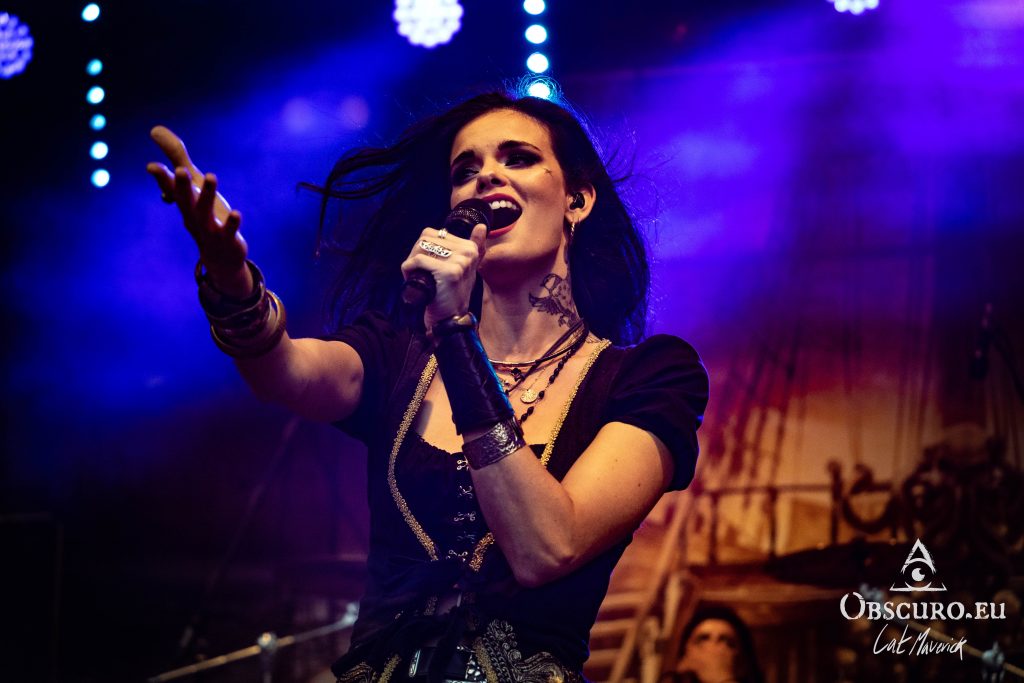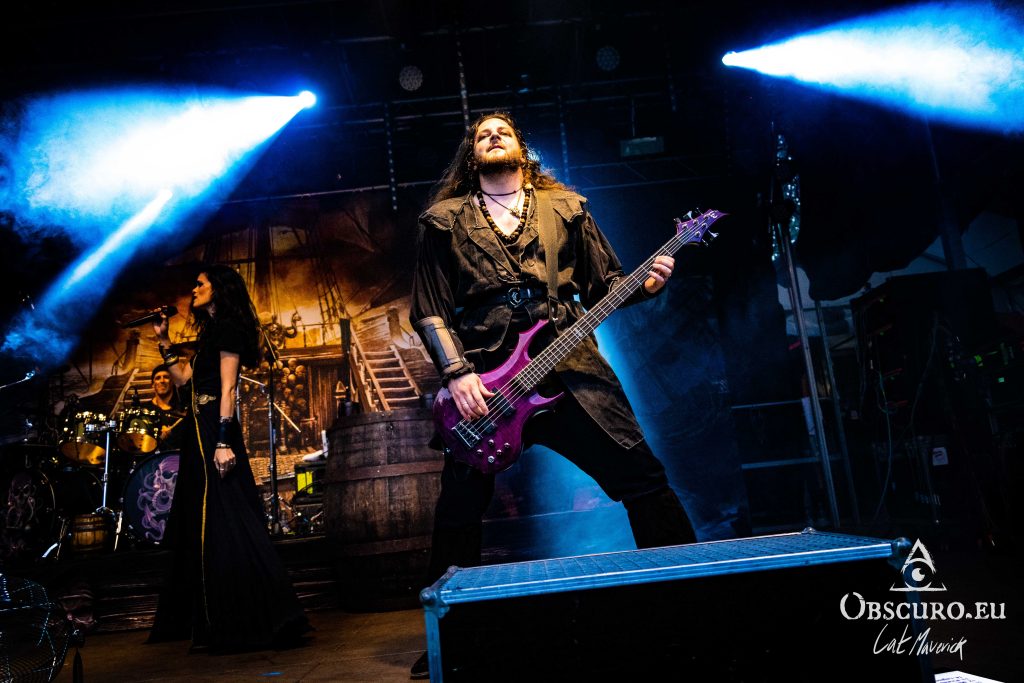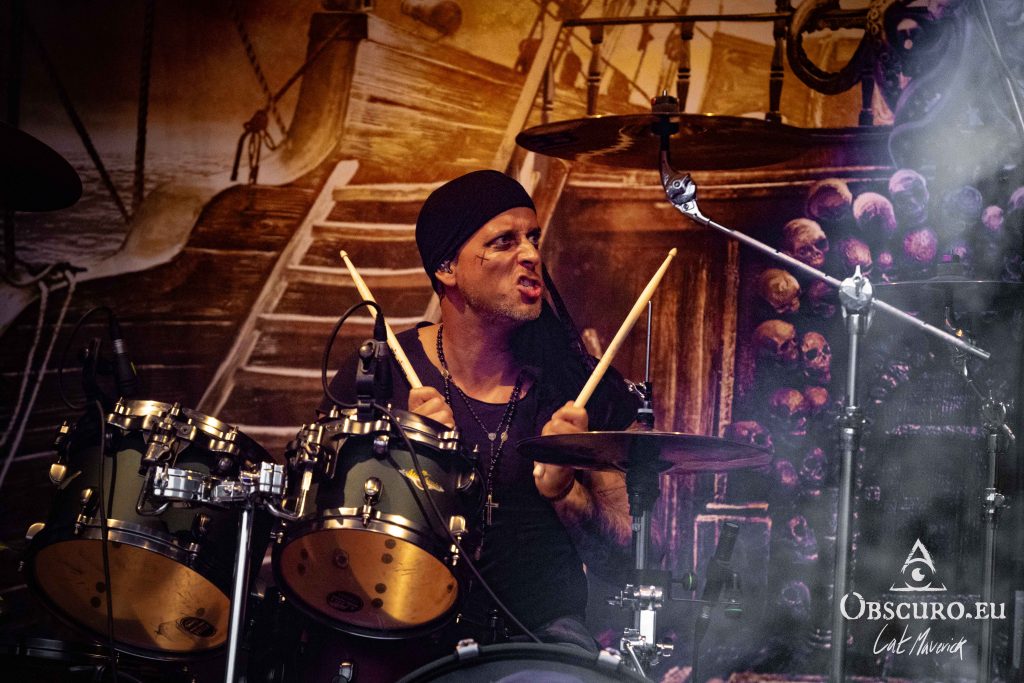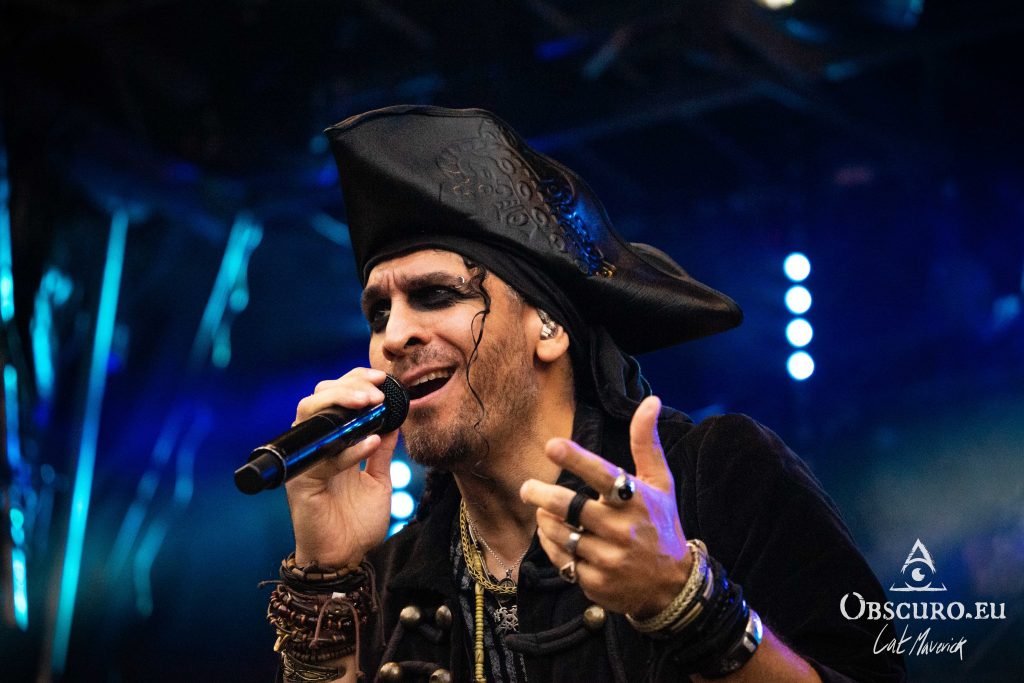 ANY GIVEN DAY
Finally, Any Given Day enter the stage and strike the crowd with a sense of awe, before striking them down with their top-notch Metalcore sound. The first day's headliner and genre heavyweight give me goosebumps and surely excite the crowd as well. At least for a while that is.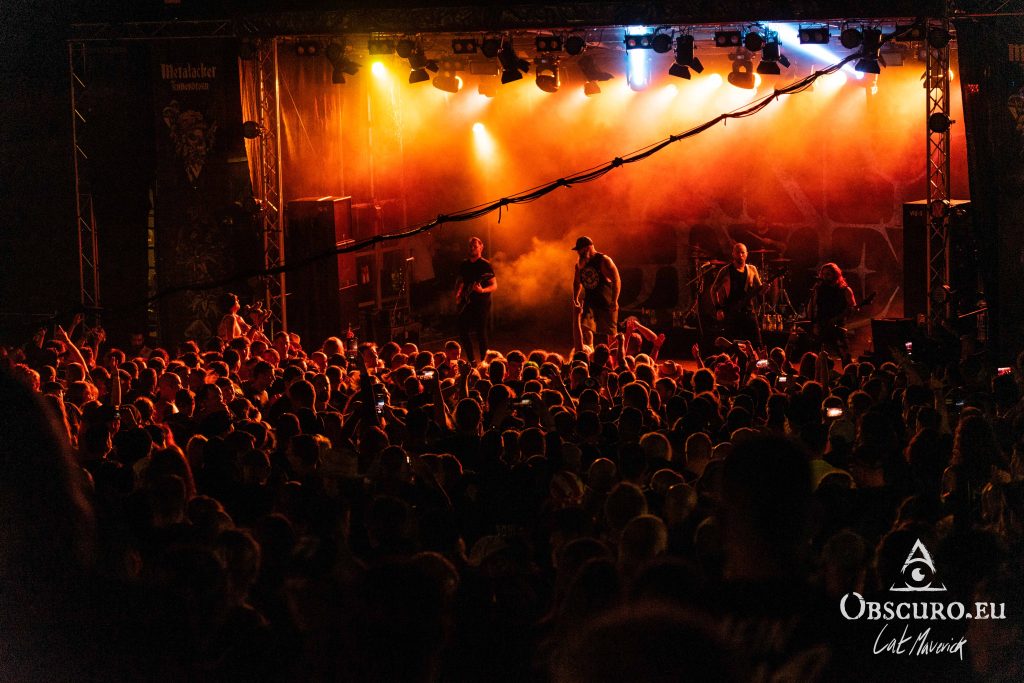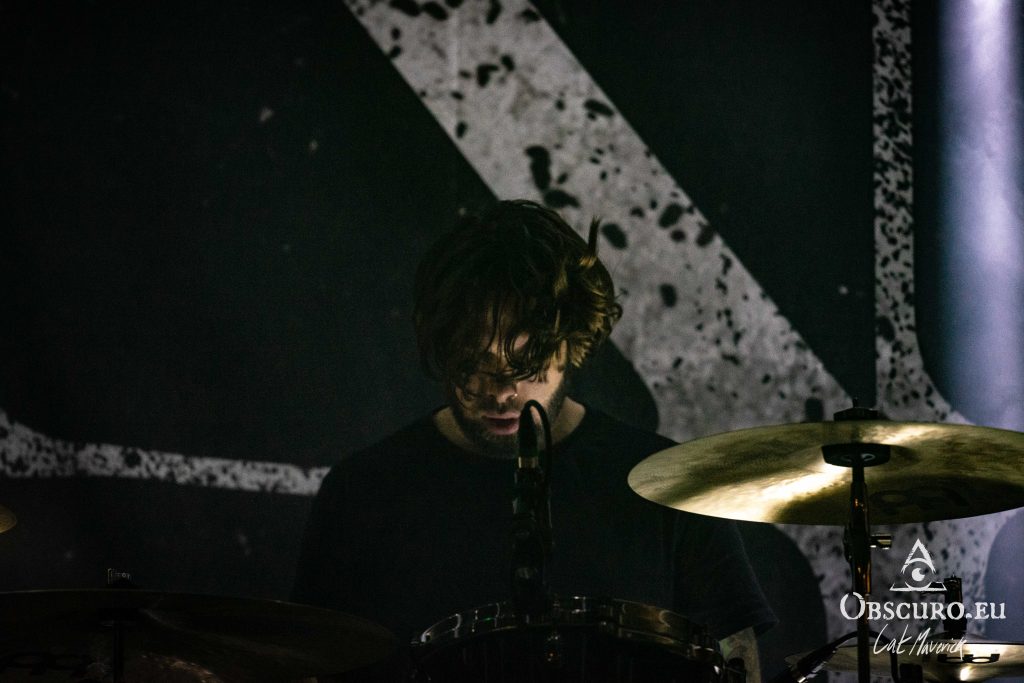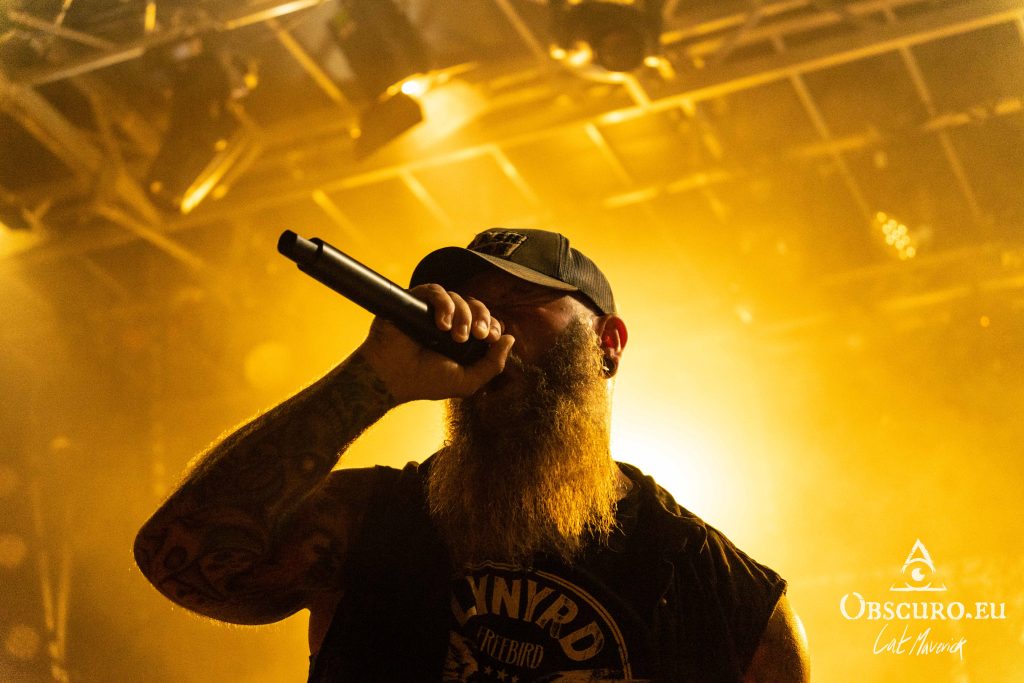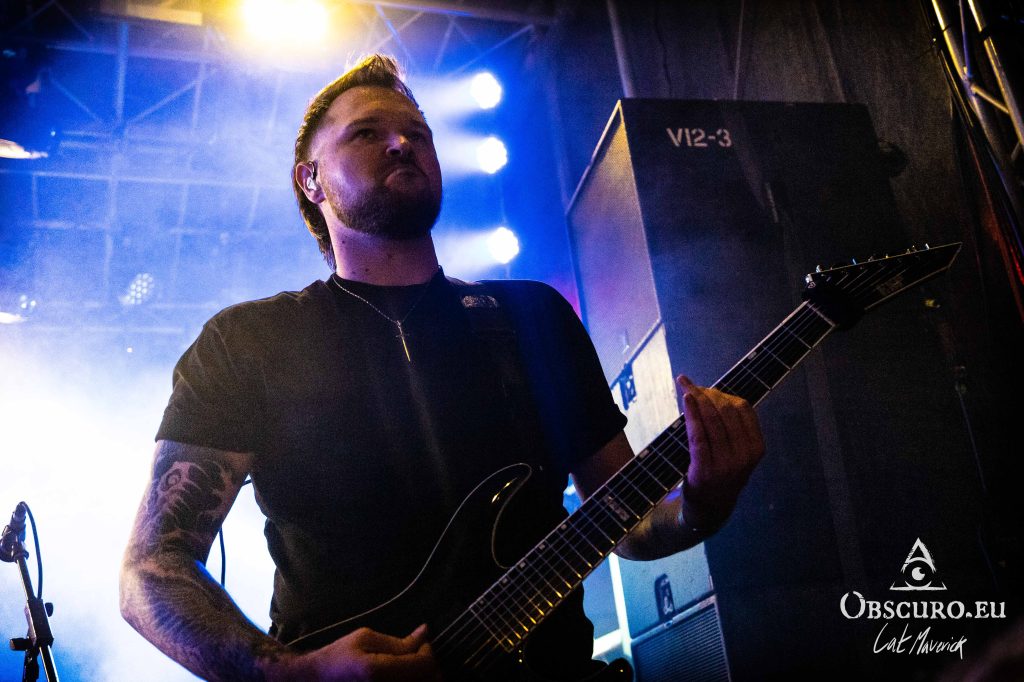 A SUDDEN END / PAUSE
Unfortunately, their show unexpectedly comes to an abrupt halt early in their set. And with this interruption come the words that put every festival visitor in a state of horror and dismay. Once again, this time not on the arrival day, but on the actual first day of concerts, we are asked to evacuate the premises, seek shelter in our cars, and look out for each other. A storm is coming. We were informed beforehand that the festival had a so far highly reliable meteorologist on site. All the more reason to follow the instructions of the security personnel and get somewhere safe.
A poor choice of words in a chaotic situation unfortunately leaves too many visitors convinced that today no band will stand on the stage anymore. And so pretty much all day guests march back to their cars, their heads hanging low. If it weren't for the current situation, I'd be able to romanticise the nature spectacle in front of us. The sound of rain and heavy slurping steps of a big group of dark-clad figures. The heavy fog only dimly penetrated by lightning and the emergency spotlights. Voices murmuring. As if walking through a magical veil into another world, we leave this peculiar place prematurely. Obstructed by darkness, weather, and confused drunkards, a long queue of cars cautiously drives home, whereas some brave outliers wait in their cars for an unlikely call to return. And while beyond these beautiful words, there is nothing quite as magical or romantic about the situation, at least something happens, only few would expect. About one hour after the evacuation, the organisers give their all-clear. The storm has only briefly grazed the site, and allows not only for the festival to continue, but to continue exactly where they left off, including the full remaining set of Any Given Day as well as after-headliner-slots Nachtblut and Cytotoxin. 
Unfortunately, I can't tell you much more about this, as it is only hearsay to me. When the information reached me, that the lineup can in fact continue after all, I was already at home like many other visitors who interpreted the evacuation information as a cancellation for the remaining day.
Of course, being evacuated and missing out on your favourite bands is never a great experience. Having said that, I want to highlight though, that I have great respect for the organisers. Considering the myriad of factors to consider (concert curfews, safety of the visitors, economical implications, happiness of bands and fans) it's admirable, that they make the tough call to keep everyone safe. Beyond that, it's even more impressive, that they resume the agenda, giving it their everything to not only continue but even find a way to extend the permitted time frame allowing the remaining metalheads to enjoy all bands. Although many lost faith in a continuation the same day, some brave fans as well as the bands are surely happy about the opportunity to enjoy an intimate, only slightly delayed show. People on site on the second day and many comments on social media also seem highly appreciative of both decisions.
Day 2 – Reap what you sow
Another night at home instead of in a tent. Another storm later. One would assume that at some point, the capacity for a good mood is exceeded. But once again, we are greeted by a cheerful crowd when wandering the campsite on the last day of the Metalacker. Sure, the landscape has drastically changed. Green fields have transformed into an unrecognisable brown hellscape. Once squeaky clean, Metalheads do now wear torn raincoats, and their last set of clothes, which however, is already soiled at least up to their kneecaps. But what just has not changed is the level of energy. If anything, the people have become even more engaged and jumpy. I'll admit that this could also be related to the traditional brass music tunes of Edelweiß Echo. While calling their music Metal would be very far-fetched. Many festivals have a more traditional local choir, brass band, music club, or similar acts on their lineup by now, and so does the Metalacker. As their music might be up to everyone's taste, the deviation from the overall rough soundscape seems to attract a lot of attention, and has the Metalheads on the campsite glowing with laughter and joy.
In the past years, the Metalacker has laid the foundation for an incredibly passionate and loyal fanbase, only further reinforced by the crew's reasonable and compassionate decision-making on the previous evening. Today is an opportunity to harvest in the form of even more people on-site, and a genuinely great mood all over the place.
And another cool thing is waiting for us. After we carefully climbed down into the valley towards the first row we notice a larger photo area. While this might not be interesting or relevant to most visitors, the story behind that slight change could be. A downside of the chaotic weather on the previous days is a rather small pit in front of the stage. The space that usually harbours about a dozen or more photographers throughout the first three songs of each set at an event like that is quite cosy during our first day. Our possibilities to pass by each other to switch locations without disrupting a clear shot for the others are rather limited. While some festivals would be bureaucratic and stubborn about any remark about this whatsoever, the organisers of the Metalacker are both open-minded towards and grateful for the suggestion. And so on the next day, right after opening up the infield, our fantastic media contact addresses the first row of Metalheads with the matter at hand. Where other crowds might have been annoyed by helping the people temporarily standing in their way during a few songs, the Metalacker family stands above such bickering and infighting. And so the Metalheads of the first row swiftly lift up the barrier in the first row, carry it about half a metre away from the stage and set it down again, thus allowing each of us to have a better shot and even more fun on the second day.
PINGHOST
Whereas the path down to the stage feels even steeper due to all the mud and water, the first band is anything but downhill. Having seen them in April already at the Easter Cross Festival, I am super happy to read their name on a running order so soon again. With their catchy yet progressive Metalcore, the band from nearby town Balingen claim the hearts of both me and the astonishingly many fans in front of the stage during their opener slot.
BASILISK
With Basilisk up on stage, I'm finally ticking off a long-time open box on my watchlist. The local band from Donaueschingen has received quite a reputation in the last few years in venues nearby. Beyond that I have also heard quite a few enthusiastic voices regarding their latest addition to the band, second vocalist Michaela Kübler. So obviously I am looking forward to this gig a lot. As it is definitely worth the wait, I'm all the more disappointed not to have visited their shows before. They might still be playing around with a lot of different genre elements, slightly taking away from their consistency throughout the show, yet every song in itself is greatly written and performed. Not to mention the exceptionally great chemistry on stage and with the crowd. Definitely, I am looking forward to their next concert nearby.
NEVER BACK DOWN
With Never Back Down the booking team of the Metalacker really hit my taste. With a mixture of Metalcore and Deathcore elements, they do not have to hide behind the big ones in those respective genres at all. With their combination of harsh and clean vocals, melodic tunes, and rough breakdowns they remind me quite a bit of bands like Bloodywood, which makes me hope that they will become quite as successful as well.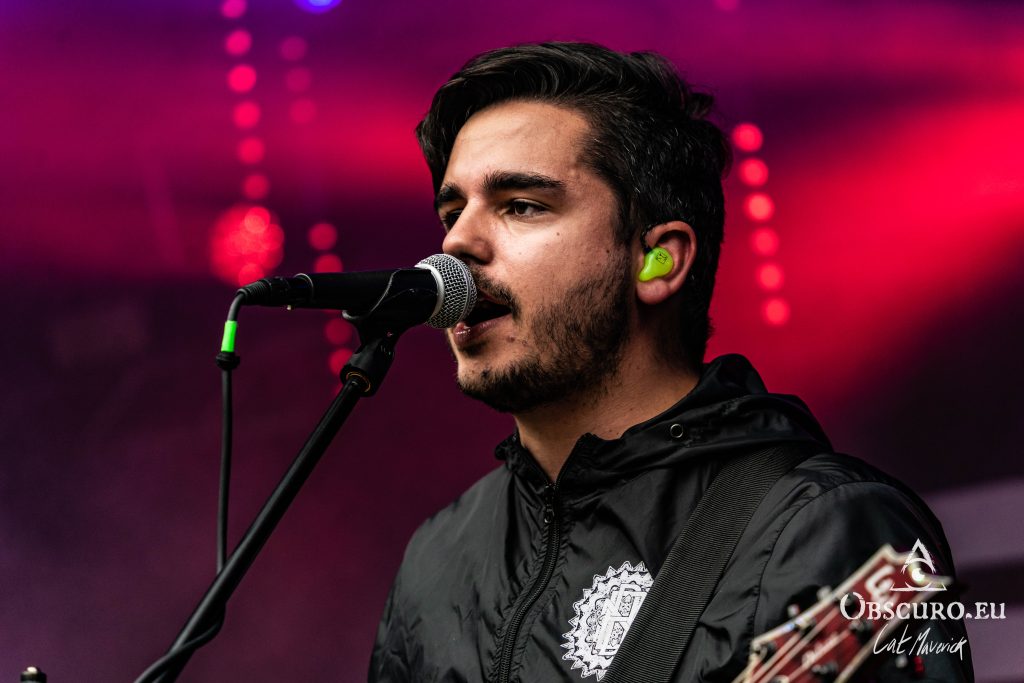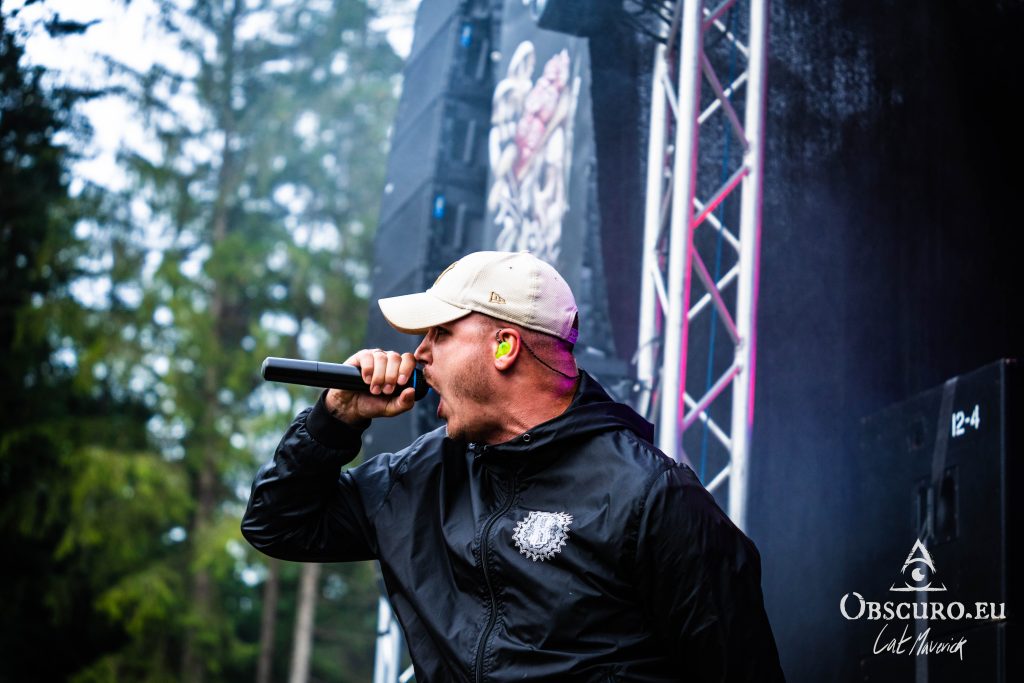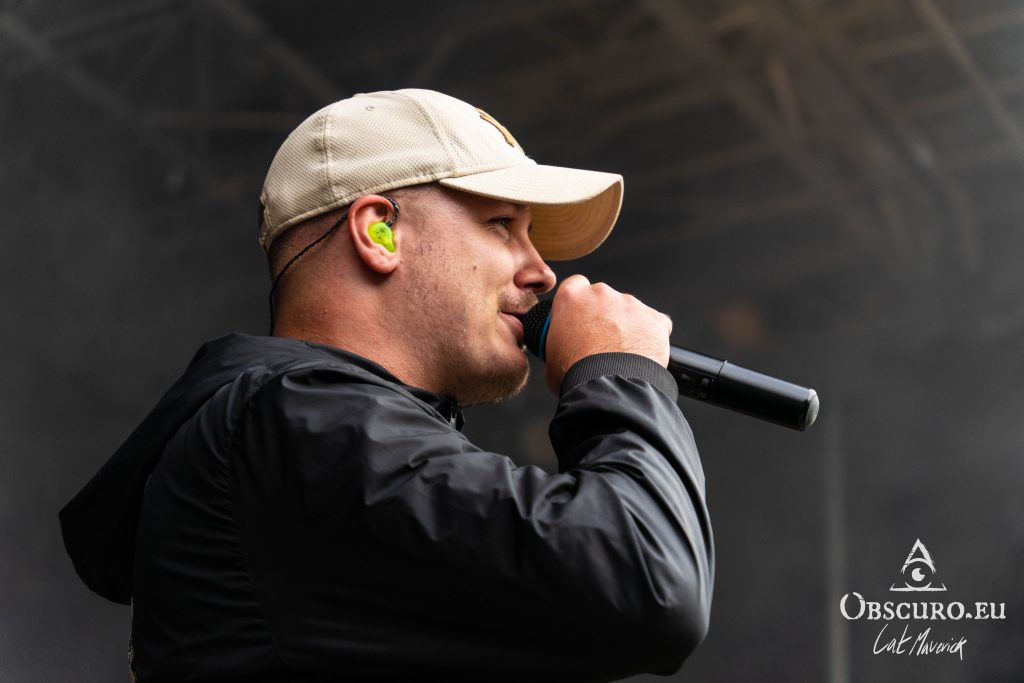 JADED HEART
When a band comes on stage with almost thirty years of history, and fourteen albums in their backpack, they have my curiosity. So do Jaded Heart. At first glance, I wonder if their singer Johan Fahlberg might in fact be John Wick's alter ego. But only a few tunes into the show, a truly unique sense of energy and insanity seems to take hold of the frontman, which makes me abandon any and all comparisons to anything I have known so far. With a mixture of Melodic Metal and Hardrock, Jaded Heart bring another facet of the Metal genre to the crowd that they haven't seen this weekend yet. The audience is on fire thanks to them. This turns out to be both musically as well as visually a pleasing experience.
BRAINSTORM
Transitioning to Power Metal seems very cleverly aligned on the running order and so Brainstorm tap right into the already amped-up energy of the crowd. Having been founded in 1989, they are the oldest band on the lineup. Additionally, judging by the amount of Brainstorm shirts in the audience, they appear to have become quite popular in that time. I might only know a few of their songs, but the crowd seems to be quite familiar with most of their tunes.
SEPTICFLESH
The headliner of the second day this year is only one year younger than their predecessors on the stage yet present us with an entirely different style of music. Where Brainstorm gave us a bright stage, powerful tunes, and glorious lyrics, Greek Death Metal band Septicflesh deliver a perfect contrast. Cloaked in mist, dim lights, and mystic background sounds, their dark silhouettes shred through a rough set of uneasy themes and merciless soundscapes. I saw them many years ago before and could not remember to have found any excitement for them at all. But today, they catch my attention as well as the one of the entire Metalacker. A fact that is only further emphasised by the information, that only briefly before their show, the Metalacker sold out again for this year. Considering the fact, that this atmospheric powerhouse from Greece was only a stand-in for a short-term change in the lineup, they not only enjoyed themselves but also pulled everyone into their mystically dark vortex. A worthy replacement as well as a fantastic band on their own.
HÄMATOM
Speaking of replacement, there is unfortunately a grim reason for Septicflesh having to jump in at such short notice. Originally and to the excitement of many Metalacker visitors, Hämatom were confirmed to play the headline slot on Saturday. Unfortunately, a few weeks before the festival, they announced the sudden death of their bass player Peter "West" Haag. And to no surprise at all only shortly after, Hämatom announced that any upcoming shows are cancelled. Given those circumstances, the Metalacker is not only faced with a huge organisational challenge, but also a heavy tragedy to process on their own. At the last minute, Septicflesh was booked and announced to jump in along with words of compassion and condolence for the friends and family of the deceased.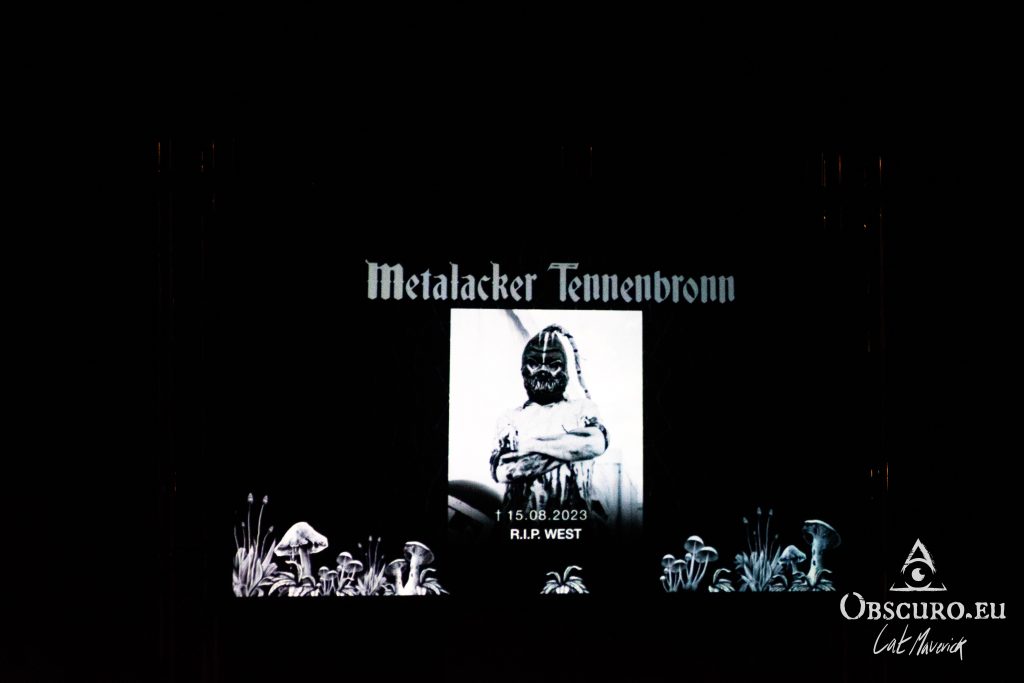 Despite all the excitement and joy throughout the festival, this recent tragedy still holds onto many visitors. There are Hämatom shirts and signs, bands expressing their sympathies, songs chanted in the break between songs as well as a quiet tribute on the canvas next to the stage right after the Septicflesh slot. We are sending our condolences and lots of energy to West's relatives.
DESTINITY
After that, one last band enters the stage. It makes perfect sense to have an Extreme Metal mixture wrap up the event in the darkness of the night, and in between the Black Forest trees, which at this point, seem like gruesome, huge monsters about to swallow us up. The French formation Destinity deliver one last great performance of this weekend and allow us to party our last ounces of energy away before the Metalacker ends once more.
---
!
Visit the official homepage of the Metalacker Festival Tennenbronn.
---
Photography and Article by Cat Maverick
Proofreading by Muumi-Katja