Today we have the great honour to present you the review of an album, hand forged by our most beloved Swiss guys. We are talking about Fire Rose's "Blood On Your Hands". We link our impressions to the words of Simon "Simi" Giese, guitarist and founder of Fire Rose. Most of the songs are well known to Fire Rose's audience as they are a constant part of their live repertoire, but it will be interesting to find out if the studio tracks have the same energy as the powerful and driving live versions that Fire Rose are loved for by their growing fan base.
Blood On Your Hands
HEROES
"Heroes" is no David Bowie cover, but the unholy bastard son of Uriah Heep and Iron Maiden. Nevertheless, it is a typical Fire Rose song with additional organs. They replace the synthesizers that were originally planned. Perfect opener and somehow I like bastard sons. Even if it starts with the organs, which is unusual for Fire Rose, it is a very typical, powerful hymn. Heroes is not only the opener of the album, but with an extended intro it was the first song of the release party on 9th September, read our report soon!
TOUCHDOWN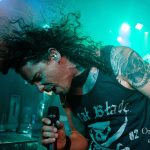 Parts of the song have existed since 2010. It took seven years though until vocalist Philipp Meier wrote the lyrics, but they are not purely about American football. Nevertheless, you never know, maybe it will eventually become the anthem of Helvetic Guards, the Swiss team of the young European Football League… A strong double lead guitar feature and a very rough and tough riff combined with cutting vocals make "Touchdown" aggressive and melodic at the same time for every sport arena, so why not?
BLOOD ON YOUR HANDS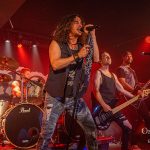 The only song that has never before been played live before. It premiered on 9th September during the release party at the Rockfact Club/Münchenstein in Switzerland. The well-thought-out lyrics were written on the road, on the way to RMD'z, Oschersleben. The historical theme reveals Philipp as a true history nerd. He sings about the ancient Roman Empire, slavery, the wars of the last century and leaders with poisoned minds. They all have innocent blood on their hands. Although it has a short keyboard introduction and interlude, these very specific lyrics remind me a lot of one of the earlier war themed songs of Iron Maiden. The colour of Philipp's vocals underlines this thought. Although it is a very catchy song, there is no glorification in it at all. Listen and think about it, especially nowadays.
RISE LIKE THE SUN
One of Simi's favourite live songs! The chorus is borrowed from one of Fire Rose's early songs which was scrapped eventually. Well, recycling is fashionable anyway. We continue with a nice lead guitar intro and a really anthem-like chorus. I can understand why Simi likes it so much. The rough guitar break in the middle of the song combined with a second guitar take it to a very melodic side.
LEAVE YOUR CAGE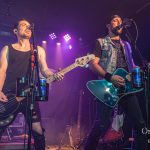 A very demanding song due to the complex bridge of the backing vocals. It is not easy to play guitar and sing at the same time. Being one of the slower songs on the album, it builds up a tension until you turn the page and get to the good stuff! It is a modern classic metal song that deserves to be set free and escape from the cage, a real song for arenas, to be sung along with the 10,000 faces of the audience. I'm pretty sure it will work out very well together, even the bridge.
GET IT ALL
This song was born in the rehearsal studio. Some 80s keys out of nowhere, choir and guitar for the intro and the song sounds as if Fire Rose had known it for ages. It is a very impressive, almost power metal song with some surprising lead guitar parts. Because of the backing choir it sounds very epic, epic and catchy at the same time. This is another brilliant song made for the big arenas! "Get it all", you just have to want it!
RAIN FALLING DOWN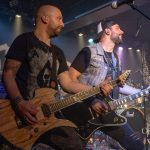 This song has been around for 18 years now! In the beginning it just hasn't been mature enough. It had to grow to maturity. It matured like a good red wine or single malt whisky to be released at the right time. It is Simi's favourite track on the album with a fine and building orchestration, simply epic, there we go again. Epic songs are one of Fire Rose's many strengths, even if this time in the guise of a power ballad. Philipp can show off his full vocal range, especially in the high notes. The marching step of the drums leads into another very melodic lead guitar part before the vocals take over again. This "Rain Falling Down" is like crying tears or sweating through the eyes because it is dark and cold without the lost loved one. I really like the dramatic development of the song.
FLY TO THE RAINBOW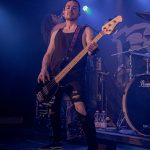 We continue with another song from 2005 and are back life on the fast lane, buried alive for a while and now coming back to life, not a zombie, but a powerful and vital rocker. It took a lot of time and effort to record the guitar parts, but it was worth it. Once again we are very close to early Iron Maiden and Bruce Dickinson for many reasons you should try to find out for yourself. Janick's bass line is very powerful by the way and of course a double lead solo by Simi and Flo form this little gem. Modern Metal at its best!
LIFE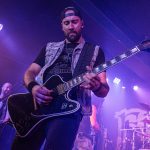 The most diverse song of the album. Philipp's lyrics brought it to life after it had been a blank sheet of paper for years. The beginning is very doubtful, the guitar bursts in and brings the song to life. The drums push the guitars and bass through the song like there is no tomorrow. That doesn't mean it's a fast song, not at all, until, wait and listen! It just pushes and the tension is almost unbearable! This song is the time of your life, you just have to live your dream every day. The guitar arrangements are very cleverly composed and give the whole piece a new momentum, as if it was two songs in one. Perfect, just perfect, at least to my ears.
FIELDS OF HONOR
Written as a double bass, triple trouble song, it appeared on the album in a slightly different version by accident and for the sake of the song. That's what happens in the studio or during rehearsals. Once again it is a song with very serious historical lyrics, as you might guess from the title. During the presentation at the release party, Philipp underlined the theme with his historical headgear. We are on the fields of no or false glory of the Great War. We are covered with the mud of Verdun and the Somme, with the blood of soldiers of all nations who lost their precious lives for the sake of leaders and politicians with blood on their hands. The piano outro seems to me like blowing out a candle, the candle of the unknown soldier's life. A very fine and impressive closer to the album.
PERFECT
I enjoyed all of these songs during the album release party. All I can say in very short words is "Yes, they fit". Fire Rose have had their unique and driving double lead guitar sound ever since. The vocals are outstanding and the range is impressive, live and on record. When I listen to Fire Rose I feel like I am travelling back in time to 1982 when Iron Maiden released their breakthrough album Number Of The Beast with their new singer Bruce Dickinson. Don't get me wrong, Fire Rose's "new" vocalist Philipp Meier has been with the band for seven years now, as has bassist Janick Schaffner, so you can't really call them "new" members.
Change of drummer
It is drummer Simon Sutter, who joined in 2023, who completes the band together with the guitarists and founding members Simon and Florian Giese. The album was recorded between July 2022 and February 2023, so you can still hear former drummer Daniel Kopp on it. Nevertheless, a perfect album like Blood On Your Hands deserves your attention now.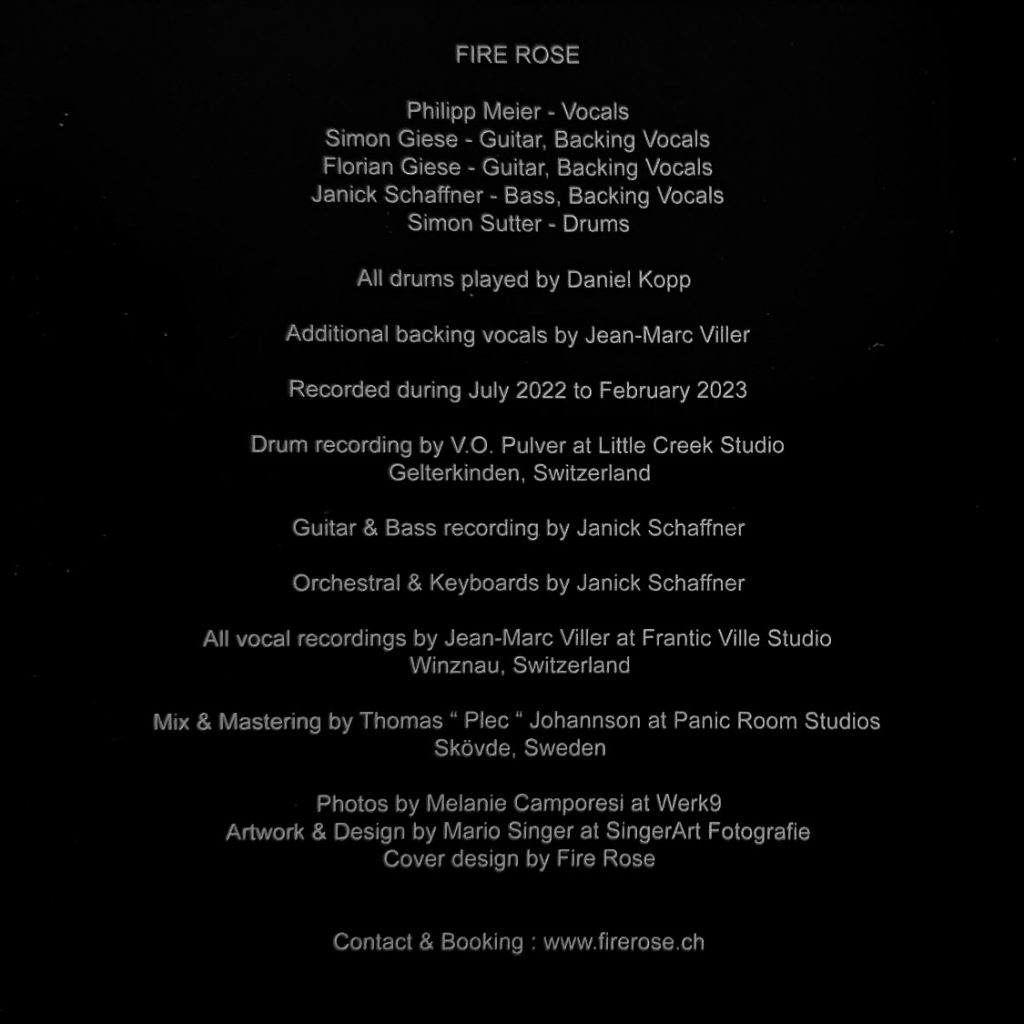 Live on your hands
Check Blood On Your Hands out and see Fire Rose on their European tour with rotating headliner support from Jaded Heart and Nazareth, if you can't make it to one of their own headlining shows. You will not regret it and you will see the next level of metal stars. It is up to you to decide and make it happen. We will whet your appetite with a report about the release party soon.
Save the dates:
| | |
| --- | --- |
| 16.09.2023 | P9 Event-Location, Biberist SO (mit Live/Wire) |
| 23.09.2023 | Rocknacht Tennwil (AG) |
| 14.10.2023 | Joker, Sissach BL (mit Excentric) |
| 17.10.2023 | Spectrum, Augsburg D (Support Jaded Heart-Tour) |
| 18.10.2023 | Kubana, Siegburg D (Support Jaded Heart-Tour) |
| 19.10.2023 | Resonanzwerk, Oberhausen D (Support Jaded Heart-Tour) |
| 20.10.2023 | Eventhall Airport, Regensburg D (Support Jaded Heart-Tour) |
| 21.10.2023 | Live Music Hall, Mörlenbach-Weiher D (Support Jaded Heart-Tour) |
| 22.10.2023 | Ragnarok, Bree BEL (Support Jaded Heart-Tour) |
| 28.10.2023 | TOB-Rock, Langnau i. E. BE (mit XII Gallon Overdose) |
| 24.11.2023 | Statdhalle, Bopfingen D (Support Nazareth) |
| 25.11.2023 | Mühle Hunziken, Rubigen BE (Support Nazareth) |
| 26.11.2023 | Mühle Hunziken, Rubigen BE (Support Nazareth) |
| 28.11.2023 | L'Abeille, Riddes VS (Support Nazareth) |
| 30.11.2023 | Stattbahnhof, Schweinfurt D (Support Nazareth) |
| 01.12.2023 | Kubana, Siegburg D (Support Nazareth) |
| 09.12.2023 | Koller Event Hall, Grenchen SO |
| 16.12.2023 | Kik, Sissach BL |

---
!
Online:
Please buy merch and physical music or downloads  from the bands official sources and don't stream music for free because it steals your artists' income
---
Concert photos taken during "Blood On Your Hands" release party at Rockfact by Friend.X aka Mr. Deep

proof reading by DerminBoad