Meet Julian, vocalist of the German old-school Death Metal band Totenkreuz. He set up the band Totenkreuz, established some festivals and concerts to provide a stage for his bands but even more to support the local metal scene. Speaking with him once more showed how important the circle of friends and again their friends is when you kick off a band.
Friend of a friend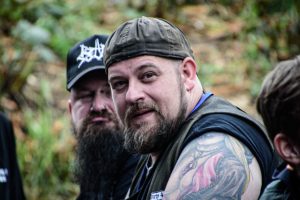 Returning to the cosy M.I.S.E Open Air [M:O:A, read more here] this summer felt already like meeting lots of friends again although it was only my second time. There is Oli aka Odin Grimbart and his dear spouse and friends I was looking forward to meet again. When I found him, he was speaking with another mate, he introduced him to me saying: "This is Julian and he is a very interesting person for an interview!" We take a walk to a quiet spot where we could continue the conversation without shouting at each other.
Indeed, he is. Julian is not only vocalist of Totenkreuz, he plays guitar and bass, does quite some recording in his home studio, loves to design band logos and flyers for the concerts and festivals he organizes. Naturally, he does the promo for his events and Totenkreuz, too. The German proverb claims luck to be with the busy bees, and thus it is hardly surprising that Julian has been quite successful in this against all odds of the meanwhile suffering event industries. 
The history of Totenkreuz – new old-school Death Metal form the Hinterlands
"Why old-school Death Metal just now? Is it not an anachronism? Or is it rather your all-time passion?"
"The interest in the whole story… You know, those old pioneer bands and what's been popping up in recent years. It's actually one of the major things that influence my music taste."
Someone interrupts us with an urgent request, after which it takes some time to get into the flow of our conversation again. Trying to continue with the topic, I ask: "So you've grown up with it?" – "Nah, not really" Julian replies. "Well, but at the moment there are other genres in the focus, right?" – "Yeah, that's it." – "You are from Neukirchen, if I got you right. It seems a not as remote a metal spot as it seems." – "Yeah, that's true."– Ok, we shall get back to that later.
"How did Totenkreuz come to be?" gets him finally into talking again:
"It's a bit of a funny story, really" Julian begins finally fully in the flow again: "I stumbled upon the band Totenmond thanks to an former acquaintance. I thought they were pretty good, so I figured, 'Hey, they've been quiet since 2016, why not do a little studio project just as a nod to them?' So, I recorded a few tracks at home, you know, programmed the drums, strummed the guitar, laid down some bass, and slapped on some vocals. I uploaded it to YouTube just for kicks and shared it in a Totenmond fan group. I added a note like, 'Check this out, got this little studio project going on in this and that direction.' That's when our current bassist messaged me up, saying, 'Hey, fancy turning this into a jam session?' He had a mate who could handle the drumming, and by the way, he's also the guitarist for Prophet."
that's the sound I really wanted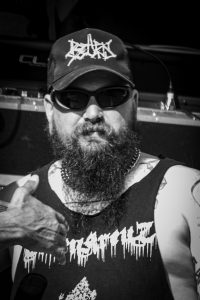 "So, early in 2021, we all got together at our current bassist's place in Reiskirchen [approx. 45 minutes by car from Julian's place]. We had a bit of a jam session there, and luck was on our side when we stumbled upon a rehearsal space in Neukirchen, thanks to the fact that a big chunk of our group of friends lives there. We ended up sharing a rehearsal place with Gotttod in a mate's basement."
"And then we started jamming together, writing songs and all that. And gradually, I found myself leaning more towards that whole Swedish Death Metal vibe, you know, bands like Entombed, and also some of the newer stuff like LIK and Endseeker, which have been making waves in Germany in recent years. Over time, I realized that's the sound I really wanted, at least when it comes to the guitar. So, things just evolved from there. Nowadays, I'd say we're rocking some solid old-school death metal, especially after starting out with some crust stories."
The onion or If friends of my friends like it
Obviously, networking has played a huge role already. How aware is Julian of it's weight, I wonder and ask: "How important is your personal network to it all? And naturally there is a weight of social media networks, too, I suppose."
"Yeah, that's a big deal for me too, just getting some recognition, you know? I mean, sure, suppose I've got a good bunch of friends, but none of them are really into this kind of music. Then it's like having a stumbling block in your path rather than a stepping stone, you know what I mean? So, I'm pretty glad that my group of friends, or at least most of us, are all on the same page when it comes to music. They're all here [M:O:A – check out our report], too. And they're always hitting up Party.San [check out our report] and wherever there are festivals or concerts going on. That's definitely a big deal for me, especially for getting a bit of recognition, well, not fame, but just catching people's attention, you know? Like, people I don't know. And if they like it, it spreads to the next layer, so to speak, in quotes. It means a lot to me."
"And especially on social media networks, I'm pretty active these days, especially when it comes to band stuff. So, whether it's Instagram or whatever else I've got going on, I always try to keep people in the loop when something new is happening. Like, when new merch drops, or gigs are coming up, or when we're hitting the recording studio. I want folks to know that stuff is happening, you know? That there's no standing still. That's a pretty big deal for me too."
Horribly helpful: Networks
"Sounds to me like a full-time job all together."
"Nah, not at all. I do things more on a whim, really. Also, I recently got involved in this organising team, something I wanted to mention. They started organising festivals and concerts this year, and the whole group is called 'Metalfans4metalbands.' I actually stumbled upon them by pure chance. Their account has already got over 9000 followers, by the way. They kicked off their first concert series at Valhalla [metal pub] in Cologne this year, called 'Madness over Valhalla.' Now, my role in the team is designing the flyers, which is something I really enjoy doing. Also, working on logos and stuff like that. I even designed our band logo."
"I actually organized the second edition of 'Knüll Grind' this year, which was on my birthday. I did all the flyers and basically handled the whole thing, taking care of everything!"
"And as I mentioned earlier, I'm part of a team now, and thankfully, it's opened up some gigs for us. Our first gig through this organisation took place at Ponyhof in Frankfurt. It's the kickoff for a weekender. The very next day, we´ll played at Weilburg, which was a day festival called 'Breakdown4Tolerance.' I even designed the flyer for that event, and it features bands like Mindreaper as headliners. We'll be sharing the bill with a band from the Czech Republic, Horrible Creatures. Oh, and there are some Belgian bands in the mix too, along with regional and somewhat non-local acts. So, there will be a total of nine bands performing that evening. After that, on the third day of the weekend, we'll be playing in Neukirchen  . And thanks to this group, we've also landed a gig at Valhalla in Cologne on November 25th."
Making his own stage
"That's hell of a start!"
"Yup, that's what I think, too."
"Totenkreuz does not have long of a band history and yet here you are quite big!"
"Yeah, by now… We've had quite a tough time, especially with the whole COVID situation. We actually started the band during the thick of the pandemic. We got a fair number of inquiries, but they all got cancelled at the last minute due to the ever-changing regulations at that time. So, things really started to pick up last year. We even played at the first Knüll Grind, which I organized. And well, since I was running the show, I figured why not have my own band play, you know what I mean?
Julian tells me of all the gigs he played with Totenkreuz so far. Some were really thrilling such as opening for Kadaverficker, other rather an unavoidable lesson. Hardly a band escapes the experience of being booked for a gig for which there is no promo provided save for what the band manages on themselves. Another time, they shared stage in a rather eccentric line up: "We played at Kakadu in Limburg alongside two bands that we stylistically didn't really fit with at all. One was a post-metal band, instrumental, and the other was an experimental doom metal band. They had a didgeridoo on stage and all sorts of stuff", he tells me laughing.
Sharing Stage with Rotten Sound – a fantastic experience
"We had the opportunity to support Rotten Sound in Kassel at Goldgrube. That was definitely a fantastic experience. And, Rotten Sound is quite a big deal in the music scene. They celebrated their 30th anniversary this year, and released a new album in March. It's funny how sometimes, when you have contacts and chat with bands. You might initially think that they've been in the business for so long, they must be totally stuck up and everything. But when I arrived with our merch guy, I approached the singer of Rotten Sound. We ended up chatting for a good half hour. He was a really nice guy, totally down-to-earth, and we could talk about all sorts of things, have a good laugh, and all that. Yeah, after our gig, I even gave him one of our band T-shirts as a little gift. I thought, 'He's such a cool guy; I can leave him something.'"
Keep in mind that here that bands such as Totenkreuz have access to no further financial resources than the income from their day jobs. Apart from their living this will have to pay for instruments, rehearsal place, transports, recordings, production of physical copies of their music, merch, promo and whatever else. Their income from gigs will pay the immediate expenses of that but hardly anything more.
All the better for Totenkreuz, there are more gigs they played recently and will play soon (check out their upcoming gigs here).
Making it profitable by making it fair
What I find really interesting is that you managed to establish something new when all the event and music industries need to reinvent themselves to adjust to the new settings. How did you do this?
"My main thing is trying to keep the local scene alive. So far, the two events I've organized, have been profitable. For the gig on my birthday, I actually came out with a surplus. I even paid the bands more than we had agreed upon. I also gave our sound guy more than the agreed amount. It covered all the costs and still left me with a profit."
"Here's how I do it: I tell the bands in advance that I'll bring them in for the event, and the entrance fees get divided among the number of bands. Regardless of how much comes in, it gets shared. This way, I take on the risk, so there's fewer chance of running at a loss. I intend to keep this model to give bands a stage and, at the same time, keep the scene alive. I'm not in it for the money or getting rich, unlike some others. My main goal is simply to contribute to the scene. That's my main focus in all of this, and I hope it continues to work."
"I've already got plans for next year, and I'll be putting enough into it again. It's scheduled for April 6th next year, right here at Sägewerk in Neukirchen. I've got some big things lined up for next year."
Julian  and his inspiring neighbourhood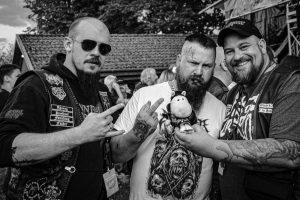 Julian's dedication to his band and the local metal scene is adorable. He is a humble and straight-forward acting guy, doing what needs to be done. His local scene is perhaps not as remote and far off everything as it seems on the first glance. The founders of AFM Records decent from the area. The club Sägewerk hosts not only the Knüll Grind but is sort of the living-room for the long-standing metal act Squealer, for example, too. Then again Tobi Exxner (Edguy, The Unity) runs a music school more or less in the neighbourhood whose band project Rocking Kids traditionally open the stage at the M:O:A. Looking on the rural areas, city people tend to see villages quite isolated. In fact however, there is usually a network connecting like-minded people and places in some dozens kilometres radius. This is in the end indifferent from the networks in big cities, only here is a public transportation and houses instead of fields and woods in between.
And still it is a challenge for the local bands to find a stage, and a crowd – no matter where. All the better, there are people like Julian! I came across a saying lately: Only dead fish swim with the stream. Julian is all but a dead fish rather a kick-ass fighter for his local metal scene.
---
!
Totenkreuz on bandcamp 
Buying music and merch and don't forget to support your locals be it clubs, bands or events!
---
(C) All photos taken during M.I.S.E. Open Air 2023 by me. 
Thank you Odin Grimbart for introducing me Julian.
Check out Odin's YT channel and stay tuned!