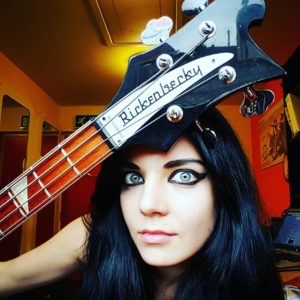 Metal Chef

is back!
This time we present badass bass player Becky Baldwin cooking her secret vegan dish for us.
Watch the video and find out what it is!
Cook it following her visual instructions and find out how it tastes!!
Let us know how much you liked it!!!
And here is what Becky said, why she went for that particular recipe after watching our first Metal Chef video with Māra Lisenko which convinced her to give in :
There were a couple of other dishes I really wanted to make for this, but I didn't have the right ingredients in at the time, so I just went with this pretty easy and healthy, random combination of foods… That I often like to eat! So, if you like this, then I could definitely be tempted into make more of them. Those will be real meals, with real names and everything!

So if you are looking for a healthy vegan meal that can also easily be made gluten-free too, maybe try this!

Another variation I like to do of this, is to get a butternut squash instead of sweet potatoes, either cut it into long quarters or big (big roast potato sized) lumps and cook in the oven for about 45 mins! This takes longer, but tastes so good!

PS sorry for the gory music video in the middle of cooking! It felt like an appropriate song to feature… Until I tried to find a section that didn't look too gross, and failed haha! Enjoy your meal 😀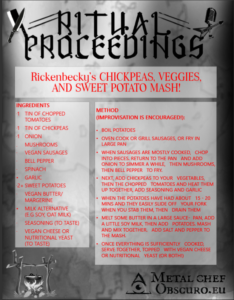 Click here to download the ritual proceedings
Btw…, Becky Baldwin currently not only is the incomparable bass player of Hands Off Gretel and Fury but also a fantastic bass teacher and instructor with her own Rock School, not to forget her former bands Dorja and Triaxis.
Her technical skills and performance are undeniable. and she stand in one line with great bass players as Lemmy Kilmister (Motörhead), no wonder, they play(ed) the same Rickenbacker bass guitars, Eugene Abdukhanov (Jinjer), or Steve Harris (Iron Maiden) amongst others.
Technically on a high level is she the true live beast on stage as well. That is something, many other bands lack  from their bass players (not those mentioned above) who just stand in the left corner beside the drums.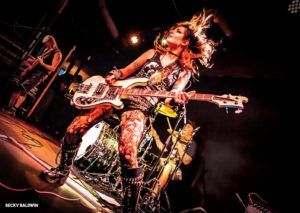 Check out our review (click here) of recent Fury's album "The Grand Prize".
If you like it, check Fury's website  here:
Watch the video of their "The World Is Mine" as Becky's bass-play-through here: 
 You can find our review of last year's show of Hands Off Gretel in Frankfurt here:
If it caught your interest in the band, go here:
If you liked the excerpts and are curious about video of "Milk", you will find it here:
You can find Rickenbecky's Patreon to support her here:
Or visit her own website anyway and find out more about Becky here: