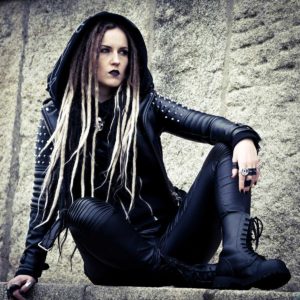 The Metal Chef
Some months ago, when we were talking about the administration and structure of obscuro.eu we raised the idea for "The Metal Chef – cooking with the artist –" One reason is, we very often hear, catering for bands is not always what they really like and mostly they end up with burgers or pizza, not the healthiest food….. Another reason is that metal heads have the reputation to eat all variations of meat, raw and grilled, most preferable little children. And yeah, as the third reason, we all like good and healthy food, not necessarily based on meat. Therefore, we thought to ask some musicians we know and are befriended with for their favourite vegetarian or vegan dish and if they would provide us with the recipe so we can publish it and everybody can try it out.
Here is the first result.
Well-known Latvian extreme metal singer and vocal coach Māra Lisenko sent The Metal Chef her favourite dish, vegan Borscht, an Eastern European soup based on beet root, cabbage and (this time without) beef, as a cooking video. I can tell you from experience, it tastes delicious. Enjoy the video and afterwards enjoy the experiance of cooking vegan Borscht.
Mara's vegan Borscht
By the way, Māra and the same named band (after one of the Latvian main goddesses) recently have released their smashing second EP "Self Destruct. Survive. Thrive!"
You can find our review here
You can buy the CD, its predecessor "Therapy For An Empath" and some other merch here
Māra website for further information here
Māra Lisenko's personal Patreon here
Interested and want to watch a video of Māra?  We highly recommend to watch "Life kills (Fear)"  which not only contains excellent extreme metal music but also an interesting story and wonderful message at the end.