Album with a crucially important message!
In a brutally honest way, they address rape in a memorably dark and uneasy ambiance. This album will imprint itself permanently into one's head.
Brutally honest piece of art
clever songwriting
mood-driven sound
great songwriting
Hard to digest topic
no easy-to-listen music
dark and heavy
9.5
An overall superb album that must not be missed!
Can music be therapy?
Music is a lot more than just layers of arranged notes. While it often bears a straightforward entertaining side, music can also serve as a channel for artistic expression, allowing musicians to pass a message or deal with experiences. The music and especially the lyrics can become a medium for growth and healing, and a way for processing difficult and even traumatic events. The album, that I wish to present here bears important messages, disturbing ones and might even trigger some people. So what is this about, one might ask? At the age of 19, Milena Eva, vocalist of the Dutch alternative metal ensemble GGGOLDDD, became a victim of rape. On this album, she delivers a blunt, yet musically brilliant display of her experiences and the long struggles after the attack. The inspiration for this album came during the pandemic-related lockdown period. Milena was unable to get out, travel, and be among other people, just left alone with her thoughts and the aftereffects of the abuse. The best way to actively confront these demons was to cast them out by writing lyrics and transforming them into music. The result is captivating, yet grim and uncomfortable.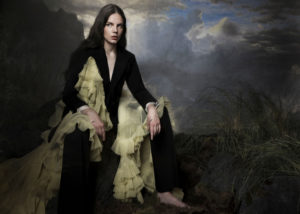 From Gold to GGGOLDDD
The Dutch crew GGGOLDDD can best be described as an alternative metal/rock ensemble, displaying influences from gothic rock, black metal and industrial metal. Initially they just called themselves "Gold" but then they noticed with that their band name was hard to find on the internet, they added some G's and D's. The crew currently counts six members, including three guitar players. The inclusion of electronic elements plays a vital part in their sound, which is often written in the minor key, and comes across as bleak and obscure, yet accessible and memorable. With the use of repetition and careful arrangements, GGGOLDDD pull their listener into a dark ambiance and bring forward the complex lyrical context in a meaningful way. The mental tumult related to the abuse is reflected in the dark, yet honest tone of the album.
Social stigmata
The disturbing, yet very real lyrics are brilliantly interpreted through Milena's great vocal performance. She is an outstanding singer and often keeps a melancholic undertone in her voice, becoming deeply entrenched with the topic. The gut-wrenching emotional tension holds the listener in a tight grip and does not let go until the end. The deeply unsettling lyrics of the track "Spring" focus on the above mentioned feelings of shame and guilt:
I want to shower till my skin comes off
The excellent "Notes on How to Trust" and "Invisible" deal with the painful struggles and the constant confusion about how to ever trust again, always being left with remnants of anxiety and the complicated issue of one's own identity. The track "On You" accuses the attacker directly, literally confronting him. Power full stuff.
You put your filth on me, I will shake off that dirt, whatever you throw at me, is on you
Knight's armor: prison or freedom
I love the artwork of this album. Milena dressed in a thick knight's battle armor has strong symbolic significance. Initially, I interpreted the armor as layers of mental resilience and growth, results of the mental overcoming the trauma. The armor could stand for fighting back and getting stronger. At first, this understanding made a lot of sense to me. However, when I checked their merchandise on Bandcamp, I saw a t-shirt with the armor containing the following words: "Stuck in this armor I'm erased and crushed into this shape ". My initial interpretation quickly crumbled and I looked at the album from a different perspective. What if the wounds can never fully heal? What if the abuse permanently destroyed parts of oneself? There seems to be a notion of helplessness as well. The armor may also be a metaphor for the filth she cannot wash away – the armor would not fit be flushed down the sink figuratively. Even more, it is an extremely tough nut to crack if can be cracked at all. It is a prison as it might be a false hope for even the strongest knight can die in a battle. Safety is a construct.
Raise awareness
With clever song writing, great musicianship and a mood-driven sound, GGGOLDDD address the issue of rape in a brutally honest way, generating a memorably dark and uneasy ambiance. This album will imprint itself permanently into one's head. It is not an easy listen, not made to enjoy while driving or cooking, but it should rather be experienced with headphones and no distractions. Despite its dark character, I appreciate art like this, because not only does it address a very serious issue, but also because of its crucially important messages. An overall superb album that must not be missed!
---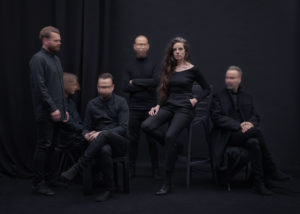 !
GGGOLDDD is:
Danielle Warners (bass),  Igor Wouters (drums), Jaka Bolič (guitars), Milena Eva (vocals, electronics),  Thomas Sciarone (guitars, electronics), and Vincent Shore (guitars)
Visit GGGOLDDD's  homepage and buy their music/merch in their official webshop.