Summer Breeze Open Air 2023
August 2023, the metal community has already seen most of the summer festivals this year, or maybe not, because the biggest one, Wacken, was a weather disaster and about 25,000 people with tickets couldn't attend due to flooded campgrounds and infield. Last year's SBOA had a similar problem with more or less constant rain for 32 hours during the festival. That was my killer last year. Will Franconian Summer Breeze be prepared? Will it be hot and sunny like Rockharz or wet and rainy like Wacken?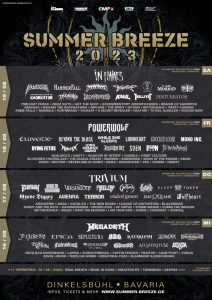 Arrival at Black Earth
For the early birds, the gates opened on Tuesday morning at 10:00. Some very early birds arrived on Monday evening for their traditional warm-up party at Black Earth – the registration point and entrance to the campsite. We queued up on Tuesday with the lion share of the metalheads who arrived between 10:00 and 18:00 to take their chance of a longer traffic jam but one more day on the festival grounds. This is not free of charge, however, but costs an administration fee of €15 per person. There is also a parking fee of €20 per car and an optional  Sh*t 'n' Shower flatrate of €15 which must be added to the ticket price.
Setting up the campsite
Nevertheless, once we arrived, we found a spot on the Green Camping, about 300m behind the entrance to this campsite and about 30 minutes from the infield. We had decent neighbours to the left and right, and unloaded the car to set up tents and pavilion. We enjoyed a first tin can of Pils and time for our  barbecue. Being well-fed is perfect basis for some whisky tasting that goes with a few more beers to clean the tongue before trying the next brand. Isn't this a very relaxed getting-into–Breeze mode? There is plenty of time before entering the infield on Thursday lunchtime.
Food and Drinks stalls
Countless stalls with food and drinks like beer, wine, met, cocktails etc. were all around. In general, it was a "standard" range of food at relatively high prices compared to other festivals we attended this year. There were still some gems like the Camba Bavaria brewery or the pasta stall next to the Sh*t 'n' Shower Station in front of the Green Camping, offering homemade fresh pasta for a reasonable price. Later, we heard from some of the caterers that they were obliged to charge higher prices to Although the marketing is the Breeze organizer's realm, it is beyond common sense to push the prices artificially in times of historic inflation and growing poverty rates. In my point of view this is short-sighted as ever fewer of us will be able and/or willing to pay this. their products a "luxury". Although the marketing is the Breeze organizer's realm, it is beyond common sense to push the prices artificially in times of historic inflation and growing poverty rates. In our point of view this is short-sighted as ever fewer of us will be able and/or willing to pay this.
Merch Square and High Street

There was a lot of merch. Next to the stall for the Breeze merch, there was a stall for the bands playing that day. In two more lanes stalls squeezed to another offered all the supplies the metalheart could wish for. Most of the prices were increased in comparison to pre-Corona years due to higher production costs and other reasons beyond our knowledge.
A "very special" stall
German Armed Forces "Bundeswehr" were also guests with an information stand. There was much criticism of this. But always keep a few things in mind: an army serves to prevent wars, not to wage them. No soldier likes to put his life on the line in an armed conflict. He or she then only makes up for what other agencies have done wrong and politics has failed. AND in disasters or dangerous situations, the Bundeswehr is always there to help. Be it with tank roads like in Wacken to make the terrain passable, the big flood disasters in the Ahrtal and Oderbruch, or to support the health authorities with medical personnel in the event of the outbreak of the Corona pandemic to name just a few.
The stages
SBOA infield consists of three stages, the Ficken Stage as the fourth one is outside and surrounded by the campsite, while the slightly larger Wera-Tool Stage is placed right after the infield entrance on the T-Square. This is the only area with shade due to the roof over the spectator area. These two are the smaller stages for newcomers and smaller bands. The medium sized T-Stage is located about 200m to the left of the Wera-Tool-Stage. Bands would play either one or the other without overlap. Main Stage, located on the so called Battlefield is unsurprisingly the largest stage. In pre-Corona years, it used to be a turntable stage so that there were only a few minutes break between bands. Back in the day, the Battlefield hosted two stages, Pain and Main, with an even shorter break. But it seems that these days are over and the waiting time can be half an hour or more. In general, there is an alternative of longer breaks so basic needs can be taken care without missing the shows at least in parts which on the other hand's side means: longer schedule or fewer bands. Tricky thing to balance that.
Rain Or Shine –  Mud or Dust
Shade is an important keyword. The Breeze 2023 was on the sunny side at 30 plus degrees, no clouds.  Then there is hardly any shade on the infield or around. There is not even a bar area with a tent roof as on other festivals but only the roofs of the stalls which is too few to have any impact. Two small and cramped beer gardens with some parasols far away from the battlefield is not enough sun or rain protection. So rain or shine, you have to live with whatever comes from above. There is no shelter, neither against burning heat nor heavy rains – both highly likely in southern Germany in mid-August. Additionally there is free drinking water available on the infield only at the sinks of the loos – which is neither comfy nor hygienic – and very few taps on the camp grounds. The reasonable criticism here points even more towards the approving authority than the Breeze organisers.
Media politics – The Breeze Food Chain
Summer Breeze organisers grant accreditation in a hierarchic system. Photographers and journalist are divided up in classes, few have full access to all relevant areas, others only strictly limited if at all. In general, accreditation means free-of-charge access to those relevant areas and in return reporting of the event. This reporting means working while others are partying plus days of editing afterwards and pre-reporting in the next year in case of the major festivals.
If you want to attend a festival for free: apply for working on the event at the organisers. Usually one day of work equals free access for the remaining time. This is only a small proportion of the journalistic work on a festival!
This needs to be pointed out because what seems to be considered the proletarian class of journalists by the Breeze organisers has to pay their regular ticket and will in return have no access to the media area if they don't upgrade to the more expensive additional VIP ticket and access to the photo pit only outside of the 'headliner times' between 19:00 and 23:00. Of course the Breeze organisers expect the same effort as by those with full accreditation. Fun fact: Interviews have to take place in the media area.  
Due to these 'logistic issues' obscuro.eu cannot provide any photos from any headliner and two interviews had to be cancelled as not even label representatives could make them work at these conditions.  
Wednesday Values
We will keep it short. Here are some pictures, I took during the first few days. Due to the exhaustive heat and the schedule of always playing several bands at the same time plus the aforementioned logistic limitations, here come our cherries from the Breeze cake.
Opening
It was the first time in ten years that we saw Blaskapelle Illenschwang, the traditional opener on Wednesday lunchtime.
Corvus Corax
The first 'real' metal band, I caught with my camera was Corvus Corax with its unique folk metal show, including strange instruments. When we saw them on stage, we wondered if they were actually instruments for torture rather than music.
Epica
The next sweet cherry is Epica who played most of their hits, but of course their set list was reduced compared to a full show [read our review of their co-headlining tour].
Sepultura
We managed to catch a few glimpses of Ad Infinitum and their fantastic vocalist Melissa Bonny, but we concentrated on none other than the mighty and legendary Sepultura. Their show was priceless and not only our personal highlight of Wednesday. No words needed, just enjoy the pictures of this fantastic gig!
Thursday Thunders
Setyøursails
On Thursday, we had a quick look at League of Distortion before catching Setyøursails on the Wera Tool stage. If you expect  pirate metal from them, you will be disappointed, even if the name suggests it. No, this is pure melodic metalcore, very aggressive in a positive sense. In just half an hour the band convinced us and not only us [read our report about Lord Of The Lost's Blood And Glitter show in Saarbrücken a few months ago. Setyøursails was their support band for good reasons]. Yes, their energy blows you away! Setyøursails was our personal highlight on Thursday if not the whole festival. Check out their recent album, here is our short review!
Storm Seeker
A little later it was time for real pirate metal as Storm Seeker stormed the Wera Tool stage with a short but impressive set. A good old wooden beer barrel plays an important role in their live show, yet 30 minutes were not enough to perform all their gimmicks. So what we got was just an excerpt of their show, but they will be headline touring in 2024, so watch out!
The New Roses
The New Roses were the band we saw on the T Stage. Comment by Friend.X: "They are my local band, coming from the same town and region as me. So whenever they play at a festival it is a must-see for me. The last time I saw them was at their home gig in Wiesbaden." The New Roses stand for pure Rock 'n' Roll, no big intro, no special effects, but five musicians getting on stage and playing their music. No time wasted on endless speeches, a pure firework of one song after another. With Norman Bites back on guitar, Timmy Rough can concentrate much more on his role as front man. It was a bit strange to see him without his Les Paul, though he was very convincing. Only, we wish there were more bands with their attitude!
Paddy and the Rats
A storm warning forced many of us to the camps  to strengthen the tents and what not.We made it back on time for Paddy and the Rats. It is funny enough to see five Hungarians playing Irish Folk Metal at a German festival. The crowd was very colourful and, as you can see, photogenic, decent and friendly people. What else can I say? The Rats delivered what they promised, music straight from the heart.
Beer tasting
We took a nightcap at the famous Campa Bavaria beer stand. Their range of craft beers was excellent, and I think we tried each one more than once. Whenever you find them at a festival, they are a clear recommendation. Really, there is better than the average Helles or Pils. Additionally, the crew is always happy to chat and happy to offer you a free sip in advance. What you take it generosity when it is rather seduction. Once you tasted their beers, you cannot stop. Now that's what we call a perfect beer tasting!
Friday's Feasts
Skálmölð – album release party
Around midday on Friday, we made our way to the main stage. It was time for Skálmölð, the Viking bards from Iceland. Unfortunately, some technical problems during their sound checkresulted in their setlist shortened by one song. Nevertheless, Skálmölð presented not only songs from their past albums, but also songs from their brand new release "Ydalir". Brand new is literal as it was the release day and thus  their release show at SBOA [read our review of Ydalir here]. The music was very tight, very intellectual and very challenging. The lyrics are in Icelandic though we never missed English hard. It was a great show by six great musicians with a great audience, many more people than the band expected this early the day! Skálmölð will be headlining in October, stay tuned for the full show and for our interview with guitarist Þráinn Árni Baldvinsson.
Mono Inc.
After a short break, we returned to the battlefield to see Mono Inc. A lot of bands just play their 'usual festival set' over the festival season without any changes. Surprisingly, Mono Inc.  did not. Their show differed from their gig at the Rockharz Festival in some small and big details. One of the obvious differences was the presence of Storm Seeker during some songs. They are friends and whenever the opportunity arises…
'Sabbat' Saturday
Unfortunately, shortly before Mono Inc. show I got messaged that my planned interviews were not possible due to 'administrative problems' with the organisers. Thank you. This was the next big blow after we weren't denied access to the photo pit during the 'headliner slot between 19:00 and 23:00'. For the same reason, Mono Inc. were the last band we shot. We decided to enjoy the festival without the weight of the camera like everyone else. Thanks to The Highest Being we were able to get at least one of the interviews later.
While looking for some now so much-needed food, I surprisingly ran into my friend Jen Gervais, who had recently left her band Dust in Mind. She really saved my day. We chatted for a while about her future plans while our food was being prepared.  It is her story to tell, naturally. Stay tuned and follow her on social media if you are interested. Jen certainly deserves it.
Nevertheless, here are two bands of Saturday that deserve to be mentioned by us. On the one hand Trollfest with their comedic show, on the other hand Iotunn, who were our worthy closure of the Breeze 2023.
What remains to be done?
It was hot, hotter than hell, with very little rain. The air was so humid you could barely breathe. Still better than cold, rain, thunderstormsand interruptions as at Metalacker only one week later. While the weather cannot be helped, the infrastructure at the festival needs improvement. There is an urgent need for more shade on the infield at the very least. The two tiny beer gardens are too small and not enough for 50,000 spectators. Several taps for drinking water have to be set up and highlighted on the infield, the number on the camps need to be in reasonable proportion to the number of users. The hygienic situation with the toilets and water stations was okay, but there were too many queues as their number was too small. The showers should stay open until the campsite closes at 14:00 on Sunday. It is no fun to drive home in your own car or on public transport soaked in sweat after dismantling the campsite. Both topics discussed here are not luxury but in the responsibility of the Breeze organisers as much as the local authorities as they concern public health matters.
Inside the Wall of death
During the performance of Paddy And The Rats we took the opportunity for a few photos of the Wall Of Death. We weren't sure if we and our equipment would survive it, but luckily we escaped at the last second.
About crowd surfing
SBOA 2023 has allowed crowd surfing, which remains the subject of endless debates. Although most surfers are fit enough to ride the waves of the crowd, some are not. They fall off and can hurt themselves or others. Here are a few impressions of the interaction between surfers and Grabenschlampen.
The real stars
The best comes last. I don't want to forget all the people who work for the Summer Breeze Open Air. In the background, backstage, administration, logistics, etc. We thank you for making the festival possible with all your patience and perseverance. Thanks to the stewards who helped finding the perfect campsite. Thanks to all the security guards at the entrance to the infield, on the infield and everywhere. Thank you to the first aid staff for a great job.
Just the best
We thank the Grabenschlampen for being fantastic. Thanks to you all for being so relaxed and calm in all circumstances. It is great to see you interacting and working as a team. It is nice to talk to you when there is time. Grabenschlampen are always a highlight at any festival.
Finally: YOU
What is a festival without you, the spectators, the audience, the metalheads? You are just as important as the organisers, security, first aid staff and the bands. Altogether, this is the big metal community and family! So here they are, some impressions and portraits of YOU with the permission of those photographed.
Curious about 2024 now?
2023 was a good SBOA. It was not perfect in every way. But it was not half a failure as last year with a general lack of crew due to the Corona years and who was there was quite unprepared for extreme weather onditions. Still, the Breeze concept ignores the adequate measures for these very likely extremer weather conditions. Heavy rains in 2022 are just as much an extreme weather situation as constant heat over 30°C. Our personal difficulties are ours, but most people enjoyed good shows by good bands. Tickets for 2024 are already on sale for prices between €200 and €239,99 depending on the date you buy the tickets. The first bands have been confirmed to make a decision  easier. We'll see if it suits us again or we look for other festival adventures though.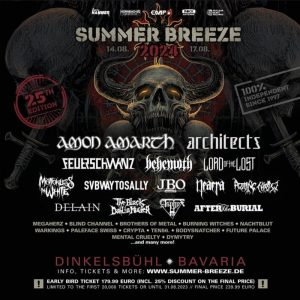 ---
!
Please buy merch and physical music or downloads from the bands official sources and don't stream it for free because it steals your artists' income.
---
Text and original photos taken by Friend.X aka Mr. Deep
Proofreading and sparkling additional input by Mummi-Katja
---