The Epic Apocalypse Tour
Good things come to those who wait
This phrase counts especially for the concert of the Epic Apocalypse Tour we will see tonight. Postponed from 16th December 2020 to 22nd April 2021 and 20th January 2022 to finally take place on 14th March 2023. Originally, I wanted to see the show with a befriended couple, but they are now parents of a young son and could no longer attend the concert. You can see how time has passed.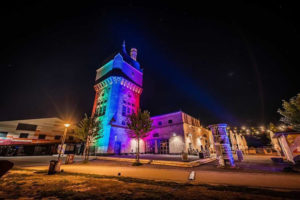 The location is the well-known Schlachthof in Wiesbaden, perfectly suited for an easy attend nearby main railway-station and motorways. The bands we will see tonight are Dutch Epica and Finnish Apolcalyptica with their guest vocalist Franky Perez. It will be 'Symphonic Power Metal' in one way or another: In a rather classic sense of the term that we have long known from Epica and Metal powered by all but symphonic cellos the way only Apocalyptica can deliever. Support act of the tour and third band are Finnish prog-metalists Wheel but read yourself…
Wheel – no wheel of fortune
Sadly, Wheel have to give the show in Wiesbaden a short-term miss, announced as "due to illness". Apocalyptica would later on explain what happened. Two days earlier, their original touring vocalist Franky Perez was stuck on the airport and couldn't make it in time. Wheel's vocalist James Lascelles jumped in to help them out. As sh*t happens, he now faces some vocal cord problems and is not allowed to sing until recovered. Nevertheless, here is a video of one of their live shows as support of Amorphis in 2018 to give you an idea what we have missed. It is a real pity when you have to postpone a tour again and again just to become ill when it finally happens…
Time overload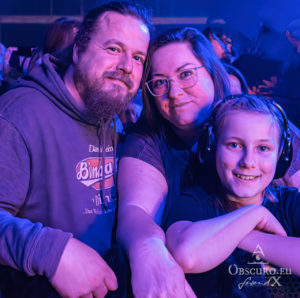 There is an abundance of time as result from sticking to the original schedule yet having no support act to play. A couple with their young daughter catches my attraction. They remind me of my daughter's first concert when she was nine years old. We were to see Arch Enemy about five years ago. Front row, surrounded by her parents, perfect! Ear protection nick named "Mickey Mouse", perfect! Happy faces, perfect! They tell me her name and age of then and ask me if I can take a photo as a memory and if I would publish it somewhere. So here we are, Emilia and parents; this is your personal memory on Obscuro.eu with your permission.
Epica
Unchained
Soon after the light becomes darker, we hear the sound of "Alpha – Anteludium" from the soundboard. One after the other Epica join the stage and take position for the "Abyss of Time". The sound is rough, much rougher than expected. That's the difference between studio and live, a boost of power which most of the audience seems to like . "Victims of Contingency" follows, and we "Unchain Utopia" together with vocalist Simone Simons and her bandmates.
The girl from next-door
What makes the whole performance very personal and likeable is the fact that she does all the moderation in German. We know she lives near Stuttgart, but that's not a matter of course. And sometimes Simone talks straight from the horse's mouth as if we were her neighbours.
About Alchemy
Although the tour had been scheduled for late 2020 we get to listen to one of the newest songs, "The Final Lullaby" of the famous "Alchemy Project", released in late 2022! What a lovely surprise because beside "The Miner" it is my favourite song of this album. Read our review here if you have some spare time, the album really is worth it.
For the Joy of Playing
If you are no "Fools of Damnation" you will easily find "The Skeleton Key" beside the "Rivers". It is amazing how the musicians of Epica interact together during their set. Especially the moveable and turning keyboard of Coen Janssen is an eye-catcher par excellence. Bassist Rob van der Loo's look like a real Viking warrior with a long, long beard is scaring and daring but it fits! The joy of playing of the six musicians is indescribable. You can tell they have waited so long to tour and burst with energy. Their laughing faces say all that is needed. The energy has to come out and is discharged over the more than willing audience!
And Psychology
Between Simone's sugar-sweet vocals, we hear guitarist Mark Jansen's grunts every now and then. By the way, did you know that he has a Master in Psychology? Well, that might explain a lot of Epica's lyrics and the "Code of Life"…
Completing the Introduction
We still have some time left to "Cry for the Moon", and as soon as we look "Beyond the Matrix" the members of Epica are introduced. Beside the already mentioned 'Fabulous Four', there are drummer Ariën van Weesenbeek and lead guitarist Isaac Delahaye who complete Epica. Sorry guys, I didn't want to leave you out but my quill raced across the paper faster than I could think. So now I have to catch up with it, and with you, too.
One Last Song
Introduction of the band members often means "last song" before the encore. It is no different this time. So nothing better than "Consign to Oblivion" closes the set of Epica. The spectacular LED-screen veneered stage and the excellent, on the spot light show to underlined the power of each of Epica's songs. Now that was a great show, which echoes in the mind while taking a round to the rest-room, the bar and the merch. By the way, I really liked the idea of Epica's pre-signed set-lists. They wrapped them around their water-bottles and handed them out to the audience during their good-bye!

Apocalyptica
"White Room"
The setup of the stage changes completely apart from the podest of the drums itself. Tonight, there is no need to save the expenses for some helping hands during the change-over. On the contrary, there two equally situated bands, demanding their own stage. None has to play with the other one's equipment placed on stage already. The road crew's skilled hands and expertise could make even complexer conversions possible in a short time. So little less than two hours after Epica opened their set the lights go out again though.
Metal "Worlds Collide"
We dive deep into a different world of Metal. In the brutal metal realms of Apocalyptica there are neither guitars  nor basses on stage. Who would need them when there can be apocalyptic cellos wielded by the most unconventional metal kings?  It takes no more than three of them, acting as bass and guitars. Then there is Mikko Sirén's drum-kit, their pulse. These are the "Ashes of the Modern World", undeniable and forever even if there is some "Grace" left. And there is as there is magic. The Apocalyptic soundscapes have never failed to surprise the newbies on their shows. 'Is this really all cello?' is a common reaction. Few of what you hear reminds on common cello music. It does only when the bow-and-string magicians see it fit their symphonic metal compositions.
"En Route to Mayhem"
"I'm Not Jesus" and neither is Perttu Kivilaakso even if he looks like a modernised Finnish version. His play and acting is divine though, so maybe…, you never know! The Finns are known for their energetic performance and you will soon know if  perhaps you are "Not Strong Enough" to keep up with them. "Rise" as we are already "En Route to Mayhem" where touring vocalist Franky Perez already is waiting for us from time to time.
Because "Nothing Else Matters"
Well you know, there are "peacemakers", "widowmakers" but there is only one "Shadowmaker". If he had a name it would probably be Eicca Toppinen but honestly "I Don't Care". I care more about the next song. You know Apolcalypta are famous not only for their own original songs but their ground-breaking covers versions. So the next song is nothing else than "Nothing Else Matters" because nothing else matters.
ISSD
For the very same reason we rush into to "Inquisition Symphony" to celebrate a little bit of Sepultura together with Paavo Lötjönen who acts as cello bassist. Sepultura, I mean, Sepultura! They are giants and one of the greatest metal bands on earth! What a blast of a song! It still can be topped though. We "Seek & Destroy" until the regular set of Apocalyptica is finished. We seeked but we didn't destroy Metallica, we celebrated them and Apocalyptica's interpretation of this outstanding classic tune! What a great final song before the encores!
Encores, did I say encores?
Nome nest omen so the first one is "Farewell". Now Eicca becomes very emotional. It seems as if the whole burden of waiting for the tour has fallen off him and his band-mates. He is freed from all inhibitions and is happy like a little child about the ongoing tour, the great audience in Wiesbaden and especially about the eternal friendship between Finland and Germany. Very overwhelming! "In the Hall of the Mountain King", an Edvard Grieg cover closed the set finally.
Ashes of The Modern [Metal] World
Who would have thought before 1996 that cellos are simply perfect to play true Thrash Metal? Tonight Apocalyptica proved once more and most convincingly, that metal does not depend on distorted guitars. The band began 30 years ago as an all-cello Metallica-cover project adding percussions, then drums and guest vocalists and finally even some well-placed own vocals to their arrangements. Their long list of killer metal pieces from their own feather – be them fast and heavy shredding like "Shadowmaker" or disturbingly emotional ballads like "Farewell" – and their most-metal spirit shows burn the metal traditions to ash only to rebuild them in their unique cello-metal way.
Symphonic, Power, Metal!
I have seen two outstanding bands in a quite sold-out venue tonight. The package works perfectly and these bands deserve nothing less than entirely their own stage each. Sadly, I saw only two of three bands but life happens. Meanwhile Wheel are on board again. I hope, Wheel, Epica and Apocalyptica will continue and finish their long tour without any more dropouts and enjoy everything that comes with tour life, good or bad but worth to remember afterwards.
---
!
Please buy merch and physical music or downloads  from the bands official sources and don't stream music for free because it steals your artists' income.
Visit the bands online to find their merch & music to support them, check out upcoming shows of the venue:
---
All pics by Friend.X aka Mr. Deep
Thank you Muumi-Katja for proof-reading, your additional input, background information and editing and for just being there.