On August 18th, Iceland's Viking Folk Metal giants Skálmöld will release their sixth studio album, "Ýdalir". It is their first album in five years and is inspired by several Icelandic sagas and Norse mythology, such as the poem Grímnismál. So you can call it a concept album. On the same day Skálmöld will perform at the Summer Breeze Open Air in Germany. Will you be there to celebrate the release with them? I will be there! But now let's talk about the album and the individual songs:

SKÁLMÖLD – Ýdalir
Ýr
Acoustic guitars open the short instrumental intro. Though it is a quiet one, you can already feel the unholy vibe of what is coming next…
Ýdalir
The album's title track already invites to sing along with the band. The vocalists share the lyrics of this galloping islandic warhorse. Harmonic guitar interludes complete this powerful song which builds up a unique tension. I can't wait to enjoy it live at Summer Breeze!

Urður
And this tension continues with another neck-breaking fast song. Nail-biting vocals control the song to give way to a guitar duet and a choir from Valhalla, only to regain control for a perfect finish.

Ratatoskur
Let's slow down a bit and listen to a kind of folky intro that continues to be the main theme.
Growls take over and lead to clean vocals. The highlight of this little gem is definitely the amazing guitar solo, breathtaking. A song that invites you to dream away to the island of elves and trolls.
Verðandi
We slightly speed up a bit and listen to a very iconic song named after one of the Norns. It presents very fine oboe-driven details and of course harsh and growled vocals. Wave sounds of the Norwegian Sea and the Atlantic Ocean combined with organ melodies let you dream for a while until the guitars take over again. Drums come in with a marching step. An interplay between rough vocals and clean choir completes this track, which ends with a nice guitar outro.

Veðurfölnir
Ready for something faster again? Here we go! It is mainly driven by the sound of galloping guitars. But it also contains the unique vocals and choirs that Skálmöld are famous for. Why would they change this perfect formula? A brutal roar ends the song unexpectedly and abruptly.


Skuld
You are invited back to Norse mythology in the name of the second of three sisters. Only Urd is somehow missing. Hold on to your destiny and listen to fine tenor and harsh vocals backed by very subtile guitar lines. They turn into a demonic interlude before they decide to become melodic again. There is still an ominous atmosphere. Well, of course! Skuld is the Norn of Fate for a good reason.

Níðhöggur
A choir opens this track, drums fall in, guitars crashes in and we are back to harsh vocals followed by clean and very Nordic vocals. As written above, why would the band change a perfect formula? The whole song is an interplay between all these components of Skálmöld's unique sound.

Ullur
The ninth song is the last song on the album. It more or less counts double with a length of almost eleven minutes. Are they boring and exhausting? Definitely not! The interaction between choir, tenor and harsh vocals, drums, guitar, oboe, bass and keyboards keeps it interesting from the first to the last second. In between we hear a campfire and someone seems to start singing an old story. Tension builds, slowly bass and later guitar accompany the lyrics. Drums come in for an epic instrumental part. In the background I hear some ancient sounds and I just wish the song would never end. I can dream forever about Iceland's landscapes, its trolls and elves and a sip of its legendary Flóki whisky. Campfire, bass and the storyteller round off this breathtaking piece of music and a real gem.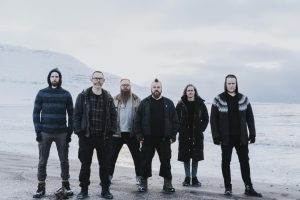 What is left to say?
Skálmöld present a perfect album. It has everything they are famous for. It relies on a proven formula of their unique sound without being boring and repetitive. This is true metal that only a few bands can create. They are one of them. Even though I didn't understand a single word of the Icelandic lyrics, I didn't miss it and still got what they are about. Now I can't wait to enjoy these songs at Summer Breeze!
What makes Skálmöld –

Ýdalir

so special?

Here is some nerd knowledge. Their lyrics are written in a very strict and traditional Dróttkvætt strophic form, defined by half verses, staves, internal rhymes and Kenningar. Vocalist Björgvin Sigurðsson once explained: "It adds a certain depth to the music and strengthens our intention to honour our Viking heritage. It also gives the lyrics a better flow and sound".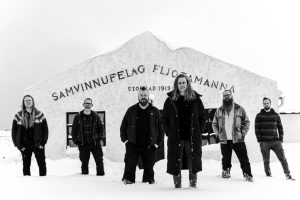 SKÁLMÖLD – Ýdalir
Label: Napalm Records
Release Date: 18.08.2023
Genre: Viking Folk Metal, if you really want to put them into one genre…
SKÁLMÖLD are:
Baldur Ragnarsson – Guitar, vocals
Björgvin Sigurðsson – Vocals, guitar
Gunnar Ben – Keyboard, vocals, oboe
Jón Geir Jóhannsson – Drums, vocals
Snæbjörn Ragnarsson – Bass, vocals
Þráinn Árni Baldvinsson – Lead guitar, vocals
Save the dates:
August,  Rock Castle Festival, Czech Republic
August Summer Breeze Open Air, Germany
September Reykjavík, Háskólabíó, Iceland
September Akureyri, Hof, Iceland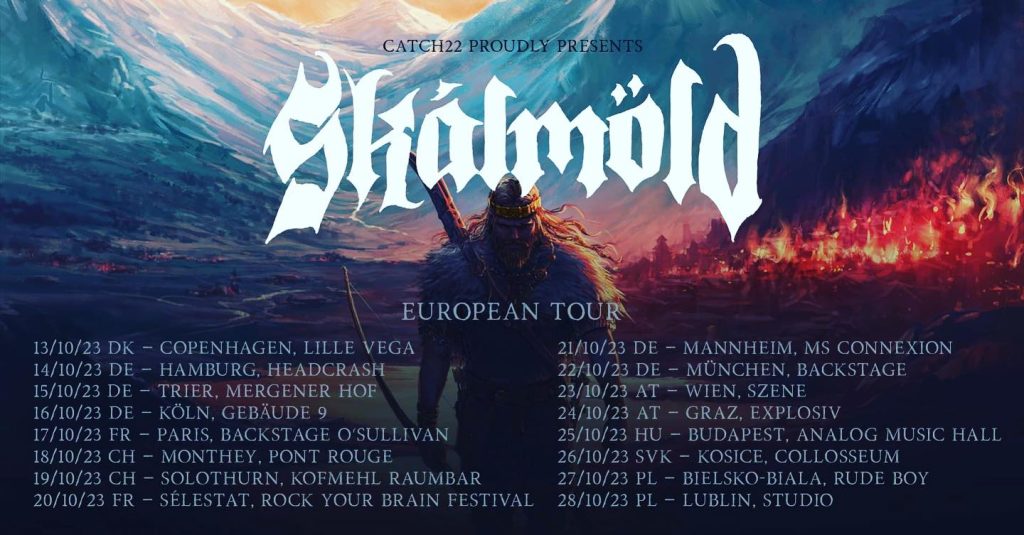 ---
!
Online:
Please buy merch and physical music or downloads  from the bands official sources and don't stream music for free because it steals your artists' income
---
Concert photos by Muumi-Katja
proof reading by DeepL