One day, mysterious Mr. John Smith thought about how nice it would be to have a rock and metal festival with ALL the artists he'd like to see and all the services he'd like to have on a festival. Since he had both the means and the motivation, he just did it. And that's how John Smith Rock Festival was born in 2016.
Since then the festival has been celebrated six times, nominated three times as the best rock festival in Finland by Kaaoszine-readers, and twice the best domestic festival by Soundi-readers, and canceled twice due to COVID. In my personal opinion, it surely is one of the best organized if not the best organized festival I have visited, and it certainly has absolutely had a mind-blowing line-up every year.  I bow deep to Mr. Smith's taste in music.
Where to stay?
The festival is held by the lake Peurunka in Laukaa, Middle-Finland. Closest bigger town is Jyväskylä, about half an hour's drive away. The festival area is in the park of Spa Hotel Peurunka, and the hotel (and spa) is booked for the artists and festival guests during the festival. The area is limited, so the festival has stayed – and will stay – approximately the same size it started. There is only two stages, and everything from accommodations, food court and to the stages is very close by.
In addition to Spa Hotel Peurunka, there is also a camping area, and an area reserved for camper vans. Guests camping or staying in the camper area have also access to the spa during the festival. Huge bonus, says one who slept in a sweaty tent this year. Festival has also arranged a shuttle bus between the festival, Jyväskylä and Äänekoski, so also hotels and other accommodations in nearby towns are possible. Spa Hotel Peurunka itself opens the bookings for rooms on August 30th, and they go as quickly as a drop of water vaporizes on a desert. It's a bit like trying to get Metallica concert tickets.
The camping area was quite peaceful, so with proper camping gear it is also possible to get some proper rest in a tent, too. The camping area for tents is not as lively and soulful as camping in Nummirock, which is famous of it's off-venue life and fancy and traditional camps. The tent spots are booked in advance, and you get in with a separate camping bracelet. There are no fancy buildings or big clans/camps, and the cooking area is also separate from the tents for safety reasons. Anyway, it is much cheaper way to stay, and you still get to go to spa. And the tent area is very clean and neat, too. Also, it is very close to the festival area.
What to eat and drink?
No festival goer lives on beer and gigs alone. The food court is in the very heart of the small festival area, and you can get basic festival food from JOHN SMITH GRILL and Martta Café. At times, the queue and waiting time got rather long, but I heard some lucky people got their sustenance right away after paying. The hotel restaurant Pata&Pannu was also an option. They offered breakfast and brunch buffets as well as Rock Buffet in the evening.
For budget travelers, I still recommend bringing your own adventure rations, because own snacks or picnic food were allowed within the venue and several meals per day in the festival area get kind of expensive.
Beer and other alcoholic beverages were sold as per usual from several bars in the area. Beer lovers could choose the safe and comfortable bulk lager, or get fancy and have a small brewery special beers. You could also try vodka ice cream and bump into a wandering Jägermeister-platter that sold shots. The festival is age-limited, so you could also watch the gigs from the front row with your long drink. To non-Finns this might be a no-brainer, but due to quite strict alcohol laws, we Finns are used to slosh our beers down quickly in special beer areas between the gigs.
When it's hot in the summer, it is also good to remember to drink water. Filling your own water bottle was easy, and quick due to two rows of water taps. No queuing!
Okay then, what about the line-up?
John Smith Rock Festival has brought several of my favorites on stage during it's brief, yet glorious history. Bands like Sólstafir, Hallatar, Swallow The Sun, Amorphis and Cradle Of Filth have played on the festival, some of them several times. John Smith Rock Festival is also a great opportunity to see many Finnish metal bands play. This year, I got to enjoy almost all of my melancholic favorites, because Marianas Rest, Vorna, Kaunis Kuolematon and Swallow the Sun played on the festival. Only Kuolemanlaakso and Hallatar were missing from the full hand!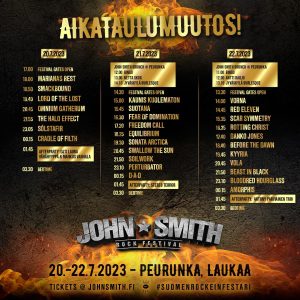 Every year the line-up offers also something surprising and new to me. This year the odd ball was Pertubator on Friday night.
Every year there is also some big names playing. This year one of the culture experiences was D-A-D on Friday night. By the way, they brought a rather smashing show with them, with glitter and huge stage set.
By the way, do you like FIRE? Because most of the shows had pyros. Also on previous years!
People
As normal at least in the Nordic countries, metalheads tend to be on the friendlier and uncomplicated side. Even when very drunk in the night, the festival people have always been rather peaceful and fun-loving in JSRF, and this year was no exception. The artists are generally also happy with the way things are organized, and you can see them also in the audience enjoying the gigs.
The area is small enough, that if you lose your buddy, you will run into them eventually. That means also, that if you would like to avoid someone, it might be impossible. So best prepare to say "hi" to all of your acquaintances, and friends during the festival!
The staff was not always on the map of everything, but then again, my questions were mostly media related. Basic service worked well enough, and the staff was friendly, even chatty at times. Extra KUDOS to pyro team, and the security team at the stages. This time, I was saved from a confetti cannon by a security person.
Also important
Toilet situation was rather well managed. There was certainly enough porta-potties and the toilet areas had sinks for washing hands. The porta-potties were also quite clean through the festival. Pro-tip: The VIP area toilet was a water toilet. So all you fellow fancy panties, I warmly recommend getting the VIP ticket for bladder reasons!
All in all, John Smith Rock Festival is a small, and well organized festival with a touch of luxury with it (SPA!). The line-up was again very entertaining from my point of view, and it has been so every year. I have high expectations for JSRF 2024, so I hope Mr. Smith has plenty of doom and melancholy on his sleeve for the next summer!
Here to enjoy and re-live the happy moments of John Smith Rock Festival 2023!
Thank you for everybody involved and see you next year again!
Photos and text: Krogography