With Finntroll, Skálmöld and their support band Brymir a very fitting package is touring all over Europe these days. Let's check on their Berlin tour stop and also cast short glance on Skálmöld's 10th "Börn Loka" anniversary shows recently in Reykjavik.
Hole 44
A small bunch of unmistakably metal people has queued up on the sidewalk of Berlin-Neukölln's Hermannstrasse in front of a building unlikely to host a concert venue. Passing by here during the day nothing gives away its purpose nor the busy bees inside setting up the stage for the shows. And yet it hosts the Hole44.
Berlin's questionable charm is reflected in the lively street with its uncounted barber shops, 'Döner Diners' (among some other cuisines) and the No 1 must-have-in-your-Berlin-neighbourhood: 'Spätis'. That's the local kiosk (supplying your every catering need, often 24/7) which made it beyond the cult status in Berlin. Actually these shops keeps the city alive.
Hobbington hidden in Hermannstrasse
Hole44 bears its name for a reason. As event posters are omnipresent in any sort of central area in Berlin there is really nothing indicating the venue. Then you simply slip through an unlikely door (it should be round, right?) to find yourself in the short hallway of the venue. A few paces later you are in front of the small, like really small stage. It is like a hole. Like a hobbit hole of the event industries. Cosy, not to be forgotten.
There are bars on the flanks, a comfortable gallery in the first floor (closed tonight though) and the merch stall also finds a spot in the main hall. The stage is small, yes. However the spot to the left of the stage hosting the equipment (needed in the change-over breaks) is considerably smaller, like tiny. Incredible how smooth the change overs worked without any hits or crashes! I watch Brymir take down their gear and Skálmöld set up theirs and wonder. I expect some 'neck-biting' to come as two complete drum sets and the keyboards take the lion share of the limited space. But then four guitar-necks and their wielders will need to find space as well …
Showtime
Brymir breaking the ice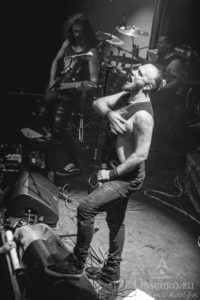 They play an 8-songs set lasting approximately 40 minutes which is rather long for a warm-up gig. The crowd has grown remarkably and might range between 150 and 200 heads by now. To be honest, the capital crowd is not exactly known to be enthusiastic, or excessively active. Tonight however the Berlin metalheads reveal their emotional side and follow Brymir's passionate lead to move. Among their setlist are songs like "Ride On Spirit" dedicated to their late friend Julian and from their "Voices In the Sky" album (2022) the songs "Forged In War" and "Far From Home" dedicated to the Ukraine.
During their final song, vocalist Viktor Storm Gullichsen takes a moment to thank the crowd: "You really made it easy for us!" he admits with a happy smile all over his face.
Brymir have a great reputation as a magnificent live act in Finland and tonight they delivered a passionate show matching these standards. Their live guitarist Antti Nieminen (standing in for Joona Björkroth/Battle Beast) has perfectly niched-in into the band dynamics. Their chemistry is simply sparkling. 
Skálmöld – Börn Loka Anniversary
Only recently Skálmöld played two amazing shows in Reykjavik's opera house Harpa marking the 10th anniversary of their "Börn Loka" album release.
These shows consisted of two parts and included some spectacular guests. Part one was the replay of their "Börn Loka" release show. Impressive videos told the underlying story referring to the Edda epos. A brass quintet supported the band. One of the brass musicians also delivered some thrilling vocals in the song "Hel" finally hammering the name of the main character, Hildur Baldursson, into the minds of the audience. This concept of the debut album, actually of their entire musical outlet so far is perhaps the reason for their immense popularity in Iceland.
The second part of the shows consisted of a fine selection of their top songs supported by a further guest appearance:  Aðalbjörn Tryggvason, charismatic vocalist of Sólstafir!
Impressions from Skálmöld's anniversary gig 
(click to enlarge)
Skalmöld's Berlin Party
Both shows were the perfect kick-off for Skálmöld's touring. The crowd knew their songs by heart and fell easily in their catchy folky and proggy tunes. With approximately 300 heads by now the venue was quite packed which added to the amazing atmosphere delivered on stage.
The Icelanders have an incredibly warm and close chemistry on stage. Their routine – in the very best sense of the term – replaces setlists taped on the stage floor. They delivered one hour pure fun as well as deep joy of performing on stage and interacting with their crowd. Those again were entirely into everything, a wall of death and some pits included.
The grand finale of their shows is mandatory: "Kvaðning" – excessively long and yet too short. The crowd demands an encore which is impossible in tonight's tight schedule. Baldur and Bibbi aka Snæbjörn Ragnarsson, Jón Geir Jóhannsson, Þráinn Árni Baldvinsson, Gunnar Ben and Björgvin Sigurðsson are all sweaty and touched by the heart-warming reception!
Finntroll – Capital metalheads go into full troll-mode
Plenty pairs of pointy ears can be spotted all over the crowd – easily as I found my spot on the gallery tonight. Dirty-ish designed make-ups give away even more Finntroll fans. Their loyal hords take the opportunity to let their inner troll lurk out.
As the intro track "Väktaran" ends the trolls claim the stage and open with: "Ärr Döda Med En Sten". The crowd goes into full troll-mode.  As Vreth (aka Mathias Lillmåns) explains they are promoting their new album "Vredsesvävd" (released August 2020). He paints the "[quotationmarks]" carefully with both his hands into the stage-fog-filled, hot air on stage. Obviously this kind of new comes with a benefit for the atmosphere tonight. The trolls's hords had plenty of time to get to know and love each of the songs in advance. And so the party goes on in the boiling Hole 44.
The Night of the Drummers
The actual highlight tonight are the drummers. All three of them.
The Joy Of Drumming
As previously mentioned there is very limited space for the musicians. This results in two interesting points. First, Gunnar Ben, Skálmöld's master at keys and impressive clean vocalist has to move on the right side of the stage because the drum set to be used by his bandmate Jon Geir Jóhannsson and Brymir's Patrik Fält blocks his usual spot on the stage. Second, their drum set is not positioned in the usual spot in the rear of the stage. No, it is pretty much in the front.
The limited space turns into a neat benefit. Patrik Fält and Jon Geir Jóhannsson have their stool, yes, of course each drummer has his own stool even if they share the instrument otherwise, really close to the front edge of the stage. They are neither hidden behind their bandmates, nor sitting in the dark rear of the stage. Thus, they can much easier get in a way closer contact with the people now directly in front of them! From the crowd's perspective again the drummers' passion can easily be noticed and acknowledged.
Watching Jon Geir Jóhannsson and Patrik Fält is heart-opening. Their joy and dedication to their instrument is even touching and not to be missed. They hammer this joy with onto their drum skins stroke by stroke.
Finnish Trolls
MörkÖ, formally known as Heikki Saari sits enthroned and little above his bandmates. His huge instrument basically is what caused Jon's and Patrik's unusual however benefical location. His majestic drum troll skills and talent are perfectly staged. And although his radiance is so different from that of his drum colleagues it is no less intriguing. Allow me a funny side story: Mörkö is the name of weird, slightly creepy character of the Finnish Moomin comics. Their main character is Muumi Peikko or in English Moomin Troll. Considering their omnipresence and status in Finland, Moomin is as Finntroll as can be at all!
Good Night, a really good night!
Now this was the diversion most appreciated these days. Musicians showing all of the passion for playing live, an energetic crowd and set of bands making a really fitting program. What could we want more? Obviously touring does not need to promote an only recently released album as only one of the three bands did so in 2022. What it takes is the musicians to be hot to play and a crowd willing dive into the music. That's what he had!
On the way out, we are running into Patrik Fält and Björgvin Sigurðsson, Skálmöld's vocalist, and learn that the tour has been a big success so far. All the venues have been decently packed if not sold-out. So make sure you get your ticket asap because this perfect package and intensive metal performance cannot be missed.
---
!
Tickets for the ongoing tour: https://black-harbour.com/on-tour/
or visit the bands online: Brymir * Skàlmöld * Finntroll 
---
Thank you Friend X for proof-reading and ideas!
All photos by Muumi-Katja.