Today we will talk with Zsuzsa "Shakey Sue" Radnóti, vocalist of The Hellfreaks from Hungary. I have to admit, sometimes we really jump wildly back and forth between the topics. This may interrupt the reading flow here and there. But read yourself, I think it is more authentic this way than changing the order. Maybe you like it though, feel free to comment it! I prepared the entire interview in English but then Sue insisted to do it in German. She speaks it fluently with only little occasions to make use of it since she has been living in Budapest again. We would talk about hair dye, cats, tattoos, life style and a little bit about music and The Hellfreaks' new album "Black Pitch Sunset". So here we are with the English translation.
Hello Shakey Sue!
How does it come that you speak German so well, fluently and nearly without any accent?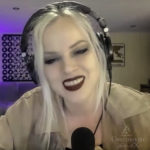 "When I was a kid we moved from Hungary to Vienna and later on I moved to Leipzig. I still watch films or TV in German quite often when I'm alone. Only, I can't pronounce the "R" the same way as you do, and of course my active vocabulary suffers a bit. So I still take every chance to speak German."
Hair colours
I am quite surprised that it indeed is perfect. Another surprise is your hair colour, in the video of "Weeping Willow" it was darker…
"I had my hair dyed black for about ten years. My natural  colour 'Strassenköterblond' [This is a very German term, trying to picture the common rather dark ash blonde by comparing it with dog fur covered in dust from the roadside.] I just don't like it at all! You might not know but it is not very easy to change from black to light blond. It takes years and you must be very careful not to destroy your hair structure. But you are right, in the video it is a bit darker with a red touch at the end."
My ex-wife had the same problem and it took ages… But yes, at the end of the video everything is very red, at least with all the blood. The video is cool anyway.
"I'm happy to hear that. I really like when people who didn't know us, listen to a few songs, and get to learn more about The Hellfreaks. We have been active for fourteen years though! There are billions and trillions of small bands out there. So it is very difficult to be heard and get known."
How it started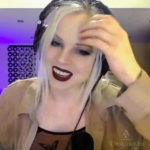 That's a pity, very often those small bands are the technically better bands than the big mainstream bands. Do you listen to some of them?
"Yeah, sure, when I work out for example. They are fine for that. The Hellfreaks are far away from mainstream though."
Yes, they are our topic today anyway. You said, you have existed for fourteen years now. How well popular have you become in- and outside of Hungary?
"It is strange. Fourteen years ago, it was unusual to sing in English in Hungary. It was a real problem at that time. I could already speak English and German, and I did everything in the band on my own. It was the time of MySpace. I contacted the bookers, the clubs, did all the promotion on my own via MySpace. It worked quite well, and we soon started to play outside of Hungary. We still play more gigs outside of Hungary anyway. But it is a very specific country because it very centralized. Everything is concentrated around Budapest. All the young people want to live there. The other 'bigger cities' are not really big. Even Budapest is not enormously big such as London or New York. We have only a few clubs. We play maybe two gigs here per year. So what happened was that nearly nobody hardly anybody knew us."
Really nobody?
"We were a kind of an insider tip. People didn't know us and would not listen to our music because we weren't singing in Hungarian. It was impossible. It was only with our fourth album that we became a bit better known, at least in the scene. Nowadays, the Hungarian punk and metal scene seems to be very proud of us. They know about Napalm Records, our label and begrudge our success. But it has taken a long time of hard work and is a bit irritating we remained quite unknown for so long."
Cat-talk

By the way, are you more metalist, or more punk?
"Nowadays, I more listen to metal but my lifestyle…"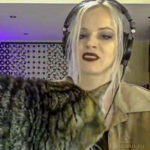 In this moment one of the cats jumps into the screen and spoils the interview. For the next couple of minutes, we lose the thread of the interview and talk about our together six cats… Most lovely animals even though her and mine have the attitude to kind of 'ruin' every interview.
"Lucky me, one of your cats ruined it, not mine as usual though."  Shakey Sue laughs and continues "I can't define myself exactly. I grew up with lots of punk, and I believe, the attitude of Punk still is very relevant. As an artist, I think in Metal you can express more though, more feelings. It is more diverse to me now. But when I was young Punk was a big part of my life and will remain with me forever." She laughs again "I'm too old to change anyway".
Animal Tattoos
I don't think that you are 'old'. Look at me, my white hair it is all natural. It has taken quite some more years than yours! I point out with a blink. We laugh again. Good chemistry and a sense of humour have always been important during interviews. Then I notice a tattoo on Shakey Sue's lower arm. She explains: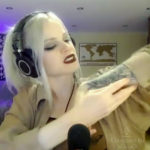 "Which one? There are lots of tattoos. This one is a sweet little pig, I'm covered with tattoos of animals" She shows me: "I have a deer, a squirrel, then there is a really fat mouse and at least I have one cat, of course. And that's just the left arm."
Reborn from Ink 'n' Iron
That's a nice collection. Talking about gigs, where have you been touring so far?
"We have played in nearly every European country. I counted 250 gigs but then I stopped counting. We also played in the USA. We were about to quit the band: 'That's it, adios amigos' in 2014 but then we got offered a festival gig in the US. Indeed, we had split! But only half a year later the Californian Ink 'n' Iron Festival wanted to book us. I hesitated a bit and rethought everything. So I re-established the band. That was also the moment to change the sound and genre of our music more to our liking."
Which style did you play before?
"We played Psychobilly in the early years which was good fun in the beginning. Then again it had worn out after two albums. I couldn't breathe anymore, lost my creativity, and I hated to repeat myself over and over. One of the million reasons… Anyway, we restarted the band and toured the US around this festival. We played plenty gigs in Spain, France and especially Germany. We haven't leave out many European countries."
Touring Black Pitch Sunset
Will you also go on tour with your new album "Pitch Black Sunset"?
"Sure. Some festivals have already booked us and we will announce the dates soon. We are organizing our release tour. It certainly will not take place in Hungary only." Ah, both gigs…? Laughters, "We are ambitious to play not only in the two clubs in Budapest but even three gigs in town. So far we can't give any dates yet and we certainly have Germany on the list as a big share. It has always been a kind of anchor point for us."
Which kind of venues are you looking for?
"Ah, my favourite club is, and I don't why, Wild At Heart in Berlin-Kreuzberg. We have always sold it out. It has a capacity of maybe 200. That's the size we are looking for. We also played Das Bett in Frankfurt twice but I can't remember with whom."
Concept by accident
So I hope for a venue nearby Frankfurt this year for sure. Let's speak of the album. When I listened to it, I had a feeling that you followed a concept behind the songs: from sunrise to sunset, how the tension is build up and how the songs follow each other.
"It is very flattering that you think so. The truth is, each time when we have worked on an album, we would not sit down and talk about a concept. We simply allow every flow naturally, even the lyrics. When we finished this album and I could lean back and review it myself. It was a surprising coincidence that it actually had a concept. It has developed subconsciously in such a way. We were not aware of it and it was unplanned. It just happened how we developed it."
Songwriting
Did you all write the songs together, or only you?
"The lyrics are always mine. I'm like a tiger mother with them. Apart from our guitarist the others might not really know what the lyrics are about anyway. They are mine. And they are authentic. And if they were not my own thoughts, I can't perform and express them anymore. Sometimes it takes weeks until I'm happy with the lyrics. I know the others won't do it like this. But they have less experience with lyrics anyway."
What about the instrumental part?
"Instrumental-wise our bass player Gabi is the head of writing. He does not only write his parts but also the drum and many guitar parts. The other guys spice them up, of course, with their own ideas. On "Pitch Black Sunset", we could also involve our guitar player Jozzy much more into the process because he had more time available than usual. He has a unique style and often thinks 'a different way', which fits to us like a glove."
I was surprised by the style anyway, brute punk chords combined with metal guitar solos, good blend of metal and punk!
She laughs "I think, if we'd split the roles in the band, Gabi certainly get  the punk part, while our guitar player and me get the metal parts with some gradient. Our drummer Béla has always been the metal head anyway. He can play both though."
Enjoy the video and continue reading on page 2