How about a musical journey on the memory road back to the 1980s? Some fluffy, pink cotton candy-light memory back to the times, when radio stations all over the globe played "Glory Days" and the extraordinary league of metal patriarchs called Iron Maiden was a bunch of rookies. Perhaps in 2020, we all are inclined to escape reality more than usually. If so, make yourself comfortable in your favourite armchair, relax, switch on your music player and load Domination Black's new album "Judgement IV". Close your eyes and it will take no more than two minutes to pull you out of here and now.
"Obsession" and "Judgement"
The energy of recent disco metal bands, brilliant clean vocals, the brightness of early Stratovarius and the speed of a highway ride in a Porsche 911 – that's how Domination Black welcome you to "The Judgement". Could be worse, right? Obviously, they see no need to hide being inspired by the good old days but to celebrate it excessively. And that's the strength of this album.
"Obsession" is a most passionate selection of good old 1980`s qualities. Classical song structure, evil screams in combination with choral chorus chants, rising harmonies, synthesizer, catchy and not too complicated riffs. The song – as all the songs on the album – is another shining tribute to a period that has inspired millions of artists ever after.
Is it "Obsession" or "Judgement", or perhaps their sentence to go on with Domination Black? There were moments in which it was all but natural to keep the band alive. No surprise at all, as Domination Black have released their first EP "Termination Daze Vol. 2" already in 2003. The lives of the musicians will have changed and required compromises between family, day job, and music. Therefore, after the third full-length album "Dimension Death" in 2012, Domination Black faded – apart from one single "Master Of Deception" in 2014 – into silence until midsummer 2017.
Midsummer Magic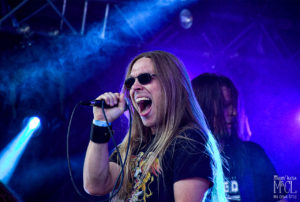 The core of the band (vocalist Matias Palm, bass guitarist Lauri Eerola and guitarist Teppo Heiskanen) met at the Juhannus (Finnish midsummer) bonfire, brought their guitars and jammed. After a couple of beers and coming up with some cool riffs they were sure: Domination Black will go on! Matias texts me: "Well, we decided that no matter what the others would say, we'd continue anyway and I think we were sure Juuso (Elminen, keyboards) would too."
The dark clouds of quitting band were blown away by the rising breeze of joint creative energy. But still they needed a new drummer and another guitarist. "Yeah, in 2018 when we played Dark River we already had Ville Nissinen on drums. He joined the band four months before the show. And our line-up still needed a guitarist so we hadn't found one and decided to ask 'young' Juuso (Laitinen) fill in. We played a couple of more shows with him and got to know him better and then he joined the band in the middle of the album recordings. – That's why there are three guitarists on the album." Three guitars? That's Iron Maiden style, right?! By the way, those midsummer-night-bonfire riffs made it on recent album and the foundation of "The Judgement"!
Fiat Justitia et Pereat Mundus
"VAT " is sort of an oyster of the album "Judgement IV" You open the shell to find the delicious and luxurious oyster meat or here, the second vocalist, Kari Kilgast. He was vocalist of Domination Black when they began, returned to sing this duo with Matias Palm who took over the microphone from Kari in 2009. Some oysters come with an extra surprise, something even more valuable than the oyster alone. The pearl. Well hidden in the oyster shell of the song the pearl shines in form of the keyboard solo which is sweet tribute to the magical Hammond sound as well as its unforgotten master Ray Manzarek. It flows into an excessive guitar solo celebration closing the oyster shell again.
Still in that armchair and sipping my coffee, I take a look at the lyrics. It takes me on a journey from the Manowar-martial-words camp to the space oddities of Tarot. I meet brutal villains striking heroic fighters on dark battle grounds in an air of Pen & Paper role play romanticism. However, the further I get, the more disillusion and anger I sense; anger and disillusion of living on planet Earth in the 21st century. Suddenly the fog disappears and reveals a view on a formerly proud nation nowadays governed by an egocentric "false prophet" (from "Though The World Perish" ). The rule of greed and ignorance comes in clear images before the path leads back into the fog of hopelessness and vengeance.
Musically, "Though The World Perish" delivers a wild-goose-chase feeling in the middle. But most of all it is the frame for Matias to prove his finesse and the enormous width of his vocal spectrum. His bright clean voice clashes easily into evil screams – more battlefield associations: like the strike of iron on iron of heavy swords; good fighting evil.
Beyond The Shadows
has a soft piano/keyboard intro with mild orchestrations that reminds me very much of Blind Guardian and Blackmore's Night. Immediately, scenes from my uncounted, nights-long P&P role play sessions flicker through my memory. Familiar faces pop up. A red-bearded dwarf. A yuanti priest. A tough lady in a Victorian dress. They walk me through the song, their encounters become vivid again. In this warm mood, I enjoy the song remaining slow, a ballad spiced with some evil screams. Its emotional guitar solo that reminds me of Gary Moore's "The Loner" in the beginning which then, however, takes up speed and erupts in the final verse that comes with a sort of electric tension.
It is an open secret that the Finnish metal scene is a close but very cooperative network of highly professional and creative minds. Therefore, it is all but surprising to find the album being produced, mixed and mastered by some of the common suspects, although perhaps not the biggest fish in the pond. Then again, this pond is abundant of great fish and some of the most valuable gems are hidden in the most unlikely shells. Juha-Pekka Pusa, who also plays guitar in Evil Drive, produced most of the album together with Domination Black's keyboarder Juuso Elminen. The vocals were recorded in the legendary Sonic Pump Studios in Helsinki by Eero Kaukomies, working for Gamma Ray as keyboard specialist as well. The album was mixed and mastered by Saku Moilanen, the drummer of Doom masters Red Moon Architect, and in his Deep Noise Studios – both have outgrown the status of an insider tip by far. So neither the high technical quality nor the abundance of perfectly arranged flavours and moods of the album come as surprise, not at all.
The Grand Final
"This Endless Fall" again is a neat selection of classical elements arranged in a catchy, far from monotonous manner. Quite the opposite, the song follows a well over mid-tempo plot combining very different emotions, varying from angry and evil to relaxed and an even light flow.
"Master Of Deception" begins with a synthesizer intro that could easily be taken for a sci-fi movie theme. Disney watch out if you think about the next  episode of Star Wars or the Avengers . The song was released as a single already some years back and as such also reflects the band's difficulties of the those years. An encounter with the "Master Of Deception" on a deeper level resembles the oddly familiar meeting with an old foe. Many a battles have been fought before and many more are to come. It is about exploring the darkest moments in life, we learn about the deceptive character of our psyche that has turned out to be a person's most evil foe. It's auto-destructive force locks you in pain and despair, leaves nothing but hell on earth appear to be the most likely future course of events. The dramatic grandeur of these lyrics is that this Master Of Deception can just as well be understood as a very real person with far too much power such as numerous populistic, autocratic, dictatorial actual heads of states are.
A Mighty Tribute And Hidden Depths
Once you open your eyes again, you might be surprised by the contrast of sweetest tunes taking you through such even post-apocalyptic nightmares. That is the power of seduction by default. On the surface enticing sweetness makes you blind to the harsh truth beneath! As such, the "Judgement IV" resembles a realistic but sad picture of our world. The lyrics are strong and their neat composition of realism, fiction and exploring psychological depths provides an extra bonus.
Sure, had I not taken a closer look on the lyrics, my verdict was remarkably different. T h e n  it was 'only': "Judgement IV" is a worthy, passionate and colourful tribute to the 1980s metal heroes and celebrates all the qualities and features of 'handmade metal'. As such it is a very honest and straight album that convinces with passionate details and solid skills – as in the era before personal computers enabled nearly everybody to record a demo or before click track ruled the timing – in all regards while sounding as light as a garden party on a midsummer night.
Although it is possible to enjoy this album taking the words only as a stage of vocal-arts performance it was to ignore half the pleasure. And once the red-bearded dwarf made it to the dungeon gate, he cannot but enter it!"Judgement IV" proves its depths provided although or because hidden between the lines of the lyrics. The contrast of brightness and shadow makes the beauty. This said, the "Judgement IV" is an oyster that comes with a shining pearl inside.
---
!
Homepage: Domination Black @ Facebook
Music: Domination Black @ Soundcloud
Merch: Get your Domination-Black shirt
Domination Black on stage: Dark River Festival August 14th/15th, 2020!