Travel Back In Time – But Not As Far As You Thought
This month, David Bowie's first internationally recognized single "Space Oddity" celebrates its 51st release anniversary on July 11th, 1969. But apparently, we do not need to travel that far back in time to enjoy this masterpiece of one of the music history's most acclaimed artists. In a most heroic venture to preserve the artistic ingenuity of David Bowie, seven top-class musicians from Germany founded the tribute band Heroes only one year after the unfortunate demise of the world star in January 2016.
Join me on a short time travel back to the seemingly forgotten and wonderful time of live music. In March 2020, I had the opportunity to see the Heroes live for the third time. This time equipped with a lot of anticipation and a proper camera, I decided to capture a bit of the miraculous magic these guys seem to possess for the whole world to know and see. Which magic, you wonder? The magic to actually revive David Bowie for one night in such a fantastic and almost perfect way, that when closing your eyes, you'd probably have a really hard time hearing the difference. Make no mistake though, this band consists of only highly talented and properly trained musicians itself, fully living up to the original and properly honoring the mastermind.
Something Seems Off?
While you may not be confused by the sudden jumps through time, you still might be wondering, why a sworn metalhead and die-hard fan of brutal, heavy music is preaching about this tribute of David Bowie. Did you by accident click on the wrong page? Did you travel to another dimension instead? Well, none of the likes. There are numerous reasons, we could be talking about the mastermind and chameleon that has been David Bowie. His musical style was changing ever so often. And with every brave endeavor into another genre, Bowie seemed to invent two new ones at the same time. Listen to some of his later work like 1995s "The Hearts Filthy Lessons". Sounds oddly familiar to fans of earlier waves of Gothic or Nu Metal, right? Give it a try and maybe compare it to the likes of Marilyn Manson. While Bowie might not be considered a direct predecessor of Metal like Black Sabbath or Judas Priest are, he definitely was and still is a great influence. 
One of the few, if not the only artist, everybody who listens to music can relate to in one way or another, be it fans of Pop, Rap, Rock, or – as in my case – Metal music. He has a song for every single one of us in his repertoire and he has inspired millions of musicians around the world. Without him, his music, and his influence, I would not be the person I am today.
Additionally, his mindset and ideals consisted of openness, tolerance, inclusion, and variety, values every metalhead holds dear in this great community that we are. So this is my look behind the curtain of Metal to celebrate this outstanding personality.
To A Small Venue Full Of Friends
But before we dive deeper into the music and show of the band, let's talk a bit more about the circumstances of the concert. If you are visiting concerts regularly, at some point you might wonder, whether all venues need to be former industrial buildings in some remote location. The same thought might enter your mind when you pull up to the 7er Club in Mannheim, Germany. Make no mistake though, this club is a special gem amongst its seemingly similar peers. With a total capacity of only a few hundred people, it is a rather small lineup. But the moment you enter the building, you already realize, that something is different. There is a sense of intimacy, company, and familiarity to be found. Walking towards the front of the stage, you see a lot of posters for the bands playing there. At first glance, you wonder, how many quite big or well-known bands play there. Only at closer inspection, you realize, that most oft he posters advertise cover bands, lots of them actually. The 7er Club is definitely a location highly frequented by cover bands and smaller bands. Turns out the Heroes have been here several times before as well.
When the starting time arrives, someone else appears on the stage instead of the Heroes. An older gentleman with long hair and – as soon to be found out – a heavy voice himself. It appears that the person called "Fish" is not only part of the 7er Club organizational team, but a singer himself. And most uniquely, he ignites a fire of anticipation and energy in the crowd with his short introduction of the band. During this short speech, it also becomes crystal clear why there is such a wonderful atmosphere inside the venue. Being there for the first time, like I am, is rather the exception. Apparently, the club has a lot of regulars who are familiar with the venue, its moderator, each other, and also the Heroes. Unfortunately, clubs like these, which have become the regular home and party ground for fans and bands alike, are existentially highly endangered by the current pandemic and the lack of concerts or governmental support. So please check out their support campaign on GoFundMe as well as their T-Shirt sales on Facebook.
Close Your Eyes And Search For The Difference
With the moderation already blowing the roof off, the crowd is ready for the Heroes to finally enter the stage. Bringing songs like "Space Oddity", "Live on Mars?" and – of course – "Heroes" on stage as almost perfect covers blows everyone away. Even though having seen them twice before already, it feels like they are becoming better and better with every concert. Now you might wonder "Can someone perfectly cover a David Bowie song?" Well, while the tribute band plays the songs quite close to the original, they also take the liberty to interpret them in their own style every once in a while, making the concert authentic, unique and personal without restricting the talent of the band's musicians to the predefined structures of Bowie's songs. As they said themselves during their first small speech in between songs, they would find it very unfortunate if all those fantastic songs would never be played live again, but they don't try to entirely copy or imitate the original artist either. And that is, what makes it so perfect, the combination of musical talent, fantastic songs, and an individualized, high-quality interpretation.
Not only the songs were played in their style though, but the show was also a Heroes original instead of a David Bowie imitation. With a rather minimalistic stage setup and no costumes besides leather jackets, jeans, and shirts, the band allows the audience to fully focus on the music and the interaction amongst them and of course also with the crowd itself. One exception being the frontman and singer Jonas Kalnbach. With his vibrant red suit, he sticks out of the inconspicuous appearance of his fellow band members. Something he could do without a lot of color on previous concerts as well though, for example only with a white shirt and black pants, resembling the "Thin White Duke" persona. To convincingly portrait a David Bowie Tribute, one certainly has to be to a certain percentage eccentric or at least cranky. Without trying to imitate or replace the original example, Jonas definitely has a way of bringing his own fascinating and unique persona on stage and thereby attracting a lot of the audience's attention.
Top-Notch Music Played By Top-Notch Musicians
Breaking the spell his visual and musical appearance cast on the crowd requires some equally talented fellow musicians on stage. David Bowie already knew, that having extraordinary musicians with him on stage and tour made the show far more interesting than focussing the audience solely on him. Honoring that virtue, the band consists of seven extraordinary musicians and instrumentalists instead of one. Not focussing on a replacement of David Bowie and his accompanying musicians but instead on the music and the band as a whole.
So whenever there is nothing to be sung in a song, the vocalist steps back or even leaves the stage to allow his bandmates to use it. All of the band members have at least several moments in the concerts where they are prominently the sole focus of the show, using light but also musical composition to accomplish this. One of the best examples for this could be seen during the bridge of the top hit "Let's Dance". With the singer being off stage, the instrumentalists pass the ball from one to another during a several minutes long chain of soli almost resembling a live jazz jam session.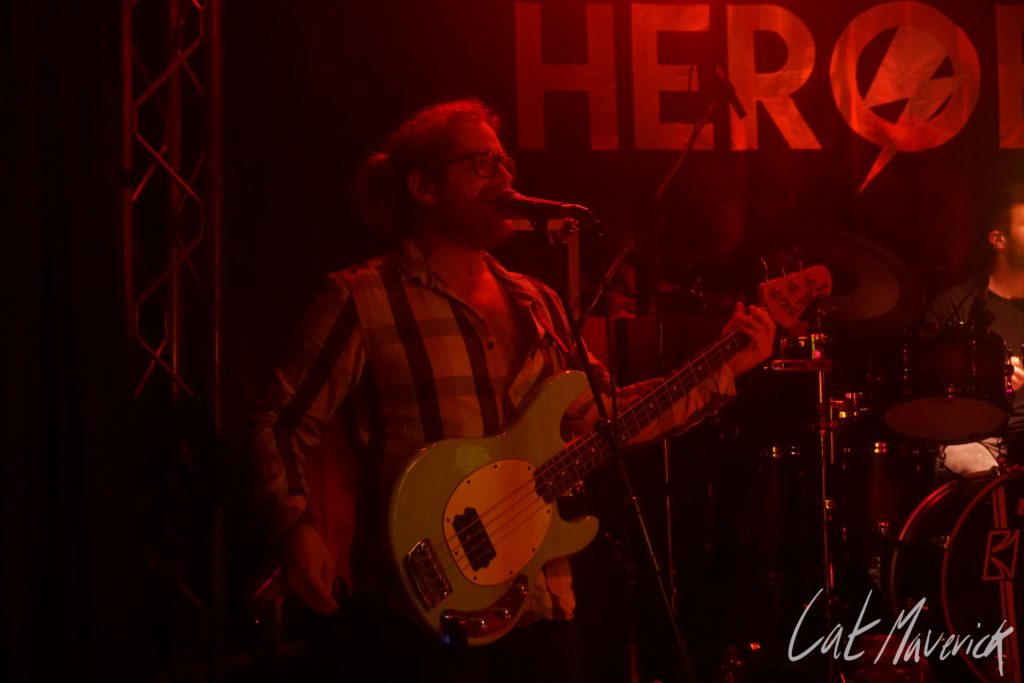 Jonas Martin on drums as well as Jan Martin and Leo Enders on guitars were interacting a lot with the crowd and with each other, visibly enjoying the evening and the time on stage together. They were not only playing their instruments but joking around all oft he time as well, making the show very visually appealing. Unfortunately, Ferdinand Reutter on keys and Jonas Vohmann on bass guitar at the back of the stage were less visually present because of a rather dark stage light design. With their musical abilities being as extraordinary as those of the band members with more lights directed at them, they are still present and recognizable for their talent. Seventh member Joscha Eißen (saxophone), unfortunately, didn't play on that evening, which would have probably put the cherry on top of an already fantastic evening.
The vocals being scarily close the David Bowies' own voice, completing the overall experience of the evening, and making art accessible in a live concert, that seemed to be lost since 2016. Of course, the vocals are not as mean every once in a while out as the original, but then again we are quite happy, that this is hopefully also due to a lack of cigarettes and several other substances.
The Perfect Compilation For Die-Hard Fans As Well As Occasional Bowie Listeners
Two sets of together almost three hours offered something for everyone. Some of the darker songs like "Station to Station" were visually underlined by the darker light design. Popular songs like "China Girl" or "Let's Dance" on the other hand were especially enjoyable because of their sing-along-potential. And songs like "Ashes to Ashes" or "Rebel Rebel" unleashed the talent of the band. With the songs including well known but also rather darker, less popular gems carefully selected from all over the lifetime of David Bowie and put together in two awesome setlists, allowed something for everyone and almost everything for a die-hard fan, something every one of the band's members unmistakably is.
The Usual Pandemic Disclaimer
The Heroes concert was the last one I visited before the concerts got shut down. Same goes of course for the 7er Club. As the Heroes play rather small locations and the venue is a smaller one as well, both probably have a better chance of getting booked / being open again soon. According to the latest update the 7er Club is closed until July 24th, 2020. The Heroes restarted their live shows on July 14th, 2020 at the SWB Sommerfestival in Bonn (see their homepage for more upcoming tour dates). So please use the opportunity to go on concerts as soon as possible again, support the venue with the aforementioned campaign and shirts as well as the band by paying a visit to their online shop.
Don't forget, this is a very rough time for concert locations and artists alike. If you can by any means support them, please do so and also keep your eyes peeled for smaller concert announcements soon.
It's Never Too Late To Become A Bowie Fan
Seven highly trained and passionate musicians allow their audience to experience the magic and bandwidth of David Bowie's artistic repertoire without any downsides. In an intimate and small setting, they perform all kinds of songs of the multi-genre world-star in their own style yet in no way leaving the resemblance to the original behind. Thanks to the Heroes, we don't have to part with this music on live stages and enjoy the work and art of one of music history's greatest luminaries in almost hauntingly similar quality and interpretation.
Even for non-David-Bowie-fans, I'd recommend seeing them live somewhere, as it is an easy and affordable way to get to know the musical genius all the while supporting some exceptional young musicians.
Thank you, Friend X, for your ideas and support with this review.