At Long Last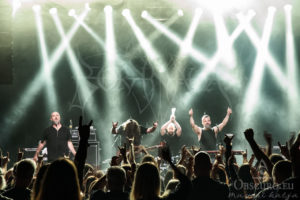 Finally, bands have returned to the club stages and the touring mode. Caravans of busses and trucks have resumed to circle the world in order to deliver musicians, their equipment and entourage of helping hands to the magnetic poles of our social life: the venues of metal concerts. The Ultima Ratio Fest caravan delivers a set most exquisite crown jewels of harsh metal delievered to our door-step venues in Europe these days. Finnish melancholic metal wizards, Insomnium and the Portuguese gothic metalists of Moonspell share their co-headlining tour in the finest company of Borknagar, Wolfheart and Hinanyana. A package filled with Norwegian progressive death metal, versatile Finnish melodic death metal and melodic death/doom metal from the heat of the Texan metropole Austin all add with the headliners to make an irresistible program for all of us fond of some melancholy spiced harsher metal tunes.  
Schedule at the Musichall Geiselwind
As Hinayana kick off to deliver their atmospheric yet too short set, the sun still shines outside. When little later Wolfheart take over, the numbers rise. The wolves face some sound and light difficulties right in the middle of their set and take this most professionally. With Borknagar the numbers rise again and some traces of enthusiasm among the crowd cannot be denied anymore. Insomnium then play a set of roughly one hour, as do Moonspell as the final act tonight.
The two-in-one drummer
As I sort and check my photo gear and while Wolfheart take down their stage, I accidentally overhear a conversation next to me. "Their drummer was amazing!" one male voice says enthusiastically. His neighbour replies just as fervently: "Oh, yeah, as also the one of the previous band!" I am tempted to ask to join their conversation but resist and wonder none of them noticed that in both acts Joonas Kauppinen was wielding the drumsticks?
Franconian Euphoria
While the musicians let their souls flow through their fingertips into their strings and sticks and while their vocalists shout, scream, growl and sing their minds out, the Franconian crowd gathered tonight remains stubbornly stoic and few in numbers. Honestly, it is a bitterly ironic scenery I watch from my point in the pit. For nearly three years we all have longed to have our actual concerts back, painfully waited to bang, mosh and drink together again and then when it finally, finally happens, the hall is all but appropriately filled. Why?
Overloaded?
The tickets even at the doors are more than fair priced. It is a Friday night and the venue is well-known. The line-up of bands is exclusive. Even the beer comes for an acceptable price. What's wrong? I meet Tuomas Saukkonen, leader of the Wolfheart pack, after their show at the merch. He explains thoughtful that the tour has been good. "Finally touring again" as he points out. We ponder on the recent challenges, as Borknagar and later Insomnium and Moonspell set up their stage. None of us can hide being concerned by the current situation. It is an overload in more than one way. Quite all there bands are touring right now. Additionally there is the omnipresent perception of insecurity. So people avoid what they understand luxury expenses as for show tickets. Then again, of course, all the more in such conditions we would all need some nights of escape; forget about the world amidst the crowd in front of a stage on which our favourite bands are playing, we both agree.
Euphoric conversations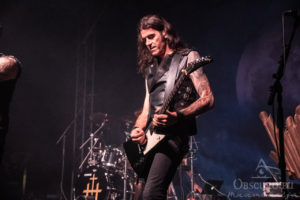 During the change-over breaks the musicians who have already played show up at the merch. It provides an opportunity to speak of recent releases, for example. Wolfheart's Lauri Silvonen tells me a bit about how the only recently released new album "King Of The North" came to be. First time ever they met in a traditional Finnish cabin to really jam the new songs and by that develop the songs. Previously and due to difficult logistics, the 'Wolves of Karelia' needed to record each his part independently of the others.
Gratifyingly many fans are approaching the musicians, however, at the merch stall right next to them only few items are sold in the end. People rather take their opportunity for a photo, an autograph and a chat. It is a relief to see so many come and really speak with the musicians – this feedback and contact is so important. Borknagar seem to have the most euphoric or perhaps persisting fans tonight, remain almost constantly surrounded and engaged in conversations. Still, Jostein Thomassen finds half a minute to express how happy he is to be finally touring here with Borknagar. Due to the pandemic this is his first European tour with them although he joined the band already in 2019.
Five hours of metal mania
Each of the gigs was purest metal pleasure and five hours of metal mania on stage make an exclusive entertainment program. Nick Cordle (Omnium Gatherum, exArch Enemy) standing in for Insomnium's guitarist Markus Vanhala performed greatly although he is no match to the unique chemistry between Markus Vanhala and Jani Liimatainen. Approximately at half past eleven, Moonspell end their show, unfortunately without an encore.
Luckily there is plenty of time and opportunity to have another chat with the musicians while the merch and stage crews get packed. After all it was a superb concert carried by the amazing power of the performers celebrating to be back on stage again. Don't miss your chance of the remaining gigs of the Ultima Ratio Fest 2022.
---
!
Ultima Ration Fest tickets
Visit the bands online for merch and music:
Hinayana * Wolfheart * Borknagar *  Insomnium * Moonspell