A few days ago a friend contacted me. She said, she would have something interesting for me which will be released in April, given that I like I like female vocals and a touch of Punk attitude. I gave her recommendation a try and here we are, she hit the Bull's Eye with The Hellfreaks' new and fifth album:
Pitch Black Sunset
I wasn't really aware of The Hellfreaks before and did a little research. So here are a few side facts. The Hungarian band more or less has existed since 2009. The first two albums were Psychobilly- and Horror-Punk-influenced. From the third album on, however, The Hellfreaks' sound has become more and more "Female fronted modern punk-rock-riot" as they describe it themselves. A change of all the band's musicians apart from vocalist Zsuzsa Radnóti "Shakey Sue" in 2015 did its part to create the unique sound of The Hellfreaks of today. Anyway, I am not going to lose more words about the band's history. Let's listen to "Pitch Black Sunset" now.
Sunrise
The barely 80 seconds long "Sunrise" with its distorted sound simply asks "Are you ready?". Yes, we are and it also be a fantastic intro of a forthcoming live show! As the early sun in the morning it directly leads into the first complete song:
Old Tomorrows
Drums and Shakey Sue's iconic vocals open the song, and together with a crashing in snotty punk guitar make it a faszinating mix between both genres, metal and punk. A very catchy chorus does its part to let it become an aggressive hymn. After "Old Tomorrows", the resting pulse already hits the 180 beats mark, and indeed it is "Time to bleach old tomorrows, old tomorrows" …
Hit Me Where It Hurts
Electronic sounds and a more industrial-influenced guitar lead us to some bitter-sweet vocals as well as a screaming chorus. As soon as I feel too comfortable, the song will "Hit Me Where It Hurts". What a sweet pain it is though. "Pacify me, set my mind free", certainly it is not a song for the faint hearted. Be tough and strong and you will grow with it.
Chaos
Let's raise the speed a little bit, not that the first songs were slow ones…  No. "Chaos" is pure adrenaline in your veins, distorted guitars, the vocals Sue shouts right into your face are "done with all excuses and with collecting bruises"; and do the best to bring your blood to the boiling point in no more than 101 seconds, 1 °C per second until you explode…
Weeping Willow
Now it is time to pick up your remnants from under the "Weeping Willow". For a change, a real change this piece is a very slow yet intensive song. Very dramatic lyrics and vocals lead us through its messages: "But I'm fine, sure, I'm fine. This is my favorite lie" – who would not find her- or himself in these words at least from time to time? One can say the song is kind of divided into halves because from minute three on it becomes heavy again. Guitar and bass do their best to take control, the melancholy of the song continues to hover over it though.
Body Bag
We return to the guitar domination. One could already believe, after the heavy stuff of the previous track, this is the Power or Happy Metal anthem of the album. But it's a "Body Bag" instead. Don't get the lovely chords and melody of the vocals wrong. "You promised me you'd put peace in my hand. But that's a body bag instead" says everything about the song's true meaning. The apparent serenity is just a disguise to lure you out of your shelter.
Rootless Soul Riot
We're back on the punkish side. Powerful vocals, a brilliant guitar riff and rotating drumsticks are combined with a very catchy chorus for a "Rootless Soul Riot". After this song you are almost ready to go back to the street fighting years. There is no time for a quiet riot because "Those who've been kicked out of the line. Go for the rootless soul, rootless soul riot".
PBSS
Don't ask me what "PBSS" means… Listen to the lyrics and find it out yourself. "I hear you screaming. Pitch black sunset", listen to the silent siren and you get it. Once again, the song is a very fruity mix between metal and punk, heavy and aggressive, yet catchy and demanding at once. And then it fades out into some spherical sounds.
Sunset
The "Sunset" takes a bit longer than the "Sunrise", nearly even 30 seconds longer: But then it is gone with some piano tones. It leaves us a bit in the void. It's the void of the dark, cold night. But we know "Sunrise" will come back the very next day to save us. But will it, are you sure???

No Fillers – All Killers
The album is short. It consists of nine songs of which three are less than three minutes long. Does the lack of more songs make it a bad album? No, it doesn't. I'm quite fed up with albums which are blown up to 14 or 15 songs and more than half of them are simply fillers, actually not even worth becoming a B-side of a single. "Pitch Black Sunset" contains none of these fillers but only killers. Each song, even the very short ones, is a little gem on its own. The lyrics, even when wrapped in catchy melodies are very heavy stuff. Mind that this says someone who cares less for lyrics and grew up with bands which were classified as "Neanderthal-lyricists" … I indeed have to thank my friend to recommend me The Hellfreaks and their "Pitch Black Sunset".  I gladly pass the baton to you. Take it and pass the race between sunrise and sunset.
Read our interview with vocalist Shakey Sue here.
Pitch Black Sunset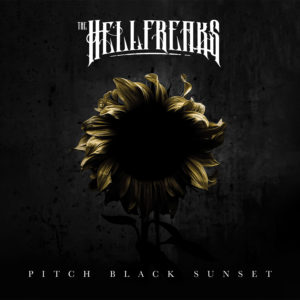 Release date: 14th April 2023
Label: Napalm Records
Genre: Post-Hardcore Metal Skate Punk
The Hellfreaks are:
Zsuzsa Radnóti "Shakey Sue" – Vocals
Jozzy – Guitar
Gabi Domján – Bass
Béla Budai – Drums
Tracklisting:

Sunrise Old Tomorrows Hit Me Where It Hurts Chaos Weeping Willow Body Bag Rootless Soul Riot PBSS Sunset
Save the first tour dates: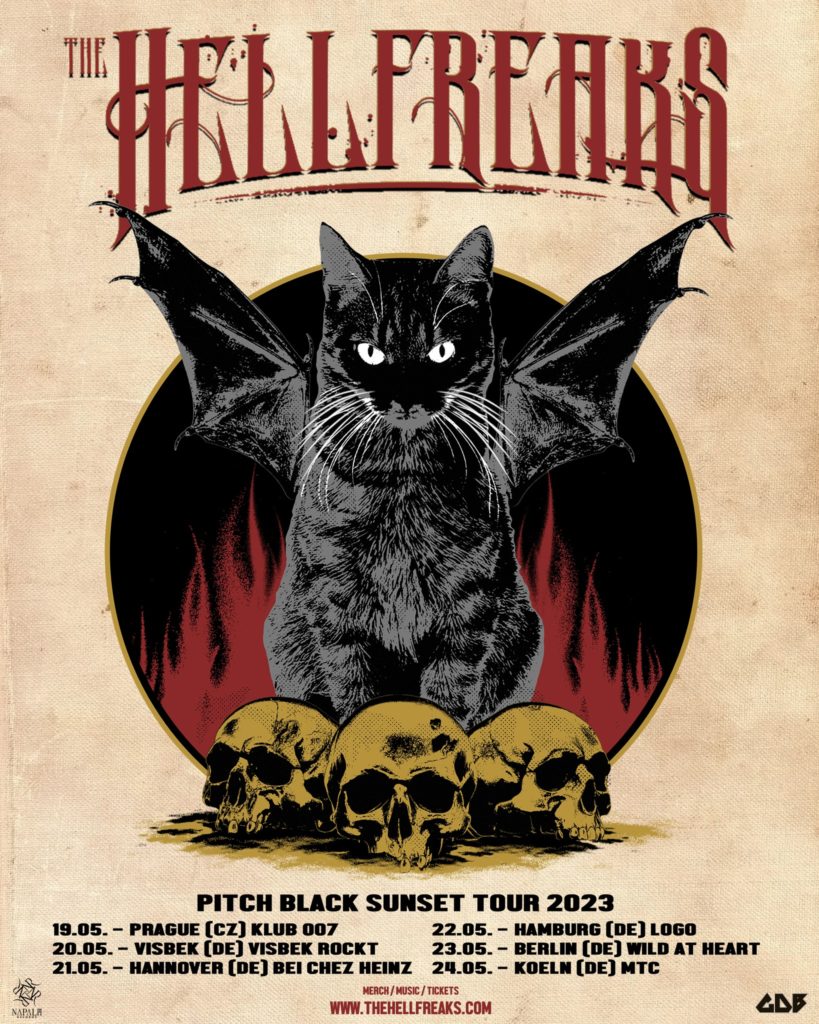 ---
!
Please buy merch and physical music or downloads  from the bands official sources and don't stream music for free because it steals your artists' income.
Visit the bands online to find their merch & music to support them, check out upcoming shows, etc.:
---
proof reading by DerminBoad

additional editing by MuumiKatja
Photo Credit: Zoltán Baki, Dávid Bodnár