2022 saw, well, not the Return Of The Jedi but the return and renaissance of metal festivals. One of them of course was Rockharz Festival nearby Ballenstedt/Harz. That's what it looked like last year: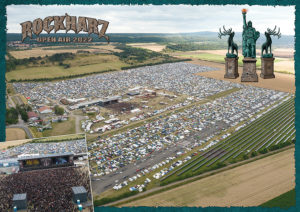 Bands of 2022
We enjoyed bands like Accept, Ad Infinitum, April Art, ASP, Dark Tranquillity, Enemy Inside, Grave Digger, Jinjer, Knorkator, Lucifer, Sepultura, Subway To Sally, Tarja, Thundermother and many more. Here are some impressions of 2022, read our report:
Sold Out

We can call it a successful festival 2022, resulting in an already sold out 30th anniversary festival 2023. The date is 5th to 8th July 2023 with the possibility to arrive from 4th on.
Bands 2023
The 30th anniversary line-up in alphabetical order:
A Life Divided, All For Metal, Angus McSix, Battle Beast, Bloodbound, Burning Witches, Carcass, Children Of Grotesque, Delta Bats, Destruction, Draconian, Equilibrium, Exhorder, Fiddler's Green, Firkin, How We End, Hämatom, Infinitas,
Kneipenterroristen, Kris Barras Band, Legion Of The Damned, Letzte Instanz, Life Of Agony, Lord Of The Lost, Mono Inc., Moonspell, Mr. Hurley & Die Pulveraffen, Null Positiv, Ohrenfeindt, Onslaught, Paradise Lost, Phil Campbell & The Bastard Sons,
Rauhbein, Septicflesh, Skald, Sonata Arctica, Soulbound, Tanzwut, The Dark Side Of The Moon, The Legion Ghost, Tribulation, Unzucht, Versengold, Voodoo Kiss, Wind Rose, Wolfheart. 
Thus there is something for everybody from Power Metal to Progressive Death Metal and – let's hope for the best- the chance of enjoying the ESC-winner at the Rockharz Festival.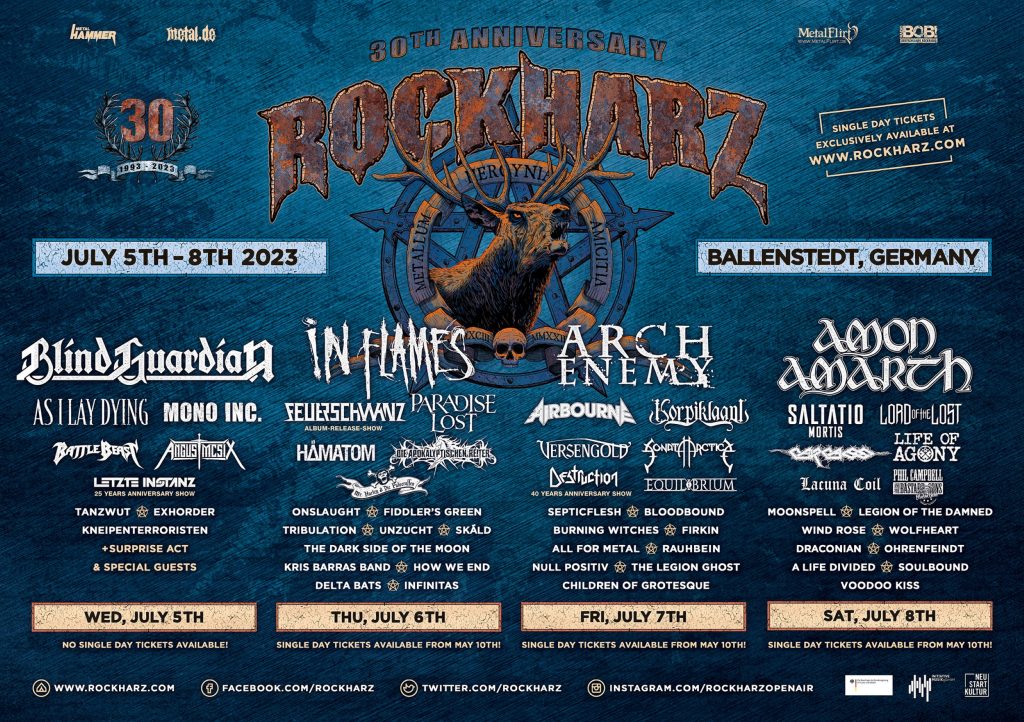 Perfect size matters
The campsite itself has a perfect size to host nearly 20.000 metal-heads, well, someone will always complain about a lack of space though. I must say, I have never had this problem all through the years. Organize yourself and you won't face space problems. Along with the perfect size come short ways to infield, food, beverage and merch stalls. Even the furthest campsite is closer to the stage than the way to the toilet at the huge festivals. And don't forget the legendary walk to the Teufelsmauer… It is the place which creates legends and tales to be told at the campfire from generation to generation of headbangers!
Last chance for Tickets
Even though the festival is sold out regarding the camping capacities, day tickets will be available in the Rockharz shop from 10th May on. Day tickets may be sold out on site. Please keep an eye on Rockharz' newsfeed. Day visitors will be admitted to the infield through a separate entrance.
---
!
Online:  
And if you are looking for a small but fine warm-up festival, I can nothing but recommend the Rock & Metal Day'z at Oschersleben, 18.-20. May 2023:
Please buy merch and physical music or downloads from the bands official sources and don't stream it for free because it steals your artists' income.
---
Original photos taken by Cat Maverick and Friend.X aka Mr. Deep

Proof reading by DermimBoad