Foreword 
Since this event took place in the "far Eastern" land of Formoza, also known as Taiwan, I took the liberty to introduce the reader more thoroughly to the metal scene in the country and to the current situation of the live music scene. If you're not interested in reading this, feel free to skip three or four sections of the article. 
The Lead-up
The recent global pandemic might have fizzled out in the rest of the world for the past year or so, but Taiwan's situation was somewhat different due to its political and geographical peculiarities. For various reasons the country was able to stave off the spread of the disease roughly until the beginning of the past year. One of the reasons was the closing of the state border to all but citizens and resident visa holders, which obviously made it impossible for foreign artists to perform on the island. 
This created a quite remarkable situation: people could enjoy live shows relatively uninterrupted at the time when it seemed like the whole world went into a standstill. The shock of the pandemic restrictions has brought local scenes together all around the world, and Taiwan was not an exception. But after years of border restriction – the closure ended in October of 2022 after 2.5 years – many started missing the days when there was a revolving door of international artists coming through Taiwan.
Things Fall Apart, Things Come Together
Shockwave occurred at the end of March and wasn't the first metal show with an international artist. Underoath played one month earlier, and there might have been some smaller bands from Japan coming through, but overall Taiwan has experienced a dry spell when it comes to foreign metal acts. So there has been quite a buzz around this show online, especially since two A-list American bands – Suicide Silence and Born of Osiris – were going to perform. Another significant band that would appear was the popular Slovenian act Within Destruction. Suicide Silence had to cancel the whole Asian leg of the tour unfortunately, but more about it later.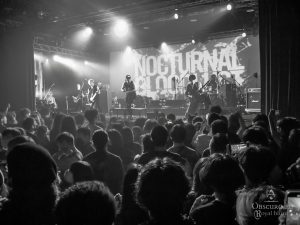 The event organized by the Thai agency Slamman Booking Asia was also a good value proposition for the local audience, even though the main headliner Suicide Silence dropped out. The promoter found a quite interesting replacement, namely the Japanese band Knosis. You may have yet not heard about the band, nevertheless they have made a little splash in the metal/djent core world lately. A big reason for this is that Knosis is fronted by Ryo Kinoshita who recently left Japanese metalcore stars Crystal Lake (one of the biggest bands from the land of the rising sun together with Crossfaith and Coldrain).
Peculiarities of the Local Live Music Scene
Even in 'normal times', the Taiwanese live music scene is small compared to Europe or the USA. The number of bands coming through is certainly more restricted, additionally it's a single act usually, not tours with multiple prominent ones. I've seen quite popular acts play to 50 people or less here. Once, I saw Behemoth play in a small club for about 100 or 150 people and they didn't even seem to have enjoyed themselves here. On the other hand, fans will come out for big local acts like Chthonic or Flesh Juicer will draw huge crowds. So there is a market for metal in Taiwan, but preferences are different. 
The event's line-up had three up-and-coming or already well-known modern metalcore (what might be called djentcore) bands from Japan. This alone made the event quite unique and appealing for someone who doesn't get to see Japanese bands on a regular basis. Local audiences will obviously pay more attention to the Japanese music scene – alternative or not. And although one gets to enjoy less big international acts in Taipei, one positive thing is the number of alternative acts that come here which would be harder to see in the West.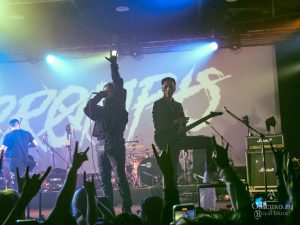 The Venue
The event took place in a venue called Legacy which is located in Huashan 1914 Creative Park – a hip commercial district converted from an old industrial park. The old utilitarian constructions contrast with the high-tech electronics shopping district. Dark silhouettes of high-rise buildings, and an elevated road tower over old warehouses, and the glow of digital billboards gives the whole scene a lightly dystopian, cyberpunk-like vibe. The only fly in the ointment on this somber atmosphere are big balloon cartoon characters and mascots with which Taiwan is a bit obsessed. Legacy is located in one of the few warehouse buildings in the shopping area. It is only a big concert hall with a backstage and no other amenities other than a small bar in the back. 
The crowd gathers outside the venue and a long line of people goes past another building all the way to the park at the end of the shopping district. After entering, it became clear that the venue was not too packed and one could move comfortably through the crowd, yet the attendance was decent.  A little side not: a small Twitter drama happened between the band and the promoter before the show. Born of Osiris complained about a shirt sold at the concert with logos of the bands and a slogan that said "F*** EDM music". The band didn't like the close-minded attitude of the message and also pointed out that their music has a lot of electronica elements. Before their set, they played some really bouncy EDM music. I'm quite sure that they were trying to send a message by doing that. 
The Opening Act Was Not a Sideshow
The first band to appear on stage are Prompts. The band was started in the early 2010s and made a name for themselves with the 2019 EP "Magenta Smile". The success of this release got them signed to the Oregonian modern metalcore label Modern Empire Records, on which they released their first LP called "Fracture". Their label mates include bands like Dropout Kings or Bodysnatcher, so that puts them in good company. Prompts definitely didn't come to Taipei to be a forgettable opening act and the audience seems to be hyped to see them. Actually they are not even the smallest band on the roster judging by their streaming figures on the major platforms.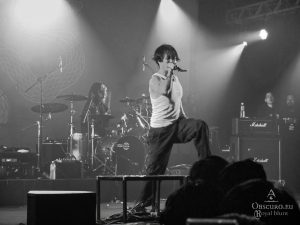 The response is very good from the get-go. The band's sound follows modern metalcore trends. Deathcore heaviness contrasts with more melodic, hardcore-esque tendencies. The heavy verses culminate in catchy, melodic choruses that take inspiration from nu-metal, especially Linkin Park (the influence of this band on modern djent-core can't be overstated…). They use shrill, synth-backing tracks to  set a disquieting atmosphere, and there are a lot of pounding, bouncy breakdowns which don't fail to get the crowd jumping.
The band has a charismatic frontman who calls himself PK. With his looks you can picture him being in a boyband though he can pull off the toughness as well. He delivers hard-hitting metalcore growls and fry screams, but can also perform cool rap flows in choppy hip-hop passages. Bass guy Piguri sings melodic choruses. Overall it's a very energetic show, and enthusiasm can be felt from both the audience and the band.
Thai Metalcore Stars
Next on is Annalyn. These guys seem to be real metalcore "OG's" in their home country of Thailand.  They formed in 2003 and debuted with the EP "First Shut Up, Then Shut Down" which came out on Sexy Pink Studio (I couldn't resist not to include this information, that name is just glorious!). In other words this band came up in the swoopy hair, neon cartoon monster, 'scene' era of metalcore. Their earlier music sounded indeed like a typical American 'At the Gates-core' band, but their sound has evolved since ever then. Their track record is pretty impressive: throughout the years, they had a number of big singles which feature artists like Jonathan Vigil from The Ghost Inside, CJ McMahon from Thy Art is Murder or Mosato of coldrain. 
Their latest iteration sound is maybe closer to typical metalcore than the full-blown djentcore of Prompts, especially in the riffing style, but it certainly sounds like modern metalcore. Their penchant for melodic, Linkin Park-esque choruses is even stronger. As mentioned before, the band has pretty big hits which the audience vibes with. Especially their song "Home" is a kind of laid-back, feel good rap-metal song which makes you want to sway side to side, and do hip-hop hand gestures. The original features Thai rapper UrbojTJ and has over 800k views on Youtube, by the way. At the end, they bring out Ryo from Knosis. The Taipei show concluded the Knosis/Annalyn Asian mini-tour, and you can tell that the singers have a great connection. 
Since When Has Hardcore Become so Progressive?
After Annalyn it's time for the much awaited Knosis. I don't really know the reasons for Ryo's split with Crystal Lake. The official reason was Ryo's difficulty coping with pressures of being in a successful touring band. But he was able to jump back quickly into touring and recording with his new band; so that's good news. The band's sound can be classified as progressive metalcore, the band itself likes to describe it as experimental. Ryo seems to be a bit 'low-key', not a big, loud personality, but he can bring a lot of energy to the show. He first comes out in a white wife-beater and wide pants like a true hardcore guy. You can tell that he can lift some respectable weight in the gym, and that he could mess you up in a mosh pit.
The music is less accessible than Annalyn's. Like their single "Sesai" has a stripped-down verse where Ryo's aggressive hardcore shouting sometimes switches to a triplet flow rap cadence. It's only him shouting over an intense drum bit with only a minimal presence of guitar and bass. The build-up tension is released in a melodic, post-hardcore-esque chorus, which has a serene, melancholic vibe. It sounds huge and cathartic but without the 'added sugar' of a Linkin-Park chorus. And all the vocals are delivered by one guy, that means Ryo does HC vocals, rap and sings clean vocals like he's Romeo serenading Juliet under a balcony in Verona. This guy is really something. 
Slovenian Attack
Within Destruction is a quite well known band in Europe and internationally, especially if you are a fan of 'any-core'. They are a three piece with Rok Rupnik doing only vocals. Instrumentally most of the weight is carried by Luka on drums and Howard Feng on guitar, which obviously only strong performers can pull off. This time they invited a second guitarist, Li Yingxuan aka Leevia from the Taiwanese metalcore band Makemake. She played through all the songs with bravado, she certainly was committed to play it well. I assume this collaboration came about through Howard Feng, who lives in Taipei on and off for some time.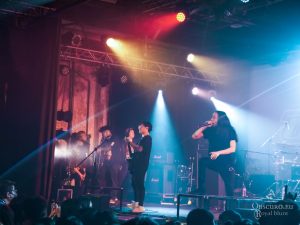 Although Within Destruction are quite eclectic musically. They incorporated lots of djent and nu metal/rap influences in the past year, but they haven't strayed from their deathcore roots. The songs have a good balance between heaviness and catchy, driving parts. The show feels balanced too: you get your brutal deathcore and thunderous breakdowns, but also some bouncy djent-core riffs, and some good hooks as well. Howard handles the clean vocal duties very well. Some songs like "Nightmare" certainly have the potential to get stuck in the head. Overall it was a great show, and I'm sure no one went home disappointed. 
Visual-kei Meets Metalcore
Before the main headliner the Japanese band Nocturnal Bloodlust. This is a quite popular and seasoned band. What immediately catches the eye are their outfits. Singer Hiro has a jacked hip-hop guy with snapback and chunky sneakers look while guitarist Valtz wears what looks like a female pantsuit. Turns out they used to be a visual-kei band which is pretty unique, let's say, for a metalcore band. I didn't know what to expect from this band and they put on a strong performance. Hiro's screaming and singing voice are very good and the guitarists can shred. Not sure how the music sits with me. It seems like they have some symphonic influences, which is not my cup of tea when it comes to metalcore, but that's a matter of taste.
The Headliner
Finally Born of Osiris come on stage. They are real progressive metalcore icons who together with bands like Veil of Maya and After the Burial pushed the genre to new heights in the 2000s. They have a number of banger albums and hit songs like "Machine" (probably THE song that everyone knows) or "Angels and Aliens" from their latest album. The guys come on stage pretty relaxed, one can see that they're enjoying themselves. Of course with a band like this the audience will know all or most of the songs and even though it's almost midnight on a Sunday night the energy is high.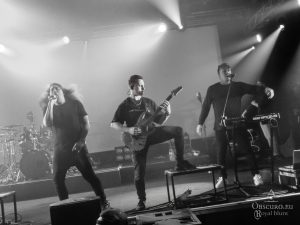 The music balances drive and technicality perfectly. The sound is very dense, guitars switch bouncy rhythmic riffs and intricate leads, on top of that you come Joe Buras' driving synth lines. Joe and Ronnie Canizaro are a great vocal duo, often harmonizing with each other. For his parts, Joe runs to the front from his synth and bounces on stage with Ronnie. Lee McKinney solos with great authority and he also looks very serious with his perfectly groomed beard and turtleneck sweater and Cameron Losch is a beast of a drummer. His reputation is well deserved. The band gives the sweaty crowd as much as they can take and more. And obviously they play "Machine" in the encore. 
All Good Things Come to an End
Shockwave 2023 was a well put together show which showcased very interesting Asian bands, and the headliners offered a memorable show. In the local context, it is a bit hard to get such a cohesive and high-quality experience at bigger shows, since there are less bands on tour here and promoters need to balance different tastes – the 'true' vz modern metal. But this was indeed a banger of a show and although it finished very late on a Sunday night, most people were probably happy to make that sacrifice and come a bit drowsy to work the next day. The metal crowd dispersed into the near empty streets of the slumbering metropolis and all was quiet, but the experience certainly left an impact. 
---
! Visit the bands online to buy music and merch.
Annalyn * Nocturnal Bloodlust * Prompts * Within Destruction
---
All photos and text by Martin Knap, 2023
(Edited by Muumi Katja)