The Venue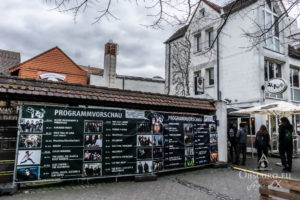 Tonight, 31st March 2023, we will meet at Das Rind in Rüsselsheim. It is a club with a capacity of around 300 people, and is located very centrally. There are more than enough parking spaces directly on the banks of the Main, 100 meters away. We will be able to experience two remarkable German bands in a sold-out concert tonight.
Asenblut and the Edda
The first band of the evening is Asenblut from Göttingen. Their style is often described as Melodic Death Metal or Pagan Metal. This describes their brute, driving sound quite well. The name comes from the Nordic-Germanic deities of the Aesir [Asen], which we also find in the Edda saga. Accordingly, many lyrics refer to this topic, but beyond that fantasy literature, pop culture and socio-cultural topics are also covered.
World Premiere
Today there is a world premiere, as drummer Maté "Balrogh" Balogh steps in very convincingly on the first guitar for Claus Cleinkrieg, who left the band a few months ago, while a friend of the band stands in for Maté on the drums. Let's wait and see if this will be the final solution or remain an interim solution. With Tim "Tetzel" Schmidt on vocals, Stanley "Stan Ro" Robertson on second guitar and Sascha "Sash" Frisse, the rest of Asenblut remain in their usual positions.
Testosterone at its finest
On schedule at 20:00 a spherical intro sounds followed by the very dynamic "Codex Gigas" open the show. It goes on with "Die Wilde Jagd" and "Seite an Seite". The atmosphere in the hall starts to bubble up quickly Asenblut captivate the audience, no question about it. With "Drachenborn" and "Berserkerzorn" two songs addressing classic topics of the band follow. The show continues no less testosterone-filled with "Helden Des Ewigen Sturms" before we get to my personal highlight.
More History stuff
"300" is not only the graphic novel by Frank Miller, and its unique film adaptation, but also a 'ditty' by Asenblut. In his announcement, Tetzel recounts the Battle of Thermopylae in 480 BC, when, according to tradition, 300 Spartans under King Leonidas, and their auxiliaries defended their and Greece's freedom there in an unequal battle against a Persian superiority of 10,000 times their size. As he also notes, it is the number of people in the audience at this sold out evening.

Casualties
In any case, "300" is exactly the battle hymn with which Leonidas' warriors would probably have gone into the hopeless battle, had they known it. This time, however, we don't see any carnage, but a wall of death, and the only casualty is a broken glass beer bottle. It was not a good idea to bring it into the fray….
The Blood Of The Gods
The hall is finally boiling. Yeti t is a peacefull stew bubbling here, served by Asenblut alongside with their closing track "Asenblut" to their jolly metal crowd. The show was really good, it could have been longer and building up appetite for what is to come. But first there is a break.
Perfect inclusion
I look around a bit to find the audience is very mixed. There are people of all ages, thrash west-wearers, dark metal fans, men, women, there is no really dominant group. There are also two wheelchair users. I've been to concerts where the wheelchair users were parked somewhere on the edge or sat very far back with really reduced visibility. Since the venue has no raised platform, space with a perfect view was reserved for them in front of stage. That's how inclusion works.
Nachtblut
It doesn't take very long until the hall lights dim again. Nachtblut's gig begins. The uncrowned Dark Metal Kings from Osnabrück are on their Vanitas Tour, which they had to postpone twice, and is now finally taking place. After all, the namesake album was already released in October 2020…
No Violence
During the very short intro, Skoll on drums, guitarist Greif and bassist Ablaz enter the stage to open the infernal round with "Vanitas". Vocalist Askeroth follows on their heels. His unique vocal style leads us through "Kaltes Herz" and "Amok". Admittedly, it's a very peaceful amok. There is no place for violence and disorderly behavior here.
More Testosterone
We continue with the first highlight "Das Puppenhaus" because that is what you find "Nur In Der Nacht". It is really fun to see Nachtblut act and play. There is a lot of acting in their stage show. And, of course, a large portion of testosterone, which sometimes leads to very dreamy looks in the audience. Beautiful people are attractive.
Blood liquor
Askeroth announces "Ich Trinke Blut", we toast with him; Nachtblut don't miss out and offer a round for the first rows. Admittedly, there is no blood offered, but clear and dark liquorwhich are, nevertheless, gladly accepted.
Words are weapons
On a philosophical side note and as I am writing down my words, I can only agree with Nachtblut: "Fürchtet was geschrieben seht". "Fear what is written", they chant. Most of the time, it is the truth, sometimes it is not, and still  it can be the other way round. These days that is the age of AI, fake news, and social media, it has become increasingly difficult to maintain a balance or only to tell truth from lie. Words can be deadly weapons.
Frauen aus Bayern?
The next is another highlight, "Frauenausbeiner". What actually tells a bloody tale of rape and refers to a butcher's vocabulary often is sung or understood as "Frauen aus Bayern". Nachtblut are often hated or misunderstood for their lyrics. Here and now they are loved. Nachtblut deal with social grievances or anti-religious topics in a very unconventional way. Of course, the lyrics intend to provoke, but unfortunately, only a few people really care about lyrics or dive deeper into their meaning. Nachtblut thus train our intellect, encourage us to listen, and comprehend instead of paying attention to image and superficiality only.
Simply virtuosic
Together we now fight "Gegen Die Götter" and Askeroth has to confess "Meine Grausamkeit Kennt Keine Grenzen". The cruelty of his lyrics can almost be called virtuosic. The melodious interplay of the four musicians is perfect. A near-perfect lightshow supports them, more about that later.
Above Boiling Point
With "Antik", "Leierkinder" and "Apostasie" the final three songs of the regular set follow in quick succession. As you would expect, they drive the audience's mood to a new climax, just above boiling point. And then it's time for the encore calls.
Encores
We don't have to shout for long, a total of six additional songs (!!!) follows. So it goes on "Multikulturell" because "Es Ist Alles Nur Geklaut", a stolen, or rather borrowed song by Die Prinzen in a metal version. It's always fascinating what good musicians can get out of a simple pop song.
Testosterone duet
To "Wat is denn los mit Dir" Tetzel enters stage to perform a fine duet with Askeroth. The testosterone output is at its peak, as a subsequent, not entirely serious, biceps comparison shows.
Corpse paint, black-metal frock
The second set of three is led by "Der Tod ist meine Nutte" from which I just want to quote: "And if the lyrics are too shit; I sing so that you don't understand a word; cartridge belt, corpse paint, black-metal frock; Der Tod ist meine Nutte" What may be true for many bands definitely does not apply to Nachtblut. Their music and lyrics are too sophisticated. We are far from primitive three-chord thrashing and 'Neanderthal' lyrics here.
One Last Song
A "Lied Für Die Götter" follows before the show slowly fades out. "Die Toten vergessen nicht" but finish the night. It is a more than worthy closing song before Nachtblut rejoin their fans and supporters who are waiting already at the merch stall. There they to pose for photos and autographs, as do Asenblut.
Precision and more precision
I was really impressed by the extremely precise interplay of Nachtblut. Every note, every riff or chord was just right. The rhythm section of Nachtblut is certainly not entirely innocent of this. While bassist Ablaz performs spectacularly in the front row, and is in no way inferior to his string colleague Greif, Skoll plays very routinely in the background. His style is very calm, focused and to the point. It is no exaggeration to speak of the precision of a Swiss clockwork. Few drummers radiate so much composure, and calm, every movement seems well-dosed and considered. Even though they are completely different styles of music, in many ways he reminds me technically of Charlie Watts (R.I.P.) of the Rolling Stones.
Light Wizard
One last but certainly not least word about the lightshow which reminded me in large parts stylistically of Lord Of The Lost. Last autumn they shared stage, and I think they found the light show inspiring quite a lot. And not just only, they unceremoniously hired Nasa for their tour. Nasa is Lord Of The Lost's regular light wizard and knows her craft extremely well. The band's music and her light paintings always form a unique unity.
Metal Way Of Life
We were able to experience two outstandingly good bands in a sold-out hall today. This is what we live for, this is the Metal Way Of Life pure and simple. That's how it should be, that's how it has to be. Let's keep our lifestyle alive, go to concerts, buy CDs, merch, meet friends, and acquaintances, get to know and love the bands. The couch is for others.
Finally
Here are the setlists of both bands:
Update and save the dates, Nachtblut will share stage with ASP as their special guests during

Weltunter Horrors Tour 2023:
---
!
Please buy merch and physical music or downloads  from the bands official sources and don't stream music for free because it steals your artists' income.
Visit the bands online to find their merch & music to support them, check out upcoming shows of the venue:
---
Proof reading by DermimBoad
Thank You Muumi-Katja for additional editing and everything, you're simply the best