Interview with Marko Hietala – mostly known as bass player and vocalist of Nightwish – while touring to promote his solo album "Pyre of The Black Heart"
I came to learn a bit more about the album he produced in Finnish as well as in English but even more to find out whether or not there is hope to see Tarot [Marco and Zachary Hietala, Janne Tolsa, Tommi Salminen] on stage one day back.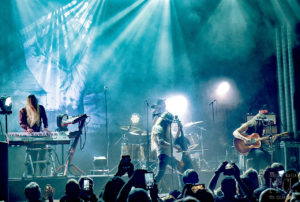 We meet in perhaps the most reknown venue for metal concerts in Switzerland, Z7 in Pratteln near Basel. While Marko's band mates have their dinner with their friends of Oceanhoarse next door, we're chatting in a cosy and quiet backstage room.
Speaking with Marko is an experience of its own. The quiet setting is critical here and provides another stage as he is a natural storyteller. There is hardly one word that comes not most consciously intonated in a perfectly chosen emotionality. Unfortunately, it will hardly be possible to translate neither atmospheres nor moods he puts with apparent easiness into his statements so you could experience.
"Some pieces that go back all those 15 years, maybe even more"
"I know that sign", mouthes Marko when he takes notice of my shirt. Tarot merch is rarely seen and even less outside of Finland. While still checking the settings of the recording, I begin that already roughly 15 years back I heard or read the first time about his idea to come up with a solo album. – "Probably, yeah. Because it's been talked now and then on and off. I's just been writing stuff and then it ends up to the bands that I've been playing with and then there is some stuff which have been saving because I figured it would be good. And also some things became so personal that I didn't give them off. So the solo album, I'd say most of the stuff is written in close to like three years back when we started to work on it. But there are some pieces that go back all those 15 years, maybe even more. I can't tell for certain because some thing I've been saving and some I connected to some newer stuff."
Listening to "Stones", my first association was: this is a new Tarot song. But how does Marko see this? "It could perfectly fit on one their albums." – "Yeah, it could be." Some other song gave me a similar impression. "Yes, sure, some of them could be," he replies thoughtful. "But, hmmm?" His voice is very vivid. He uses it like a painter uses colours. This very conscious use of his voice tells the listener when he thinks, when it is easy to reply or how important particular word or even a single syllable is to him. As there is hardly any other noise around us his soft and warm voice fills the atmosphere. A most pleasant atmosphere, actually.
"…. where this had a lot of freedom to do whatever I wanned"
"How do you make up your mind anyway to tell which songs goes where?" – "Well, let's say that for instance, that "Stones", the song came after our drummer in Tarot died and after I'm gonna be doing the solo album. So that is how this song came to be there. And there are some elements in the song that we didn't use that much in Tarot. For instance the kind of a standard-like the riff that goes in the chorus, the whole melody line is like classic Scandinavian or Finnish folk song type of melody which I got put there just for the help of it. Because it got a nice combination as is the Mediterranean guitar or the straight Blues melody." We laugh as he is getting into such details. "This was a … Yeah, we're coming to the area where it was …, where this had a lot of freedom to do whatever I wanned. And this was also one of the things why I wanted new guys to play with me and arrange with me in order to find fresh angles."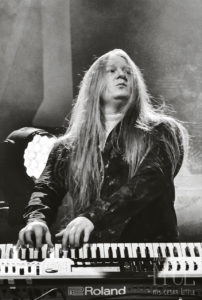 Marko Hietala has come to play with numerous well-known faces, musicians he has worked with for many a years. "Yeah, with Vili [Ollila] and Tuomas [Wäinölä] we've been doing this Christmas tour thing for …." – "like 15 years?" – "Yeah, like 15, years since the guys went in the project? I was in some years earlier when they came in and they have been there ever since. Soooo," he draws the "o" quite long to think, "maybe I have 15 years and they have 12. So long years enough."
"… that will always take me around the world"
"Absolutely", I agree. If you have seen Marko on stage with several of his numerous projects you will have noticed the different energies and chemistries working. This might result from the different lineups acting together which results in different chemistries working. But it could point towards differing priorities or degrees of importance to Marko, too. So has any project that outweighs the others? "Oooohhh, this solo stuff became pretty important to me. It's been growing a band from it that we started as a solo project. We've been having these shows and we've been having a good time with the guys. So it's become surprisingly important. But then of course I got the main thing", laughing he goes on, "which you probably know." A tad more rational again: "That will always take me around the world. But in the meantime, and what I do in all the off years, I think this solo stuff is probably the most likeliest thing to be something that I'll be now continuing." And then he automatically switches to the topic that – to be honest – interests me a little more than the rest: "With Tarot the situation is that since our drummer died we kind of it dropped into a limbo. … There is unfinished music and all that but it hasn't been …" he pulls the "ee" sound this time to bite some seconds for wording his thoughts. "But it hasn't been a happy thought to touch it and playing in a Rock'n'Roll band you should have more grin on your face than fry" – "True." – "No matter how you do it on stage."
"I see. Naturally it is very, very difficult to go with Tarot now." – "Yeah, because we played together for so long. Over 30 years! Yeah." His voices fades before he continues: "So it's of in a limbo." He takes another breath. "We have at least some ideas and we could do an album out of them if weeeee …. edited the existing drum tracks and add some drum tracks from the old ones. So weeee'd basically have the same lineup. Buuut – that would be a lot of work!"
Tarot released their last studio album (save for the remastered "Spell Of Iron", 2011) in early 2010, "Gravity Of Light", toured in Finland immediately and in the fall of the same year continental Europe with The Man Eating Tree. A tour supporting Pain on another tour was planned soon after that but cancelled. First Tarot dropped out because one band member is severely ill, as they explained back then and soon Pain cancelled, too. There were only very few gigs, Tarot were able to play before their drummer's, Pecu Cinnari's disease grew too severe. He died in September 2016.
The topic is an emotional one and I am grateful that Marko spoke of it at all. Sadness still lingers in the air so I decide to move to another topic.
"I am hooked to shows!"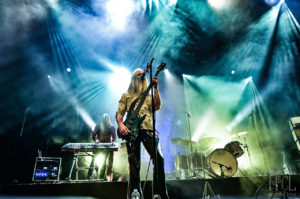 Personally, I have seen Marko play with many of his bands and thus no surprise on stages differing massively in size, atmosphere and type of venue as well as event. For example, Tarot regularly used to play in a tiny cellar bar in Kuopio that might be considered their second living room, Nightwish on the other hand play on the largest festival stages and halls while tonight he'll play on a mid-sized club. Each is a very own piece of cake naturally. But what does he like most? "As a principal, I love to play anywhere to anyone. Any size of audience. I love it very much. … ammm … My main reason of doing this is that I am hooked to shows! And that mutual bubble that we've been build with every band and good audience and anything and then have the great atmosphere that while we raise hell and all that. That one I love! But it has to be said that actually clubs are better surroundings for those. Because then you get people close up. Then you get the sweat and vibe and everything is really close and on your skin. And that's the best. But it doesn't make a bug??? change the act that doing it for 80,000 in Wacken real is still great. It's absolutely great."
"In my imagination it is totally different thing that once you have this ocean of heads and hands in front of a huge stage and another time you have this very cosy, narrow and eye-to-eye-with-anybody club situation. I don't know what it feels like to see this ocean but perhaps it is sort of overwhelming or kind of majestic?" – "At least when you raise a fist an 80,000 people raise their fist then you start to feel more like a king", he replies laughing.
"As you have played hundreds if not thousands of shows, is there still one you tend to recall as the best or the most memorable? … with any of your projects?" – "There are but they have their own place in history like, the first with Tarot with us young guys, just in our twenties, getting out doing this the first time, like big festival in Finland played on same stage with Twisted Sister and that kind of thing, of course you remember it! And these 80,000 something in Wacken – you remember these things. But then I couldn't tell what would be the best or anything. Sometimes you play a show and it's an obscure place and you have an exceptional vibe. So, all these things are great", he explains quitely and thoughtful.
"… ok, there is someone climbing!"
But I have some particular shows in mind that stand out for the unplanned incidents on stage. "… or like a stage being literally on fire like in Turku?" I need to get more specific to trigger Marko's memory: "… with Raskasta Joulua" – "Aww, that one! Yeah! Well that was kind of memorable, yeah! I tried to sing a song and think 'ok, there is someone climbing! I hope the fire protection I S effective which it wasn't apparently. It was a very old and degraded. Something burned and we got out of there with everybody intact. And I was like, I can't really concentrate on a song now! Luckily on that particular show I had to do the one that I don't particularly like either!" We laugh. This very show was mid December 2013. The pyro had set a large curtain on fire. The stage crew killed the fire by cutting down the curtain. No one got hurt and actually – some of the musicians had not even noticed when it happened, we learned speaking with them (in a spontaneous meet & greet) after show.
There is one more incident that is at least to me very memorable. It was on a small, one-night festival in the harbor of Kemi/Lapland in summer 2010. The Kemi Satama Festival. I had a good spot quite close to the stage and it was worth standing in the rain! There have been few opportunities to experience the Northern Kings [Marko Hietala, Jarrko Ahola, Tony Kakko, JP Leppäluoto] on stage. And that was mine. – In complete lineup! A show beyond words! After that Tarot played a gig that was great. Their shows were passionate, vivid, authentic. In this regard the show was normal up to the point in the last song of the encore when Tarot's hyperactive keyboarder Janne Tolsa dropped the keyboards from their stand. With electricity cut there was immediately silence – save for two band members. Marco went on singing for a couple of seconds and Peccu went on hitting his drums. When Marko had got aware of the situation and Peccu still went on hammering his drum skins, Marko went to drummer and pulled him off his bubble while the others were laughing on Janne. Janne, however, picked up his keyboards a bit meek and tried to continue with the song. That could not work as electricity was cut completely.
"Yeah, though they do not necessarily make it an exceptional show but you remember these things"
Does Marko recall this incident? And how did he experience it? "Oh yeah", Marko laughs, "yeah, I D O remember it." He smiles and breathes,"and it wasn't the first time when he was dropping things! There was this one show in Tampere were the guy himself dropped into a hole on stage!" While I am laughing, Marko enjoys to imitate with gestures and sounds the details of the moment. "Well, I didn't know that one!" – "Yeah, we were laughing while the guy was 'hei fuck me'" laughing himself now. "Limpy", he adds with a wide smile.
"These incidents make a show sort of particular. Don't they?" – "Yeah, though they do not necessarily make it an exceptional show but you remember these things."
"I just had a bunch of songs. Some of them in Finnish. Some of them in English"
"Another thing I am curious to learn is that. You have always written lyrics in English as well as in Finnish. For the recent album, of course, you have a Finnish and an English version of each song. But when writing a song is there a point at which you can tell this song needs Finnish lyrics or this one works better with English lyrics?" – "Nah, not really. I mean, I just had a bunch of songs. Some of them in Finnish. Some of them in English. I translated them crisscross and in some cases the translations worked fine. And in some cases I needed to come up with some kind of metaphors." – "Tricky", slips my tongue. "Well on some point I had story line from point A to B that was even better than in the original. Not too many times. I just tried to make them equal. It's kind of funny that some tend to say, 'the Finnish has so much better. It has more emotion.' Well, to be honest, I put just as much emotions in." – "I suppose so", I reply while Marko inhales to add: "And they weren't originally all in Finnish! As some may think just because the album came out earlier. No! And if you wanna argue", he repeats with more emphasise: "If you wanna argue which one is better it's all the fine but I just made two albums because I wanted them and I have had both chances. So like which one ever you do and the other ones like which ever one they do!" Saying this Marko has become a bit tense.
In some way it is a revelation for me to hear him being sick of this discussion because so often I have come across people – mostly teacher or art historians – being so damn certain about the intentions behind a particular piece of art – be a poem or paiting as if they had lived to speak with the artist in question. But who has lived to speak with Goethe, Shakepeare or Whitman? Who can really say what Da Vinci or Michelangelo meant to express or code in their work? None of us can as none of us has ever had a chance to speak with them! And even if we could ask they still might not reveal their actual motives. How arrogant to think different!
But back to Marko who allowed me to ask for his motives. Reading the lyrics I had found them quite dark and pessimistic. But this is my impression and my association. What does Marko think himself? "Hmmmmmm, well …" – I am bolt enough to ask if these are the words of a man growing old and grumpy, perhaps disillusioned by life and the world? "I don't know. I have always written kind of a gloomy, doomy stuff 'n' all that! But … I don't know. For instance "Stones". I mean like I said above the slightly Mediterranean guitar thing that it starts with and than you combine it with the Blues melody and that kind of leads you into a blues kind of lyric the way it got you into repetition and so on. That kind of is kind of Murphy's Law thing."
"I also like to contrast"
"Hm, yeah? Well. To me the overall atmosphere of the images drawn by the lyrics of the three or four songs I looked in a bit more is rather fatalistic, dark, I don't know." – "Maybe unbelievable? Mellow down?" We laugh. " But yeah and then there is this thing of a lot of stuff and yeah there also is an angle to it to check it out that is slightly dark or gloom. Also which is probably not so apparent to others than me."
"Now that you say so, Murphy might be the answer to me. I will read again to find out for myself." – "But then songs like "I Dream" that starts so surreal, then the title of the song is beautiful and all that goes into a very grim, beyond the grey type of vision which I also like to contrast because the song is so floaty and atmospheric mostly. And then you put something so grim, lyrically. Again it takes all my sense of black humour", he ends inhaling sharply and with a wide smile.
"… all by themselves and suddenly I produce something new"
It is obvious how much these songs matter to him. And then again, Marko mentioned earlier the immense importance of playing live. Undoubtedly being on stage is the main thing to Marko, I thought. But right now I am not entirely convinced anymore: "If you had to choose and could go on with only one playing or writing music, what would it be?" – "Playing shows!" Not the split of a second needed to reply. "Yeah", like it was a relieve to have it said. "But of course, sometimes I have these – quite often actually – the gear is going all by themselves and suddenly I produce something new. I gotta humm this to my recording app. Like ideas and all that. They come!"
"They come and make their way out of your mind?" – "I don't really need to push myself in it. Of course sometimes there is, you got a few lines, or a lyrics, there is a story and you had it for a month or two and it doesn't go on." His voice brightens. "But I usually, I usually come back to it. Check it again. Check out which kind of thought I had with it." A bit lower again: "Is there another angle?" Less emotionally but more fluently he continues: "Usually that thing. If you think about your own lyrical stuff and you see this is the story I've been on, what is the other angle? Read between the lines. Usually you find new things. And then – if it matches still the original purpose – then you start to find more lyricals." He inhales sound sounds more thoughtful and with short breaks again. "With the inspiration in general, I just … I just try to stay open. … It can come from anywhere at any time. Annnnd … that's what happened. … quite a lot."
"Can you force it out?" – "Nah." – "Like, I need to get this done today or stuff?" – "Not really, because that is not a good ways for me. Though I've done it, yeah. I made myself write some things. But it usually ends up so that I do the next thing. I don't feel connected with this. Right."
"I have grown out of those boundaries"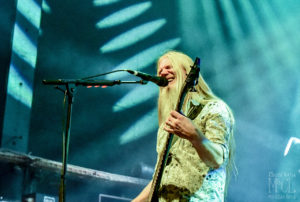 Listening to the album, some might question or determine that it is not metal. And perhaps it is no metal album strictly sticking to genres and styles. But how about the attitude, the atmosphere and of course the source? Does it matter? I mean, does the genre matter or is it all about music. Notes. Mentality? So as a final question: "What is metal to you?" a bit surprised he repeats: "What is metal to me?" – "Yah." – "Metal? … Hm. I don't know. Because I, myself, I have grown out of those boundaries. – I still love it. But I'm so far spread over into the other worlds, too. So that's kind of my starting point, maybeeee?! That's what it means to me. Starting point. When I was a kid, that's where I started to become the person that I am now and ended up with." His voice has become quite low in the end although the statement once more had its own storyline intonation. "A very personal angle, then", I say before I can thank for the interview and the time and the insights he allowed.
---
When back in February this year, I met Marko for this interview and to attend his magnificent show, neither him nor me or you had any idea the world was about to go upside down soon and the entire event industry was to implode. What a perfect setting for one of Tarot's songs?! Those songs leading us into sci fi settings, only this is real and not a scenario written by a black humoured musician prone to dark and gloomy lyrics as Marko Hietala sees himself.
The show that night was one of those you don't forget easily. Honest to the bone, authentic, vivid, brilliant speaking of the musical expertise on stage. While many shows nowadays are reduced to sort of bringing the album version on stage as close as can be, Marko presented his album and three cover songs in live versions, each perfectly rearranged. Remarkably different from the album. New moods. New angles. And honest. Rearranged to fit the musicians on stage, providing space to show and experience their excellence.
Enjoy some visual impressions and read more in our On-Stage Review here.
Or check out the show in Z7 yourself. The video was recorded during the show that night.