On-Stage Review from "The Black Heart Tour" of Marko Hietala Supported by Oceanhoarse @ Z7 in Pratteln
Some shows are worth travelling to see them. Marko Hietala presenting his solo album accompanied by some exceptionally great fellow musicians and supported by Oceanhoarse certainly is such a show. Among the large number of projects he is in, is there any of those that matters more to him than the others – apart from obvious features, I ask him (interview to be posted soon)? He points out how special his solo album has become to him. The album "Pyre Of The Black Heart" might be surprisingly soft to many, is rather straight and unembellished – if compared to Nightwish's massive abundance of everything, and yet it is utmost expressive. Some might doubt it to be metal at all. On stage, however, there is nothing but finest metal performed by outstanding artists.
Travelling to Basel to attend a show always means a long day: A six-hours-plus train ride, some railway adventures included, check-in at the hotel and then finally off to the venue for the interview and later again for the actual concert! The venue, Z7, is a former industrial hall, easy to get to, and provides the perfect frame for a good sound and good light.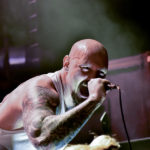 The lineup is a bit of an air of a class reunion to me. Apart from Marko's drummer, Anssi Nykänen and Oceanhoarse's new frontman Joonas Kosonen, I have had the pleasure to enjoy the others on stage several times before. Approaching the hall, I hear Oceanhoarse in the last minute of their sound check. Little later, on my way to the backstage where the interview is going to take place, I pass them and also Tuomas Wäinölä (guitar) and Vili Ollila (keyboards). Neither of those excellent musicians has made much of a reputation outside of Finland so far, unfortunately.
WTF* is Oceanhoarse?
Oceanhoarse is a rather new band, the founding lineup, however, came with well-known names from no less than the Finnish Death Metal bands Amoral (Ben Varon) and Mygrain (Tommy Tuovinen). Furious was their show in that small club in Helsinki Kallio opening for Barren Earth in early 2018. Classical Heavy Metal they played. Half a year later, they shredded the stage at the Dark River Festival. But then a setback, their vocalist quit due to health reasons. So tonight, two years after that first show, I would see the new vocalist for the first time.
Joonas Kosonen has a large pair of shoes to walk in. Tommy's performance set a benchmark in regards of vocals as much as in regard of his stage persona. He hit deep when on stage, although I am certain he polarised no less. Tommy's level of energy and emotional engagement was authentic and even irritating in its intensity.
Straight, Honest and Unique
Back to Z7 and tonight's show. Joonas walks tall in those big shoes. He connects easily with the audience, has a good chemistry with his bandmates Oskari Niemi, Jyry Helko and Ben Varon, and also strong vocal capacities. His moves and voice are different naturally. But mind, different is different, meaning neither better nor worse in the first place. When Tommy was a Tasmanian devil (think of Loony Tunes) on stage, Joonas is more of a silver back. Both are impressive but in their own manners that can hardly compare.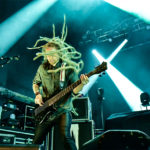 Ben at his guitar is ear-pleasure, of course. His fingers run on the strings, making the instrument sing its operas. My personal favourite on stage, however, is Jyry. It's not only that his looks remind of the amazing Johan van Stratum (The Gentle Storm, VUUR, Anneke van Giersbergen), but his play matches, too. Tapping his bass looks so easy when it is quite the opposite. Jyry adds a progressive breeze that tells Oceanhoarse from the rest, to me.
In this audience apparently hardly anybody heard of Oceanhoarse before tonight. But the guys make sure this is going to change here and now. The audience should not going to forget about them! Oceanhoarse make a blast of a warm-up gig and play roughly 45 minutes. The crowd is on fire for their straight forward, honest heavy metal played with all the passion and the last drop of dedication channelled into their performance. Thanks, Oceanhoarse.
Finland's Finest
While the stage is changed over, let's use the moment to look at Marko Hietala's fellows on stage. He has an endless list of bands, project and certainly an incredible network. There is Nightwish, of course. He is a welcome guest at stage with Delain. There are Raskasta Joulua and the Northern Kings. There is the acoustic Powerless Trio, too. And there is or was Tarot, of course. (And that's no more than a selection of his most important activities.) From where would he pick the berries to accompany him on this special occasion?
Marko Hietala's history with Anssi Nykänen, Tuomas Wäinölä and Vili Robert Ollila goes many years back. Tuomas and Vili have been with him in Raskasta Joulua for well over one decade and played some of the few Northern Kings' gigs, too – unforgettable show acts, both! Tuomas is a one of these string wizards who simply ignores the term "genre" although he might have a focus on metal, rock and jazz. He also sings, such as when touring with his former band mate Timo Kotipelto (Stratovarius) as acoustic duo – simply breath-taking, by the way. Vili is no less of a witchmaster at the keys (although more active behind the curtain) or as Marko put it that night: captain of the Enterprise, the keyboards being his command station. I have always wondered how he can play with his massive hair flying all over and then – this without hitting his forehead on his instruments! His dedication is overwhelming and compared to him, Marko and even Anssi, the drummer, appear sort of static on stage. Anssi Nykänen (formerly also playing with Raskasta Joulua and Timo Kotipelto) makes the beating heart of the show. In a most impressive solo, he finds the space to prove himself and to receive the crowd's thundering enthusiasm as he deserves!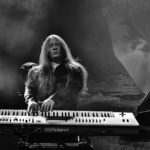 True Finesse in Action
Marko Hietala does not need to dance, jump or bang too much on stage. His energy is unique and unmistakable; his voice just dominates the atmosphere be it in eardrum-crushing volume or so gentle and low you can feel it rather than hear it. He proves his capacity to express emotions very precisely live no less than on the album. No doubt, this voice can fill any room. But the complete sensation is to be experienced when you hear him 'outsing' the PA. And that is more likely to happen when you can be close to the stage. He does tonight!
The "Tour Of The Black Heart" setlist comprises the entire album plus three cover songs. The live arrangements differ remarkably from the album version. They are even more powerful; more emotional; mostly a bit harder; even more touching. And that underlines the quality of songwriting as much as that of the musicians. I know that nowadays the mainstream expects a concert to be a 'live replay' of the fully styled, perfectly edited, mixed and mastered recordings. But that does require backing tracks. Thus, the true finesse is to be found in live arrangements that work it without or very few at least, such as tonight.
Beyond Metal?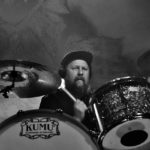 Marko said in our interview that he was beyond metal nowadays, that metal was more sort of his basis, what he has come from. Listening to the "Pyre Of The Black Heart" album, matches these words. But what the audience get in Z7 tonight is metal – musically as much as spirit-wise. He loves to perform – very obviously they all do. He loves to be on stage. And as he is on stage now, metal is pouring out of every cell of his body while he wields the bass strings and shatters glass with his voice. "I am The Way" offers quite some opportunities to experience this full power of Marko's voice which is a unique sensation, all the more if you open yourself to this massive flow of energy .
The lyrics open a crack through which we can sneak a look into the writer's and singer's soul. The storylines of all three, the lyrics, the vocal as well as the instrumental lines are each beautiful pieces of art and precisely timed to support each other. Calmly he dives to the lowest depths of his voice, singing with a velvet tone that sends goose bumps with "I Dream" in an intensity that exceeds the album feeling even.
The album versions of "Stones" or "Star, Sand And Shadow" do very much remind me of Tarot songs like "Magic And Technology", for example. On stage the same songs have a more independent persona.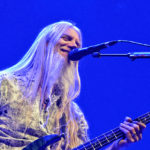 Less known perhaps, Marko has also participated in some cover projects, such as Sappattivuosi. Thus it is not surprising that he adds some cover songs to his setlist. The first still might come as a bit of a surprise. Only slowly, like a warm and very gentle summer rain, we begin to recognise David Bowie's "Starman". A perfect choice, I am tempted to say as it demands the instrumentalists and voice we see on stage. I see sparkling eyes in the crowd, many of them. 1970's vibes linger in the air, the demanding tunes of Bowie's song are taken easily, filled with all the power of Marko's voice, carried by the Vili's and Tuomas' incredible performance. A worthy cover. Undoubtedly. Another worthy cover marks the beginning of the encore: Black Sabbath's anti-war anthem "War Pigs". He makes it his message to those in power to make the world a better place but are engaged in dirty wars!
"I had nearly forgotten that Marko is also a freakingly good bass player",
I hear someone say. He is. Actually there is a team of true masters of their kind on stage tonight. And as such Marko grabs an e-cello to replace his bass guitar during "Truth Shall Find You" – the final song for tonight. "Truth Shall Find You" comes in the album version with strong orchestrations, more than any other song. The e-cello makes the trick to emphasise its outstanding position and yet fits the honest and unpretentious composition of the live arrangements.
An Air Of Thoughtfulness
The program ends too soon although, however, it pleasantly exceeds the nowadays sort of dogmatic 75-minutes standard. To be honest, it is a pity the audience wasn't larger. The atmosphere, however, deserves a thought. Perhaps the crowd was not as heavily engaged as on a shredding-contest-like Speed or Thrash Metal concert. Then again that had no fit the music at all. Actually, the vibes among the audience had an air of thoughtfulness. Very appropriate if you ask me.
On the way out, I see Oceanhoarse making friends on the merch stall and I am happy to see quite numerous prospects for selfies, a chat and a souvenir from their merch products. Touring (all the more internationally and with a lineup of only two acts) is a large investment and I hope for them the tour rewards their engagement.
This show is one of those that lingers in your mind, echoes in your ear and makes you think time and again of the lyrics you heard. There is no need for massive stage settings or impulsive moves. Excellence just speaks for itself.
---
Repost from obscuro.cz with minor edits.