Manntra
Some months ago I watched a brilliant support band of Mono Inc.'s' "The Book Of Fire" tour. Their name is Manntra, they come from Croatia. They kind of caught my interest but as time flew by I was close to forgot about them. Only now I notice, they released their new album already back on fifth of August! Even more they will be on tour this November and December to present it live to the more than willing audience. What's a better reason to have an only 'slightly belated' look at Manntra's "Kreatura"? Exactly, nothing. So here we go but first let me shortly introduce Manntra.
Manntra 2022 are:
Marko M. Sekul – Lead Vocals
Andrea Kert – Drums
Zoltan Lecei – Bass and Backing Vocals
Dorian "Dodo" Pavlović – Guitar and Backing Vocals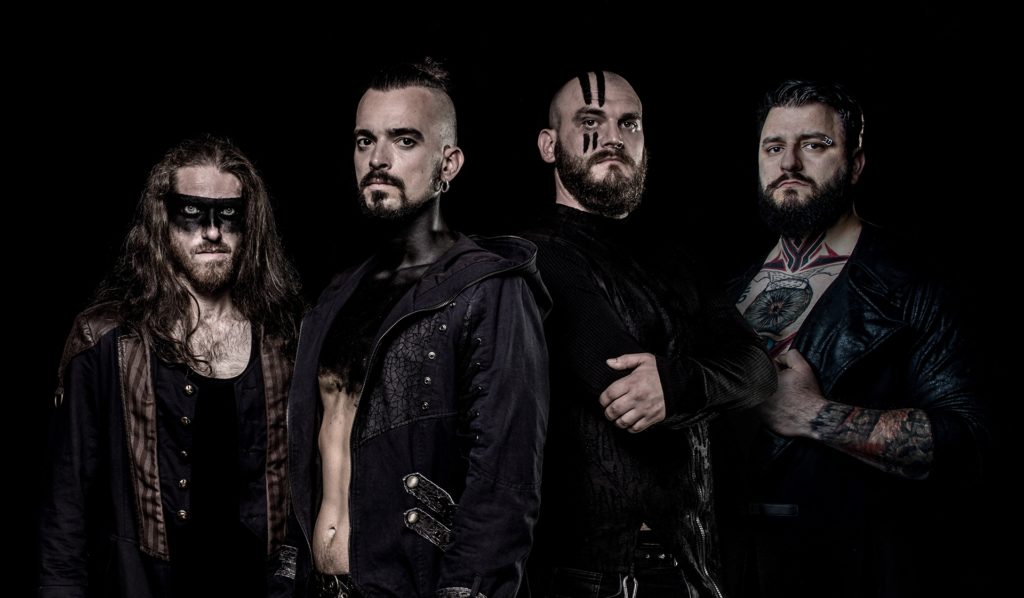 Kreatura
Volhov
The opener of "Kreatura" starts with some introductive keyboard chords but soon guitars and the rough but somehow tender voice of Manntra's vocalist takes over.
It is hard, neither too heavy nor too fast but still a powerful opener with an ear-catching melody. "Volhov" already !
Nightmare
And more comes in form of a "Nightmare". The chorus to the stamping drum beat is even more present than on the previous track. Together with half-spoken verses it creates an Industrial Metal atmosphere. But Manntra add their finest strength: Folkloric elements to make their sound not only unique but also very authentic. Remember, they come from Croatia! It is another cheerful song which opens your heart like the sun over Balkan hills, far from being a true nightmare.
Tanz
You asked for more folkloric influence? Here you are and although Tanz is a German word and means dance, it is no German Blasmusik! "Tanz" is a command you must obey when you listen to the song. Even if your brain says no, your legs will prove it wrong! Again a very memorable chorus.
Devour
Time to get a bit rougher. The song is rougher but slower. The vocalist immediately opens the song with the first verse. The bass in the background thunders grumbles as a storm which might break out in a minute. Together with the drums it steers the song which is completed by a female voice during the chorus .
Königsmord
Funny enough, once again this is a German phrase and translates as regicide. Maybe it is not the funniest theme though it was a good tradition to kill unpopular kings during ancient times. Or think about the famous "Kingslayer" of a well known novel and TV series. The song begins with some acoustic guitars but slowly grows heavier. Again, we hear the folkloric influence. The lyrics indeed describe what I mentioned. The verses are in English while the chorus comes in German. Anyway, the king finds his deserved destiny. I am sure, the audience will celebrate this song though.
Black
Another song with an acoustic beginning. The vocals are very tender and show the softer side of Manntra. The heart turns black and the blood gets cold without taking it into account. There is no mercy once the mask is off but it is a lovely ballad.
Kreatura
We are coming the title track of the album, "Kreatura". Some strange female voices seem to hunt for you like sirens on the sea. The short intermezzo builds up the tension to glide into the next piece of music we will listen to.
Silvermoon
A keyboard under layer and thunder drums in a mid-tempo are followed by a once again catchy melody. The vocalist is supported by a second, female singer, not as a duet but unison. I have the feeling the song is kind of werewolves inspired as "Fear injection, Silver protection" and the title "Silvermoon" itself implies. 
Not Guilty
It is said: "He who is without sin can cast the first stone". But do we need to throw stones on this song? No, we don't and we wouldn't! The lyrics are a bit bitter sweet wrapped in a once again catchy melody. Are you willing to discover the message behind this disguise? Please do so, it will be worth it but be careful and be prepared for a sudden end of the track.
Oblivion
A good old clockwork might drive the children's music box, seduces to begin a lullaby when heavy guitar riffs shatter the dreams. Yes, we do before it falls into "Oblivion". It is maybe the heaviest song so far and once again we hear a very strong folkloric influence, even a hurdy gurdy underlines the chorus.
So Ist Das Leben
For a change "So Ist Das Leben" starts with a piano. No change is the idiomatic German title which simply says 'such is life'. Yet this time the lyrics come completely in German. It is a very pleasing mixture between the sound of *CENSORED*, * CENSORED * and *CENSORED* ;-). Listen yourself and find out yourself which bands I might have in mind. Be sure, it unites the qualities of all three of them!
Secret
It is not at all a "Secret": there is always a final track of any album. Kreatura is no exception. Now we are really on the rough guitar side with another strong industrial metal influence. If it was less melodic it could have been a song of one of the most popular German Industrial Metal bands. But it isn't and instead it is everything Manntra stands for: Hard, not too heavy, folky catchy, good.
Metal, Folk and Catchiness
It is balancing act on the edge to find the right path between these three opposites and even unite them. Like no other band Manntra blindly find and follow this path. The musicians exactly know what they are doing. I can't wait to see and hear Manntra playing these fresh songs life on Europe's stages. Take the chance and join the audience at one of the venues of the tour. It is worth it. But be warned, their live performance still is catchy and melodic but much heavier than the studio albums suggest, you will love it!
Save the dates: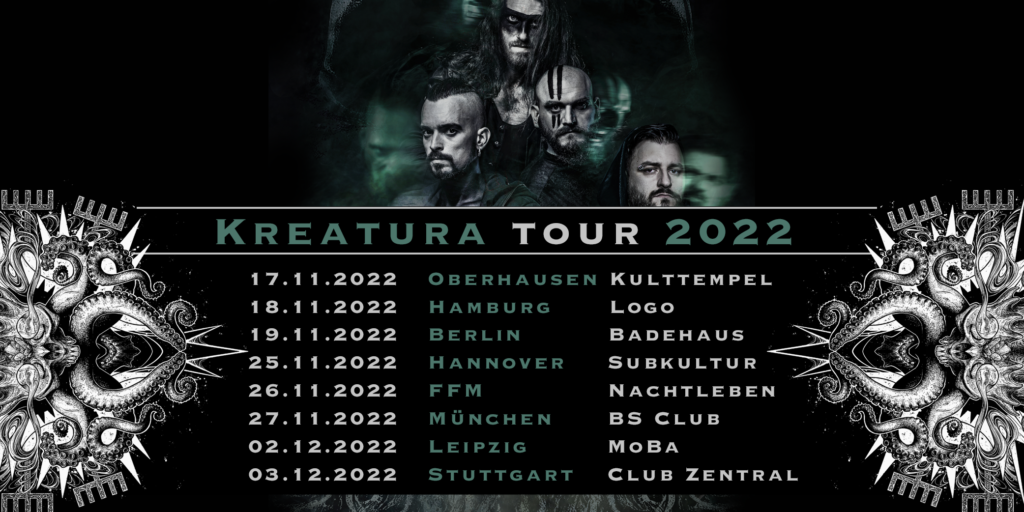 ---
!
Manntra online: https://manntra.hr/
Please buy merch and physical music or downloads  from the bands official sources and don't stream music for free because it steals your artists' income
---
Proof reading by Mummi Katja