For years, I have hoped to see In This Moment live somewhere. Visually and theatrically, they always promised to be one of the most entertaining performances out there. Three European tours I missed though due to various reasons, which is why I made this show at Munich's Tonhalle possible by all means, trust me. As us fans recently discovered, we should use our every chance to see bands live, support them and enjoy the time. Who knows, when something might happen, that keeps us from doing so. Just remember, when Lemmy Kilmister died, so many people said that they were sorry because they wanted to see Motörhead "during the next tour", only to learn that it was their excuse for the past two decades, not to see them live and out of sudden the chance was gone forever.
Well, 'Carpe Diem' definitely was what I learned from this show as well, as it totally exceeded my expectations and showed me the mistake I made by missing out on any of these previous opportunities.
The vibrant stage appearance especially of frontwoman Maria Brink, but also the whole band altogether, as well as the musically perfect performance of their wild sound mixture, made this, without doubt, one of the best concerts I have ever had the honor of seeing, if not the best ever.
Which is why I will focus this report on the band I came to see the most and that also fascinated me the most. Some words on the other bands though, that definitely delivered different but equally worth mentioning shows.
New Years Day – A Fantastic Surprise Opener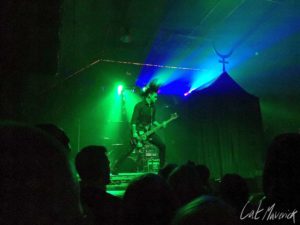 Opener of the evening is New Years Day with an aggressive, rhythm-focused sound utilizing mainly industrial and core elements and building up upon a well-balanced mixture of screams and clean vocals. Without any slow intro or warmup, the five-headed formation around female vocalist Ash Costello enter the stage and waltz down the whole crowd with their first rough, powerful song "Come For Me". I was quite surprised that I recognized Ash (even though I have never listened to much of New Years Day's music before) apparently thanks to her being quite famous for her unique style visible during photo shootings and live performances. And with a mixture of said surprise and totally being knocked-out by this non-compromising kick-in-the-face first song, I was stunned for good.
You might think after one or two most aggressive and fast songs, the band would need to slow down. Make no mistake though, the tempo and power only increased even further! No long speeches, if any, await us. They use every minute to blast the crowd away with one explosively energetic song after the other. And after a seemingly short performance, New Years Day leave the stage, obviously having had at least as much fun on stage themselves and leaving the audience startled and fascinated for quite some time after.
Halestorm – Infernally Positive Vibes On Stage
Before jumping to my highlight of the evening, let's take a look at the official headliner. With band leader and vocalist Lzzy Hale, the band brings one of the most iconic people in modern Rock, Punk and Metal music. With her broad repertoire of vocal styles, she could easily sing in Country or Pop music as well as the previously mentioned genres. This she also greatly demonstrates by singing some cover songs, including Dolly Parton's "I Will Always Love You", which she accompanies with the piano as well.
But make no mistake, even though Lzzy can definitely sing a soft ballad as well, her true nature and greatest strength comes across when Halestorm play their own rock songs. With her powerful and – if necessary – distorted voice as well as overall radiance, she delivers a variety of different musical styles in an authenticity only very rarely seen on stage with any band. In my personal opinion, her style and music bears some great resemblance to Motörhead's Lemmy Kilmister. Needless to say, fans of his are advised to get an impression of their own on some of the next Halestorm live shows. As a multi-genre vocalist myself, I could only stand there in awe, crying at the sheer vocal control and honest expression, Lzzy delivered.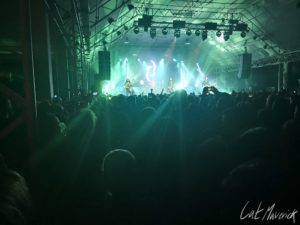 Another quite vibrant figure can be seen on stage though, the drummer, founding member and brother of Lzyy, Arejay Hale, who has one of the strongest and omnipresent stage appearances especially for handling the drums at the back of the stage, which usually oftentimes leads to under-representation. Not only does he play some very enjoyable solos, but he also entertains us a lot by having the greatest fun himself on stage. Throwing around his drumsticks and arms in the most unpredictable ways makes watching him so interesting because of both, his talent as well as his showmanship. If you're not startled by the speed of his playing, you will most likely hold your belly, trying to watch the show instead of laughing all the time. Good thing, the two guitarists Lzzy and Joe Hottinger, as well as bassist Josh Smith, are capable to pull the attention away from their drummer, even if he is on stage with some super-sized drumsticks and even faster using them. The three members in the front of the stage break that captivation by delivering some very refreshing, seemingly endless instrumental parts, all the while not being boring at all.
All together Halestorm have one hell-of-a-positive vibe on stage, making most of the crowd smile like all of the time. Only the guys on stage might have been able to have a little more fun even.
In This Moment – Incredible Showmanship
If you read my previous reviews, you probably know, that I'm a huge fan of good showmanship. Probably the greatest inspiration in these regards I occasionally mention is David Bowie. I have always thought, such a level of skill when it comes to atmosphere, energy, acting and dedication, was not reached by anyone again since his death in early 2016. Well, I thought so before this show. With my personal highlight of the evening, the band around Maria Brink delivered the best theatrical and probably also musical show I could experience until today.
Especially for a support act, they used a lot of costumes, stage props and show elements during their one-hour time slot. Costumes, you ask? Well, yes. Even though they only had a part of the stage available, as the Halestorm equipment was already built up behind them, they additionally had a huge church-like tent in the middle of the stage, large enough to not only contain additional sound and light techies but also for Maria and two accompanying show dancers to regularly change their outfits.
The rest of band remained in the same outfits throughout the show, which was no downside at all though, as their costumes and masquerade were befittingly unsettling. And even though, the other four members already delivered a fantastic musical performance during the songs with Maria ranging all the way through Industrial, Metalcore, Hardrock, Ballads, Groove Metal and even progressive elements, they even switched up another gear, when they played their instrumental bridges during costume changes.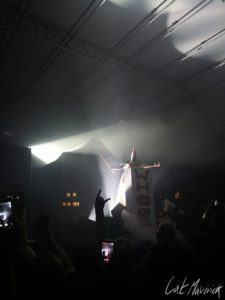 Without wanting to undermine the musical skill set of the other band members, the performance art was definitely highly centered around and incomplete without Maria Brink. With her, the band has not only a highly skilled and educated vocalist in both clean and strong harsh vocals, but also someone, who dedicates seemingly endless amounts of time to her art. She proves to be an excellent actress on stage. But moreover, when following her for example on social media, you will realize, that she really lives her roles. They become a part of her as her own development is a part of everything she depicts, definitely giving her the potential to become a larger-than-life artist like Rob Zombie, Marylin Manson or – as already mentioned – chameleon David Bowie.
One more thing showing how dedicated she is to her art and performance is probably her bodily fitness. Occasionally you can see some videos on her social media feed, proving her strength and stamina. But when it comes to the stage, this pays off all the way. We see her jumping and dancing, changing costumes in haste, talking to the crowd in between songs and, of course, screaming and singing with full power. She even wears a headset instead of using a microphone to have her full body available for motion during the performance, something only rarely seen amongst metal bands at all.
Sidekicks? "Sidecrew"? Crew Screwing Up? No. In!
As interesting as it was to watch the actual performance, the most uncommon thing probably was the large stage crew , rearranging something with the props after almost every song. Even though the church-tent on stage, the exceptional light show, the smoke, the costumes, the theatrics and the musical performance were captivating enough, seeing as much as five roadies with electrical screwdrivers running around in the shadows to change the stage appearance was probably the most exceptional thing here.
After an atmospheric intro, a curtain with a scary design fell, revealing Maria standing on a podium and preaching to the crowd in her Mother-Mary costume. A literally stunning experience, leaving me unable to sing or dance along for minutes. With my jaw dropped I watched the sheer multitude of possibilities utilized to fascinate. It made me stand first row shivering, drooling, marveling and watching.
Said podium was removed and rebuilt during the show several times, one last time for the climax of the show. On the podium as well as Maria's pointed hat, we could read the name of the last song, "Whore". While some might think, this song is just the sex-sells-factor here, it is actually the opposite. The song and its absolutely befitting performance are about rising above people's expectations. About not letting them push you down. Something, Maria does not fail to remind a few rude people in the crowd in a stern yet confident way.
I'm not a huge fan of using the time at a show for making videos, but for the time being, watch the few good ones out there. It is seems anyway impossible to adequately describe the performance they delivered. And, when the time comes and everything goes back to normal, live "in this moment" and see them live.
---
Thank you Friend X for your ideas and support with this review.