After having watched the band around Maria Brink as one of the more iconic singers than the average metal frontmen and –women last year, I was really curious about In This Moment's album to be released in spring 2020. Because I already heard (and watched) the song Legacy live at their show in November (for more see the review of 2019s In This Moment show in Munich), my expectations became really big. And I can say, I was not disappointed.
"The Beginning – Interlude"
It is a nice tradition for many bands to add a little Intro at the beginning of the album and so do In This Moment as well.
One of the first intros I remember is the radio broadcast before of "Detroit Rock City" on Kiss' 1976 album "Destroyer" based on the real story of a band's fan driving into death on his way to one of their shows.
In addition, I know Arch Enemy for making big use of such openers, mostly in a quite orchestral, classical ways before an energetic song follows with a battle cry of their current singer and some screaming guitars.
The intro of Mother is different, and its title is simply "The Beginning – Interlude". As we are only used to with In This Moment, we are greeted with an ambient and atmospheric intro. What begins as the horns and drums of an approaching ancient army soon goes over into war siren noises, all the while accompanied by the whispers of Maria Brink. With a soundscape that would perfectly fit a horror movie, the dramatically uprising opener smoothly transitions into the first song.
"Fly Like An Eagle"
Maria starts in her semi-distorted and very iconic singing voice. With her being somewhere between lustfulness, being worn-out, trance and power, the difference to the original version of this cover song is remarkable. Hearing "Fly Like An Eagle" on the album, a Steve Miller Band cover, is a surprise to me. When they opened their last support shows with it, I thought of it as just a gimmick for the tour, but I was mistaken.
It sounds completely different from the original song. I am not even sure if it has exactly the same lyrics. It is turning a good and catchy song into something better and darker, more on the experimental side of In this Moment, though in no way a metal song. The interpretation is definitely original by itself and at the same time, the topic of liberation and compassion suits the overall themes of the band quite good.
"The Red Crusade" & "The In-Between"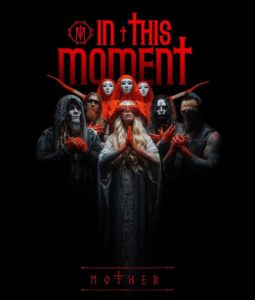 The quite short Interlude "The Red Crusade" let's the rhythmic, powerful atmosphere fade-out and "The In-Between", the first full In This Moment song on the album, start rather quietly again.
With some obvious thematic throwbacks to previous albums, especially "Blood" and "Beautiful Tragedy", we have a song, thematizing the torn-apart existence between highest expectations and being treated like shit, especially in a mentally abusive or at least challenging childhood home. Especially the refrain's aggression and liberating cry seem almost cathartic and empowering, as to rise above this and to not be torn apart by the extreme differences in other people's opinions. "The In-Between" of hell and heaven comes along very silent, very mystic, just to explode with some heavy tunes after about a minute. It would fit in the soundtrack of an apocalyptic film. The Walking Dead producers, look out for this song! I can perfectly imagine listening to this in a scenario of no hope, no glory, only survival to care about.
"Legacy"
With the noise of wind and crickets in a silent night building a carpet for Maria to walk on right into this song again, the song starts emotional, soft and makes the listener even shiver when listening closely. There are desperation and sadness at the beginning of the song, which soon develop into understanding and even hope about loss and reunition in the afterlife. In that regard, it is even similar in topic to the also similarly named song "The Legacy of Odio" from one of the older In This Moment albums "Beautiful Tragedy".
Legacy was the one song I was already aware of from the show last year. Its legacy is to become a legend. People still will listen to it in 25 years – or create a cover version. It is a song close to perfection to describe In This Moment. Listen to the song having this message in the back of your head and you will know what I mean.
"We Will Rock You"
"We Will Rock You", a Queen cover, who in the whole world doesn't know this song, which is everything, Heavy Metal, is all about, right? It is performed together with Lzzy Hale (Halestorm) and Taylor Momsen (The Pretty Reckless). With Maria Brink they form a perfect infernal trio. Sadly, the song can't catch the iconic and simple vibe of the original, maybe In This Moment simply wanted too much here. Still, it is an interesting interpretation of Queen's hymn, which simply can't be done any better than the original song.
"Mother"
With "Mother" we reach a central overall topic in In This Moment lyrics in this albums' title track. Not only do we re-encounter the religious role of Mother Mary, but also the role of Maria's mother during her personal development.
As a little side note, German Industrial heroes Rammstein also named an album "Mutter" (mother) after a very same-titled song. They have the slow and silent start in common and both songs build up the tension. I wouldn't say it is a copy but some kind of distant relative, like a third-grade cousin. "Mother" by In This Moment is the less mean song though, very opposite to Rammstein's "Mutter". It is a good tradition to name an album after a song. Just remember the iconic songs and albums "Love Gun"/Kiss or "Highway to Hell"/AC-DC just to name two of the enormous samples.
"As Above, So Below"
With this song, we finally encounter some of Maria's distorted, iconic screams again, when she slips into the role of an almost devilish dealer of fate and judgment. Here we also have a rather hard sound scheme compared to the other songs up until now. Something, that unfortunately was to be missed during the first half of the album. This mixture of bittersweet vocals, mean if not even gloomy guitars and some technical gimmicks they fiddle around with, makes it one of the catchier but also more typical In This Moment songs.
"Born in Flames"
This song reaches out a guiding hand to those, raised in turmoil and conflict, persecuted by their inner demons and haunted by the flames. With catchy keyboards in the beginning and Maria's slightly distorted vocals falling in, we again have a very dark, very atmospheric sound. With this return to a rather simple, soft instrumental atmosphere, allowing mostly the hope inducing vocals to be present. Thus it is contrary to "The In-Between" more of a song to dream away with and escape from a boring reality, than waking up in the middle of a nightmare.
"God Is She"
Again we arrive at the topic of female strength here. While throughout In This Moment's lyrics, the male or father role often times becomes demonized, the female is usually glorified. Without going too much into the interpretation, this song definitely handles a lot of superlatives and extremes again, as it describes the matter of cleansing and breaking free of the chains of the past. And with burning all the pain and hate away, the lyrical identity transcends into divinity. Musically, the song nearly qualifies for mainstream radio stations, mainly being saved from that fate by the heavily loaded guitars.
"Holy Man"
Don't be misled by this song's religious title. The more distorted vocals, a simple but mean guitar riff and a catchy chorus certainly are not for the faint-hearted. Contrary to the previous song's topic, this one is asking in an ironic way, whether there are even any faithful, holy, righteous men. And still, the atmosphere of the song is not implying to give up, but rather to search for the good in people. As the catch at the end of each refrain implies, there is a holy man to be found, when searching deep enough inside.
"Hunting Grounds"
Who of the girls out there wouldn't want to go hunting with Joe Cotela from Ded? At least Maria did it to the ground in this song. Build up as play of catch, a cat-and-mouse game, a dialog rather than a simple question and answer text.
While I can't exactly get a hold of it, his voice seems quite familiar from previous In This Moment albums, probably not having been credited there prominently though. This song about lust and passion is a very refreshing alternation to the otherwise rather consistent style of the album. With harsh screams, a powerful voice of both singers and a very present, aggressive, rhythmic soundscape, we have a fantastic song – maybe even the most precious gem of the album – at hand here.
"Lay Me Down"
"Lay Me Down" is a song about strength, even invincibility. With very deep, whispering background vocals this song starts quite atmospheric. Multiple different vocals are layered upon each other here, showing the overpowering energy, with which the singer is not letting herself thrown over or laid down in a grave. Also, the instrumental composition becomes far more rough and rhythmic here again, almost resembling the sound of albums like "Black Widow".
"Into Dust"
With a few lines added by the band itself, mainly about the life beginning in trouble and being about us setting ourselves free, the song slowly transitions into a soft cover of Mazzy Star's "Into Dust" from 1993. Accompanied by a piano at first, but slowly going over into strings and even something like a bass trumpet, the breathful, soft and echoing voice of Maria is carried safely through this song. As the listener can almost feel, this is challenging to perform, especially in an emotional way. Contrary to the other two cover versions on this album it is not too far away from the original version. Nevertheless, a good and well-produced song, which builds up slowly and finishes the album in a very moderate way.
Diverse Evolution
Mother continues the development of In This Moment towards softer yet more emotionally authentic songs. While this is unfortunate taking the skill level of the other musicians into account, it is a perfect way to go, for frontwoman Maria Brink. Her personal development and growth are reflected in the band's orientation and lets the changes between each album seem absolutely reasonable, organic and natural.
This should not scare off fans of the heavier stuff though. While the first half of the album is rather soft, it is also worth listening to the whole album before judging anything hastily here. With the song "As Above, So Below", the album basically takes a turn to the other side of In This Moment, which is rather ironic, considering the topic of the song. So take your time and listen to the whole album, as it is lyrically and emotionally very interesting and consistent, all the while offering two completely different facets of the band and a logical continuation of the previous albums. The band certainly has found its sound while still evolving adequately and sticking to their own style, no matter what any critics or ever new, short-lived trends say.
With the album being less pop-orientated than 2017's "Ritual" and occasionally going back to the traditions and roots in the sense of "Black Widow" from 2014, let us hope for a tour later this year or in 2021 so they can present the album live and in full length.
---
Review by Friend X and Cat Maverick