French Visitors to Mainz
In 1804, Emperor Napoleon payed his inaugural visit to Mainz, declaring it one of the 50 most beautiful towns of France. Only 218 years later Mainz welcomes only marginally less vibrant but certainly much more lovely visitors from France again. This time no emperor but the impressive French metal sensation Dust In Mind on their inaugural stage visit to Mainz on 18th March 2022. They come from Strasbourg to shred in peace but to bring "CTRL", already released in autumn 2021, on a glamorous stage. The five Alsatians add a fine selection of pieces from previous albums to their set – a neat package for their first European headlining tour.
Dust In Mind currently are:
Jennifer "Jen" Gervais – vocals
Damien Dausch – vocals, guitar
Thomas Marasi – drums
Xavier Guiot – bass
Jack Ruetsch – guitar
Culture All Around the Corner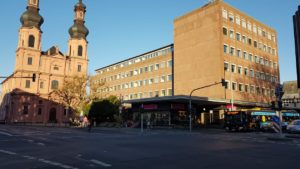 The location of the gig is the cozy Kulturclub schon schön, just a few minutes walking distance away from the shores of the river Rhine or the Domplatz, the gate to the old town. The club is surrounded by three historical museums so if you fancy some ancient mainstream culture before metal culture takes over your brain again, here you go. If not, its three parts contain a café with a lovely selection of cake and focaccia and a tapas bar for your hunger. If you fancy a church service instead, the former French garrison church is just the next building.
Making Friends
While waiting to enter I make friends with a nice guy from Madrid who wears a Sea Shepherd hoody, with the logo of Heaven Shall Burn on it. A lot of metal bands seems to support this unique charity. It turns out that all Dust-In-Mind gigs in Spain had been cancelled due to Covid19, so this gig and the Saturday show in Strasbourg were the only ones he could attend. Well, the metal world is small….
No Wave but Third Wave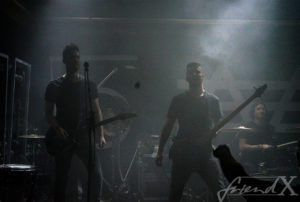 The support of the evening is Third Wave, a five piece "Modern Progcore" band from nearby Frankfurt. During their existence since 2015, they have already released two very promising albums. Third Wave are allowed to play for about 45 minutes, which gives them sufficient time to present a profile of both albums. Their energetic show does what a support band's show should do – bring the cooking pot of the audience near to boiling point. It is lovely to recognize the members of Dust In Mind watching their support band while they are preparing for their own show or talk to people at the merch stand.
Dust In Mind Blow Your Dust Away
After a break to change some settings of the stage and drums, bring more light, minor technical problems with the bass guitar solved with the help of Xavier's magic box, it is time for Dust In Mind to enter the stage. The atmospheric intro glides into their first song. It is the opener of the new album "CTRL" ,"Lost Control". The song already plays out one of the many strengths of Dust In Mind: two great vocalists. Beside Jen as main vocalist, Damien falls in. It makes them sound a bit like Lacuna Coil with Cristina Scabbia and Andrea Ferro as vocalists, but only a little bit because Dust In Mind definitely have their own unique sound and style. By the way, did you know that we must blame Cristina for Jen deciding to become a metal singer? Seriously, she was her role model since Jen first saw them at the innocent age of 15 years as you can read in the forthcoming interview with her.
Taken to an Other Dimension
Dust In Mind don't lose "CTRL" and continue with the second song of the album "Take Me Away". Where do they take us? If you ask me, they take us on a journey into metal heaven, well heaven shall burn…. Indeed, it already is "Another dimension" where we find ourselves minutes later, a song off From Ashes To Flames, Dust In Mind's previous album. So far so good, the first three songs already show the direction we will go this evening and it is not the worst direction.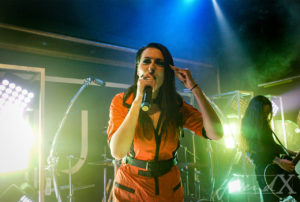 Drums, Who Needs Drums – We Need!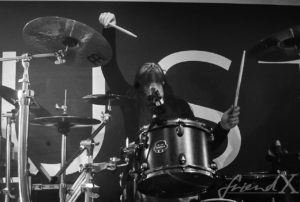 "Get out" off "Oblivion" is followed by "Break" which again is a song off "CTRL" and "Day 0" of From Ashes To Flames. Three songs from three different albums make a fantastic mix before Thomas, the guy in the background is given justice and performs a relatively short but nevertheless very energetic drum solo. There are a lot of lesser drummers who play longer solos for no real reason but to annoy the audience. This one, by contrast, deserved a few minutes more.
As the Phoenix
Guitars, bass and vocals hit back on stage and turn it "From Ashes To Flames" until there is "No Way Out". By the way, this duet features a short but furious guitar solo in between – just as a remark, I like it a lot! And because audience and Dust In Mind don't feel "Empty" at all, we climb the tower for a "Freefall", all three songs off "CTRL". This freefall is certainly more amusing than the one we know from several fun parks. Indeed one could classify it as a ballad. The set up reminds me a bit of "Love Of My Life" by Queen when Freddie Mercury and Brian May joined the stage alone performing this song together, and so do Jen and Damien until it becomes a bit rougher again. Great song, great performance, what more does a metal head need? Big question, simple answer – the metal family, bands, fans, supporters. Jen takes the chance to speak to the audience about the past two years: postponed album release, cancelled tours, lack of social interaction and all these nasty things which came with Covid19. Nevertheless, they did not give up, they tour now, present their new album "CTRL" against all odds, and are happy for all the support they get.
Not So Voiceless
Shouldn't we all "Speak For The Voiceless"? Well, if we don't, Dust In Mind does. Again it is one of the songs they perform as a duet. Did I already mention that it is one of Dust In Mind's strengths to have two powerful vocalists? Not on all songs but those are real gems, such as this one from "CTRL". So please "Open Your Eyes", NOT a cover of the same titled track of Guano Apes but an original song on From Ashes To Flames, to be ready for some "Synapses" of "CTRL". "Badam, badam, badam, …", it is one of the rare occasions with a few French lyrics in Dust In Mind's songs. It invites you to singalong and leads you to the next and final song. Do you have any idea which one it could be?
Is It Really the End?
Nomen est omen, "This Is The End" of From Ashes to Flames closes the set after about 75 minutes. But finishing the show doesn't mean leaving the stage with the last note and going backstage to have a rest, some booze, recover, or whatever else for Dust In Mind. For them it means that the second part starts: meeting with fans, friends and family at the merch stand. Talking to each other, signing CDs, vinyls, clothings, talking with everybody. Sharing a beer together, just hanging out with your friends. That's what it is, that's what makes a concert from Dust In Mind so special and different, it is a meeting with your friends. All of them are very nice and communicative, there is no border between the artists and the audience because it is all one family. I myself had the great pleasure to be invited for the already mentioned interview with Jen later on, but that is another story. Check our page frequently, it will be published soon and certainly is worth a read.
Spanish and German Friendship
After my interview with Jen, saying goodbye to all the band and the crew especially Lois- their tour manager, merch guy, driver, photographer, did I forget something? Upon leaving the venue I discovered that a few fans remained outside in the not too cold night. Guess who! Yes, my Spanish acquaintance who ran into a German chap from near the CZ border. As they both travelled to see DIM tonight and at Strasbourg, they teamed up and do some sightseeing, too. Sadly, I could not join them as I have to write for you about this glorious metal night.
The Parking Lot and the Gate
Slowly one or the other of the band joins in whilst the others are packing their stuff and a lovely conversation starts about this, that, idols, guitars and many other things you usually talk about in the middle of the night. Once completed for a final goodbye, we discover the gate of the parking lot is closed so Lois can't get the band's van out. "No problem if we decided to stay here over night but Strasbourg is so close and we decided to sleep at home" mentions someone whilst others search for the keeper of the seven keys. At least we find someone with keys. Of course these are the wrong ones, must have been the eighth, missing key…. Suddenly we realize that there is a gap to the next parking lot in which the gate is open. A bit narrow and requiring a lot of navigation and steering from Lois, but YEEEAAAH! Finally he makes it, Dust In Mind join the van and drive home. So do we the remaining ones, and we certainly have no dust in our minds for it was blown away during this great evening.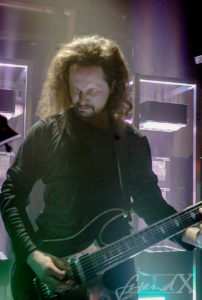 What remains?
Great band, new friends, cozy venue, nice audience, a lot of fun, a funny story. But also cancelled shows. If you look at the tour poster closely and as already mentioned, some gigs had been cancelled or postponed. Postponed means unsure when they will happen, these are big holes in a tour schedule. Dust In Mind are brave enough to master it, other bands might have cancelled the whole tour again and again and again but what substitutes playing live in front of an audience? Playing live in front of an audience, nothing else matters. Dust In Mind are happy to extend the tour if they find venues where they can play, no matter if there are five, 50 or 500 people in the audience. So if you know a venue worth hosting them, please don't be too shy. Send a message to Dust In Mind about it and maybe you can hope to enjoy them there one day. You never know, as long as you hope…..
Set list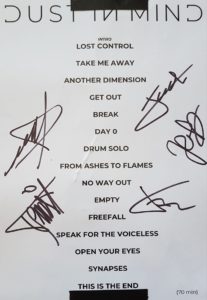 ---
!
Online:
Dust In Mind: https://www.dustinmind.com/
Third Wave: https://www.backstagepro.de/thirdwaveofficial
Kulturcub schon schön: https://www.schon-schoen.de/
Interview with Jen of Dust in Mind: Dust In Mind – The Interview
Please buy physical music or download it from the bands official sources and don't stream it for free because it steals your artists' income
---
All  photos taken by Friend X aka Mr. Deep at the show in Mainz/Germany March 18th, 2022 and edited by Mummi-Katja