Meeting Zornheym after their MOA festival gig was impressive. They grand us a full tour through the Zornheim mental asylum, the universe the band calls its home. Let's dive back into the memories of their amazing gig and a world of mental conditions ruling music.
Inside Insane Insolation
At the MOA stage, the band had a grip on me from chord one to the last fading echo. Well, actually it began even earlier, with drummer Steve entering stage to produce himself in an appalling pose on his drum stool. Finally a drummer not hiding behind his kit!
When the instrumentalists had kicked off, "Z-SES-09", a figure in a white hooded costume with massive chains appears to roar the soul out of his body. For "Whom The Night Brings…" Bendler, returns without the hood and cloak. He has an incredible range of clean and harsh vocals. I cannot make up my mind whether I'd rather have him read out complete "The Wheel Of Times" novel cycle or sing the entire "Manas" (Kyrgyz national epos) in its half a million verses. This voice is highly addictive.
Setlist
Corpus vile
Whom the Night brings…
Slumber comes in time
Black Nine
Keep the Devil Away
The Revelation
The Opposed

Insanity Inside
Zornheym is more than a band. It is a mental asylum hosted on stages as much as our minds. The theatrical show proves the living insanity and each of us in front of the stage must have been totally nuts anyway, standing in the burning sun on such a hot afternoon. Once you are a Zornheym inmate (or fan) there is surely no way out.
Shake hands with someone who has travelled a long way just to see you is very rewarding!
Obviously there was a lot to speak of, way more than could be done after show. Zorn and Bendler stayed at the merch for a very long time. The merch stalls were placed in a tent which might have protected from the most massive heat in the afternoon but once heated up kept the temperature until late. Bearing this, it takes quite a passion. "You guys spent plenty of time in the merch tent, took all the time for the kids, too. Do you enjoy the 1:1 contact? "
Zorn: "Yes, we really enjoy hanging out with the fans, the inmates as we call them, after our shows! I think that's an important part of this. Getting a chance to shake hands with someone who has travelled a long way just to see you is very rewarding! We want to be accessible for the people who support us, without them we are only four guys who like to play metal. So if you ever want to meet us after a show, head to the merch stand and we will be more than happy to shake some hands, take a photo, and share a laugh!"
Tons of super friendly and enthusiastic people. M.O.A was a great festival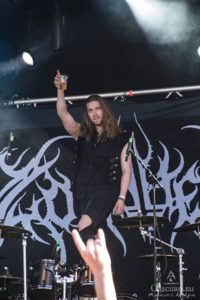 The heat definitely was a challenge. Perhaps due to the heat and sun during your gig there weren't too many in the crowd. But maybe the merch time fixed the balance a bit? 
Zorn: "We played while the sun was at its peak and hottest, so we could see tons of people hiding under in the shade of the beer tent and at various other places while playing on stage. But we could see their eyes were on us and judging by how many people approached the merch stand, a lot of people were paying attention! Tons of super friendly and enthusiastic people. M.O.A was a great festival and I hope that we can play there again. Especially if we can play at a later time slot. Our stage performance is so much more appropriate when it's played during the darker hours. Overall we are very happy with the feedback that we have gotten from the crowd, the organizers and press!"  
No surprise to me as their show was most impressive. Yet, the unavoidable topic lingers in the air already because how to rehearse when you can't meet and the world has changed significantly? The situation hit us all, no matter where we live and how our own government reacted to the situation.
It was a troubled period for the world
How did you make it through past years? Although Sweden's Covid strategy was less strict than others there still were only very, very few (if at all) opportunities to play international gigs. So did you get through the past years? And how did you experience the time in Sweden?
Zorn: "We were lucky because we had already started recording "The Zornheim Sleep Experiment" before covid hit. So it gave us some extra time to finalize it and work on some details. The good thing when recording is that you are already in separate rooms so keeping a distance wasn't really a problem. We had one tour canceled and the gig at M:O:A was on that tour, but now we had the chance to do it. So it's great to finally tick that off the list as successfully completed now. Personally I wasn't hit that hard by covid. I work as a teacher and at school it was business as usual. So it felt kind of weird following the restrictions while traveling to work and from work and while shopping and stuff and then when you entered the school it was Wild West! The private life was the only thing that really affected me, but I spent most of the time with my family and finalizing the arrangements for "The Zornheim Sleep Experiment". It was a troubled period for the world, but not that hard on me personally."
This is good news and gives a welcome opportunity to refer to this phenomenal album. The four musicians, Zorn, Scucca, Bendler and Steve put hell of a lot of effort in the album. In addition to their regular instruments and vocal parts, they added tracks played an actual string quartet and an actual small choir in both of which band members participated. The elaborated cover and booklet are outstanding and provide an insight into the asylum and its patients. The visual art alone is worth buying the vinyl!
Growing Appreciativeness
Back to the festival season. After a 3-festival-gigs-in-3-places weekend: how did you experience the festivals and crowds? Any different than 3 years back or different than with your previous bands many years back?
Zorn: "I think the crowd was really hungry for this. We played several shows this year and every time, there is someone telling us "This was my first gig in two years since covid hit!" So people are even more appreciative now and it seems like they are more eager to pick up merchandise and show support that way. I am very happy to see that the appreciation for music has gone up!"
This is an interesting point, he raises in his conclusion and needs to be followed: Do you think the 'vale of sorrow' the industries hit even before the pandemic (only digital sales if at, declining numbers at shows and so on) is over?
Zorn: "I think there is a will among people to start slow consumption again. I also think that you have to pack your physical product delicately, so it stands out and offers an extra experience. We spend a lot of money on making our booklet special. Going through the booklet should be like stepping into the halls of the asylum. We also appreciate that old school way of writing out credits. You can see who came up with what, who did what and who's playing the solo, who mastered it etc. Our first album, "Where Hatred Dwells and Darkness Reigns" sold out before the release day because of all the pre-orders. The new album, "The Zornheim Sleep Experiment" has already outdone the first album in sales. Vinyl has really made a big comeback. I am a record collector myself and I have started collecting vinyls again. I really hope for the business that the physical format is coming back. I love it, hope others do that too!"
I share his hopes and suppose that on the psychological side physical rather than virtual goods are associated with stability and a lasting value which in challenging times is increasingly attractive. But let's speak more of the recent album, in particular its title that really starts my kopfkino.
The whole album is inspired by the urban legend about a Russian sleep experiment
The idea of the sleep experiment, is it related to any research or related to insomnia as a tool of torture?
Zorn: "We are a concept band and all our albums revolve around the asylum, Zornheim. The first album, "Where Hatred Dwells and Darkness Reigns" is like a pilot episode of a TV-series introducing a bunch of different inmates and telling the listener a little bit about their background. The CD-booklet also contains their Doctor's note so you can really dive into the whole lore of the band. We also released a graphic novel that ventured even further into the story. It is sold out now, but we might consider making a new print of it. Things have gotten so expensive lately. "The Zornheim Sleep Experiment" is about a sleep experiment that's being conducted at Zornheim. The head professor of the asylum gets interested in why we have to sleep. We spend ⅓ of our life sleeping. He is asking himself why. Is it because the body needs to repair itself or is there something more profound behind it. The whole album booklet starts with the professor's statement of intent and then you get to follow the whole process hour by hour in the booklet. The whole album is inspired by the urban legend about a Russian sleep experiment. We get a lot of inspiration from stuff like that, folk lore, urban legends, movies, video games etc. We have created our own universe and it's where all our albums will take place. The asylum is run by Professor Bettelheim."
If we focused on the whole insane aspect, I don't think the music would be as enjoyable as it is now
To me it seems quite difficult to make a concept work on all levels of a band. Although perhaps the band dynamics should explicitly not work like a mental asylum, an holistic approach adds to the authenticity. While I have an idea how to make lyrics and visuals fit a concept; I struggle with the instrumental parts. How do you fit them in? To me, Zornheym's instrumentals do not sound mad or insane to me. Rather the opposite in my imagination. Melodic, heavy and partially fast yes. 
Zorn: "People that suffer from different mental illnesses can often have a pretty grandiose self-image and that's our focus. Our music is majestic, epic and big like their self-image. We also incorporate a lot of cinematic feeling and classical music in our music. Our music is melodic, yes, but it also has a lot of power and horror woven into it. Personally I think our music reflects the lyrics really well, that it feels like a soundtrack. We have just packed it in a circle way of thinking with verses, pre-chorus, chorus, repeat bridge and solo and chorus. We do this to make the music easier to get into. If we focused on the whole insane aspect, I don't think the music would be as enjoyable as it is now. Rather kind of unlistenable."
I think we are even more guitar and vocal-oriented
Absolutely. But how would you deliver all this on stage with only four musicians? Consequently at this point I need to ask about your priorities regarding the live arrangements vs those in the recordings.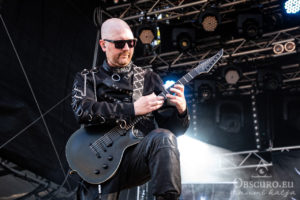 Zorn: "We use most of the orchestral backgrounds for live and the bass in on the backing tracks as well. When it comes to solos I play my solos and then when it comes to the twin guitar solos me and Scucca play them together without a rhythm guitar Maiden-style. I think we are even more guitar and vocal-oriented. People seem to really like that, so maybe we should mix the next album more in that style." 
At this point I feel the need jump back to the MOA festival for half a minute. Orchestrations and bass backing tracks really were no more than backing tracks on their gig. The power of the show came from Bendler's theatrical performance and the live played instruments. Funny enough, the despite the obvious insanity topic, the good chemistry among the musicians was still perceivable. Even more interestingly, two bands on MOA performed without a bass player, and both right after another.
Epic plans
So although you do play bass yourself there is none on stage. How come? 
Zorn: "Because I am mainly a guitar player. I do play bass on the albums. The bass doesn't really have a big space in our music, so we rather have two guitars than one guitar and one bass on stage. Right now we need to grow and become bigger before we can get session players to join us on tour. In the future we hope to have a session bass player, maybe a keyboard player that does some parts and a string quartet on stage and some backing singers." Just imagine this impressive band, well actually more of an orchestra on stage!
Some of us will have heard of Zornheim years before the band was formed. Zorhnheim aka Tomas was bass player of the legendary Dark Funeral from 2011 to 2014. Establishing the new band Zornheym, Tomas changed his alias to Zorn. Though "Zorn" (anger or wrath) sounds pretty familiar for German-speaking readers, the name could just as good refer to an 19th-century Swedish painter and sculptor as well as a German Mathematician who came up with Zorn's Lemma or the Axiom Of Choice.
Frankly I couldn't think about anything more sinister than humans
'Zorn' as wrath and Zornheim as home or asylum of wrath in this regard – both pinpoint to the dark sides of life. I cannot help an image popping up in my mind: Albert Einstein and Isaac Newton having tea in Friedrich Dürrenmatt's "Die Physiker". – Why not add Vincent Van Gogh to this group of inmates? The question remains however how Zorn's concept came to be?
Zorn: "The idea of making a concept album about an asylum came to me in my mid-20's. That concept didn't really fit in the band that I was playing in so I shelved the idea. When I formed my own band again in 2014 I felt that it was time to really do all the stuff that I had been dreaming about and using that concept idea was one of them. I wanted to write about darkness and something evil and frankly I couldn't think about anything more sinister than humans. I'm also into myths, urban legends and folktales, which I like to incorporate in the concept.
I have always been a King Diamond fan as well, especially how he has been building up stories and letting them play a big role in the artwork and everything. I wanted another twist on it though, I wanted to stay in the same universe on all albums. So all our albums will revolve around Zornheim Asylum."
It felt like magic from the first beat!
Finally I'd really like to dig at least a tiny little bit into the band dynamics by going back to day one of Zornheym's band history. Can you describe the atmosphere when you all played together for the first time? How did the chemistry feel? 
Zorn: "We recorded the first album without rehearsing. We also used a session drummer – Angst. We got Steve Joakim into the band just before our debut show at Motocultor in 2017. We had never met him but he was recommended by his cousin, who also happened to be the concertmaster for the string orchestra that we used for the first album. He got into the rehearsal place and we started playing "The Opposed" and it felt like magic from the first beat! After the gig at Motocultor he got offered the permanent spot on the drum throne. Right from the start it felt like we were four."
What a peaceful image to end this interview. Thank you Tomas aka Zorn for your time and thank you Zornheym for the music, the show and warm memories of meeting you!
---
!
Visit Zornheym's homepage or buy their music and merch in their official webshop.
All photos taken during their MISE Open Air Festival gig 2022.