Silver Bullet

Seven Spires
Twilight Force
May the force be with you. That's what we have known since 1977 when Star Wars gave us A New Hope. Well, tonight is neither May the 4th, nor are we on Alderaan. Instead we are at Mannheim, MS Connexion Complex and the force we meet is the Twilight Force. During their Winter Wonder Tour they are supported by special guests Silver Bullet and Seven Spires.
Connexted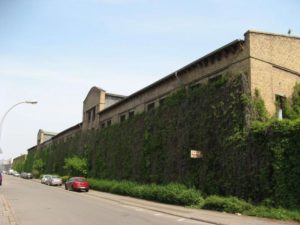 Sufficient parking spaces are available in the courtyard. The MS Connexion Complex is divided into five rooms with different capacities. Tonight's concert will take place in the largest, the Kolbenhalle. It can hold up to 1200 people and is well filled but not overly crowded. A good selection of food and drinks is available at the bar and grill at reasonable prices. You don't pay cash there but buy vouchers with different values at the entrance. It makes life so much easier for the crew who does neither have to deal with coins nor 'cards'.
Silver Bullet
As most of you might have guessed, opening act tonight are Silver Bullet. They are Bruno Proveschi – vocals, Hannes Horma – guitars, Henri Asikainen – guitars, Ossi Elonen – bass, Patrik Albrecht – drums from Finland, and no, they are no Death Metal band. Quite surprisingly neither that nor any Extreme Metal sub-genre but a Symphonic Metal band. It makes them different from a lot of Finnish metal acts and more related to German Power Metal bands in many cases.
Mercury
Silver Bullet wear a kind of civilian uniform, reddish brown jackets with a lighter version for the drummer for obvious reasons. Four of the members are typically long-haired and bearded metal musicians if you want to follow more stupid stereotypes but the vocalist is short haired and would go for a better Freddie Mercury double than Rami Melek in Bohemian Rhapsody if he shaved his three-day designer stubble.
Quick silver
Silver Bullet play a fine 35-minutes set presenting their recent release "Shadowfall" beside some older stuff, six songs altogether if I counted correctly. It is barely enough to work up one's appetite for more, more tonight by the next bands and more of Silver Bullet on future tours and festivals but it doesn't still your hunger.
Setlist:
Shadow of a Curse – She Holds the Greatest Promise – The Ones to Fall –
The Thirteen Nails – The Witches Hammer- Forever Lost
Strolling around
During the following break people take the chance to pay a visit to the smoker's area outside, bars or the grill to still the physical thirst and hunger at least. I myself walk around, have a look at the merch and stumble into a couple I met last time at Heilung in Frankfurt together with other friends. It is always nice to meet people you know from concerts and exchange some words. You know, the world is small and we are all a big metal family.
Seven Spires
Who comes next is a band I have desired to enjoy live since their Cabaret Of Dreams release and are none less than Seven Spires from Boston/United States. Their sound is maybe best described as the dark corner of melodic metal. The individual skill of each musician is indescribable. That's what happens when well-trained, graduated musicians form an outstanding band.
Europe, here we come
Nevertheless, the singer manages to stand out again. From screaming, to growling, clean vocals, high notes, and low notes – all within seconds are no problem at all for her.  Some may know her from her work with Avastasia or Masters of Ceremony. Now she is touring Europe with her own Band Seven Spires. Her name of course is Adrienne Cowan. Jack Kosto – guitars, Peter de Reyna – bass and Chris Dovas – drums complete the band. Later the evening we will learn that it is a very special day today…
Perfect Musicians
One after another they enter the stage, drummer, bass player, guitarist and finally after the short intro the vocalist. What a blast they are! Seven Spires rule the stage from the beginning. It is a pure pleasure to experience them performing! It is a pure disaster how badly their sound is mixed. Adrienne might even have sung without a microphone. Many bands would have given up and listlessly reeled off their songs. Not Seven Spires, instead it seems to motivate them to play more accurately to even it out.
Outstanding
Their joy of playing is fantastic. The expressions on their faces speak volumes. On a positive side, with the lack of good sound everybody realises they are really playing live to perfection, no over dubbing or effects from the sound board. This is true for each one of them but especially the skills of Adrienne. Her voice can't be from this earth. She is angel and demon, goddess and Satan at once. She leaves me speechless with open mouth.
Surprise, surprise!
Suddenly there is an interruption. Twilight Force storm the stage. They hold balloons in their hands and throw glitter flitter all around it. Someone brings a cake. We are asked to sing a song for someone on stage instead of the other way round as usual. It's someone's birthday today and he or she is celebrating it with all of us. A thousand-voiced chorus sings Happy Birthday Dear Adrienne. Yes, it is her 28th birthday. There certainly are worse ways of having a birthday party than being on your own metal show.
Mission accomplished
Nevertheless, the show must go on and a few more songs follow until the background singer of Twilight Force joins Seven Spires again to sing the final tunes together. 45 most enjoyable minutes are over not without the usual pic of band and audience. Seven Spires were perfect entertainment and pure fun on stage regardless the poor sound but that is far from being their fault, instead they proved to be real and authentic artists who could cope with it due to their skills and technical abilities. Seven Spires will release their Live album "Live At Progpower USA XXI" on March 17th so if you want to get a picture of them, give it a listen.
Setlist:
Wanderer's Prayer – Gods of Debauchery – Oceans of Time – The Cabaret of Dreams –
Succumb – Unmapped Darkness – In Sickness, in Health – Dare to Live – This God Is Dead
Time for another walk around. A short talk with my mates I have already met before and we agree on Seven Spires being a fantastic live band even though you know what. Sooner than we thought Twilight Force join the stage. That's the advantage of an already build up stage set and one shared drum kit for all bands.
Twilight Force
Twilight Force only released their brand new album "At the heart of Wintervale" on January 20th and of course they present it on this tour. The six Swedes are Alessandro Conti "Allyon" – vocals, Philip Lindh "Lynd" – lead guitar, Jocke Leandro Johansson "Aerendir" – rhythm guitar, Dunder Björn Lundqvist "Born" – bass, Daniel Beckman "Blackwald" – keyboards and  Isak Olsson "De'Azsh" – drums. They are accompanied by guest musician Christine as background and female vocalist. Her outfit reminds me of Maleficent or Lindsay Schoolcraft during her Cradle Of Filth days.
Elfs and Knights
The regular members wear medieval inspired fantasy or LARP (live-action role play) costumes, from elf to knight or simple peasant. Now it makes sense to me why a part of the audience is similarly dressed up in costumes – they did not come over from a carnival ball.
No speed limit allowed
The music is pure Power Metal from its finest. There is no speed limit and no rest for the wicked. The drummer knows only two types of speed, fast and very fast, the rest of the band has to catch up. The whole show is a high-speed trip in a Porsche on a race track, pure adrenaline. Let's call the slower songs – yes there are a few – the box stops for the refuelling.
Dragon and accolade
In between we see a rubber dragon flying around, it keeps the audience busy for one or two songs until it returns to the cave behind the stage. There is a chosen one from the audience, she is knighted live on stage by Allyon and receives her certificate under her tears of happiness. The jokes made by Blackwald are priceless. He looks and acts like a crazy wizard behind his keyboards.
No barrier
Among this audience we also find the members of Seven Spires, as fans and spectators they head bang and dance with the whole crowd. There is no barrier and no difference between fans and artists, they just enjoy the fulminant show of Twilight Force together as one. That's what makes metal musicians and their supporters so different from others.
Perfect Entertainment
Sadly, after more than 90 exhausting, mind blowing minutes it is time for the introduction of the band and the final song in its extended version tonight. It raises the mood of the crowd one more time. Passionate entertainment, funny show and excellent musicians, what do you need more?

Setlist:
Dawn of the Dragonstar – Twilight Force – Dragonborn – Thundersword –
Flight of the Sapphire Dragon – Long Live the King – Winds of Wisdom – Twilight Horizon –
At the Heart of Wintervale – Blade of Immortal Steel – The Power of the Ancient Force
A good me(n)tal evening
A good evening for metal with three excellent bands is done, time for the merch stall and the way back home. I experienced two of them for the first time but certainly none of the three for the last time. I can only recommend you to get a ticket for the remaining shows or to look out for their next tours if you like real musicians with real skills as real live musicians. Forget those who rely on lip-sync overdubbing and sound board pre-recordings. Go for the real deal instead!
---
!
Please buy merch and physical music or downloads  from the bands official sources and don't stream music for free because it steals your artists' income.
Visit the bands online to find their merch & music to support them, check out upcoming shows of the venue:
---
Proof reading by DermimBoad
All pics by Friend.X aka Mr. Deep