Rockharz Festival 2020-2022
There are a lot of festivals in summer. Some are rainy, some are sunny. Some are hot and dry, some are cold and wet. Some are located somewhere in a kind of desert-like steppe, in a park, on a racetrack, a muddy meadow and so on. Some are located in the middle of nowhere, some in a big city, nearby small towns, little villages, next to airfields and so on. All of these have in common that they had been cancelled in 2020 and 2021.
The Return of the Festivals…
This year they will all come back, better, louder and more than ever. However, there is only one festival embedded in such a wonderful, picturesque landscape as the Rockharz Festival in early July. In 2022 it finally returns from 6th to 9th July, one day longer than usual as a bit of a compensation. But is this the only reason why thousands of metal heads make a pilgrimage into the German Hinterland?
… And Rockharz
Some festivals focus on mainstream rock or metal music, some on the death progressive or underground metal scene and some just want to be pure fun. Okay, we're metal heads, so forget about fun. We have to protect our evil reputation, don't we? Nevertheless, there is only one festival with such a high quality and well-chosen mixture of bands and genres as the Rockharz Festival.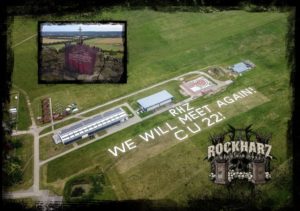 Arrival and Campsite
The festival is located nearby the town of Ballenstedt in the Harz region of Sachsen-Anhalt/Germany. Where? Yes, that is remote – at least by German standards! And to be more accurate, between the airfield of Asmusstedt and the "Teufelsmauer" (which translates as the 'Devil's Wall'), a majestic and characteristic rock formation. If nothing else, the Teufelsmauer is unique and makes a feature of Rockharz!
About Witches
When you are on your journey to the venue, you might pass such well known mysterious places as the "Brocken", the highest mountain of the Harz. Or the "Hexentanzplatz", go there on Beltane and find thousands of folks honoring the season of the witch summit. The Kyffhäuser Monument is nearby, the said tomb of medieval German Emperor Friedrich Barbarossa – a story comparable with the legend of King Arthur in Dark Ages' England.
Traffic….
As long as you don't fly in with your private Learjet or helicopter you depend on minor countryside roads, and that means trying your patience. And if you went to the festival in 2019 you might remember the particularly big traffic jam – no matter from which direction you approached the event site – caused by some road constructions at the worst time possible for us dedicated metal heads. Not to mention that there is (of course) no gas station, grocery shop or beer delivery service around due to how remote the location is. Once you pass Ballenstedt and its supermarkets, you're simply stuck in the dry heat of the Hinterland.
And More Traffic
Nevertheless, and though a lot of time passed by, the traffic jam was peaceful. It was even helpful for making new friends, discussing the bands or sharing beverages (c'mon, that's true comradeship). Of course, the traffic jam knows no gods, no masters. It has no privileges for anyone so even some of the organizers got stuck in the traffic jam. They understood and worked hard to help resolve the situation (no, they did not sell beer & pizza lacking an oven and a fridge!) – or at least, as much as was in their power, even though the mess was like the Gordian Knot.
Or Less Traffic
Where is Alexander the Great when you need him most? Exactly, last in the row of the traffic jam so to speak! Because two wasted years passed by, we can be quite sure the roads will not be under construction anymore, so let us all hope for a safe and fast trip.
On the Holy Grounds
Anyway, once beyond the access control, everything becomes easy. Either you have a reserved campground (it usually sells out fast, booked out this year in between less than three hours), or you find it yourself (or else you'll perhaps end up a days-journey off of the infield once you're lost in the campsite and don't find your tent anymore). The stewards are not interfering too much though, besides taking care that no space is wasted and helping to direct people as needed.
Neighbours, Toilets and Latecomers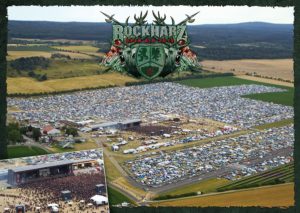 Setting up your tents or parking your camper is easy and always a perfect opportunity to meet your neighbours. The ground is good, neither too soft nor dried out – an advantage of the landscape. Make sure the next toilet (!) is neither too far away nor too close! You can be sure it is always kept clean by a 24/7 service. Keeping a little space for your latecomers (remember the traffic jam in 2019) is tricky but not impossible. Of course, being nice, friendly and understanding with the stewards is helpful.
Food and Beverages
Before speaking of the actual festival part, meaning the music, and due to the challenges of the journey, we need to focus on the most important topic first: food and drinks! The front part of the infield is already open on Tuesday afternoon (coming very early might spare you the traffic dilemma and, you won't have to starve). At least pay a short visit to the inglorious Mutantenstadl, which offers almost everything plus a lot of good fun.
Mutantenstadl
Besides, the name Mutantenstadl is a German pun of words combining the word Mutant ("mutant") and "Musikantenstadl" (an event with lots of German folk music). Rest assured though, there will be no German folk music here, or at least not on the stages. If there is no accordion or tuba music and no strange songs being sung, why else would I want to go there you might ask? Well, this place is something very unique about the Rockharz Festival. It's kind of similar to a German beer garden. However, the organizer puts a lot of dedication into the design and build of it every year. There is usually a large house with a balcony on the first floor, a lot of seating space with parasols protecting from the sun as well as from occasional rain, and some artfully decorated figurines. The local brewery offers some special beers which you usually can't find in mainstream shops.
The Beer garden
In 2019 there were for example, a fountain and a bench, both designed to match the mutant topic and giving this specialty of the Rockharz its unique charm. The beverages are of course dominated by only one brewery, but that's a general festival issue, isn't it? And it still offers a variety of beers – besides the usual range of soft drinks. Additionally, there is one wine stall and some cocktail stalls. The quality selection makes it hard to die of thirst.
Food
There are some other stalls with food and beverages too of course. In general, the range of quality food, besides the usual fast food is good, no matter if it is vegan, veggie, fish or meat. Hot food, cold food but no bad food. You can also find a range of desserts and sweets. Mobile sellers offer a range of cigarettes and a few other things but no Magnum ice cream. You can find something for everyone for a fair, not overly expensive price.
Music
Now that our stamina for extensive banging and moshing is guaranteed, we can shift to the program. Being early rewards you once again. Fortunately, meanwhile the daily division of the bands for 2022 is published. Nevertheless, let's explore last year's lineup a little to get a bit of an understanding of the typical Rockharz feeling.
2019 Briefly Reviewed
The bands started playing from Wednesday evening. In 2019, we even saw some big fish like Combichrist, J.B.O. and U.D.O. as the "opening acts". The program is a bit of everything. Thursday came with rather unknown but all the more precious jewels as Blood Red Hourglass; with the Brazilian Thrash metal queens Nervosa, or institutions such as Cradle of Filth, Vancanto, Amon Amarth and Lordi. Friday welcomed Dimmu Borgir, Dragonforce, Soilwork, Saltatio Mortis and many more. The final Saturday brought Mono Inc., Burning Witches, Epica, Children of Bodom together with another 13 well-mixed bands.
Quality over Quantity
Just from this selection of names, one understands quality over quantity. The mix of genres is not polarizing but brings fans of different genres together. The pretty cool thing is, it is generally easy to watch all or at least most of the bands. The stages are well-positioned and in short walking distance from one another, as the infield is very spacious.
Perfect View
The stage is actually a double stage so you can watch one band from the side while you are waiting for the next in front of their stage. There are no overlaps, so you won't miss a band if you don't want to! Keep in mind that sometimes, it is also interesting to watch the next band doing their sound check, if it's not done by their crew. No big screens are blocking the view from any position, and honestly you don't need them, as distances are short.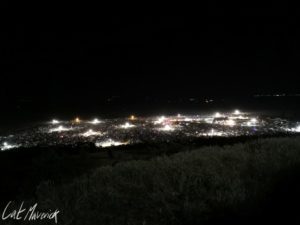 Signing Sessions
Left of the stages you can find the meeting point for signing sessions. Go there frequently and check to see whether your favourite band is listed. If you are lucky enough and the queue is long you still have quite a view of the stages, not perfect but okayish. If you are even luckier, the queue is short enough that you can still join the crowd in front of the stage.
Crowd Surfing
By the way, the Rockharz is one of the few festivals which still allows crowd surfing. Please don't overdo it to the excess though, because it spoils the fun for everybody else and might be forbidden at a certain point. And pleeeease be physically fit for it. Body tension is important. We don't need saggy bodies who hurt themselves and others. Safety first!
Line Up 2020

Under the bands that had been  confirmed for 2020 were The 69 Eyes, Accept, Asenblut, ASP, At The Gates, Attic, Beast In Black, Betontod, Burden Of Grief, Dark Funeral, Dark Tranquillity, Dawn Of Disease, Deserted Fear, Destruction, Ektomorf, Eluveitie, Ensiferum, Evil Invaders, Gernotshagen, Insomnium, Jinjer, Kambrium, Kataklysm, Knasterbart, Knorkator, Lord Of The Lost, Moonsorrow, Onkel Tom Angelripper, Paddy And The Rats, Powerwolf, Running Wild, Sepultura, Steel Panther, Storm Seeker, Subway To Sally, Suicidal Tendencies, Tankard, Tarja, Thomsen, Thundermother, Turisas, Twilight Force, Unleashed, Unleash The Archers, Unzucht.
Line-Up Stability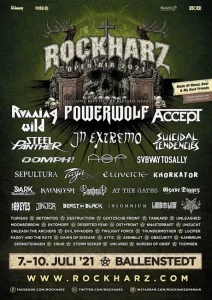 Most of the bands confirmed their participation for an uncertain 2021. For 2022 we see some light changes, but most of the 2020 bands will still make it to the festival. That says quite a lot about its quality and popularity amongst the bands. Let's hope nothing completely unpredictable happens. In the case of Covid19 we are very far from it, let's pray for an end of the conflict between Russia and Ukraine by then, even if it looks impossible so far. It unsettles us slightly more if it might escalate. So here is the line–up for 2022 finally and in daily division. For a better understanding we put them in capitals. Have a close look to figure out the changes:
Line-Up 2022
Sorry, so far we can offer no detailed running order. Keep in mind, the festival has been increased by one day with a fulfilled Wednesday on both stages. Early arrival on Tuesday is most recommended. If you didn't get a festival ticket, check the already daily division which day(s) will suit you most. No daily tickets for Wednesday though.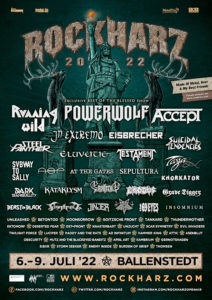 Wednesday (alphabetic):
AGNOSTIC FRONT, BEAST IN BLACK, EVIL INVADERS, GRAVE DIGGER, IN EXTREMO, KATAKLYSM, MUTZ & THE BLACKEYED BANDITZ, SEPULTURA, SIBIIR, TARJA,TWILIGHT FORCE
Thursday (alphabetic):
ASENBLUT, DARK FUNERAL, DARK TRANQUILLITY, ENEMY INSIDE, GERNOTSHAGEN, GOITZSCHE FRONT, HAMMER KING, KNASTERBART, POWERWOLF, SCAR SYMMETRY, SUBWAY TO SALLY, THUNDERMOTHER, UNZUCHT
Friday (alphabetic):
ASP, AT THE GATES, ATTIC, BURDEN OF GRIEF, DESERTED FEAR, ENSIFERUM, FINNTROLL, JINJER, KAMBRIUM, LUCIFER, MOONSORROW, OST+FRONT, PADDY AND THE RATS, RUNNING WILD, STEEL PANTHER, THE 69 EYES
Saturday (alphabetic):
ACCEPT, AD INFINITUM, APRIL ART, BETONTOD, EISBRECHER, EKTOMORF, ELUVEITIE, EXODUS, INSOMNIUM, KNORKATOR, OBSCURITY, STORM SEEKER, TANKARD, TESTAMENT, THOMSEN, UNLEASHED
The Devil's Wall Tradition
There is a spot each Rockharz visitor has to go to. Some climb up there at night to find a bit of silence. Others take a couple of beers to enjoy sunrise or sunset. And even musicians were known to visit the Devil's Wall to have their true Rockharz experience. The way up is steep, very steep and may be exhausting, even though it should only be a few 100 meters up. The party the night before certainly takes its toll here… Will we have to go there on a rainy morning or in the burning midday sun in 2022? Never mind. No Rockharz without it!
If you've not been to the top of the Devil's Wall yet, did you really ever truly participate the Rockharz Festival?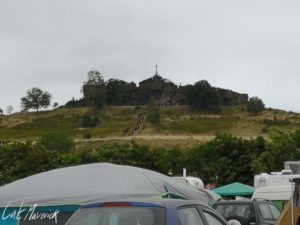 Merch
Yes, there is merch. Naturally. And yes, there is a lot! There is the festival's official merch stall. The festival offers some special editions of merch, so queuing up early is highly recommended if you want to get one of these gems in your size! Besides the Rockharz-related merch, you can usually buy shirts and other stuff from the day's bands and sometimes of the previous day's lineup. So perhaps consider stopping by there for a look more than once. It's worth it! And don't forget the large area of stalls opposite the stages. They offer more merch, clothing, gadgets, and almost everything you won't even dream about.
Departure
Every festival ends and so does the Rockharz. Yes. Sad, but true. So apart from putting your tents together, loading your car and driving back home, there is no agenda. But is there really none? Ha-ha, there is, and it actually helps to prevent the Post-Rock-Harz-Blues as it ensures you confront yourself properly with the end by sort of preparing for next year. "Putting your bin together and cleaning up your site to leave it as clean as you found it, no matter how much rubbish you had everywhere". We have never seen cleaner campsites than the Rockharz after the last car left, even cleaner than the so-called "Green Campings" of so many other festivals. It is a good tradition to collect your trash and bring it to the big containers. There, as a little 'thank you', you receive a high-quality printed DINA1 aerial poster of this year's campsite taken the day before, which makes for excellent memorabilia!
Curious for 2022 now?
Well, since we're already in mid of spring, it is time to think about the festivals this year. If you decide on going to the Rockharz 2022, 6. – 9. July, it is sold out… You might find tickets on several platforms though. Take care not to buy overpriced tickets or tickets which are not valid anymore. Tickets transferred from 2020 and 2021 to 2022 should contain an E-ticket code as confirmation. Make sure you receive this one. Apart from Wednesday you can also buy limited tickets on a daily basis, once again look out for the daily division and once it is published too, the running order to buy the right one.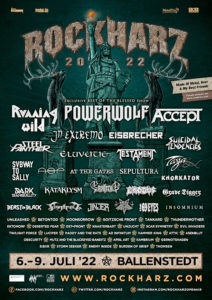 ---
!
Online:  
Please buy physical music or download it from the bands official sources and don't stream it for free because it steals your artists' income
---
Original photos taken by Cat Meverick, edited by Mummi-Katja.
Proof reading by Saber.X