Frozen Crown
NanowaR Of Steel
Be assured, the whole show is a blast, full of fun, joy and incorrect jokes. The most (un)serious concert ever!
Regular readers will remember, a few weeks ago I reviewed NanowaR of Steel's new album "Dislike Of False Metal" and closed with the words above. Well, today, 13th April, is the day to experience, whether my words were true or just blatant exaggeration. The club is small and only a little bit bigger than a cozy cellar – the legendary Nachtleben in Frankfurt's inner city. Special guests are Frozen Crown which we have seen in 2020 as support act for DragonForce. I am more than just curious to enjoy NanowaR Of Steel and Frozen Crown live!

Italian Powerpacks
Both bands are based in Italy. It seems to be the South European metal paradise with bands like them and Lacuna Coil, Elfenking, Exilia, Fleshgod Apocalypse, just to name a few. The venue is well, very well filled, or better said, quite sold out when the lights go out punctually at 20:00. 
Frozen Crown
Frozen Crown start with "Neverending", an older song from 2019. It still has the same magic, when Fabiola "Sheena" Bellomo on 6 strings, Niso Tomasini on drums, Federico Mondelli on seven strings and vocals, Francesco Zof on bass, and finally Giada "Jade" Etro on vocals join the stage as it had three years go.
17 Strings and two sticks
"The Water Dancer" and "Call Of The North", title track of the new album, follow. Fresh Italian Power Metal rules! Jade's brilliant vocals rule! The harmonies of Sheena's and Federico's 13 strings rule! Niso and huge  Francesco build the reliable rhythm scaffolding, not without a spectacular staging. Their show already is a blast!
The "new" sparklers
Frozen Crown lead us "Across The Sea" and "Far Beyond", before we altogether light a "Fire In The Sky". In this case the sky is the quite low ceiling, and our smart phone torch light functions are the fire. I remember well the "good old days", when people held real lighters and sparklers high in the sky. Sometimes I miss them but safety first of course.
Winter Rules
A crown is not only a frozen crown but a "Crown Eternal". Every queen and king and their dynasties know it and so do we after this lovely and powerful song from 2021's "Winterbane" album. Winter seems to be topic anyway, because what follows is nothing less than gigantic, "Everwinter". The temperatures outside tell the same story. Unbelievable, that it is spring already.
Tyranny of perfect vocals
Jade declares, "I Am The Tyrant". But come on, if she is, she is a very lovely one. I think, we can forgive her, because the time of tyrants  is gone for  quite a while. Or do we experience its comeback today? If so, it is fine for me, because her performance is outstanding, no auto-tune, no lip sync. Nothing, but the pure skills of true live singing. 
Kings and Crowns
Far to early, it is time for one last song. The circle closes with "Kings", already five years old, but still one of the highlights of Frozen Crown's show. A full set on a headliner tour seems to be necessary in the near future  for the full package! It is unbelievable, but Frozen Crown exist for only six years now, but already released four amazing albums. They survived the dropout and exchange of three band members, just to become better year by year! And they are maybe the metal band with the most perfect teeth.
Nerdy Side facts
It is a funny side fact, that their vocalist is "Signora Dottore in Odontoiatria". Yes, beside singing in a wonderful Italian Power Metal band, Jade is a real and still practicing dentist. Who wouldn't want to be her patient? After the show, Federico explained to me, his and Sheena's guitars are tuned differently. It makes their harmonic sound so unique. Even if they play the same notes, they differ in sustain. So together they form a 13-string guitar. Other bands might use double-necks instead, but I certainly prefer this brilliant duo.
A little break
So far so good. Time for a little break. I look around. Happy faces. Seems, not only I liked the show so far. The audience is as diverse and colorful as what comes next… You know, which most (un)serious band I talk about!!!
NanowaR Of Steel
Time for funny costumes. Mr. Baffo and Potowotominimak on vocals, Gatto Panceri 666 on bass, Uinona Raider on drums and Mohammed Abdul on guitar storm the stage. It is a visual overload par excellence, and it is  not really "Sober". Nothing is serious. Everything is a joke- Altogether, it is "The Call Of Cthulhu" and as already mentioned, though it is spring before, we survive a "Winterstorm In The Night".
Love and kisses
While we talk about the night, it is time for "Il Cacciatore Della Note" and more jokes. It is not a joke to celebrate the "Wall of Love", instead of a wall of death. Hugs, kisses, more hugs, more kisses, love, overwhelming love! But "Odino and Valhalla" intervene and end this story. Life is brutal.
What a surprise
Ever heard about magical creatures? Elves, sirens, mermaids are amongst the most beautiful. Mr. Baffo once met one of these wonderful beings "…And Then I Noticed That She Was a Gargoyle". What a shocking surprise! Live with it and overcome it and you'll live a happy life, not ending too early.
Disco time
We already heard two new songs. Now it is time for the third one. Time for "Disco Metal" and I don't talk about "I Was Made For Lovin' You"  by KISS, but a real metal song in the funniest disco disguise.
Salmon Black Metal Style
Ready for some "Norwegian Reggaeton" and the recipe, how to cook a perfect black metal salmon? Catch the fish. Fillet the fish. Place the salmon on a stone. Burn the wooden church next to it on. After your work is done, smell the "Armpits Of Immortals", before you can escape to "Uranus" and enjoy more completely inappropriate jokes about everything and everyone.
About Pirates
Gatto Panceri 666 speaks a quite fluent German with a slice of Italian accent. A thick slice. But we can understand him somehow, whether we want to or not. Metal is international anyways. Thus, the next little song is about the most (un)famous pirate ever and his curse. We don't talk about Captain(!) Jack Sparrow  We talk about "Der Fluch des Kapt'n Iglo" It translates as "The curse of Captain Iglo", outside of Europe more well known as Captain Birdseye. It has a name for most parents, fish fingers.  Beloved by kids and the only fish they eat, and as disliked as false Metal  by adults, because it is just junk food. Junk food, but tasty. Yummy, yummy!!! Imagine, what my dinner the very next day was…
One letter exchanged
Another German song follows, "Schwanzwald" (~"Cock Forrest", instead of "Schwarzwald" ~ "Black Forrest"). It is cruel, so f*ckin' cruel, what one exchanged letter makes out of one of Germany's most beautiful landscapes… It is also time to introduce the members of NanowaR Of Steel. Not that we don't know them, but… 
Aliens and mutants
It turns out, the band members are aliens, mutants, results of human experiments. We face a creature half sheep, half human, the goalkeeper of Borussia Dortmund, who is the only bee with a front sting, a whatever, an experiment with real orange plastic hair and so on. Everything but nothing serious.
Missing pasta and pizza
After such an effort, NanowaR Of  Steel needs a short break. They don't like to be here today anyways. They miss Italy, pizza and pasta, and are tired as they mention often enough with a smile during the show. We are not tired at all and successfully demand some encores!

The battle of 1994
Nevertheless, they return. They return in full glory. The glory of "Pasadena 1994". Pasadena was the final battle of the war between Italy and Brazil in 1994. In front of 94.194 spectators, Italy lost in the penalty shoot-out of the football world championship.
Metal traditions
With the next song, I'm a bit confused. It might be, that I told you the salmon recipe a bit too soon. If it is like this,  let's burn another church for "La Polenta Taragnarock". If it is not like this, let's burn a church though. It is a Black Metal tradition for good reasons, which must be continued by all meanings.
One last song
And then we are done. "Valhalleluja" with its construction and stage diving of an IKEA-table is indeed the final countdown to end the night. NanowaR Of Steel once again pull out all their musical and comedic skills before they kick us out into the deep, dark night in the middle of Frankfurt's sleeping night life.
Perfect entertainment
It was an amazing show. It was fun. I never laughed so much during a metal concert. You can't take NanowaR Of Steel serious, but you must take them serious by all means. They are excellent musicians, great comedians and poets. The musicians know exactly, what they do on stage. NanowaR Of Steel love to be unserious. They are politically incorrect. Their jokes take the p*ss out of everything and everyone. No one and nothing is safe. I enjoyed more than 100 minutes of pure fun, without thinking about tomorrow or yesterday. I lived in the moment. That is, what I call perfect entertainment. As promised it was the most (un)serious show ever.

We need more
I witnessed two Italian power packs. Both bands know, how to enchant the audience. The combination of Power Metal and Comedy Metal was incredible. For Frozen Crown the tour ends three days later. NanowaR Of Steel continue the second half with Tragedy as special guest. I hope to see both bands again this year, either on a festival somewhere in Europe or during another indoor show.
Da Capo!
Save the dates: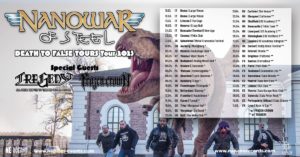 ---
!
Please buy merch and physical music or downloads  from the bands' official sources and don't stream music for free because it steals your artists' income.
Visit the bands online to find their merch & music to support them, check out upcoming shows of the venue:
---
Proof reading by Cat Maverick

Photos by Friend.X aka Mr. Deep during the show at Nachtleben Frankfurt, 13. April 2023