Dreams Of Lands Unseen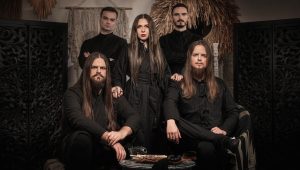 Today we are going on a journey into the past together. We accompany Ignea on their latest album "Dreams Of Lands Unseen" into the adventurous world of Sofia Yablonska. She was one of the great travellers in the 20/30s of the last century. Her photos, travel diaries and especially her trip around the world in 1931 are legendary. Her independence was inspiration for this concept album. Enough nerd-stuff said, let's start with the short opener of "Dreams Of Lands Unseen":
Téoura
I researched to find out, what "Téoura" means. All I found was the title of a book with photos and stories of Sofia Yablonska, but maybe that's what it is and how it started? In barely 90 seconds we are invited into a foreign world, we listen to oriental melodies and drift away into the dreams of the  journey that now begins.
Dunes
This journey leads us into the "Dunes" of Morocco and the Sahara Desert. Rough guitars intermix with far-eastern melodies and instruments. Vocalist Helle Bohdanova combines her harsh and clean vocals to perfection. I am already enchanted by the magic of this fine tune.
Camera Obscura
One of the earliest attempts for a camera was the "Camera Obscura", a principle which has been used for over 1000 years. It is obvious to write a song about it when your topic is someone like Sofia Yablonska. Starting with a synth driven melody it soon turns into a very catchy melodic song with clean and harsh vocals. Sweet and brutal at the same time. In my imagination I tried to relate it to a country but it is far too cosmopolitian to focus on one country only. Is it at home "Somewhere In Africa" maybe? Find out for yourself!
Далекі Обрії
This is one of two songs sung in Ukrainian language. "Daleki Obriyi" translates as "Distant Horizons" and honours Ignea's home country. Synth passages meet harsh vocals and Death Metal rhythms. Let us imagine, we are far away from home and find ourselves somewhere on an island of dreams escaping from the brutal reality of our destroyed country.
To No One I Owe
We hear the chirping of crickets and locusts. Helle's clean vocals and violins take over. They build up suspense which is underlined by a heavy guitar riff. "To No One I Owe" is like a tale which reminds me a lot of Kate Bush's songs and lyrics. Sure, the genre is as different as can be but the idea behind it is nothing but the same. A real killer song with its unbeatable dynamics and drama.
Incurable Disease
There is an "Incurable Disease" which is called wanderlust. You can try to heal it on sea for a while but it will always come back once you have reached your destination. It is just a matter of time. We start with synth and clean vocals, a catchy guitar for a picturesque journey from island to island. Dreamy, isn't it? Wait for the harsh vocals which express the stormy side of the seven seas. A guitar solo with some oriental elements helps us to overcome it and gain a new experience.
Nomad's Luck
Nomen est Omen, we are back to far-eastern melodies. They seem to be a "Nomad's Luck". The life of nomads is an endless journey; the whole world is theirs. That's the freedom, this track is breathing in and breathing out. I feel like a little kid again reading the tales of Karl May with all their magic. Powerful guitar riffs and precious harsh and clean vocals drive you to the limit of your imagination.
The Golden Shell
We continue our journey. Let us imagine, we traveled from Morocco to Babylon, crossed Hindukush, survived Gobi Desert and finally reached China. That's where "The Golden Shell", its melody and lyrics are at home. It perfectly describes, how it feels to be a foreigner in China. Sofia Yablonska spent 15 years of her life there with all its ups and downs. The latter one will be the topic of the next track after the golden shell fades away with the sound of sea and cries of seagulls – wanderlust again?
Opiumist
Can you already guess what "Opiumist" is about? Before we find it out together, let me introduce you to Tuomas Saukkonen. He is none less than vocalist of Before The Dawn and Wolfheart. Ignea invited him to accompany this part of their journey into Sofia Yablonska's Chinese diaries. Helle and Tuomas explore the psycho-delic trip of her drug addiction. We hear a mumbling crowd, a market place? Traditional Chinese melody sounds, guitars and drums take over. Helle's bitter-sweet lyrics open your eyes before you fall back on your pillow of sweet opium driven dreams. You're brutally awakened again. Rough guitar chords and Tuomas' harsh vocals bring you back to reality. Reality hurts. You need an escape. It is near. Where is the opium-pipe? Bring me back to my sweet dreams and let me fade away forever.
Zénith
The final track of the album leaves no space for foul compromises. Guitar riff and synths steer it to clean vocals and a bit of a lullaby. There is a saying that you should stop when you are at your "Zénith", so it makes sense that this is the closing song. By the way, it is the other song in Ukrainian language. It honestly took me a while to realize that while I was enchanted by Helle's vocals.
Impressive efforts
It took quite a while to release the album. Due to the circumstances and war in their Ukrainian home, it had to be postponed from 2022 to 2023. Now the waiting in over. "Dreams Of Lands Unseen" will finally be released and I am indeed quite impressed. Of course Helle's outstanding vocals are the highlight of Ignea's sound and I really appreciate the evolution of the band. I went through the songs again and again to find "the weak spot" of the album but found none. "Dreams Of Lands Unseen" is Ignea's next masterpiece and a real trip around the world together with them and Sofia Yablonska. These were my thoughts about the album. Now list to Helle herself, what she has to tell you about  "Dreams Of Lands Unseen":

The short facts:
Release Date: 28. April 2023
Label: Napalm Records
Genre: Melodic Metal
Ignea is:
Helle Bohdanova – vocals
Yevhenii Zhytniuk – keys
Dmytro Vinnichenko – guitars
Oleksandr Kamyshyn – bass guitars
Ivan Kholmohorov – drums
Dreams of Lands Unseen:

Téoura

Dunes

Camera Obscura

Далекі Обрії (Daleki Obriyi)

To No One I Owe

Incurable Disease

Nomad's Luck

The Golden Shell

Opiumist

Zénith
Stay tuned for our forthcoming interview with Ignea. If you are curious enough now, here you can have  short listen to each song:
---
!
Please buy merch and physical music or downloads  from the bands official sources and don't stream music for free because it steals your artists' income.
Visit the bands online to find their merch & music to support them, check out upcoming shows, etc.:
---
proof reading by DerminBoad
A Perfect Dream Of A Journey