Once Upon A Time
Roughly one year ago I had the luxury to enjoy the sensational Jinjer in Speyer during their "Macro" tour across Europe and review it afterwards (check out: <Social Distancing With Jinjer>). It was a concert with a lot of limitations – all seated in small groups on Oktoberfest beer benches and tables, reduced ticket sales, medical masks and social distancing all the time. But it was the light at the end of the dark and endless tunnel of Covid-19, and it gave us hope for a return to live events and the entertainment business. History proved us wrong, the little candle of hope was blown out soon afterwards and what followed was an even tougher lockdown. We didn't discuss when the clubs would open, but which ones would survive at all. And the discussion is still ongoing, even big festivals still struggle to survive the hunger years.
Already Very Promising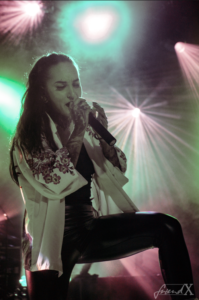 Reliable as Swiss clockwork, Jinjer are back with their "Wallflowers" tour and again they seem to be the torch, the candle, and the light we rally behind for a better and less infectious life. Amongst some other locations, at the beginning of the tour they stopped by Prague's Roxy, and we happily reported (check out <Report: Jinjer Hypno5e, Space Of Variation – Praha>) about an amazing show together with their two support bands. Halfway through we were able to watch and review their show at Lindenpark in Potsdam (check out: <Jinjer Wallflower Magic Potsdam>). Both are cities with as enormous as historical background, Staendetheater, the beautiful Vltava brigdes – at least the 30 Years War started in Prague in 1618, or Sans-Souci and the nearby German capital city Berlin in the case of Potsdam.
Busy, Busy Town
Now it is my turn and I will watch Jinjer at Alte Feuerwache in Mannheim. The Alte Feuerwache is a historical building under monument protection and means nothing other than "Old Fire Station". It is located near the quadratic inner city of Mannheim, only separated by the river Neckar. Whilst the other two cities invite you for some sight seeing, Mannheim is not the most beautiful town of the world, dominated by modern buildings and a quite busy business area.
A Historical Venue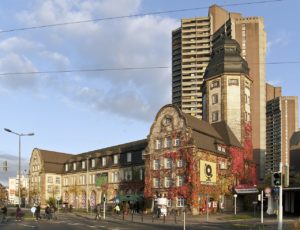 The venue itself is a nice building though, sadly it has some disadvantages. The biggest one is based on its construction, the auditorium is traversed by columns on its inner side. That means limited sight to the stage from quite a lot of points. The other one is that it is built on a busy corner with a lot of traffic, limited parking possibilities and the university clinic nearby, so pay attention when you cross the broad streets. Anyway, this indeed is complainment on a very high level like being disappointed by being offered sparkling wine instead of champagne. On the positive side, due to a green pass access policy, we are free to move, no masks required. Everybody must show proof of being vaccinated, recovered or tested and that's it.
Ready To Give It A Go
If you have read the reviews of the Prague and Potsdam shows, you will be aware and understand that I am already hooked by these reports. I am really curious about the two support bands Space Of Variations from Ukraine who stepped in for Humanity's Last Breath, and Hypno5e from France. Of these, the first mentioned seems to be the favourite of all my colleagues so far. Well, let's wait and see …
Space of Variations
The first band and opener for what is coming tonight is Space of Variations and hell, nothing wrong is told or promised about them, becasue they deliver. They simply deliver. In minutes the audience celebrates a brutal metal party with them, ecstatic and in full speed. No denial, no tomorrow, the moment counts and it lasts forever. Well, not forever but slightly more than a far too short 30 minutes. I am pretty sure that in the future, we will hear more from these four guys from Ukraine. Their sound is maybe not unique but fresh, modern and rousing by all meaning, a perfect opening act.
Hypno5e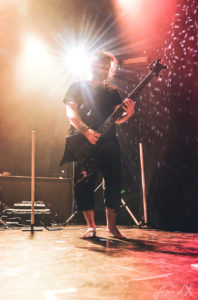 The second band and somehow the in between intermezzo is Hypno5e. Jinjer seem to have a favour for French bands. In Speyer last year, they were supported by a French band from Alsace. Some years ago in a small venue in Frankfurt, they were supported by another French band. The sound of Hypno5e is very different to the previous band. Much slower, much more thought through and, sadly, less interesting for the audience. They deserved better but must live with their destiny today, at least during their 30 minute slot. To summarise, while Space of Variations was the Full speed band without thinking of tomorrow, Hypno5e were more for the intellectual audience.
Curiosity Does Not Only Kill The Cat
I'm wandering around, have a breath outside to catch some fresh air.
I ask myself, which song will be the opener? Which new songs will be played? Do they work live? Which old song will I have to miss? Oh and, will Tatiana have a new tattoo? So many question, so many answers to be delivered soon…
There Is No Teacher To Answer The Questions But …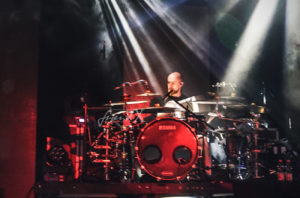 Vlad, the drum wizard with a satisfied smile on his face enters the stage first. His drum kit is bigger than Jinjer's full stage only a few years ago. Seems he added some more 'Tschingerrassabumm'-stuff for better noise. He is followed by the wild man with the wilder beard and the wildest hairstyle, Eugene on bass guitar. Unbelievable that this battle proven stage beast is the gentle family man and father of two lovely children. Third to be welcomed is the man with the hardest job of the whole band, Roman. Being the guitar magician of Jinjer is not the easiest job. So many notes to play without losing one while surrounded by exceptional co-musicians. But he is the hardworking man with his seven strings – he pulls them all. Finally, and most appreciated of course, the tiny elf-witch in the human form of Tatiana joins the stage.
… New Songs …
No waste of words, Jinjer open with the opener of the album "Wallflowers", "Call Me a Symbol". When I first listened to the song, I asked myself "F*ck, what went wrong, who hurt them so much that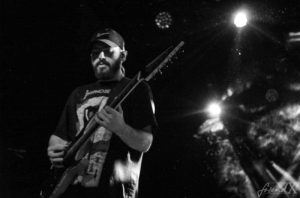 they wrote such a song full of aggression and anger?" I still believe it is not really a love song, but I soon made peace with it. Indeed, it is the perfect opener of the show. It is followed by three older songs which didn't lose any of their energy during the last years, then "Disclosure" is the next new song. It turns out to sound even rougher and meaner than on the record, live at its best with the ultimate speed breaks in between harsh and sweet clean vocals. Tatiana does them all, if possible, at once. There is no judgement for the "Sleep Of The Righteous", one of the somewhat "slower" songs of "Wallflowers", clear vocals surrounded by a harsh melody line which turns the voice into unbelievable growls from a second to the other and back.
… And Speeches
Eugene, Roman and Vlad speak, or rather, shout, scream and roar with their instruments, Tatiana must rely on her voice, the most precious gift for a singer, and gifted she is. Her broad variation is not from this world and she does not only use it to sing along with the band. Tatiana talks with the audience, plays with the audience, wraps them around her little finger with the vibe of her voice. She commands. We obey. Mosh pit? Yes, we do. Jump up and down? Yes, we do. Yes, we do what Jinjer demands. Jinjer delivers what we demand.
Of Flowers, Teachers And Ice
After a set a three well known songs, the title track of the album sees the light of the stage. The light slowly opens the blossom of the "Wallflower", everybody seems to await the eruption of all evil, the tension builds up and up and up like a wallflower fighting for her life and then it is there, the exploding roar!!!! Excellent performance of an excellent song, what more do you want??? Well, the "Teacher" who explains "As I Boil Ice", what else? I expected "Teacher, Teacher" to be a highlight of the show if not the most celebrated song. It certainly was one of the most celebrated and didn't lose any of its energy since it was released.
Too Soon To End
"Mediator" is the last of the new songs. STOP! GO! No, don't go, run, run for your life, run as fast as you can, the song is overtaking itself, overwhelming speed and energy canalized by Tatiana in the role of the mediator.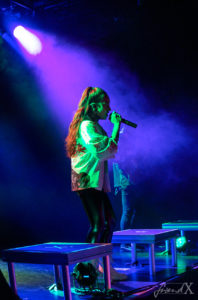 After a final song, feeling back home, we already are at the encore, "Vortex". It drives the mood to wuthering heights, no mountain is too high, we can climb it, no ocean is too deep, we can dive it. We can because we are under the Jinjer spell! And then the show is over. We need to drive back home or have a last drink at the bar, buy some merch, all to calm down.
Only later I realize which gems of songs were not played and not even really missed, "Pisces" for example, or "Pearls and Swine" with my personal lyric line of "Wallflowers", "There Is No Teacher In This World". I so much hoped to hear this song directly after "Teacher, Teacher" but didn't miss it.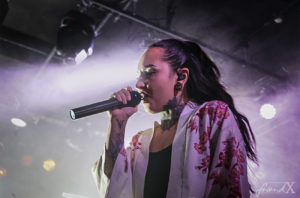 Was All the Waiting Worth It?
Briefly: YES!!!
What a difference to last year's social distancing show, it nearly felt normal, back to everything which counts in a metalhead's life. The energy of the bands was amazing and carried away and most appreciated by the audience.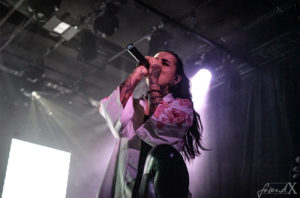 Apart from that, Jinjer is one of the, if not THE hardest working bands in the world. Not to discount the four Ukrainians, who seem to be constantly on tour around the world 367 days a year. Even Covid 19 can't stop them. Jinjer now play stages which are bigger than the whole venue from some years ago. Jinjer is now filling and selling out venues as the headline. They have come a long way since their first show as the opening support act for Arch Enemy in early 2017. Jinjer is the new force of Metal. Four perfect musicians, humble enough to continue working hard and harder for their success instead of laying back and enjoying stardom, which can easily switch to star doom. I am sure Jinjer will always remember where they come from, who they are, who their supporters and fan base are and which step to climb next.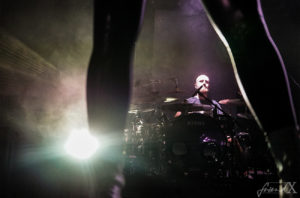 Goodbye, But Only for  Now
Europe says goodbye to Jinjer, thank you for a real blast of shows.
Welcome to America and endless roads, adventures and never ending touring.
Well, one question remains unanswered and we leave it for our American friends to find it out: Does Tatiana have a new tattoo?
Setlist Jinjer ("Wallflowers" songs highlighted)
"On the Top"
"Pit of Consciousness"
"I Speak Astronomy"
"Disclosure"
"Judgement"
"Sleep of The Righteous"
"Ape"
"Retrospection"
"Perennial"
"Wallflower"
"Teacher, Teacher"
"As I Boil Ice"
"Mediator"
"Home Back" 
Encore:
"Vortex"
---
!
Online:
Jinjer: http://jinjer-metal.com/
Space of Variations: https://spaceofvariationsofficial.com/
Hypno5e: https://www.hypno5e.com/
Alte Feuerwache: https://altefeuerwache.com/
Please buy physical music or download it from the bands official sources and don't stream it for free because it steals your artists' income
---
All concert photos taken by Friend X aka Mr. Deep at the show in Mannheim September 30th, 2021 and edited by Mummi-Katja