Real!!!
It's been a year since I last visited a real live concert in a real venue with a real auditorium, real musicians, a real stage, real feeling! By accident I got the opportunity to watch Haggard at Der Hirsch in Nuremberg on short notice. The Hirsch is located in a quiet industrial area of Nuremberg, which means no neighborhood that might be annoyed by the loud music and lots of parking space. Of course the building itself is a former factory hall. It has a nice beer garden outside with a good range of local and international beverages and can host up to 1000 spectators under regular (non-covid) conditions. 
Apart from that venue, Nuremburg is always worth visiting, due to its several museums, the old town with it's wonderful pubs, the Kaiserburg, castle walls, etc. One might need to plan in some extra time for sightseeing – at least that is what we did and didn't regret. Perfect weather and the area around the Kaiserburg fulfilled their duty.
Not A Typical Metal Band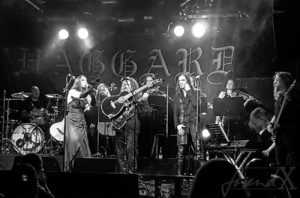 Nevertheless, let's come back to the reason for our visit. The whole project of Haggard is the brain child of Asis Nasseri. Haggard, the multinational ensemble, exists since 1989, consisting of a circle of around 20 musicians of whom around 11 or 12 usually stay on stage. They are divided up into the metal section, 2 guitars, bass, drums, the classical section of cello, flute, violins, piano, contra bass and three singers, one growler, a soprano and a tenor. Their few albums are conceptual stories about for example Galileo Galilei, Nostradamus or the fantasy world of Ithiria.
Still Covid19
Sadly, the show started with a little delay due to a late delivery of the band's dinner. Without a support band, but under Covid19 conditions: seated, limited tickets, vaccinated, recovered or tested, ID-card-check and masks whenever you left your seat seemed to be quite strict. Well, strict but still relaxed. Paying attention in this case is one of the keys to returning to the good old days without all the restrictions. But mosh pits, a crowd which jumps up and down, head banging and beer all over your clothing are things of the past.
The show was the second one this year and no more are scheduled for 2021 so far. The musicians seemed to be really excited to be back to their usual life on stage. Only happy faces although we had to miss some well-known faces, in particular those of Lisa Hellmich on viola, and especially the head banging transverse flute Catalina Popa due to other commitments and travel issues.
The Journey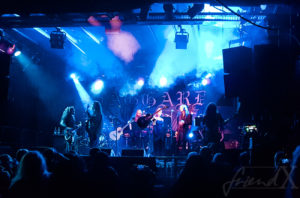 Haggard offered a journey through their whole career, songs from all albums, either growled by Asis himself or clean vocals sung by Janika Gross or Frank Schuhmacher. Each song was a mix between a tale, a classical aria and a metal song. Sure, one must like this style of music, but it is pure pleasure to listen to professionally apprenticed musicians in this unique combination.
Their better known tales as "A Midnight Gathering", "Prophecy Fulfilled", "Tales of Ithiria", "Herr Manneling", "The Final Victory", "The Observer", "Eppur si muove" or "Awaking the Centuries" were in the focus. I hope I got these songs right and that they were really played this evening, because I have no full setlist by hand. Singing language was either English, or Latin, or Italian, or German but the music was as international as their musicians are. That is what can be called multicultural at its best. A pros pos "better known" and as a fun fact, it is interesting that Haggard has its largest fanbases in South America and Asia.
Very Personal
During the speeches between the songs, Asis gave some interesting insights about his soul, his sentiments, their life, which is seldom and indeed far from memorized song announcements. He spoke from the bottom of his heart. The two missing instruments were well replaced by another viola and more freedom for violin and piano which shared the transverse flute parts – apart from Catalina's extensive head banging.
Skills And Harmony
It was interesting to pay attention to the drum kit, very basic and small but played effectively and precise by their highly skilled drummer Maurizio Guolo. What really amazes me about this group is their kind behavior on stage. Everybody knows his or her place and skills and allows everybody the space and freedom that is required. Very satisfactory, especially from a spectator's point of view.
The whole show lasted a bit more than 150 minutes including the introduction of the present members and the encores in one go. It is quite complicated to place a dozen musicians on stage and leave after each song just to come back another time for another song.
It was lovely to enjoy a band which was desperate to be back on stage, even if it was only for one show, their second sighting this year. We can only hope the situation improves, bands can plan their tours on a more reliable basis, and that we will return to normal concerts again.
---
Online:
!
Haggard: https://www.haggard.de/
Der Hirsch: https://www.der-hirsch.com/
Please buy physical music or download it from the bands official sources and don't stream it for free because it steals your artists' income