Real Grind, Fake Grind
Grindcore has come a long way. Once a genre that was pushing the boundaries in terms of aggression, speed and heaviness it soon got surpassed by newer mutations of heavy guitar music. First it was its bastard brother goregrind, later by modern incarnations of death metal such as brutal death and slam. The shock value of primitive grind couldn't last forever and bands had to innovate in order to stay relevant. So the rift between grind and "fake grind" came about and people have had strong opinions about what is legitimate grindcore and what not ever since. 
But although the genre is not the biggest and meanest dog on the block, over time it has developed grace and personality. Bands like Gridlink, Nasum or Wormrot are some of the most innovative and forward thinking bands that blastbeat-filled music has ever produced. There is a whole breed of quirky, post-hardcore or mathcore influenced bands such as The Locust, Fuck The Facts, Contrastic or Agoraphobic Nosebleed that anointed people like Anthony Fantano or reviewers at Pitchfork or Brooklin Vegan would deem to be "good music".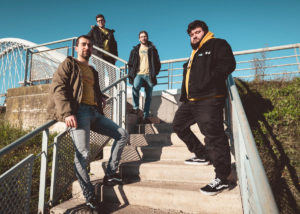 The Line-up
The Spanish grind band Ernia takes a leaf out of the book of hard-hitting modern grind bands like Wormrot or Rotten Sound but mixes in influences from the more quirky or mathcore influenced grind bands. The band was founded in 2010 and so far released a self-titled album in 2018 and now they're releasing their second LP titled "How To Deal With Life And Fail". The band has five members, two of whom are members of the famed brutal-death band Wormed. Gabriel Valcázar has been a drummer in Wormed since 2018 and his brother Daniel joined recently as a guitarist. Gabriel is obviously a beast on the drums and recently joined the British death metal legend Cancer as well. 
"How To Deal With Life And Fail"
"How To Deal With Life And Fail" is a really fun and well executed album. It contains thirteen songs and clocks at the 33rd minute mark, so it's obvious that there are a few longer (by grindcore standards) songs. Actually most are over two minutes long, only three are shorter than two minutes. So this is definitely a full-fledged LP by any standards. The relatively long playtime of the songs obviously affects the compositions. The grooves and tempos and even stylistic influences here are quite varied and songs tend to have some kind of structure as opposed to "pure grind" thirty seconds to one minute riff onslaughts.
The album kicks off with the hard-hitting number "Farewell, Sputnik". There is a quick shift from a blasty intro to a groovy section that has all the cadence and vehemence of a US hardcore song, but a soon a math-y riff comes in and things set into a different kind of groove. There is constant motion in the song and of course blast beats aren't absent. "Frustration Theory" starts with a slow sludge-y build-up where we even hear some interesting chants, but soon enough it's a whirlwind of riffs and blast beats with some punchy hardcore grooves sandwitched in between. 
Although there is a variety of tempos and moods within the songs, the overall intensity is of course rather high. The album really shifts gears on "New Aesop's Fables". It has a long, moody intro with semi-spoken word. The guitar plays a meandering riff over sustained machine gun blasting of the drum which creates a laid-back mood, supported also by the pensive gang chants about "a good day to start a revolution". I personally like the following song "A Mute Florist". The groovy, post-hardcoreish opening is interupted by a laid-back mid-section, which is followed by a switch black metal sounding section with tremolo picked riffs. This is not the only song with an eclectic choice of riffs. The closer "Ikigai", for example, has a quick break with a downtempo slam riff. 
Final Verdict
The execution of this album is great. Gabriel Valcázar's drumming is top notch as expected. The riffing doesn't lag behind the madness of the drums one bit. Omar Sanchez's has a shrill hardcore kind of vocal, which works well for this music. He can be pretty intense, in some moments his style almost reminds me of depressive suicidal black metal. The album flows well, nothing feels redundant or boring. The sound isn't innovative or fresh, but the sheer quality of the album makes it a fun listen and worth replaying. 
---
!
Ernia on Facebook: https://www.facebook.com/ErniaTheBand
Ernia on Bandcamp: https://ernia.bandcamp.com/
Please buy physical music or download it from the bands official sources and don't stream it for free because it steals your artists' income.
Ernia – How To Deal With Life And Fail (Review)