Photos by Carsten Simon, text by Friend.X aka Mr. Deep
---
The Godfathers Of Punk
In 2020, Bad Religion announced their 40th anniversary tour. Two years later the 'Godfathers of Punk' are ready to celebrate it, finally, and after several planned and cancelled rounds due to 'you know what' which also explains the tour theme "40 Years + 2". Beside that it is a good tradition to visit the Schlachthof in Wiesbaden during their tours.
Traditions
It is an even better tradition to sell out this show in a jiffy and announce an additional one. Their best tradition, however, is it to sell out this show, too. Traditions are to be cherished, this year nearly 2500 did. Twice! Usually this would result in an upgrade of the venue and do one show only (more income, less effort and expenses), for example Jahrhunderthalle Frankfurt can host 4800 people. Bad Religion instead always prefer two shows in their beloved venues like Schlachthof for the better of the show.
Three Bands Tonight?
Stepping into the Schlachthof, I spot three merch stalls immediately left to the entrance, Bad Religion, Slime and Sea Punks. Two support bands, great! But wait, Slime is the support act, that's true. Sea Punks is not! They are a kind of special guests. Sea Punks is a quite young charity for saving refugees in the Mediterranean Sea. They are preparing their second own vessel boat now after the first one was taken over by another charity. And actually it is THEM who are supported by Slime and Bad Religion. I already have a short chat with philanthropic punks before the music takes over. I will come back to them later…
Schlachthof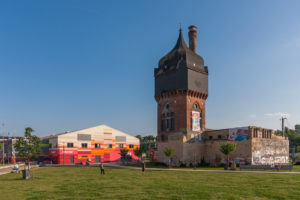 The Schlachthof itself translates as slaughterhouse – a relic from a time when killing animals, cut them into pieces and eat them was common in society. But be sure, only the name has survived [though you can never be sure what happens on stage] the years, not even most of the original building. A new building sits on the site since 2010, only the historical water tower, named Kesselhaus, survived. The Schlachthof is perfectly reachable, main railway station to the right, a direct connection to freeways into several directions, bus station, parking lots. Hunger and thirst are an even lesser problem than reachability because the bar/restaurant 60/40 is located at the ground floor of the Kesselhaus and offers a wide range of food and beverages.
Punk Veterans
Anyway, let's come back to the concert tonight. The support act are the punk dinosaurs Slime from Hamburg/Germany. They have existed since 1979 with an interruption of 15 years by 2009. Slime are those who brought in the Sea Punks for the tour being in good relations with them. Slime is a five-piece combo playing simple but effective chords combined with clear and direct political lyrics. It makes their songs an explosive mix. Their statements are undeniable based on the left wing of the political spectrum in Germany which caused more than enough trouble for the band in the past. Nevertheless, it makes them a good match with the main act Bad Religion. Well-chosen indeed and the result is a very fair slot of slightly over 45 minutes!
Time For A Short Break
A short break gives the audience the opportunity to visit the two bars, the bands' merch and Sea Punks stall or just the restroom to refresh a bit and empty the bladder. The first and the latter are a must because what is coming next will give no rest for the wicked but 120 minutes and more than 25 songs and finest neck breaking action without interruption.
Get up and move your feet
It all starts out of the sudden, five older gentlemen from LA/North America wearing casual clothings join the stage. You know who they are! The Godfathers Of Punk, Bad Religion. All they need is a Generator to come up with a Recipe for Hate. The venue is bursting from first chords on! Mosh pit and pogo rule. There is no escape. The show enrages the wild audience, this is nothing for the faint hearted! Neither in the first row, nor in the last row, not even on the platform for wheelchairs! Get up, everybody got to move their feet, don't get down or your lost.
Punk Rules
An Overture leads us to New Dark Ages by the Man With a Mission. And this man's mission is a Punk Rock Song because nothing else matters. Or do we want to see that Los Angeles Is Burning? Well, maybe that Struck a Nerve. Sorry for that but it is your time to Suffer then. Instead Come Join Us for a better End of History, otherwise Bad Religion and its outrageous audience will Fuck You until We're Only Gonna Die.
Caring and No Damage Done
Remember my words about not getting down? Well…, everybody dances, poges, jumps, some successful, some lesser or simply exhaust and just get down. They are not lost because there is always a helping hand. Unbelievable for an outsider, but nothing, literally nothing happens, no injuries, broken bones, lost teeth, everybody cares and the inner wild child cares for everybody. That is what binds us together, that is the Metal or this time better Punk Way Of Life!
No False Hope
When you believe you are lost in the Dept. of False Hope, don't worry, just Do What You Want as every Modern Man – and woman of course. The only, really only thing you better shouldn't do is Slumber in an Anesthesia. Maybe you have No Control over your mind, your brain, your body anymore, it doesn't matter, all that matters is You and the fun altogether!
End Of The Road?
Do you want to know how to avoid being Infected with Sorrow? All you got to do is believing that you and I Want to Conquer the World. We will succeed with the help of the 21st Century (Digital Boy) to end the show. End of the show? Are Bad Religion kidding? It feels like they just played roughly 30 minutes. We know, they will play another show at the Schlachthof the very next day. They won't be in a rush to leave for another town, another place, another girl, another face, another truck, another race and they don't disappoint.
Judgement Day
The masters of Punk come back to celebrate the American Jesus, come on, everybody knows, what the holy bible told us about Jesus is a blatant lie. So finally Bad Religion Fuck Armageddon… This Is Hell and we all will survive it! We are united, one body, one vision, one imagination and one rule: Party on!
Real Live Music
Two hours after Bad Religion entered the stage it is done. The last chord is played. Including support band Slime, we enjoyed over two and a half hour of solid, guitar-dominated true music. No overdubs, no added layers from the soundboard, no lip-sync. Just drums, bass, guitars and vocals played and sung live on stage. That is the real deal, the real music of dedicated musicians who exactly know what they do.
Skills Defeat Ignorance
Neither Slime, nor Bad Religion have forgotten anything (of how to set a crowd on fire) over the more than four decades they both have existed. They even improved their skills and especially to write socially critical lyrics that are as true as 40 years ago. I can nothing but bow before greatness, chapeau Slime and Bad Religion. Mainstream people tend to disrepute Punk rock as work of less gifted musicians. Punk shares this ill mainstream reputation with any kind of Heavy Metal. Both bands proved them wrong tonight.
Viva con Agua
Slowly the venue empties, the deposit of returned cups may support Viva con Agua who raise funds next to the bars. It is a charity which promotes access to clean drinking water, sanitation and hygiene. They rely on activism and use the universal languages of music, sport and art for their work as well as their national and international projects. Help them support the vision "Water for all – All for water" because water is life.
The "Second Support Band"
I decide to look out for some merch and realize that my wallet allows only one item tonight. Should I get a shirt of Bad Religion? Or may be better one of Slime? My choice is the Sea Punks. As you can read above, I misunderstood them as the second support band but they caught more than just my interest. I promised to come back to them after show so it really was no choice. It is easy to start a conversation with the four activists at the stall.
Sea Punks
The Sea Punks are happy to explain their goal and their work on their second rescue vessel and its baptism some days ago. Saving people's life, no matter who they are, where they come from, independent of their religion, gender, colour is the highest duty. It should not be seen as something special but a common duty for every human with a brain and at least remains of common sense. I'd like to invite you to check out their website, it is worth a reading it. Sea Punks are worth a donation.
Society's Social Awareness: Punks
Back in the days, Punk was rebellion and non-conformism. Who had thought it was to become the frame for altruism? The resume tonight is simple as the three chords that make punk song: Great show, great music, even greater attitude! To the next 40 + 2 years. Cheers.
---
!
Bad Religion: https://badreligion.com/
Slime: https://www.slime.de/
Sea Punks: https://seapunks.de/
Viva con Agua: https://www.vivaconagua.org/
Schlachthof: https://www.schlachthof-wiesbaden.de/ 
Please buy physical music or download it from the bands official sources and don't stream it for free because it steals your artists' income.
---
Photos taken by Carsten Simon  
Carsten Simon: https://www.photography-and-art.com
Proof reading and additional editing by Mummi-Katja