Give Me Gimmicks!
Metalheads love gimmicks, at least judging by the number of metal bands with crazy gimmicks in existence. Gimmicks are commonly used by big acts like Slipknot, GWAR or Ghost, extreme and/or underground bands love them too, think of Nile, Fleshgod Apocalypse or Sludge (that's a British death metal band that makes music about slugs). And there is, of course, nothing wrong with a little marketing device, but in the metal genre it really seems to be more prevalent than elsewhere.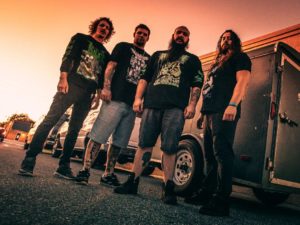 You can put the young Florida brutal death metal band Trash Panda on your list of metal bands with a cool gimmick. As their band name suggests, they write songs about the mischievous but lovable creatures – racoons. They have song titles like "Tearing Through the Hefty Bags" or "Concentrated Trash Compactor Cocktail" and the lyrics are equally funny and clever. 
The Band and the Sound
The band's first releases including an EP "Valley of Junk" came out in 2021, and at the end of the last year we got their debut LP "Pawns of the Putrid God". A look at the line-up reveals that three of the four members are also in a melodic death/deathcore band called Emporos. I can't say that they are more than a good local band that sounds a lot like The Black Dahlia Murder, but the guys show that they have chops, especially considering that they started as pretty young dudes. (Go listen for yourself, you might be pleasantly surprised.)
The experience and skills definitely didn't go to waste on "Pawns of the Putrid God". Whether it comes to songwriting or execution, this album slaps. Trash Panda's sound combines elements of blasting and groovy modern death metal with nasty slamming brutal death and all of this is sprinkled with the atmospherics that remind me of The Black Dahlia Murder or Winds of Plague.
A Little Gem Found in a Trash Bag
The song structures are straight-forward, but each part hits hard. There is good dynamics in the songs – tempo changes, raw vz. atmospheric parts etc. – and the band is not afraid to throw an atmospheric break here and there to build up the tension, or spice things up with some solos. I like how the opener "Regorgitated" is very fast-paced in the beginning, but slowly the atmosphere starts to build up. There is a sudden shift in the last third where we hear only chunky slam riffs at first but then the song climaxes with a brooding atmospheric section.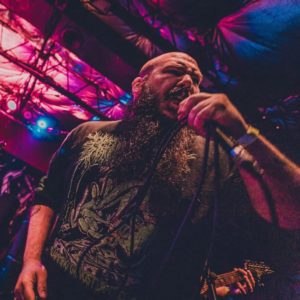 Some songs are more aggressive than others, I love the almost beatdown hardcore energy of the opening of the song "Maggot Brain". There is a high energy middle section with a shredding guitar solo and the song ends with filthy slam chugs. "Tearing Through the Hefty Bags" is a snappy minute and a half long song which will make you feel like a snotty school kid who just got his lunch money stolen by a big bully in school after hearing it.
An example of a more brooding song is "Drowning in Swill" with its slow buildup in the intro and mid-tempo grooves. The fast sections are marked less by pure aggression and more by their ominous, disquieting vibe. The Winds-of-Plague vibes are really strong on "The Putrid God", which is a cool way to close the album. 
Final Verdict
This album pleasantly surprised me and really grew on me after multiple listens. The album feels well rounded, there is a good balance between caveman brutality and technicality. Even though the music is extreme death metal to the core, Trash Panda knows how to make their song catchy. The album is short and doesn't run out of steam, no filler here for sure. If you're into this kind of death metal make sure not to miss this little hidden gem. 
!
Trash Panda on Facebook: https://www.facebook.com/TrashPandaFL/ 
Trash Panda on Bandcamp: https://brutalmind.bandcamp.com/album/pawns-of-the-putrid-god
Please buy physical music or download it from the bands official sources and don't stream it for free because it steals your artists' income.
All photos by Camden Cruz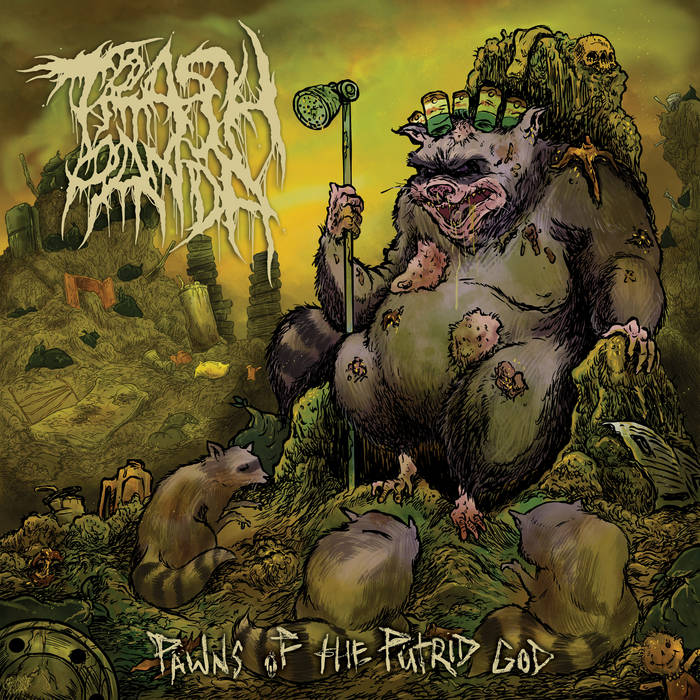 Album Review: Trash Panda – Pawns of the Putrid God