Welcome to Columbia Theater in Berlin's hip district of Kreuzberg, welcome to Sonata Arctica's Acoustic Adventures MMXXI tour and their special guests Eleine. Both will play an acoustic set. But hey, Metal?! Can it be Metal at all if it comes without distorted guitars? I dare say we should reconsider our traditional opinion as tonight's performance comes with powerful arguments on the acoustic side.
As in any proper theater, the Columbia Theater invites to be seated on this Monday evening. Some 200 or 250 would have come tonight and fill the hall by a decent degree.
Eleine – "Who knew that acoustic can be metal?"
The opening song tonight is "Enemies". Rough strums hit thin strings of the acoustic guitars. Jesper Sunnhagen sits on his beat box thrashing it heavily. And only to dust the last doubts, Madeleine Liljestam's sweet clean vocals find a dark echo in Rikard Ekberg's well placed growls. Some extra strings – a bass player and an additional guitarist – support Eleine on tour so that their sound is fat. After this first song, Madeleine poses a question with her face smiling as bright as can be: "Who knew that acoustic can be metal?" However she meant it, it is a rhetorical question by now.
"Acoustic In Hell"
The last couple of years, she says, "have been pretty much 'Scheisse'" she explains. The Swedes had prepared to tour last year and as we all know the tour never happened until now. Prepared means that they had re-arranged their songs to these acoustic metal versions but were robbed the opportunity to play them. So they decided to record them to release them on the EP "Acoustic in Hell"
Eleine turn out to be a very appreciative band not shy to make a statement. Rikard, who speaks a bit of German, gives a short speech in addition to Madeleine's talks. Both point out that this show only happens because of the audience. With great emphasis they express their gratitude all the more as on a Monday they would not exactly expect filled ranks which they mostly are.
The atmosphere is as metal as it can be: Growls echo low and fat, hairy windmills fill air while the well Arabian Nights-spiced metal comes with belly-dance referrals and some greatly performed oriental vocal techniques.
Together, we are strong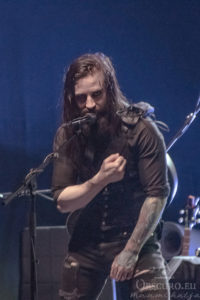 As Eleine and Rikard announce the final track for tonight they ask the crowd to join their song which would require some training or actually even competition. Which side of the crowd could shout louder "Death Incarnate"? After several tries they come to the conclusion that all together the result is the best. No surprise? The test however comes with a message from Rikard: "There is too much bullshit in competition! Together, we are strong. Together, we achieve greatness!" It is an easy guess that he refers to the growing gaps and polarisation in our societies.
Rikard drops a couple of German phrases. His German skills are as much appreciated as is their free meet & greet at the merch after show. This extent of this gathering reflects the amazing connection Eleine were able to build during their most passionate show. Before that however, they simply leave the stage. Even Jesper has no more to carry than the beat box he sat on. Change over done. Yet there is a break allowing the audience to share an appropriate moment with Eleine.
Eleine's Setlist
"Enemies"
"Whisper My Child"
"Memoriam"
"Hell Noon"
"Ava of Death"
"All Shall Burn"
"Death Incarnate"
Sonata Arctica's Acoustic Adventures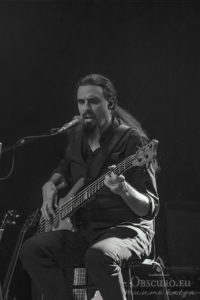 The five Finnish gentlemen enter stage, take their seats and immediate play the opening track of their "Acoustic Adventures Vol 1": "The Rest of the Sun Belongs To Me". It is a perfect start. The song is groovy – Heaven, I love that bass – full of atmosphere and emotional guitar riffs and solos and naturally has amazing vocals. That is what we all have loved Sonata Arctica for ever since.
Vocalist Tony Kako welcomes us and replies the surprised face with "Yes, this is my Corona hair." His hair has not only grown a good deal longer than he used to wear before. Also for possibly the first time in decades we can see his natural colour instead of his traditional red.
Trapped With The 'Black Sheep'*
Just in case anybody was ignorant enough to expect a common Sonata Arctica show, vocalist Tony reminds us all that this is not going to happen. With a wide smile he points out that we are trapped with them for the next 90-plus minutes. I see a slightly infernal flicker lurks from the corner of his eyes.
The songs selected for tonight provide a neat impression of both Acoustic Adventure albums which again comprise songs from all the long-standing history of Sonata Arctica. While ballads such as "Letter to Dana" might have been a natural candidate for an acoustic version, faster tracks like "I have a Right" or "Full Moon" might have come as a surprise. However, the acoustic versions do not only work on the albums but no less tonight. All the esprit and finesse of those new interpretations make a wonderful show program.
In contrast to common Sonata Arctica concerts there is no running, jumping and only few headbanging on the stage tonight, however the relaxed sort of bonfire atmosphere suits the music perfectly. 
Metal is medicine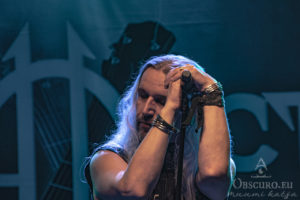 Tony takes all the time to tell the tales that come with the songs. I can't remember he would take this time on common shows. Among those tales is the one of a friend of band who suffers inhuman pain since a spine surgery went as bad as could be. Tony reminds us of the power of music, of the music we love and how it can even soothe physical pain. In case of that very friend "Tonight I Dance Alone" is such a remedy, on official medical prescription as Tony explains.
He gives numerous more stories and achieves a good connection with the crowd that remains seated throughout all the show. Sitting however does stop no Sonata Arctica fan from singing along their favourite anthems such as "Full Moon"! It is one of those songs their fans know by heart while most others they would sing along at least in the chorus.
Tranquil atmosphere
The atmosphere is different than it used to be on Sonata Arctica concerts perhaps ten years ago. Unlike in Germany, in Finland by then we would see ranks filled with teenagers and young adults. Tonight the average age resembles approximately that of the musicians. The audience remains quite silent during some songs. No one seems to miss the pit or any other opportunity to let the body go with the flow of the tunes and yet it is obvious how they all love their Sonata's performance.
The reign of the lower tones
The stage setting reflects the focus the songs now have: Tony's voice. His voice plays an even greater role in the acoustic versions of the songs. This shall not mislead. The sound tonight is well balanced, and the one whose instrument might benefit most, would be Pasi Kauppinen. His bass guitar is the relaxing hum tonight, the guiding light on this journey. Drummer Tommy Portimo changes from beat box to a basic drum set between the songs according to the needs, well mostly tempo of the songs.
Although Henrik Klingenberg's keyboards tend to be less prominent, the mostly e-piano and Hammond organ soundscapes underline the atmosphere perfectly. Personally, I love, Henkka's low voice and float on air each time he backs the lead vocals. 
take the f*cking mic and go out again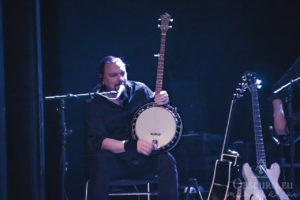 After "Wolf & Raven" the musicians leave the stage with standing ovations and protesting "ENCORE!" shouts. Probably one minute later, Tony reappears, takes the microphone and says, his bands mates had ordered him to "take the f* mic and go out again". Guitarist Elias Viljanen follows Tony and together they begin the encore with "Shamandalie". The second encore track marks his great moment.
An instrument for old men?
As Elias told me already in the interview (read here), he needed a new hobby during the pandemic. So he learned playing the banjo and insisted to bring it on the forthcoming album (Acoustic Adventures Vol 1.). Apparently with this went a little midlife crisis as he admits tonight. "Am I old enough to play banjo? Not even 50?! So I grew beard", he tells us smoothing his chin beard.
The final track is: "Don't' Say A Word" and yet it is not the end. This is a sing along of all of the chorus and main motif of a Korpiklaani classic: "Vodka"! Perhaps it was only to check if the cosily sitting mass is still awake? Anyway it is a great fun and a worthy end of an incredible metal night.    
Sonata Arctica's Setlist
"The Rest of the Sun Belongs to Me"
"I Have a Right"
"Tonight I Dance Alone"
"Letter to Dana"
"Tallulah"
"As If the World Wasn't Ending"
"A Little Less Understanding"
"For the Sake of Revenge"
"Half a Marathon Man"
"On the Faultline (Closure to an Animal)"

"Victoria's Secret"

"Full Moon"

"Wolf & Raven"

Encore:

"Shamandalie"

"Flag in the Ground"

"Don't Say a Word"

"Vodka "( outro )
Acoustic Power(ed) Metal!
Time well spent!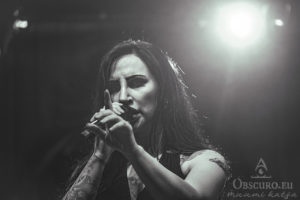 As much fun as there is with a vast line up of four or even five bands, I frankly admit that this classical tour with only two bands and explicitly this relaxed change-over was great. Eleine played a 45-minutes gig that is not only suitable to break the ice and warm up the crowd. Additionally it provides an opportunity worth being named as such to win their crowd among the fans of the main act and establish a connection. I suppose Eleine's slot could have been used to play an additional song but they chose to use a good deal of time to speak to the audience, introduce their attitude and share their story. This is time well spent as the rush at their meet & greet in the break impressively proves.
The Power of the Crowd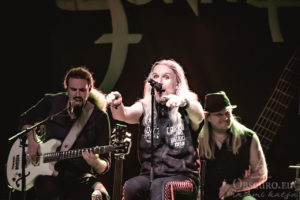 Sonata have for many years already pointed out that a concert is an experience not to be matched by any screen format and that live music depends on ticket sales. While on previous occasion I sensed some frustration in Tony's talks on this topic the message tonight comes in different tone. Genuine gratefulness for any ticket and any piece of merch bought rules. The situation – and we better not ignore that – is dramatic for many bands and all the industry around. Neither the big P thing nor the side effects of Russia's war on Ukraine have made that any better, quite the opposite. Exactly as Tony says: the only way to ensure live music for the future is to buy tickets and merch. That is the power of the crowd and the power of each of us.
Acoustic Power(ed) Metal
Metal does not necessarily need distorted guitars. Metal is anyway to most of us way more than only music. Its power comes from the inside of us; as neither the spirit depends on electric gadgets for it grows in our souls. The acoustic versions played tonight provide a clearer view on all the many elements often clouded by massive electric effects, be it blues or soul, oriental vocal techniques, the impact of how a string is strum or the versatile dexterity required to play a guitar solo.
Chapeau to the vocal performers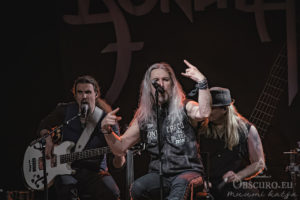 The top scorers tonight, however, are the vocalists or more generally the vocal performers. Acoustic metal comes low and leaves the power of the voice undressed and naked in the vast space of the hall. So then any mistake, any flaw of the vocals would echo loudly. Albeit all what we heard, was a brilliant performance. Be it either the lead vocalists Tony and Madeleine or their bandmates in their supporting growls and backing vocals. They all performed insanely good! Chapeau!
---
! Visit the bands online (merch, music, news …)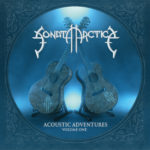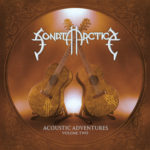 * ) Suppose you all know the amazing Sonata-Arctica track "Black Sheep". There is an amazing acoustic version on Acoustic Adventures Vol. 1 but unfortunately they did not play it on this tour.
Thank you Friend X and Cat Maverick for inspiring ideas and comments.